With more people and businesses joining Instagram, and over 1 billion Instagram users worldwide, there's a ton of potential for businesses to use Instagram Stories for digital storytelling. Many businesses today use their Instagram feeds and Stories to connect with new customers. And, many users are on Instagram to connect with the businesses and brands that they love. Use Instagram Stories to get connected with users and turn them into customers! Fact: 80% of users follow at least one business on Instagram.
Fact: 1 in 5 Instagram Stories shared by a brand receives a direct reply on the platform from a user, according to TechCrunch.
Jump in! Start sharing what's happening at your business and all the elements that make your business unique. Use Instagram Stories for digital storytelling, and you'll be sure to engage your loyal fans and potential new customers.
What are Instagram Stories?
"With more than 250 million daily users, stories made Instagram a place for people to share all of their moments – the highlights and everything in between." —Instagram company blog
On Instagram Stories, you can share photos and videos that disappear after 24 hours. (Note: This is different from adding a photo or video to your Instagram feed.) Since Instagram Stories are temporary, they give you a fantastic digital storytelling opportunity. In the Instagram app, you can hit the camera icon in the top left corner to start sharing content to your Story.
With Instagram Stories, you can share less-polished, behind-the-scenes, real-life content that tells a compelling story of everything that's happening at your business.
Since it's real, in-the-moment content, you can be you and be genuine. This is extremely attractive to the Instagram community, which is a community that craves authenticity.
How to use Instagram Stories for digital storytelling
1. Post about new products, events and specials
Instagram Stories provide a great channel to share information about your new in-store items, new dishes on the menu, upcoming events and special promotions. Your followers are always interested in what's new and happening at your business -- that's why they're following you! So, post content to get your followers excited about stopping by for all of your new and exciting offerings.
When creating your posts for your Stories, first, think about the flow of how you want to send out your photos and videos. Many users take photos and videos ahead of time, then upload them to Instagram Stories in the right order. That way, you've been thoughtful ahead of time, you can take your time editing and you can get your message across in a fun, engaging way.
Here are some examples of businesses using Instagram Stories for digital storytelling -- sharing great content about their new products and services and upcoming events.
Top row, left: a new in-store item, top row, middle: an interesting menu offering, top row, right: a seasonal cocktail. Bottom row, left: an in-house concert, bottom row, middle: a happy hour event, bottom row, right: a spring events calendar announcement.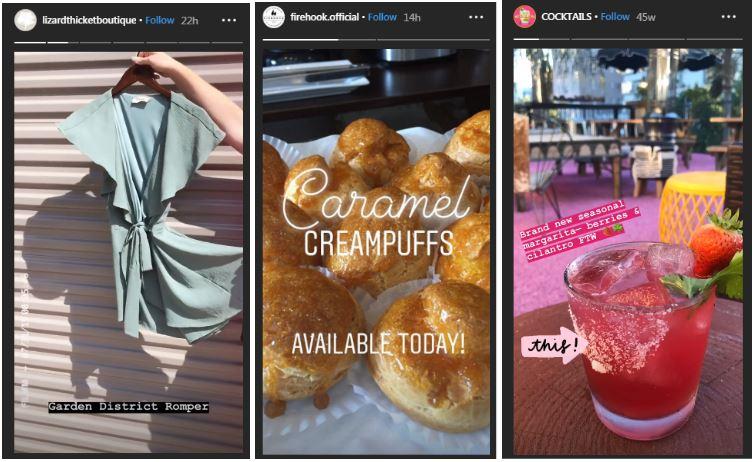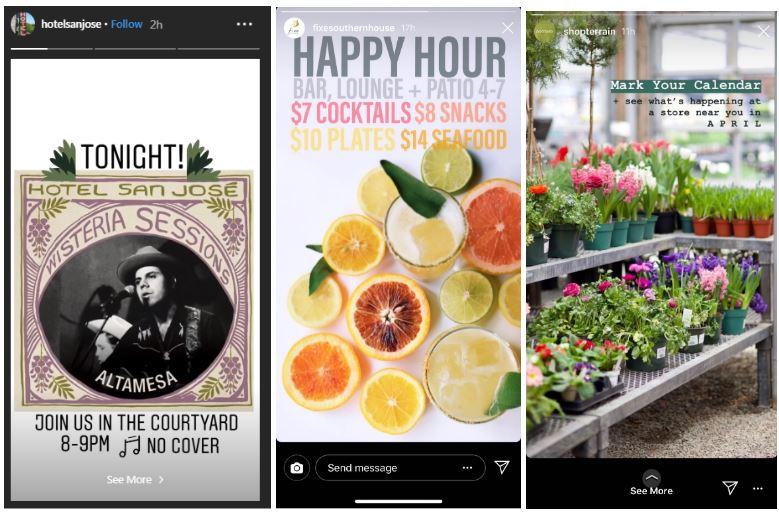 The content is temporary, so it doesn't have to be perfect. However, it does have to be engaging, and it should be consistently on-brand for your business.
Post to Instagram Stories like a pro — use our best practices to elevate your Instagram Stories for digital storytelling:
Best practices for Instagram Stories
After you've taken a photo or video you'd like to add to your Story, go into the Instagram app and tap the camera icon in the top left. Pick your photo or video, then, you can pinch to zoom in/out or make the image smaller or larger. Then, you can swipe across the photo to add a filter. Next, you can tap the icons on the top row to really take your Story to the next level.
Text:

Tap the "Aa" icon to type on top of the photo or video you're adding. Adding text and emojis helps to give the content more context, and with a little humor, you can type something that makes the photo or video more engaging.

Location:

Show some local love! You can pick the location tag, and add your business's location with a geotag like "Hotel San Jose," a city tag like, "Austin" or a more specific neighborhood location like "South Congress."

@Mention

-- Tag your friends, customers, partners and neighbors! When you mention someone in your Story, that person will get a notification of that mention. So, you can see how tagging friends/users and other brands/companies will ensure that your Story gets in front of those users. Tagging others also encourages others to add your post to their Stories.

#Hashtag

-- Reach new eyes! You can add a hashtag, (or a few) to help your content get some extra reach (i.e. #atxeats.) Hashtags are searchable in Instagram Stories in the same way they are when you add hashtags to your Instagram posts. So, any user searching for that hashtag might come across your Story.

FYI:

Once you add in a location, mention and/or hashtag sticker, you can tap them for more color and style options.

Other stickers

-- you can include time, temperature, music, emojis, GIFs and more. All of these additions can make the photos in your stories more fun and engaging.
Play around with styles, filters, fonts and stickers on Instagram Stories to find the ones you love using the most. Then, stay on brand!
Make sure you're being consistent with fonts and colors every time you post content to your Instagram Story. You want your brand to be recognizable to your followers when they're checking out Stories from their friends and the brands they love.
2. Share in-the-moment content
Instagram Stories are all about what's happening right now. That's why they're perfect for sharing content that is centered around an event or something happening live at your business. You can shoot a behind-the-scenes video with your smartphone, take photos of your in-house team for the day or share a sneak peek at your seasonal cocktail menu for the night. Think of ways you can use Instagram Stories to get people in your doors!
Local Austin favorite, Easy Tiger, created an Instagram Story during an event they held called Rosé Day:
They're using Instagram Stories in this scenario to entice locals to join them at their event and keep fans up-to-date on how the event is going.
You can see how they used a consistent font and text color and integrated a shot of their space, product and event partner. They also tagged their partner "@dandypinktx" to increase engagement on their Story.
Here's an example of behind-the-scenes (or BTS) photo and video content from D.C. restaurant Compass Rose, making their signature dish, Khachapuri: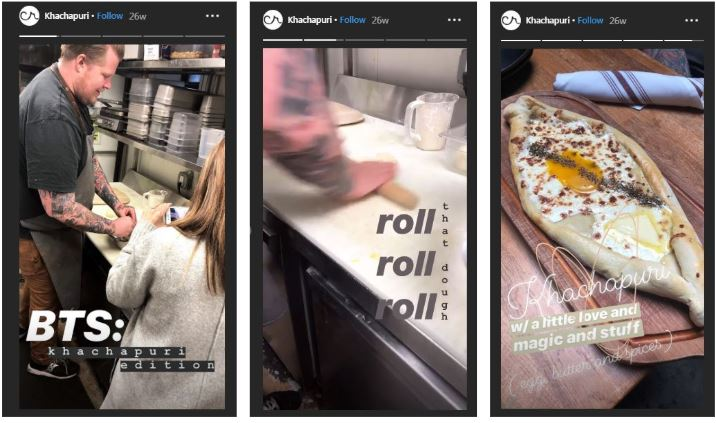 This kind of digital storytelling on Instagram Stories pulls your audience in. Now, your customers are a part of how their favorite dish is created. This makes customers feel included and special. Plus, having an insider view of how your team operates and what it's like to be at your business only serves to build brand loyalty.
3. Incorporate user-generated content
Take your followers along for the ride when you use Instagram Stories for digital storytelling — repost from customer Stories to your own Story.
Bonus: You might just get more Instagram followers with this tactic. The more your customers share content about your business that you engage with, the more exposure your brand and business will get as a result.
Keep an eye on your fans who are posting about your business in their Instagram Stories, then share that content on your own Story!
Here's how you do it:
If a user mentions your business in her Story — a notification will appear in your DMs. (The DM icon looks like a paper airplane and is on the bottom row of your feed.)
Open your notification, then, click the "Add this to Your Story" prompt that appears under the content.
In the Story creation screen, resize the content and add stickers, text and more to make it your own.
Using the mention sticker, tag the original user in the photo or video to give credit.
Hit, "Share to Your Story" to share that user-generated content with your followers.
In these examples, Washington, D.C. cocktail bar Dos Mamis is sharing content from user @nikkirap. This user shared the original post, Dos Mamis added it to their Story and then tagged that user back with a fun emoji to say thank you.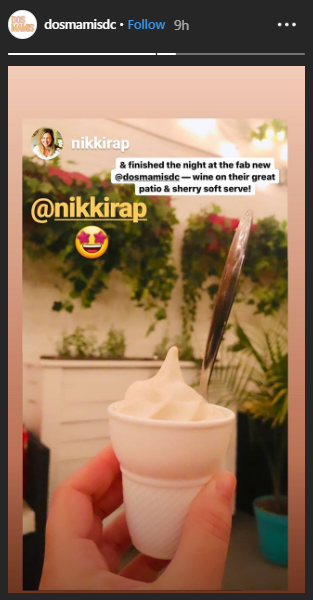 Call Your Mother, a D.C. bagel shop, shared a post from @eliserichman to their Story. She tagged @callyourmotherdeli in her post, so they added it to their Story, incorporating user-generated content into their digital storytelling.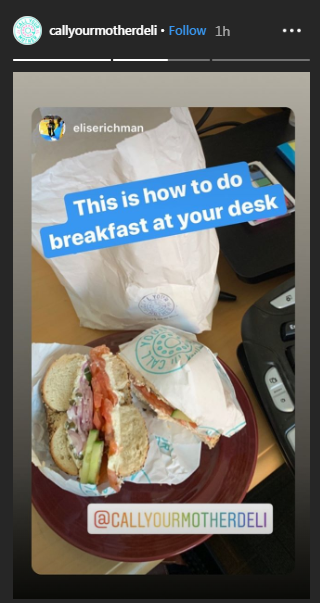 Remember, users are more likely to trust recommendations from strangers than from their friends and family.
Fact: 86% of millennials say that user-generated content is an indicator that a brand or service is good quality.
Every time you share user-generated content into your Instagram Story, it's like sharing a mini testimonial from people who love your business. And, it's a great way to get more Instagram followers!
If you're not getting a ton of tags from users when they visit your business, first, do a gut check on your overall Instagram presence. Make sure you have a compelling Instagram feed. If you have engaging, highly-visual posts in your feed, users will be more likely to post about you — tagging and geotagging you in their posts for all their friends to see.
Related: 4 ways to get more Instagram followers
We'll leave you with one final tip. Remember to have fun with your Instagram Stories! This is an area of social media where your content can be a little less polished and a little more fun. So, let loose. Your followers want to see content that's authentic, so let them in on what's happening inside your doors. Use Instagram Stories for digital storytelling at your business.