Blogging remains one of the most effective tools in a brand's content marketing arsenal. Well-optimized blog content can be discovered by the masses on Google for years, funneling readers (and potential customers) into your brand.
Yet due to the upfront investment, blogs are underutilized across industries. There's massive amounts of money left on the table from big corporate blogs all the way down to small business blogs.
Creating a blog is an obvious choice for businesses, but the process of running one is more time-consuming than many realize upfront.
While some of the elbow grease of blogging can't be taken away, a streamlined writing process can radically improve the output of your blog content, making blogging more efficient, effective and sustainable.
In this article, we'll go over the content strategy that's at the heart of every successful blog. We'll look at the three pillars of writing blog posts that will make the content creation process easier than it's ever been, and give you exercises that you can take today to improve your blog's success.
The power of great blog content
Building an online presence is an essential part of a business's content marketing strategy, but the number of platforms is overwhelming.
Given that writing a blog post takes longer than writing a tweet, it's easy to keep this task perpetually on next week's to-do list. Understanding the power of an effective blog is step one in convincing you to prioritize.
Consider how users find a blog post. Readers:
Go to Google and search a set of keywords.
They're directed to a list of highly relevant articles.
Readers click through and read the content that Google provided.
If readers click through to your website, it puts your brand in the position of providing solutions to the problems experienced by your target audience is a great way to show your expertise and authority.
This enormous funnel is churning 24/7, with 99,000 Google searches taking place per second. A piece of that is available to brands that write content that's discoverable in search.
Your blog is an enormous opportunity to bring potential customers or clients to your website, but writing one post isn't going to bring the masses to your digital doorstep.
The 80/20 rule applies to blogging as much as it applies to anything else in business: 80% of your results will come from 20% of your efforts. The brands that will harness the real power of blogging are those that consistently publish content that their ideal readers are interested in.
I'm not going to downplay it: it's a big commitment. But it's work that pays off (literally) when you do it correctly, and with these handy blogging tips, it'll be much easier.
How to blog efficiently
Many brands handle the basics of setting up a successful blog when they establish their website: they invest in a good blogging platform and a fast website theme, and publish a few blog posts so that the tab on their website doesn't look empty.
Fortunately, there are three secrets in which you can make the whole process less time-consuming:
Batching your research
Streamlining your writing process
Repurposing your existing blog posts
Let's look at each of these in turn to see how you can publish online content without spending an eternity on it.
Secret 1: Effective blog research
Solid keyword research is at the heart of every successful blog marketing strategy, and this step comes before you ever begin writing.
Rather than trying to research when writing a post, create a list of keywords you can write content about before the writing process even begins.
When you do keyword research, you're trying to find out if there's any demand for the content you're about to write. By checking key things like search volume and difficulty, you can understand if a keyword is worth pursuing.
It's important to use keywords for more than just creating a list of blog topics. When you see that your audience consistently searches for highly competitive keywords, why not use your keyword research to create a compelling freebie or free ebook that will grow your email list?
Keyword research is a source of endless ideas for your:
Blog posts
Services
Products
Videos
Tutorials
Email opt-ins
Ebooks
You can use free tools like Semrush to do keyword research: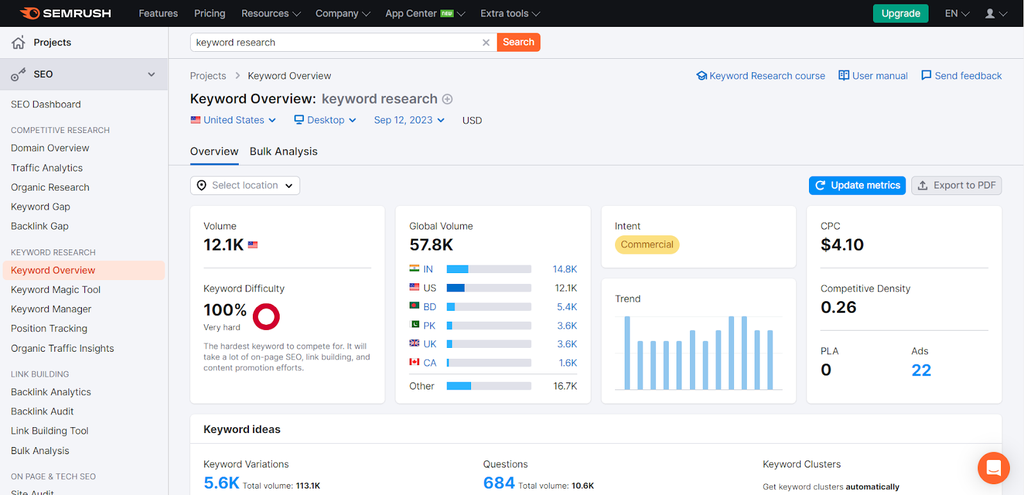 While finding opportunities is certainly a part of researching keywords, you also need to understand your audience in order to maximize your efforts.
Understanding your target audience
At the heart of good research is gaining a deeper understanding of your target audience.
When you're researching your new content, you're trying to figure out two things:
What problems does your target audience have?
What are the exact words they use to talk about them?
Researching keywords is a great way to get to know your target audience and the more you understand them, the better you can create content that truly speaks to them.
Optimizing your blog post for search engines
Beyond showing your audience what your content is about, keywords are an essential part of optimizing your content for search engines, also known as SEO.
Search engines such as Google and Ecosia try to present their users with the best content that matches their queries as closely as possible.
The process of SEO aims to explain the relevancy of your content and its quality to Google with the sole purpose of boosting your rankings over those of other blogs.
A powerful SEO game is key to increasing your online visibility. Make sure you research and have identified your target keywords as well as related keywords before you start writing.
What keywords would be profitable for your website to rank for?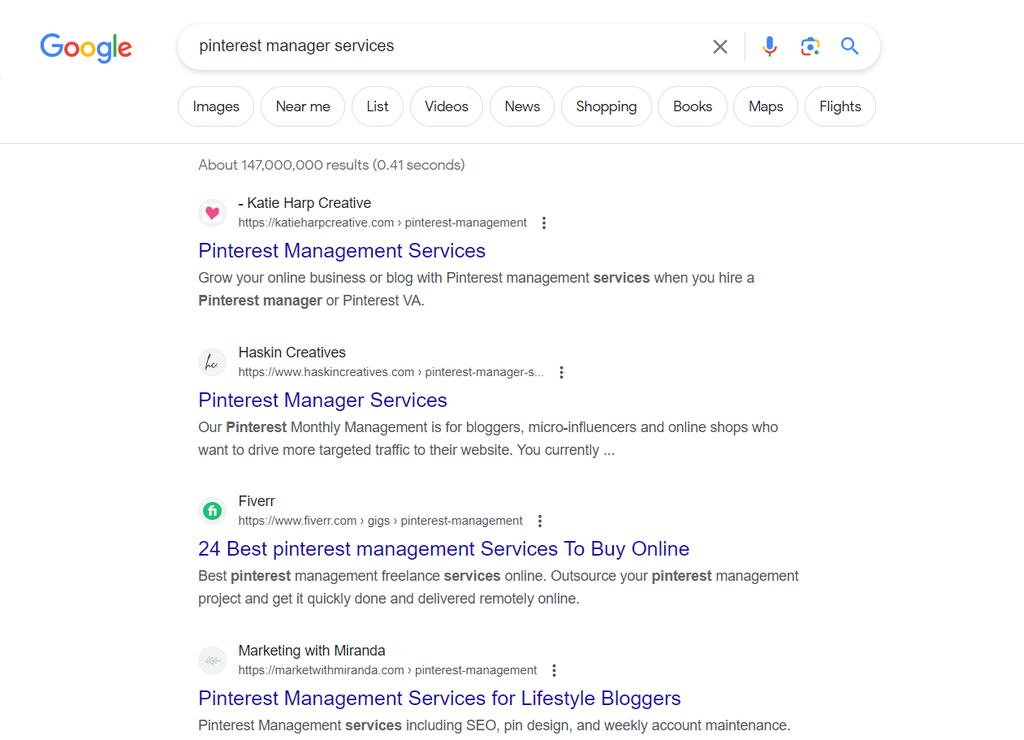 Knowing search intent
Every search on Google is done for a specific reason, and this is known as search intent. When your audience uses Google to look for a given keyword, why did they do that? In other words, what are they hoping to find?
When someone types in the word pizza, are they looking for information to make one or a place to buy a pizza? A quick search of pizza shows that Google has learned that the search intent behind the word pizza is transactional. As a result, the first page is filled with search results for restaurants instead of recipes.
Researching search intent and learning how to optimize for it is crucial to bringing in a steady flow of organic traffic.
Exercise: Once you've found a keyword that you want to write a blog post about, search it on Google and see what the results are. This will help you understand the reader's search intent.
Batching your keyword research will help you spend your energy on new content that is guaranteed to resonate with your target audience. Now, let's tackle streamlining the writing process itself.
Secret 2: Outline before writing blog posts
It's estimated that beginner writers spend 6-8 hours writing a 2,000-word blog post.
When you compare that to how long other bloggers (experienced bloggers) spend on writing a blog post, the results are hopeful: experienced bloggers are reportedly able to write a 2000-word article in just a few hours.
Some of it boils down to experience, but there are also proven ways to speed up the writing process. Nothing does that better than creating a blog outline for your own blog articles before you write.
After you settle on a blog's topic, thoroughly organize your thoughts before you start throwing words at the page.
Creating a detailed outline
When you write an outline for your blog post, you create the framework for the content you're going to write.
To get the most out of your blog post outline, should include the following items:
Title: Compelling blog titles can turn an impression into a click. Don't make it an afterthought!
Headings: Write down your H2 and H3 headings and organize them to make your blog post flow
Links: Plan both your internal links (to your other blog posts, landing pages, etc.) as well as any external links to other websites you need to source your content
Call to action (CTA): Part of running a successful blog is making your content work for you. Decide on the most relevant CTA before you start writing to maximize conversion
Frequently asked questions (FAQs): What questions do your readers have for this topic? Go to Google and look for the FAQs in the "people also ask" section
Imagery and multimedia: What screenshots, images, infographics, videos, etc. can you embed to help readers understand your message?
Outlining isn't just effective for you, it also leads to a better experience for your readers.
Exercise: Spend at least 20 minutes creating the most detailed outline possible for your blog posts before you begin writing.
Better results for the reader
One of the greatest benefits a blog post outline offers is that it leads to more focused content.
I don't know about you, but I dislike reading blogs where the writer seems to think out loud and zigzag across the page rather than presenting their information in a coherent way. And I'm not the only one.
Blog readers only spend 37 seconds on a blog post before clicking away (and they spend most of those seconds scanning rather than reading.) All the more reason to make your blog post as focused as possible.
Adding a table of contents to your blog post is a great way to show readers how focused your articles are. This shows readers all of the headings at a glance and it's easy for them to see if your article can help them or not
Making a clear outline leads to new content that is poised to bring in new readers, new subscribers and, eventually, new customers.
Better SEO results
Besides making for a more pleasant reading experience, planning out your blog post helps you bring your SEO A-game. This is because headings carry a lot of weight when it comes to ranking and showing up in search results.
Before you write, take a moment to plan out how to use your main keyword and related keywords in your H2 and H3 headings.
By planning out your content in advance, you make sure that every necessary angle is covered and that you've included all the essential keywords. Instead of winging it as you go, you turn the writing process into a checklist where all you have to do is fill in the blanks.
Secret 3: Maximize your existing blog content
Finally, we have one of the often-overlooked secrets of efficient blogging: making the most of your existing blog content.
There's more to blogging than writing great blog content. In fact, running a successful blog requires you to constantly do three things:
Promoting new content
Updating old content
Repurposing your popular content
Let's go over each of these in turn.
Promoting your blog post
One of the biggest mistakes that new bloggers make is relying exclusively on organic search engine traffic for their new content. While optimizing content for search engines is vitally important, promoting your content on different platforms will stretch its reach even further.
Promote your content on the various social media platforms to really widen your reach. This can be
Some of this can be automated:
Every new blog post can be instantly shared using the automation software If This Then That
Old posts can be automatically shared daily across social platforms using the plugin Revive Old Posts
Likewise, leveraging your email list is a powerful way to bring in extra traffic. It can be as simple as regularly including a link to your new content in your newsletter or check-in.
Updating old content
It seems like blogging is all about writing and publishing new blog posts but that's only one half of it but in reality, you're leaving a good chunk of change on the table if you never update old articles.
Updating old content is a great way of extending the lifespan of your content. Since Google is more likely to show updated content in search results, it's worth your time to revisit an old blog post and make sure the information is still up to date.
When you update old content, consider taking these steps:
Adding new images
Embedding a YouTube video
Answering FAQs
Checking for outdated information
Replacing broken links
Adding internal links
Updating is particularly important for your most backlinked articles. A backlink is a link that you receive from another website, and it's extremely powerful for SEO. You want your website to receive as many backlinks as possible to help improve your search engine traffic.
It's important to know what your most backlinked articles are and keep those routinely updated so that your website owners don't swap out your link for a more updated resource.
Exercise: Run your website through Ahrefs' backlink checker to find which article on your website has the most backlinks. Put that blog post at the top of your updating list.
By updating your blog posts, you also build more trust with readers because they can see that they're reading a relevant article:
Repurposing your popular content
All of the work that you pour into blog writing can spread across your entire content marketing strategy when you repurpose your content.
Turn a great blog post into a:
X (previously Twitter) thread
YouTube video (search engine)
TikTok video
Pinterest pin (search engine)
Instagram carousel
LinkedIn carousel
YouTube and Pinterest marketing are particularly valuable because, like Google, they're both search engines. A Pinterest pin or YouTube video that you create this week can continue bringing website traffic for years to come.
Next steps
Have you been inspired to crack open your blog and start developing content? Your potential readers are waiting! Get writing so that you can create content that's going to turn new readers into new customers.