What makes for must-read retail blogs?
Upcoming event: See how our commerce options can help your business adapt to the shifting landscape at GoDaddy Open 2021 on September 28.
Creating a blog for your online or offline store is an essential marketing strategy in today's market. Sure, customers want excellent products. But they also want to know who makes their products and from where those products come.
Establishing a blog that offers insight into your company culture, outreach programs, tips and tricks and other useful knowledge is one of the best ways to market your store and bring in more customers.
As follows are just a few examples of popular retail blogs from small(ish) sellers. Let's look at them and uncover what makes them successful.
Artzilla Musings
Artzilla is an online space that connects the curated work of Canadian artists with art lovers who can view and potentially purchase their favorite pieces. According to the online retailer's About page:
"Our mission is to showcase the work of talented and unique Canadian artists and connect them with you, our customers. We want to help Canadian artists share their talents and earn a living doing what they love while delivering high quality prints to art lovers around the world."
Artzilla's blog — Artzilla Musings — seems to play a key role in the company's mission.
The blog establishes rapport with readers by introducing them to the more elusive or less obvious aspects of the art world, in addition to listing local art events. Artzilla Musings also serves a vital function in the community — it introduces new artists and gives them a space to speak about their work. This gives readers insight into the thoughts and processes behind the products on sale. The blog enables readers and artists to connect on a more personal level.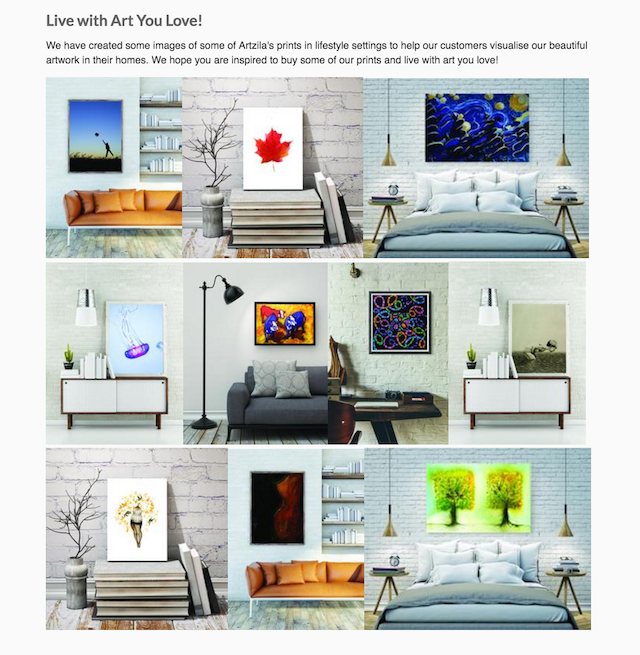 Why does it work? Artzilla Musings attracts and engages its readers by offering an insider's look at the art world via guest posts by featured artists. The blog also offers practical tips and advice in a visual format that appeals to art lovers. Social share buttons under each post make it easy for readers to interact with the content.
Potter & Rest
Potter & Rest is a fantastic online gardening store. Not only can you purchase a large variety of plants, seeds, mulch and other outdoor paraphernalia on the site, its blog provides an array of information for thumbs of all colors. From tips on monthly gardening tasks to instructions on planting your favorite flowers to reminders to plant seasonal specimens before it's too late in the year, this blog is both smart and useful.
Why does it work? This blog features a plethora of content that's valuable to the gardening hobbyist. It has effectively garnered the much-sought-after status of "information hub" — perfectly balancing a mix of educational and promotional content (leaning more toward educating than selling).
The Bulk Herb Store Blog
The Bulk Herb Store is indeed what its name suggests: a one-stop shop for the average homeopathy practitioner's herbal needs. This family-owned retail business maintains a beautiful online store with a robust blog.
This blog details solutions for the customer. From there, it's just a quick hop over to the shopping cart.
The Bulk Herb Store Blog features share-worthy content on topics that run the gamut from what you should put in your body during pregnancy to how to clean your furniture without using harmful chemicals. High-quality images pull readers into the written content. And bios of the Bulk Herb Store team effectively introduce customers to the suppliers of their products.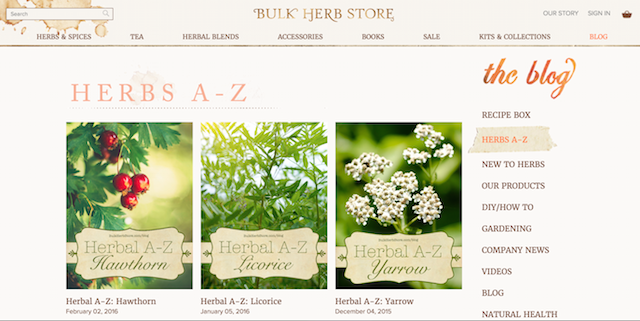 Why does it work? Customers purchasing medicinal items want to know that the organization selling these products knows its stuff. The content of the Bulk Herb Store Blog demonstrates the breadth and depth of the team's knowledge. It is also an excellent resource for those looking to cut down on chemical usage. And it just looks fantastic.
Taylor Stitch
Taylor Stitch is a brick-and-click that offers casual, quality clothes for both men and women. This store has not one but two blogs to captivate customers: Journal and Sailor Twitch.
Journal's breezy, nostalgic tone makes readers yearn for simple summer days or mulched fall colors — all while promoting the brand's clothing line. A mix of well-executed product and non-product (like the SoCal surf) images draw readers into each blog post. In contrast, Sailor Twitch — the brand's Tumblr blog — offers a glimpse into the lifestyle of Taylor Stitch wearers via visually sentimental images akin to the nostalgic words of Journal.
Why does it work? At its core, the Taylor Switch blog strategy excels because it tells a compelling story. This is the way you'll feel when you wear our clothes. This is a lifestyle that you want to live. The blogs illustrate the brand's image. They invite customers to see themselves woven into the fabric of the ultra-desirable Taylor Stitch lifestyle.
J!NX Blog
J!NX is an online retailer that supplies the gadgety, gamer populace with clothing, toys, posters, stickers, collectibles and games. This is a place for gaming connoisseurs to pick up a Minecraft Creeper hoodie while reading about upcoming products planned for the much-anticipated Legion launch.
The J!NX Blog does a great job of creating a community for gaming enthusiasts. Filled with fun posts about products, projects and games, the blog also posts practical and entertaining info (be sure to check out Fan Art Fridays for the everyday gamer.
Why does it work? Giving your brand a voice is always a good idea. J!NX does just that. Its quick-paced diction mirrors the speedy action of a favorite game. This is an excellent way to curate loyal fans, followers and customers.
Why great retail blogs matter
OK, these retail blogs are impressive, you might say. But how does any of this serve me or my retail business?
Your brand needs a strong voice to cut through the competitive noise. Effective retail blogs can do that. They can give businesses of all sizes an edge. To recap, retail blogs can:
help brands make more personal connections with customers.
boost engagement with customers prospects.
help consumers visualize your products or services in action.
position you as a thought leader in your industry.
build credibility for your business.
I hope these shining examples of retail blogs that work well inspire you to start a blog for your own retail venture. Flex your brand's authentic voice and grow your customer base!
Do you have favorite retail blogs? Please feel free to share in the comments!
[advertisement id="17440″]
Image by: Bulk Herb Store Blog