WordCamps and other WordPress events to attend in 2018
Attended strategically, conferences are worthy business investments that help professionals stay up to date on the latest industry trends while providing a forum for business networking. There are several kinds of business and marketing conferences you can attend all over the world for a number of different topics. Getting more specific, there are several website design and development conferences for WordPress. One of the most well-known WordPress events is WordCamp.
Once you get a taste of the incredible functionality WordPress offers — say, with GoDaddy's WordPress Hosting or Pro Sites — it's likely you'll want to get even more from your WordPress experience. The WordPress events we're about to cover will let you do just that.
What is WordCamp?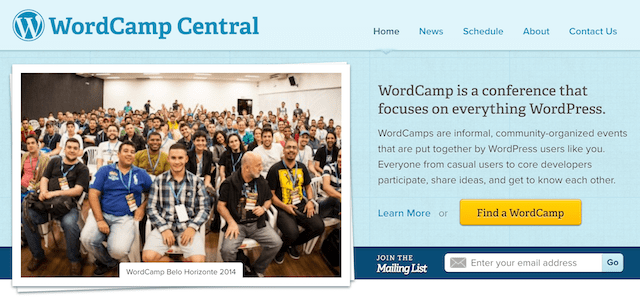 Aside from the fact that the WordPress software is the most used CMS in the world — with lots of practical, industry-agnostic applications — people are compelled by the dynamic and global community of WordPress users jiving off each other to learn and grow at various WordPress events.
WordCamp is an all-encompassing term referring to locally organized and officially sanctioned conferences that deal with all things WordPress.
According to WordCamp Central, there have been 751 WordCamps (and counting) organized since the first one in 2006 was organized by Matt Mullenweg. So far, WordPress events have been hosted in:
69 cities
65 countries (most of these held in the US and Europe)
6 continents
When you consider WordPress has only been around since 2003, these numbers are even more impressive.
In an effort to mirror the nature of WordPress software (a platform that is both free and powerful), WordCamp WordPress events tend to be low in cost, often with sponsorships covering all event costs. Any profits go to WordPress Foundation, which supports open-source designation of WordPress software and the community behind it.
WordPress events in early 2018
Though most of the most popular WordCamp dates of 2017 have already passed, here are some of the early announcements for 2018 WordPress events:
January 19 to 20 at CNM Workforce Training Center
This event will have four tracks: WordPress Fundamentals (January 19), and WordPress Business, WordPress Design and WordPress Development (January 20). WordCamp Albuquerque will also host a Contributors Day session on January 21, where attendees can contribute to WordPress's core, open-source code.
March 3, 2018
The event is still in early planning stages, and only the date has been announced.
March 17 to 18, 2018
Interested in an international WordCamp experience? This WordPress event is only the third to be held in Nepal.
April 7 to 8, 2018
This event is still in early planning stages. Of course, if you can only choose one WordCamp event to attend in Florida, WordCamp Miami is said to be one of the best in the United States.
Global WordPress events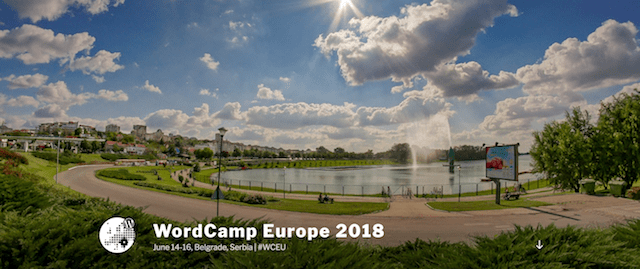 Two of the most popular global WordCamps each year are WordCamp Europe and WordCamp US. Here's what we know about these WordPress events in 2018, so far:
June 14 to 16, 2018, in Belgrade, Serbia
In 2017, WordCamp Europe was held in Paris and was said to be the largest Wordcamp Europe ever organized, bringing in 1,900 visitors from 79 countries. It was quite the undertaking, with more than 30 speakers and live stream video available for those who couldn't be there.
At this point, topics and speakers for the 2018 event have yet to be released, but it's best to grab your ticket as soon as possible if you're interested in attending — they go fast.
WordCamp US 2018
Date TBD in Nashville, Tenn. 
Similar to its European counterpart, WordCamp US is one of the biggest WordCamp events in the country. The host city changes every year, and Nashville is the 2018 destination.
WordCamp US 2017 is slated for December 1 to 3. The date for WordCamp US 2018 is still to be determined, in addition to speakers and sessions.
If there's a particular city or WordPress event you're interested in, make sure to go to their event websites and sign up for email updates to be the first to know about speakers, sessions, dates and ticket sales.
Niche WordPress events
The WordPress community organizes a number of WordPress events focused on very specific topics or use cases. Here are some of the most popular:
WPCampus. WPCampus aims to bring WordPress to people in the world of higher education. Started in 2015, they host one in-person and one virtual conference each year, the latest of which was at Canisius College in Buffalo, N.Y. on July 14 to 15, 2017. Dates and location for 2018 are still to be determined.
A Day of REST. It's an annual conference for developers interested in learning JavaScript, ReactJS and WooCommerce in the context of WordPress. It'll be interesting to see if — and how — this conference happens in 2018, especially after Matt Mullenweg pulled the React framework from WordPress due to a patent clause.
WooConf. This niche WordPress event focused on Automattic's WordPress eCommerce solution took place October 19 to 20, 2017 in Seattle — with dates for 2018 TBA.
Other WordPress events
WordPress powers 28 percent of the internet, so WordCamps aren't enough to satisfy the needs of businesses and individuals hungry to learn more about using this powerful software. Besides officially sanctioned WordPress events, various brands organize their own.
February 21 to 24, in Salt Lake City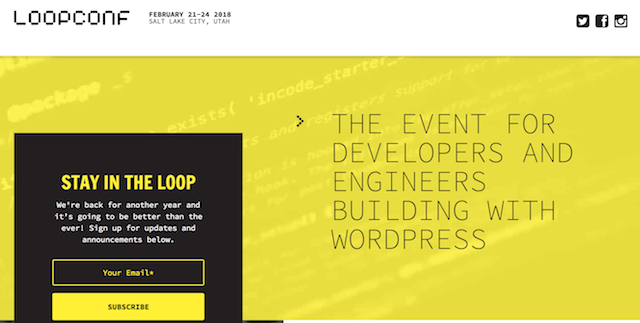 The WordPress Developer Conference (LoopConf) is among newer WordPress events, started in 2015. The first day of the WordPress Developer Conference is full of sessions, and the last day involves the optional activity of tubing or snowboarding or skiing — cognizant of the beautiful mountainous surroundings of host Salt Lake City.
Many of the aforementioned WordCamp events also make an effort to organize fun breakouts featuring some of their host city's hotspots and major attractions. This way, traveling to a WordPress event doesn't have to be all about business and networking — it can be a great way to explore a new city.
The WordPress Developer Conference is limited to a small number of attendees (250-300) and focuses mainly on engineering and growth topics. LoopConf specifically explores how enterprise companies use WordPress.
The most recent Post Status Publish was held August 3 to 4, 2017, in Atlanta. The date for 2018 is still to be determined.
This WordPress conference is different than others on this list because some of the most popular presentations often don't make the main stage. In fact, during this conference, many people don't make it to main stage talks because they spend the majority of their time in the hallway track.
The Post Status Publish event focuses on four areas: web publishing, web hosting, eCommerce and business on the web.
If you're already a Post Status member, the event will be accessible to you at a discount. And if you aren't yet a member, the event represents the perfect opportunity to give Post Status membership a test drive!
Hosted by Pagely, there have been five PressNomics as of 2017. These three-day events focus on the people, products and ideas growing the WordPress economy, and they are targeted specifically at WordPress business owners.
If the event sounds interesting, sign up for email updates. Dates for the 2018 PressNomics conference are still to be determined, but it's hosted in Arizona.
Fill out your calendar
Officially sanctioned WordCamps and privately organized WordPress events are a great way to meet and learn from like-minded individuals. They can also make for the perfect excuse to travel around the world. With so many WordPress events to choose from in 2018, you'll want to start following your favorite options and set aside time in your schedule to travel. WordCamp Central is the best resource for dates and times of official WordPress events.