Andriy Andreyev operates Crocoblock, a company that helps web designers and developers create websites with WordPress plugins for Elementor and Gutenberg. Follow him on Facebook, Instagram, Twitter and YouTube.
The who:
Given a business name is so central to a brand, we tend to put a lot of importance on it. How did you arrive at a name, and how do you feel about it now that you've been in business a while?
Back in 2018, we thought it would be great to create a "crocodile" logo. In ancient Egypt, crocodiles symbolized strength and wisdom, or the dichotomic human nature. But that wasn't the main reason for taking "crocodile" to make a brand name. It's just an ambiguous creature, and… Well, crocodiles are cool, right?
And "block" reproduces the plugin's parts. So, we've taken "croco" as the first part of the brand name and "block" as the second. Then, our community just liked the "Crocoblock" naming, and we went for it. Because it was something our community would associate us with easily.
What's your physical location?
Crocoblock office is physically located in Mykolayiv, Ukraine. However, the Croco team consists of people from various parts of our country.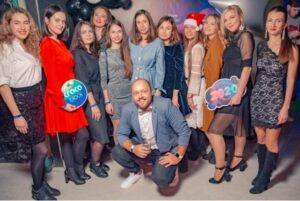 With some brands, location is a key component. Is there anything about the place you live and work that's shaped your own brand?
To be honest, our location doesn't impact our brand, as we are working online and have clients worldwide. I believe this is the best thing about the century we live in — you can be located whenever you want, do some job, and find someone who will like it anywhere in the world.
How would you describe your professional experience and background?
After university, I started to work with Jetimpex, Inc, then organically raised with the company — from coder to manager and the CEO of the Crocoblock project. Well, I'm a tech nerd. Don't believe that non-nerds go to the IT-sphere.
Could you describe the scope of your operation?
Crocoblock is about WordPress plugins for Elementor and Gutenberg. Our primary focus is developing dynamic content tools for our clients. We do have premium and freemium plugins, dynamic templates that are ready-made pieces of code, interactive popup, and many other things for building a full-fledged and operating website.
Our well-known premium WordPress plugins are the JetEngine dynamic content plugin, JetElements Elementor addon, and JetSmartFilters filtering plugin. There are a few bestsellers from the freemium plugins: JetFormBuilder form plugin, JetSticky for Elementor, and JetStyleManager plugin.
Some entrepreneurs describe an aha! moment, the instant they decided it was time to take things into their own hands. Could you describe any of those moments you've had?
Everything started from creating plugins for ourselves, and then our clients suggested building our own project. After receiving more and more feedback, the aha! moment came. And we realized that there is no need to follow standard rules, and we want to implement our vision in the Crocoblock project.
Suddenly, we came up with our target audience (it turned out that we know our primary audience more than we expected) and understood that the best marketing is satisfied clients who sell your products instead of you (word-of-mouth).
That was really the biggest moment of ours. The following WordCamp 2019 was kinda one more aha! moment, because we saw more horizons, and we were like, "Yeah, we're on the right path, we got something we can give our community."
The what:
What kind of projects do you prefer to work on?
The one our clients need. We want to help Web developers solve their issues and make the process of website creation more comfortable and enjoyable. We want to find the perfect balance between design and development, so the clients can build their websites time- and cost-effectively.
Could you describe your typical client (if you have a typical client)?
WordPress website developer (or agency), who creates websites for yourself or clients. Smart, a bit meticulous, and, of course, creative.
Sometimes we're in a position where it's necessary to turn down projects. What do those situations look like for you, and how do you manage them?
I'm okay with that, as, after burned-out projects, new ideas come. So, just analyze the project first, and do not be afraid to leave or close it. There are enough routines, you don't have exciting tasks every day, but there is always a place for creativity.
Nothing prevents you from offering new solutions, looking for something interesting.
Professional horizontal growth is infinite. The more failures, the more successful you are.
Could you describe a project that you feel exemplifies you at your best?
Our JetEngine plugin describes me the best, as it's a handy multifunctional tool for WordPress developers that helps create website structure and add dynamic features to your project.
JetEngine is a real magic wand for creating websites. It's like a Swiss Army Knife and can replace 15 third-party plugins or more (I've just stopped counting).
The how:
An obvious metric for measuring our own success is how much you got paid versus how much time it took. In your experience, what are the advantages and drawbacks here?
I'm not a supporter of this approach, as I believe effectiveness should be the main metric. In other words, how much value the worker brings will show the best results in the project.
I think the measurement of success is consistently changing these days, as it also includes the physical, mental, and material indicators.
Imagine you could travel back in a time machine to a point where you were like, Forget this. I'm done! What advice would you give yourself?
As cliché as this sounds, "Believe in yourself, dude, really. And start to realize your own ideas (not borrowed ones!) as soon as possible."
That would be my piece of advice to myself. And, probably, to everyone having doubts at this very moment. At least, you need to try. You'll never know what idea of yours would be a game-changer if all of them are just written in your smartphone notes, and that's all.
How does GoDaddy Pro fit into what you do? Could you recommend any ways to get the most value out of it — especially to someone just starting out?
Do not try being someone, be yourself. Because other roles are already taken, and nobody deals with it better than you, and compare only with the past self.
How does GoDaddy Pro fit into what you do? Could you recommend any ways to get the most value out of it — especially to someone just starting out?
GoDaddy Pro is both a straightforward and effective solution. I believe it is a product right for those just starting out because it's a real rocket site, but a simpler one. And effective at the same time. No confusion while using it.
The side panel is super-clear; you have everything before your eyes, ready to create a website and monetize your activity. And, of course, the in-built analytics to keep your eyes on the ball.