A big part of GoDaddy Pro is sharing knowledge with peers. We'd like to invite you to get featured on our blog by writing about what you've learned as a professional. That could mean highlighting who you are and what you do. Or maybe you have technical knowledge to share with peers to help them level up.
If you're interested in participating (and gaining the exposure that comes with it), here's how to get started:
When you visit our blog, you'll often see posts authored by GoDaddy Pro Members. We also regularly publish Member Stories, which offer an inside look at their businesses and personalities.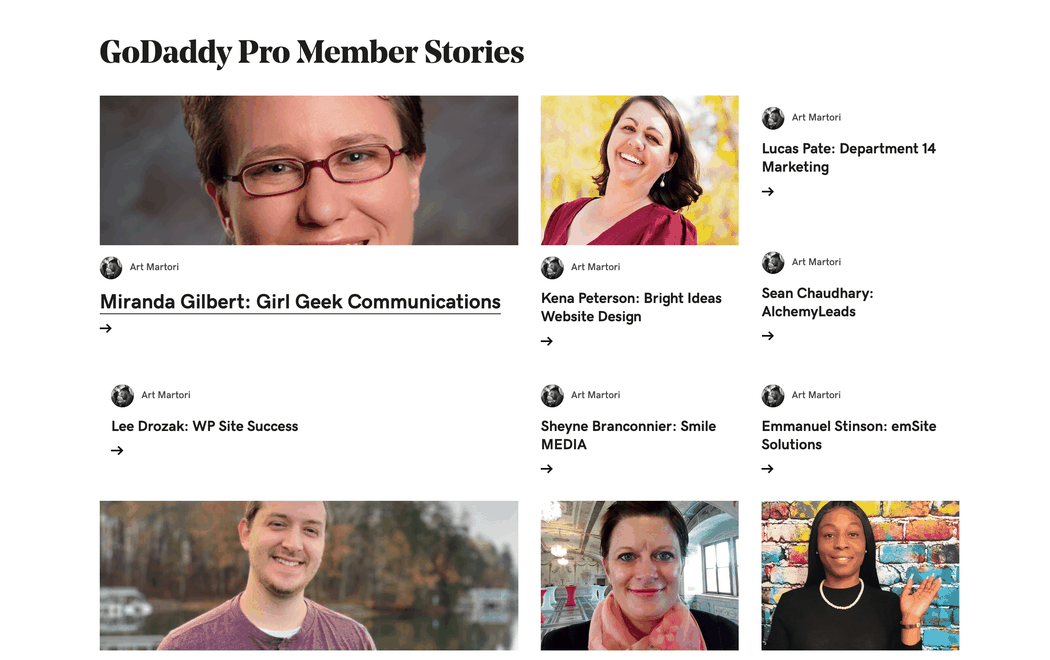 Here's some of the stuff we cover...
How they got started
Sometimes, there's an aha! moment, when someone decides it's time to take things into their own hands. We asked our Members if they experienced this and how it's contributed to what they do today.
Up to that point I had only worked on personal projects, but gained enough knowledge in building and optimizing websites that I decided to offer my services. So, yeah... I had no fancy degrees or techy jobs with large companies. Just a passion for web development that took me places I never dreamed of going.

—Daymon Hoag, Buckeye Web Development, LLC
So, I learned everything I could. Mostly by teaching myself — which is how I learned web design, graphic design and at least 80% of my skill set.

—Miranda Gilbert, Girl Geek Communications
How they run things today
Our Members are unique as working professionals, with distinct preferences when it comes to the types of clients and projects they encounter. They also discussed those, the jobs they typically turn down, and how they measure overall sucess.
It is important to me that I scale my business larger, making myself more available and reaching more people, but it won't ever happen at an alarming rate that will cause me, my expertise, or my time in the attention to detail of each client to be removed from the equation.

—Thea Howell, The Artist's Concierge
I walk them through best practices. For example, I helped one client figure out how to write content for their Directors' page. Walking through a back-and-forth conversation makes it more relatable and easy for the client to follow.
—Phillip Levine, South Florida Web Advisors
Why GoDaddy Pro is a good fit
When you build a business from scratch, it makes sense to be choosy about the platforms and systems you put into place. We're proud to share why our Members choose GoDaddy Pro and The Hub to manage their businesses.
Managing so many different tasks, clients, websites, meeting the turnaround promised was impossible and definitely not profitable. GoDaddy Pro elevated my business on so many levels I would definitely recommend to anyone starting as a freelance designer or starting their own agency. It changed the game for my business.

— Shereitta Myrick, Assured Purpose Digital Creative Agency, LLC
The tools and resources with Godaddy Pro allow us to provide more value to clients and provide expertise for clients that don't have a marketing team in-house.
— Ryon Gross, Local Leap Marketing
What advice they'd offer
It's always nice to learn from someone who's been there, duplicating their successes and avoiding any pitfalls they encountered. Our Members offered all kinds of great advice, sometimes in places you'd never expect.
Every hour of your life is valuable, make the most use of it. And even if you feel like you're old, always remember there is no better time to start than now. Whether it's the good times or the bad times, this is the only time we have.

— Emaad Paracha, Abstract Hub
Don't be like me, be like you and do what your soul calls to. If you can monetize it, all the better. If not, hobbies are great too. Don't lose sight of what makes you feel good.

—Terra Walker, TerraWalker.co
Getting featured on our blog isn't the only benefit
As a GoDaddy Pro Member, you can get featured on our blog — but that's a very small part of the overall benefits. Members also enjoy a discount on all GoDaddy products and services, revenue sharing opportunities, and the support of a like-minded community.
GoDaddy Pro membership includes access to The Hub, a platform for managing multiple websites as well as other aspects of a digital business. Our Members using it report saving an average of three months for every client website they're managing.
---
Start taking back your day
We built the Hub by GoDaddy Pro to save you time. Lots of time. Our members report saving an average three hours each month for every client website they maintain. Are you ready to take back that kind of time?