In 2014, Robbi Katherine Anthony (who goes by RKA) felt like she had nowhere to turn for help. She had just come out as transgender and was urgently seeking support and resources. But the traditional, in-person support groups were a dead end for RKA — she found the members to be unhelpful and unkind.
Through the pain of her experience, she resolved to leverage the power of technology to create an accessible "instruction manual" for gender transition.
"I knew that technology has a way of leveling gatekeepers," RKA wrote in a recent Fast Company op-ed. "If information is freely available, then people can choose for themselves how to act on that knowledge rather than first having to play by someone else's rules."
"There simply isn't an argument I've heard that can explain how meeting at odd hours in a church basement could possibly be more equitable or accessible than an app that can be downloaded in seconds from anywhere in the country," she added.
Obstacles facing LGBTQ entrepreneurs and creators
In the process of launching Euphoria.lgbt, a suite of mobile apps to help the transgender community, RKA experienced more gatekeeping and marginalization as an entrepreneur who happens to be trans.
Structural inequities and gatekeepers' personal biases create financial struggles for a disproportionate number of LGBTQ people, and the effects are painfully evident in the world of business and venture capital.
Research shows that LGBTQ people — particularly women, trans individuals, and people with intersectional identities — receive lower wages and are more likely to live in poverty.
A 2020 report from McKinsey details how the workplace falls short of setting LGBTQ people up for success.
Amplifying success stories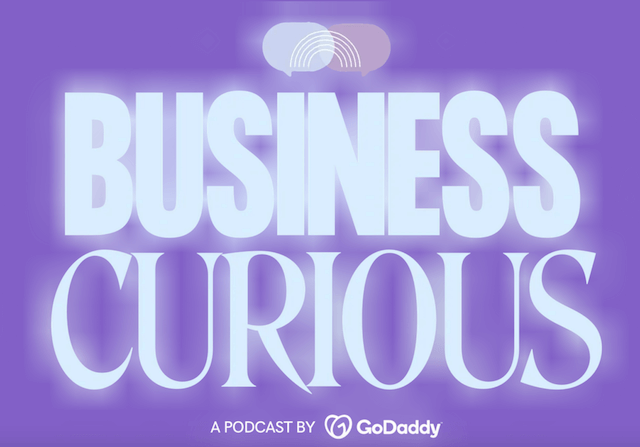 Despite the compounding effects of systemic discrimination, LGBTQ entrepreneurs utilize their survival skills — honed out of necessity — to succeed against the odds.
GoDaddy continues to amplify stories of LGBTQ entrepreneurs who succeed. The podcast, Business Curious, uses the power of digital communications to tell stories that will inspire future generations of LGBTQ professionals.
RKA's endeavors are powerful examples of how technology can be used to raise LGBTQ communities. Euphoria.lgbt makes life-saving resources accessible to trans people anywhere.
Business Curious is a digital storytelling platform that inspires LGBTQ entrepreneurs to be visible and demand a seat at the table in a business landscape that still has a long way to go.
(It's important to note that this is not to imply that the struggles of trans people are equivalent to the struggles of LGBTQ entrepreneurs. Both are valid, and both can take advantage of technology to help people thrive.)
Speaking out for equality
Companies are speaking out against discriminatory legislation like never before. Because LGBTQ inclusivity is good for businesses and their employees, anti-LGBTQ legislation can influence business decision-makers to steer clear of states that don't offer equal protections to all.

The Human Rights Campaign (HRC) recently announced that more than 55 major U.S. corporations signed on to their statement decrying 2021's unprecedented wave of anti-trans legislation.
Additionally, more than 400 companies, including GoDaddy, have joined HRC's Business Coalition for the Equality Act, which advocates for the adoption of federal legislation that would provide the same basic protections to LGBTQ people as are provided to other protected groups under federal law.
Breaking down barriers
Businesses publicly supporting LGBTQ equality are an important step forward in the struggle for equality.
But for businesses to truly be allies, more than speech is necessary.
Being a credible ally takes more than passive affiliation and rainbow-bedecked marketing campaigns. It requires meaningful effort and sacrifice — actions must be taken that protect and uplift LGBTQ people.
Change starts from within — businesses must transform their workplaces to be inclusive of LGBTQ communities.
Hiring LGBTQ people at all levels, paying people equitably, providing benefits to partners, featuring visibly LGBTQ people in year-round marketing campaigns (not just during June), and avoiding business with entities that harm LGBTQ people (or anyone, for that matter) are all table stakes for being a corporate ally.
Beyond those initial steps to remove the systemic barriers that hold LGBTQ employees back, businesses should look for ways to directly benefit LGBTQ communities outside the office.
The .gay domain itself provides a positive example for companies looking to make a meaningful impact.
In addition to donating 20% of every new domain registration to LGBTQ nonprofits, .gay also launched the first-of-its-kind .gay Rights Protections Policy, prohibiting hateful and harassing behavior on the platform and providing specific, actionable steps to remove infringing sites from the internet.
These unique policies benefit LGBTQ people online and in the physical world: the extension raised over $148,000 during 2020 for its inaugural LGBTQ beneficiaries, GLAAD and CenterLink.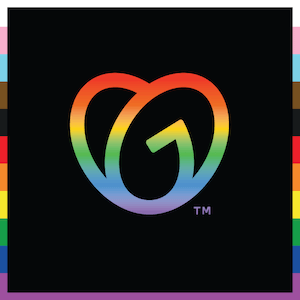 The .gay Rights Protections Policy provides an example of community standards that social media companies in particular could learn from. Leading LGBTQ rights organization (and .gay nonprofit beneficiary) GLAAD recently released their first Social Media Index report; they found that every major social media platform is "effectively unsafe" for LGBTQ people.
GoDaddy stands with .gay to promote LGBTQ safety and equality, and to inspire philanthropic generosity within our company.
We match our employee's charitable donations and create employee resource groups like GoDaddy United, in addition to our other corporate responsibility initiatives.
GoDaddy also received a perfect 100 score on the HRC's Corporate Equality Index for the last three years.
Inclusion is important to who we are as a company, and everyone here can be their authentic self.
Nurturing a culture of diversity and inclusion is woven into our fabric of GoDaddy.
Employees' unique experiences enrich everything we do. And at the end of the day, diverse teams make us better.
By learning about the particular issues that LGBTQ people in business face, the business community receives a valuable roadmap for breaking down those barriers — so that they won't hold anyone back anymore.
A message of hope
The success of LGBTQ entrepreneurs isn't just inspirational; it has positive ripple effects for broader LGBTQ communities.
The barriers RKA faced motivated her to overcome obstacles to both her transition and her business ambition. Thanks to her success with Euphoria.lgbt, far more trans people now have access to information and resources tailored to help them navigate their health and wellness. And when LGBTQ business owners like RKA succeed, they in turn create new job opportunities for their communities.
Despite the many difficulties she has faced as a woman who happens to be trans and an entrepreneur, RKA is still working hard to create the future that LGBTQ people deserve: "With technology, we can deliver more help to individuals without the need for the old gatekeepers."