Knowing how to effectively give a 60-second "elevator pitch" of your business can be the difference between getting the attention of a potential investor or not — which can mean having to eat more ramen noodles, or having enough cash to be able to buy real food while you keep grinding to build your business.
If you can't quickly and succinctly describe what your business does, and exactly what you're asking for from a potential investor, you either don't understand your business well, or simply don't have a compelling enough idea.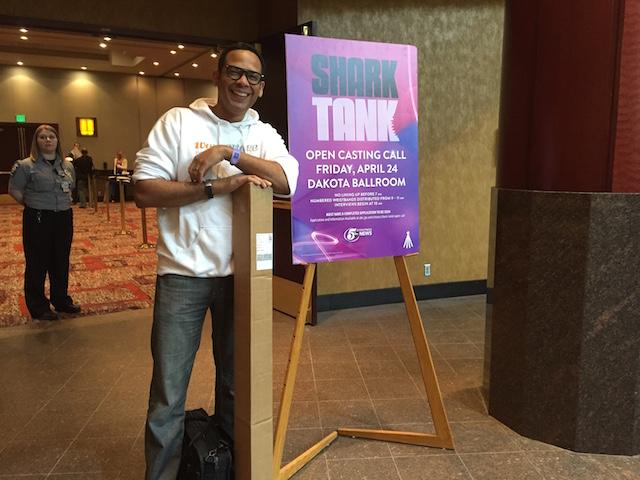 Delivering a great elevator pitch of my business got me into a tech startup accelerator, and onto the second round of auditions for the popular TV show, "Shark Tank" — twice!
Anatomy of a 60-second elevator pitch
Your elevator pitch should contain the following:
Problem/solution statement
Description of the product or service
Business/revenue model (how you're gonna make money)
Market size
Sales traction to date
The money ask and what you're offering in terms of equity
Use of funds
And be super-energetic and demo your product, if possible.
I'm the king of making it to the second round of auditions for "Shark Tank," so if you're gonna audition for the show, use this approach. It works! (You may wanna talk to someone else, though, if you need advice for how to actually make it to the "Tank"— I haven't figured that part out yet!)
Here's a video of me practicing my elevator pitch last year before heading to Minneapolis to pitch the "Shark Tank" casting directors for the second time. After I pitched, the casting director said he didn't have any questions and that I did a great job. So, he made small talk, and the next day I got an email from him with the good news that I'd moved on to the next round.
Startup accelerators
If you're interested in applying to a startup accelerator as a way to launch your business, here's a link to a list of the top 20 startup accelerators, according to Forbes magazine. Using my tips above, I participated in an elevator pitch competition that got me discovered by the No. 14 accelerator on that list, gener8tor, which I successfully completed. Then I went on to raise $400,000 in investment capital.
Pitching on the radio
There is a cool radio show co-hosted by Kevin Harrington, an original shark from "Shark Tank." The show is Big Pitch Radio and it airs in 30+ markets with a potential reach of 8 million people. I recently had the pleasure of pitching my business and it was a lot of fun. I'm thrilled they followed up with me and are exploring their network to see how they can be helpful, which I really appreciate. You can listen to my pitch here.
Big Pitch Radio is always looking for people to come on the show and pitch! Click here to submit your business for a chance to be on the radio. The show is great exposure, you get good feedback from experienced business people, and it's always good to keep your pitching skills sharp.
Good luck out there!