The only thing consistent about social media is the fact that it's always changing. New apps are created, social networking sites are expanding their advertising options, and we are constantly discovering new and innovative tools to reach our customers faster, easier and on a budget.
And while all of these things are great, the challenge lies in trying to stay up to date with everything. Whether you're a marketer, business owner or both, you want to be kept up to date on the latest marketing trends.
And that's where Social Media Examiner comes in.
I stumbled upon this awesome resource a few years ago and have had the pleasure of watching its founder and CEO, Michael Stelzner, grow Social Media Examiner to what it is today. Michael is a dynamic entrepreneur with a passion for helping others succeed. He's written books including Launch and Writing White Papers, and is the man behind large events such as Social Media Marketing World and Social Media Success Summit. He founded the Social Media Marketing Society.
Michael also serves as host of the Social Media Marketing podcast and the weekly Morning Social Media TALK show.
Whew. He has a lot going on!
Meeting Michael Stelzner at Inbound
"I think the biggest challenge marketers and business owners face today is standing out." ~ Michael Stelzner
I had the opportunity to meet Michael at Hubspot's Inbound conference this year. I made it a point to attend the session he was speaking at and hung around afterwards to say hello. As a bonus, I also got to meet Darren Rowse, founder of ProBlogger.net. I'm a fan of his, too, but that's a whole different post.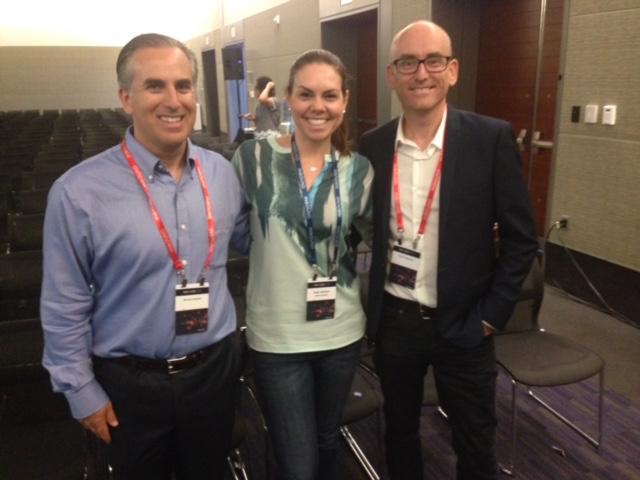 Since Michael gets to interview lots of experts in the social media world, he has scads of great tips to share — which is why I was thrilled when he agreed to a quick interview with me. We chatted about the biggest challenges business owners face with their online marketing efforts, which social networking sites to be on, and how to build an audience using what he calls the "elevation principal."
I hope you enjoy the video and discover some new ideas to help your business grow.