Thea Howell is The Artist's Concierge, providing an array of digital services to artists throughout the U.S. Catch up with her on Facebook, Instagram, LinkedIn and Twitter.
The who:
Given a business name is so central to a brand, we tend to put a lot of importance on it. How did you arrive at a name, and how do you feel about it now that you've been in business a while?
I'm known as The Artist's Concierge. The use of the word "concierge" relates to and describes how I am serving the arts community and the needs of my artist clients for someone who can retrieve resources and serve them with their "know-how" in the territories or areas they inquire about. I believe I'm the place to come with the questions, much like a concierge desk.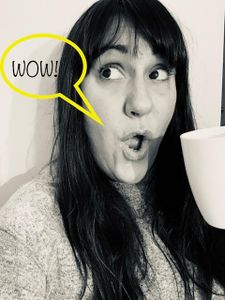 With some brands, location is a key component. How do you balance that with your tendency to pop up throughout the southeastern United States?
I'm in the Raleigh-Durham area and my clients are primarily regional to this area but I've been having a farther reach that includes the West Coast and the North as well. I'm serving my clients virtually so I can have clients from all over the country.
How would you describe your professional experience and background, both as an artist and web pro?
I have worked as an artist all my life, so I understand the circumstances, emotions, and desires of the artist. This helps me in serving and nurturing my clients and the relationships of trust that we have with one another.
I did not enter the role of website designer simply because I loved or was talented in website design.
It came about as a way to extend the professional development and marketing services I was offering my clients; there were concerns by both them and me that their marketing and branding needs would be "lost in translation" if they went to a designer who wasn't focused on their overall business health in the website and wouldn't understand how it would be applied there.
For some solo entrepreneurs, it's more work than it's worth to add staff and scale up their business. Could you describe the scope of your operation? My brand is me and my experiences.
My business is built on a trust and rapport with each individual and in recognizing and supporting them. This is all by design, and can't happen without intimate relationships between the client and myself.
Scaling up my business is happening through technology and how I can serve people through my website as a resource — both thanks to GoDaddy's technology and products that allow me to do that.
It is important to me that I scale my business larger, making myself more available and reaching more people, but it won't ever happen at an alarming rate that will cause me, my expertise, or my time in the attention to detail of each client to be removed from the equation.
Some entrepreneurs describe an aha! moment, the instant they decided it was time to take things into their own hands. Could you describe any of those moments you've had?
I've had an amazing career in the arts, but I've also found myself in roles from time to time that were missing the mark on allowing me to use my skills and creativity to the fullest. I'm also ultra-sensitive to customer service, and I put myself in my client's position and just went for it!
Knowing that I probably could never find any other job that would allow me to fully express my thoughts on managing creative brands or offer highly detailed considerations of the client in the delivery of their service — I just built it myself.
I realized one day that I'd been holding back all these great ideas not out of fear they wouldn't work, but because I had convinced myself I needed to work for others and have a steady paycheck. That first satisfied client and the feeling that you just expressed your best self is all it took for me to make the leap (which was more like a step since I felt I was already living this career vicariously and independently already)! I wouldn't trade what I do now for anything!
The what:
You're a concierge for artists. How do you balance supporting client artists with pursuing your own artistic calling — and maybe even merge the two?
The designs I create via websites and my own programming and brand, and what I write through my content writing services are currently how I express my creativity. I'll always be an artist, but am not pursuing the creation of my own works of art as a profession at this time.
There are so many considerations in a website design that bring me the same joy as I'm still working through the traditional elements of art and principles of design when I create a site. That's really provocative and rewarding to me as a designer, and I'm even considering text as an aesthetic, something often overlooked.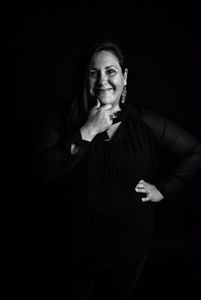 Could you describe a project that you feel exemplifies you at your best?
Yes, there are several. I really like the depth of content and organization of content in my own website, along with my imagery. There are also sites in my client portfolio that I really nailed the branding and supported the content, (and some have been updated by the client so may not fully represent my original content and design, but the majority of the sites are still my work)
The how:
Imagine you could travel back in a time machine to a point where you were like, Forget this. I'm done! What advice would you give yourself?
I've said this a few times and it was always about working for other people that had what I thought was strange agendas or disconnected ideas. I've never really stressed at all about what I do now because it's totally right for me. Based on the way I've designed my business it can't get overwhelming as I know myself really well and what I want and don't want from this work.
Working from home and being a mom and homeschooling are really the only things I feel that I juggle. Work is my fun and passion and the best expression of who I am.
What's your parting shot for people who want to be like you when they grow up?
Haha. Drink a lot of coffee and also don't take on more than you feel you can handle. That looks like having breathing room on your calendar. WORK SMART, NOT HARD. I can get more done in less than eight hours a day than I can if I try to do things like "burn the midnight oil" or work 7 day weeks.
I have to have time to review my work, think about it, give the client a lot of undivided attention, and listen to their interests and questions and know who they are on an intimate level.
Those little things you'll do for your client are HUGE — and there's no rules here as an independent in business. Get as creative as you'd like with your service delivery. If it makes you feel good, it's probably good for them, too!
Do you have any feedback or comments to share about GoDaddy Pro?
Yes, I absolutely LOVE IT. I have no desires to seek out any products other than Website Builder. It keeps getting better. I do wish that I was solicited for my feedback and can share product ideas and beta test features. There are still some things that I'd like to share. I just never know where to share that. And I'd also love to know WHAT is being planned and developed feature-wise so I can tell my clients. It helps me to sell your products if I have that intel.
---
---
Free virtual event: Connect with thought leaders
Expand 2021 from GoDaddy is a free virtual event that brings together the web design and developer community. You'll get to share ideas and experiences, make connections and find support for your success. Sign up today and discover new ways to expand the amount of time you have to get stuff done.