Customer experience, once a buzz word and thought to apply only for certain industries like hospitality, is now expected by all customers in all industries. Even by your own auto shop customers. While the quality of your work is foundational to drive positive experiences for customers, it's also important to think about the entirety of your shop's experience and to find ways to continue to exceed your customers' expectations. Those expectations have never been higher. Consumers are accustomed to accessing more information online, including store reviews, ad targeting and cost comparison between local shops. Adapting your auto shop to the modern customer has set a new bar for service standards — to differentiate and stand out.
You've worked hard to build the reputation that brings customers into your shop, not to mention the actual work of repairing and servicing vehicles. If these efforts are not supported with a delightful end-to-end customer experience that extends from the shop floor, to your payments counter, and further to drive online engagement, then you'll slowly turn away your base, despite your high quality of service.
In this article, we'll share a few tips you can follow to improve the experience for your customers and offer flexibility for your customers to engage with you online and in person by leveraging modern technology to your advantage.
Improve the checkout experience with a modern point-of-sale system
What's better than delivering a service that exceeds customer expectations, but also making sure that their checkout process is zippy and error free, so your customer is well on their way with their newly serviced vehicle.
Today, your shop might use a simple point-of-sale to accept credit card payments (or you might still be operating with cash / checks only!), but with a smart (and good looking) POS system, you can do more than just take payments — you can give your customers a fast, flexible checkout process, with a modern experience that acts as the cherry on top of their current engagement with you.
The GoDaddy dual-screen Smart Terminal offers one screen for you and one for your customer so they can complete the checkout seamlessly, with clear itemized display of services and quick prompts for tipping/signature. Powered by GoDaddy Payments, customers can use a variety of payment methods, including not only credit cards and debit cards that's expected by most, but also contactless payment methods like Apple Pay or Google Pay.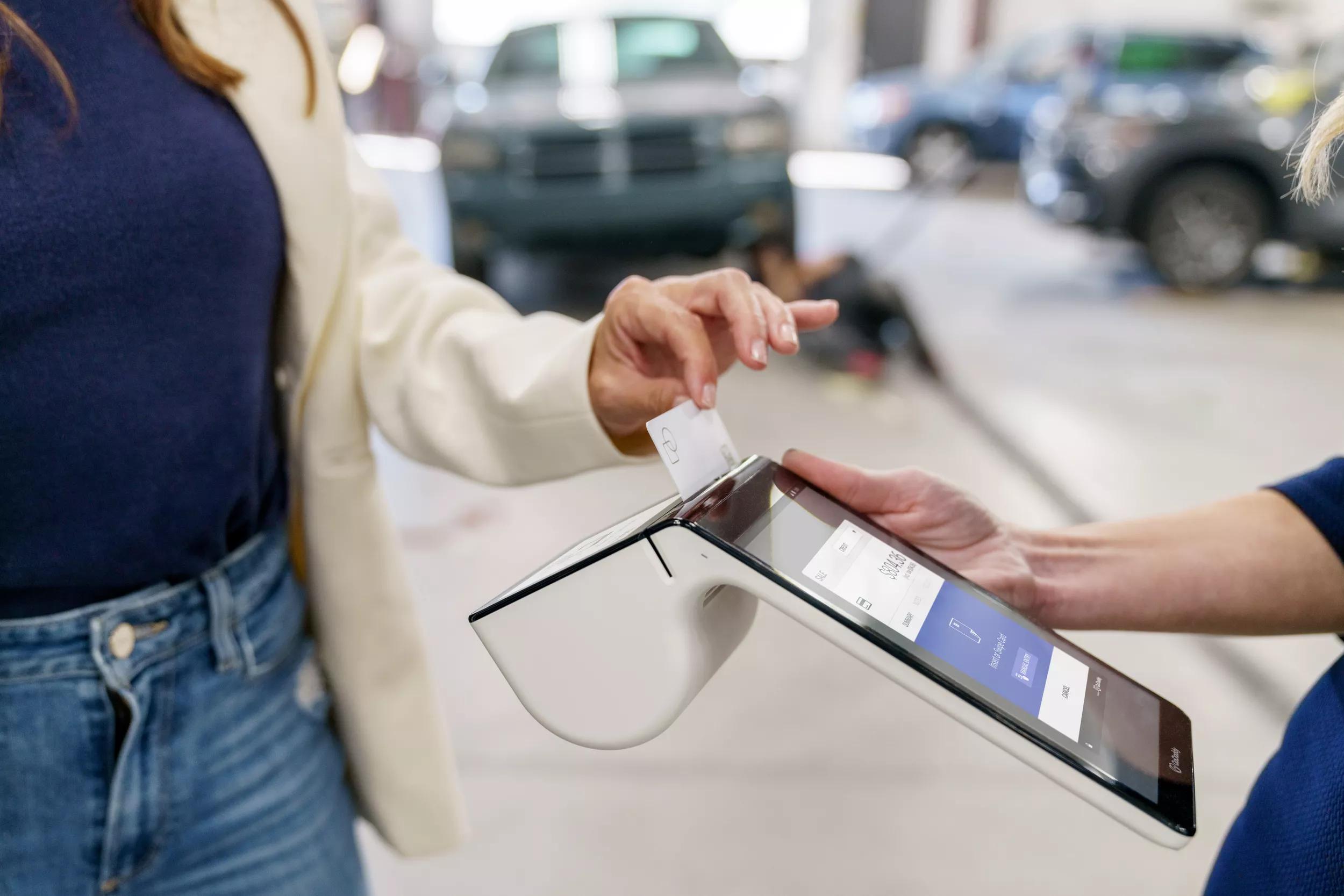 The Smart Terminal is a sleek and exceptionally portable device, making it a great choice for busy shops with lots of coming and going — your customers can pay in your front office, or you can even meet them at their vehicle for that extra touch of customer service.
With a built-in printer, you can easily print receipts and or email/text it to your customers for added convenience. You can even send payment links to your customer by text message, letting them pay for service even when they're not at your office counter. Your customers will love this variety and flexibility when it comes time to pay for your service.
Extend your customer service online
Even if you aren't selling anything online, an online presence can supercharge your business and extend your customer service online. By offering easy ways to book appointments, get up-to-date information on new service offers and provide an additional channel to engage, you can strengthen the relationship with your customers even when they're not in your shop.
An online store should include built-in marketing tools such as social media integrations that make it easy to run ads and post content, so you can reach new audiences that you might have otherwise missed. The online store's email marketing capabilities can help you communicate more regularly with your customers.
These tools become especially powerful when you pair them together — you can send your customers educational emails about seasonal maintenance, including a service discount and a scheduling link to encourage folks to make an appointment with your shop. Your customers will appreciate the effort you have invested in making it easier for them to take care of their vehicles. You can also expand this campaign to social media to attract new customers to your shop by meeting them on the platforms where they like to spend time. With all these tools in your toolkit, you'll be better equipped to attract new customers and grow your relationship with your current customers.
Stay connected and get more from your customers
A key asset that you have that other shops may not, is the invaluable trust of your customers – those that have been coming to you for generations. Elevate and redefine their experience with your shop, and in turn, turn them into your ambassadors. Offer rewards for referrals, gift cards and loyalty points that can help them bring more customers to you.
The GoDaddy Smart Terminal POS offers an extensive app marketplace with apps for digital and physical gift cards, loyalty membership programs that you can offer to your most loyal base.
There are additional ways you can modernize your operations and further extend those benefits to meet your customer expectations.
Pick a payment processor that helps you save more
When it comes to payments, the terminal is only half of the equation — you also need to consider the payment processor and their rates for each customer transaction.
GoDaddy Smart Terminal powered by GoDaddy Payments can help protect more of your profits by offering the lowest transaction fees in the industry compared to other leading providers at 2.3% + 0¢ per in-person transaction. There are no hidden fees or long-term contracts to worry about, either, so you don't need to worry about any surprising costs. Your earnings are quickly deposited into your bank account as soon as the next business day, giving you peace of mind and greater control over your business cash flow. The low fees, along with the flexibility to accept payments from all major credit and debit cards — in person, online and over the phone — gives you everything you need to support your customers and your business.
Simplify management of your shop
In addition to the benefits to your customers, pairing Smart Terminal, GoDaddy Payments, and the online store can also have a big impact on shop administration and management. GoDaddy enables you to manage your payments, transactions, orders and services all in a single dashboard, minimizing the laborious task of managing stacks of paperwork or human entry. With extended capabilities to automatically synch transactions and taxes to QuickBooks, you can further simplify bookkeeping and free up time in manual reconciliation.
You'll be spending less time managing your business and more time delivering high-quality service to your customers and their vehicles.
Best of all, you'll experience the peace of mind that comes with working with a trusted brand that has invested in supporting small businesses for 25 years, and that is available to support you 24 / 7 to ensure your point of sale is running worry-free.
The modern customer has big expectations when it comes to their purchasing experiences, which extend to your auto shop as well.
You can meet and even exceed those expectations by offering your customers a best-in-class purchase experience and by establishing or expanding your online presence to improve how you communicate, support, and grow your customer base.
When considering new tools to support these efforts, be sure to choose options that come with all the features you need to wow your customers, fit into your budget and help you keep more of your hard-earned profits, and come with great support to assist with setup and any challenges on the way.
By combining Smart Terminal, GoDaddy Payments, and GoDaddy's online store, you can take great care of your customers and set your shop up for many years of success in your community.
Visit us in person!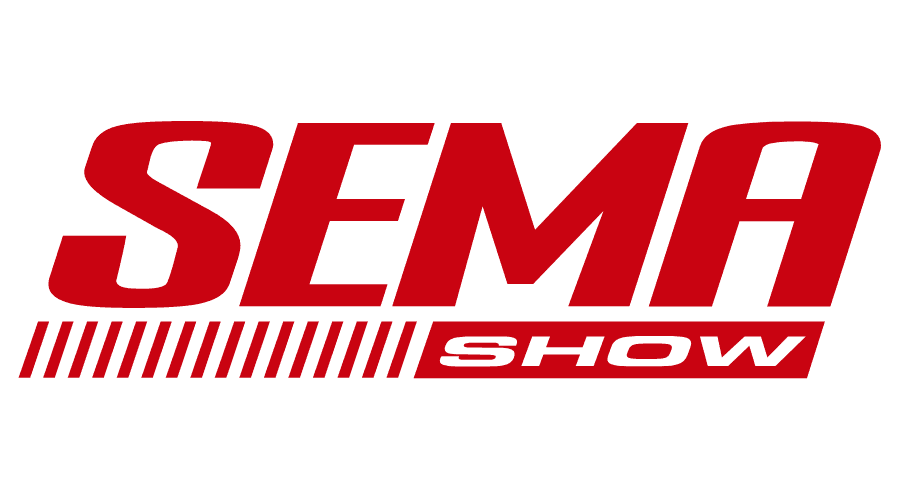 Come see us at the 2023 SEMA Show in Las Vegas! We'll be at booth 11671.
Learn how GoDaddy can help you grow your business and save more money. Come see our sleek and modern Smart Terminal in action, and connect with our experts live to get started.