Connor Rickett is multi-faceted. For one, he's a man of science (Connor started his working life as a synthetic organic chemist — no, that's not a paradox). For another, he's a fan of nature (check out www.vagabond.guide for proof). And with close to six years' experience, Connor's a freelance writer with staying power. He's also a face-to-face kind of guy who prefers to engage people in bonafide conversation, so instead of emailing a bunch of annoying questions at the man, I packed up my podcasting gear and drove to beautiful central Phoenix, Ariz., to conduct an actual interview that you should listen to right now.
Connor has seen pretty much everything the cruel world of freelancing can dish out, and he wasn't shy about offering advice on everything from landing clients to manipulating co-working spaces to channeling Chumbawamba when you get knocked down.
Below is a list of my top takeaways. Don't be content with mine, though. Listen to the interview now.
Freelancing takeaways from Connor Rickett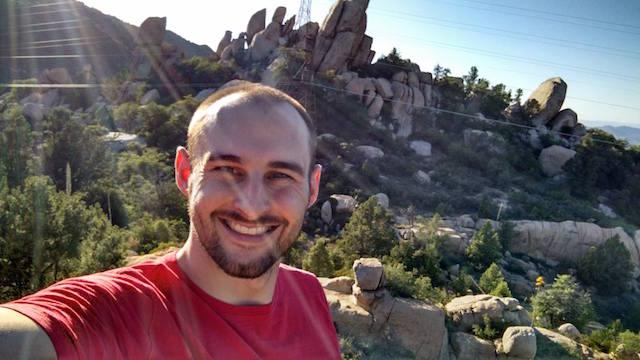 Honk if you need writing
Self promotion is the bane of many freelancers. If you're working, you're not rustling up new business, and vice versa, right? Not always. Connor bought a sticker for $3.50 that reads: Do you need a writer? He slapped it on the cover of his laptop and went about his business in all his normal co-working spaces. To date, the sticker has initiated conversations resulting in $2,000+ in work. How's that for ROI?
The lesson here is advertise your skills wherever you go, even when you're knocking out a 1,000-word piece over a cup of java.
Know a little about a lot
A freelance writer's knowledge shouldn't stop at being able to recite all 150 prepositions in under 30 seconds. According to Connor, it's important to also know a bit about what the folks you're working with do. Being able to talk HTML with a developer and yap about the golden ratio to a designer makes their day better and more likely your phone rings for their next job.
Things get easier
Connor has a theory that you win half the battle by spotting trouble ahead of time and knowing how to react.
But trouble is sneaky; it hides behind your positive mental attitude, waiting to pounce. Only experience can sniff it out.
You freelancer young bucks can take solace in the fact that today's hard knock paves the way for a gentler tomorrow. If you're a freelancing grizzled veteran, know your experience puts you a step ahead of the pack.
The Big Finish
The only thing better than reading about Connor is hearing his mellifluous voice. I've only scratched the surface of what we talked about, so listen to the interview and hear his take on everything from Aston Martins to professionalism, recurring revenue to taking work off your plate.