With two-thirds of Americans worrying about job security and more than half looking for new careers, web designers and developers still have great gigs. This data comes from survey results we released in February 2021, polling 500 web designers and developers.
Americans love the lifestyle afforded by a career in web design and development. It's exciting to consider the future of the industry, as emerging web professionals find their places in the community.
We found 66% of Americans needed help from a Maker of the Web to launch their ideas, and 45% of designers and developers believe their industry is growing. Our data shows the opportunities are out there. We might be looking at a fresh take on traditional web professional roles.
What makes web design and development a good gig?
Our survey shows 95% of designers and developers believe their careers are lucrative and secure. They noted the best aspects of the job are the ability to work remotely (61%), creative aspects (54%), work environment (47%) and pay (45%).
The image below illustrates the data on what Americans are looking for in their next career: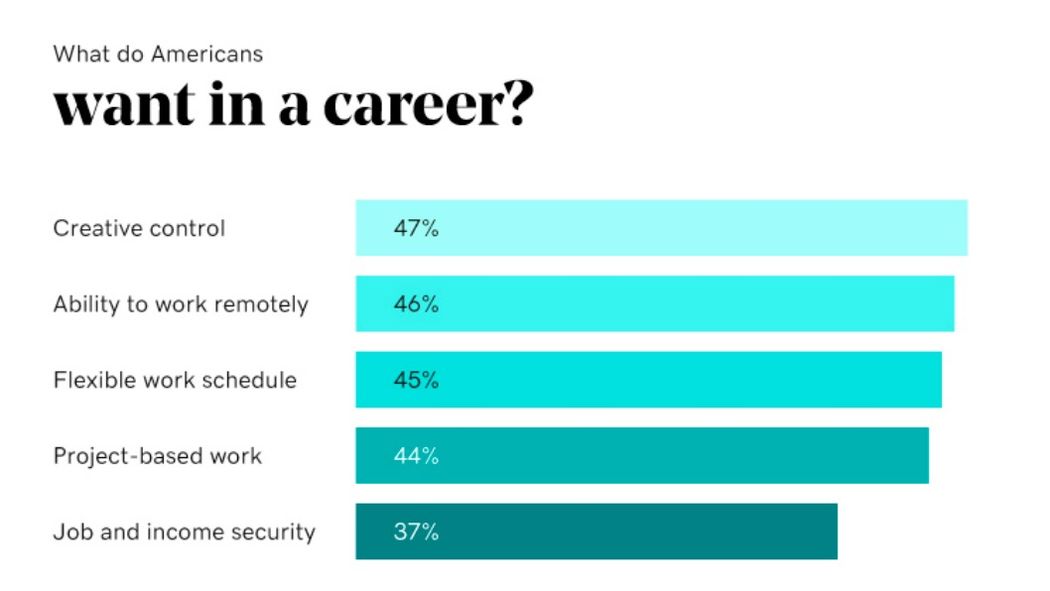 Most respondents (59.7%) noted they learned web development and design skills because it was a flexible way to make extra income and create meaningful work.
Jobs before full-time web design and development
Just over 41% of respondents said web design and development was their first career. Prior to stepping into a role as a Maker of the Web, their career paths were as varied as they were interesting.
While most respondents indicated they'd come from roles that involved computing or technology, others included:
Dental hygienist
Forestry
Garbage worker
Sales at a flower company
Human resources
Accounting & bookkeeping
Storage rental
Fitness trainer
Social worker
Front desk receptionist
Of these individuals, 57.5% said they got into web design and development because they wanted to try something new as a career.
Nearly 30% said they were burned out at their previous jobs.
GoDaddy Pro: The web professional's advantage
We launched GoDaddy Pro to help web designers and developers more efficiently deliver better results to their clients. It's completely free to join and includes several pro-level benefits, starting with a 30% discount on all GoDaddy products.
At the heart of GoDaddy Pro is The Hub, a single interface that lets you manage multiple client websites and projects from one place.
The time savings it produces are significant — GoDaddy Pro members report saving an average of three hours each month for every website they manage for clients. Other pro-centric features include a shopping cart you can use to guide client purchases and a robust project tracker.
Obviously, it's not intended to replace decades of knowledge and skill — but imagine what the seasoned web designer or developer could achieve with more free time.
Find your place among web designers & developers
One of the main objectives at GoDaddy is helping website designers and developers at every stage of their journey. To that end, we've created places for these individuals to learn and share knowledge and ideas.
There's now a space on our blog, the GoDaddy Garage, dedicated to the more technical content that's useful for web designers and developers. If you're looking to learn new tricks of the trade or share your knowledge as a guest author, it's well worth the time to check out.
---
Free virtual event: Connect with thought leaders
Expand 2021 from GoDaddy is a free virtual event that brings together the web design and developer community. You'll get to share ideas and experiences, make connections and find support for your success. Sign up today and discover new ways to expand the amount of time you have to get stuff done.