A virus is a form of malware — malicious software that can be installed on your computer to execute tasks ranging from annoying, like loading popup ads or installing browser toolbars, to significant security risks, such as keylogging or worse. That's why finding and using reputable virus removal tools is so important.
Most of us are familiar with the risks of viruses on our personal computers, but websites are just as vulnerable.
Just as a virus can infect your home setup and hijack its resources, so too can one wreak havoc on the web server that hosts your business's website — and it happens more often than you might think.
All a hacker needs to do is breach a single server where your shared hosting plan lives, and then they'll gain access to all sorts of different sites.
Viruses and your business
It's no surprise that viruses are damaging to a website, but they can also irreparably harm your business's reputation. Let's say you're operating an infected site. What happens when a visitor armed with anti-virus software drops by? They'll likely be warned to steer clear, resulting in an immediate loss in traffic for you.
Search engines like Google can also flag your website if it's infected, which will affect your SEO performance and result in a further decrease in visitors.
Even worse? This experience can negatively influence the user's perception of your business as a whole and discourage them from returning. Unfortunately, most users won't know, or particularly care, that the business owner isn't the one who installed the virus.
Not sure if your site is infected? Use Google's Transparency Report to safely check if your site — or any other — has been flagged as unsafe. And don't panic if it is. There are things you can do to minimize the damage to your website, like securing a virus removal tool.
3 of the best virus removal tools for infected sites
Viruses aren't fun, but there are a few tools out there you can use to mitigate the problem quickly and effectively.
GoDaddy Express Malware Removal.

Sucuri

Quttera
Don't let a virus or malware stop your business in its tracks. Pick a virus removal tool for your website and get yourself up and running again.
1. GoDaddy Website Security

If your business's website has been hacked, GoDaddy Website Security guarantees the removal of and protection from any malware. GoDaddy will manually remove any malware or other virus infection from your website, and they'll repair your site as many times as needed to ensure it's 100-percent clean and safe.
Then, once your website is back online, the web application firewall (WAF) (available in the GoDaddy Website Security Deluxe Plan) will proactively protect it from re-infection. It will even also protect against Distributed Denial of Service (DDoS) and zero day attacks.
This service also comes with additional features that will help your website's performance, such as:
GoDaddy's content delivery network (CDN) disperses your website's content on multiple servers around the world, reducing load time for international visitors.
Blocklist monitoring and re-indexing identifies and resolves any issues that might cause your website to be flagged and blocklisted by search engines like Google.
Advanced security monitoring identifies other threats, such as changes to your DNS, SSL, and WHOIS registrations, as well as spam list updates and website uptime.
Best of all, you don't have to be a GoDaddy web hosting customer to use the service. GoDaddy Website Security, powered by Sucuri, will work wherever you're hosted.
2. Sucuri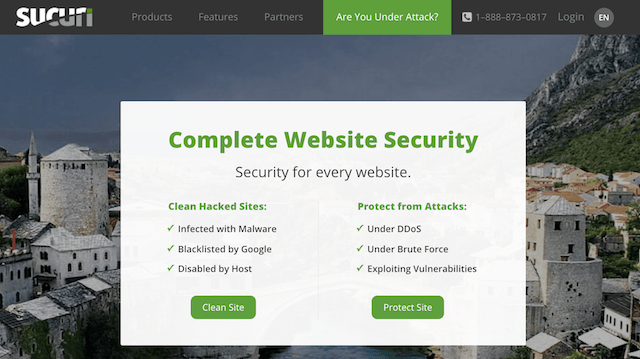 Sucuri is one of the most widely used security scanners for websites, and it's available for many of the internet's most popular platforms, including WordPress, Drupal, Joomla, vBulletin and Magento. In fact, it's the engine behind GoDaddy's Premium Website Security product. So why are we recommending it separately?
Sucuri offers a free scan of your website that checks for known malware, blocklisting status, website errors and out-of-date software. And if you require their services for your website, Sucuri offers a range of plans at different price points for a monthly fee.
3. Quttera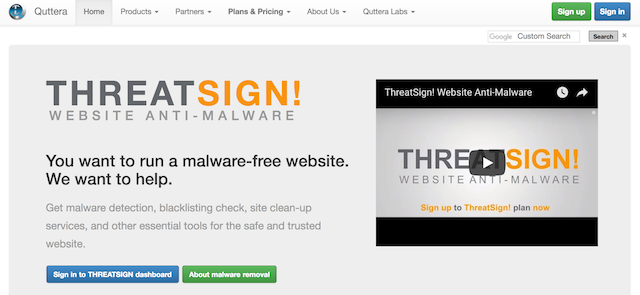 Like Sucuri, Quttera also offers a free scan of your WordPress, Joomla, Drupal, Magento, vBulletin or SharePoint website that checks for the following:
Malicious files
Suspicious files
Potentially suspicious files
Blocklist status
And, Quttera offers cleanup and monitoring plans starting for a manageable yearly price for one website. They also guarantee an eight-hour response time if your website is infected.
Pick a virus removal tool for your business website
Most businesses understand the need to protect their personal computers with antivirus software, but the same can't always be said for their websites. For some businesses, they might assume it's the responsibility of their website host; for others, they might simply not be aware of the risks. Regardless, antivirus protection is an essential tool for any business website.
Prevention is always the best cure, but if your business website has been infected with malware or another virus, there are services that can help clean up the damage and help minimize any impact. We recommend GoDaddy Website Security for its comprehensiveness, quick response time and competitive cost.