Picture this: You spent more than $5,000 working with a copywriter, a web developer, and a professional photographer developing your online store. The developer made it look fantastic. The photographer took the best pictures. The copywriter left even the least tech-savvy people wanting to buy. Things seem to be working, and 10 percent of your visitors add products to their carts. But before they click Purchase Now, they disappear. Where did these abandoned shoppers go?
Maybe Amazon, where they found a better deal. Maybe they went to their local store. Maybe they just got distracted messaging their friends on WhatsApp and left their computers. Whatever it is, you spent a lot of money making sure people buy from you — and now you need to make them finish their purchase.
In the offline world, you can't chase people back into your store (that'd be too creepy). In the online world, however, you have that possibility — and it's completely legal and effective. Not only you can make people come back to your store, you can make them purchase.
I talked to three experts from Yieldify, Sleeknote and Rejoiner, and they shared three techniques you can use today to get your abandoned shoppers back into your store and straight into your bank account.
Focus on user experience
Have you ever entered a store where you found products you liked, but didn't purchase because the place looked old, dark and unfriendly? You wanted to buy, but something told you shouldn't do it there.
This has happened to me many times when I've been to old book shops that carry thousands of books crammed into shelves. They had the book I wanted, but somehow I didn't feel comfortable. The place wasn't welcoming me to buy. So instead of buying in the old bookstore, I went to a more modern one and made my purchase there.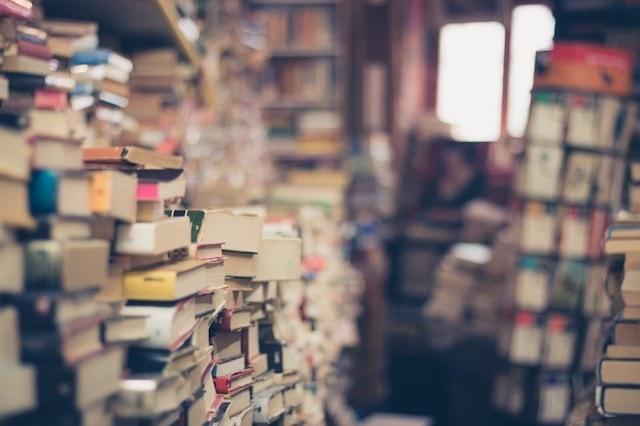 Just like it happened to me in the bookstore, having a good user experience matters. While designing a good user experience matters in any store (offline or not), making people feel comfortable buying from your store is more important in the online world.
While you can do what I did with the old bookshop and skip buying to go to a more modern one, it takes effort to do so in the offline world. You have to literally walk out of the store and go to the next one. Some people prefer to skip the trouble and make a purchase in a place that's not great, but has the product they need.
In the online world, skipping a purchase takes just one click on an X on the top tab.
In two seconds, a customer can go from being about to purchase in your store, to being an abandoned shopper headed to Amazon. Therefore, it's imperative you have a flawless user experience in your store. When you bring people back, you want them to find what they are looking for with ease. You don't want them wasting time in your site. Let them finish their purchase.
Hannah Stewart, head of marketing for Yieldify, recommends prioritizing here:
"While some shoppers just aren't ready to buy, many abandon their carts for easily avoidable reasons — they might be searching for a lower price, or are unsure about handing over their details or simply confused by the process.
This is why the key to solving cart abandonment is to focus first on your site's experience and really engage with what your site analytics are telling you. Diving deep into your data will give you valuable clues as to why your visitors are leaving before they purchase, enabling you to put fixes in place to engage them before the do."
Remember: Make sure to have a simple user experience that drives your visitors to purchase. Take a look at what your analytics tell you, and fix any bottlenecks you find. You aren't just trying to convince them to buy from you. You are convincing them not to buy from Amazon and other giant online retailers.
Message them at the right moment
Have you ever been in a clothing shop, pondering whether to buy a pair of jeans, undecided by the way they could look on you, when all of a sudden a sales rep comes up to you and says, "Hi! Do you need any help?" I don't think anyone likes being annoyed by sales people, but in this case, the sales rep showed up at the right time: you do need help.
Thanks to their question, you end up buying a pair of jeans you otherwise wouldn't have if it wasn't for the timely help of the sales rep. The importance of timing can't be underestimated: you want to message your customer at the right time.
When they are doubting whether to buy from you or not, be there to help them (see the next section for more information about this).
Thanks to the help of behavioral marketing, you can time your messages according to the behavior of visitors (which include past purchases, number of sessions, and time on site), increasing your marketing relevance and effectiveness.
Some of the options you have available to message your visitors include:
Exit-intent popups
Live chat
Display ads retargeting
Email retargeting
Sam Thomas Davies, content marketing manager for Sleeknote, recommends using cart recovery popups focused on lead generation to avoid abandoned shoppers:
"Most eTailers are familiar with popups. In fact, many use them to capture and convert more leads on their sites. But few use them beyond lead generation. Using a cart recovery popup, you can offer visitors a discount the very moment they go to leave your site. Later, you can remarket to them, say, through an email, and nudge them to complete the sale."
This is how a cart recovery pop up looks: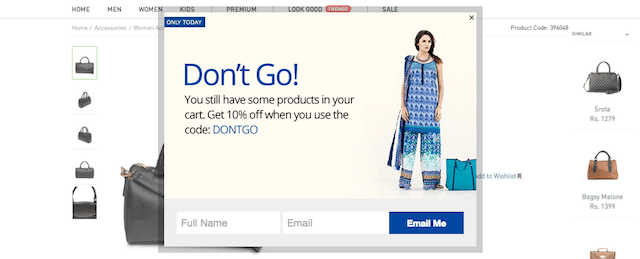 By adding an incentive (like a discount) in a popup, you can make people aware of what they are missing — plus the benefits they get from acting on your offer. You can also follow up with an email and remind them about the discount. Speaking of, here's what Kate Spade does with email retargeting: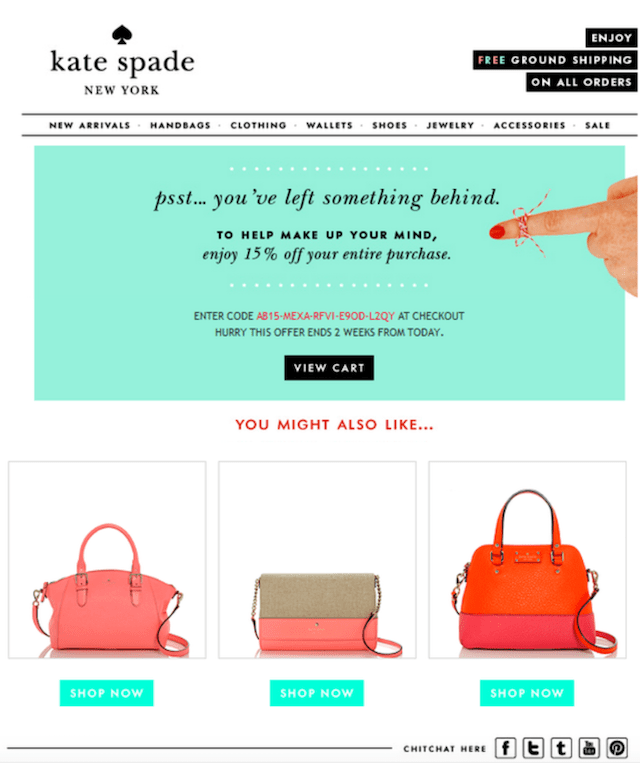 Mike Arsenault, founder of Rejoiner, recommends using email for engaging with your abandoned shoppers:
"The best way for an ecommerce store owner to engage with abandoned cart shoppers is with email, specifically, abandoned cart emails. At Rejoiner, we use email to continue the conversation with this group of prospective customers who have shown purchase intent (i.e., they added an item to their cart and we were able to identify them via an email address).
Abandoned cart emails are a second chance to continue the conversation with an extremely important group of customers: those who demonstrated the highest amount of possible purchase intent, but still didn't buy.
This campaign has two key goals: to generate a conversion/sale, and to understand why a customer abandoned in the first place (so they don't abandon next time)."
Hannah Stewart, who I already mentioned, recommends focusing your efforts on triggering your messaging based on the exit intent of your visitors:
One of the most effective — but also the simplest — tactics we've seen is to trigger messages when a user shows exit intent. Targeting a user with a well-tested message — which doesn't have to be a promotion; it can be a security or best price-guarantee — can make the crucial difference between abandonment and a sale.
Remember: You spent a lot of time and money making them come to your site, don't let them become abandoned shoppers so easily. Use cart recovery popups and emails to make people come back and finish their purchases.
Offer amazing customer support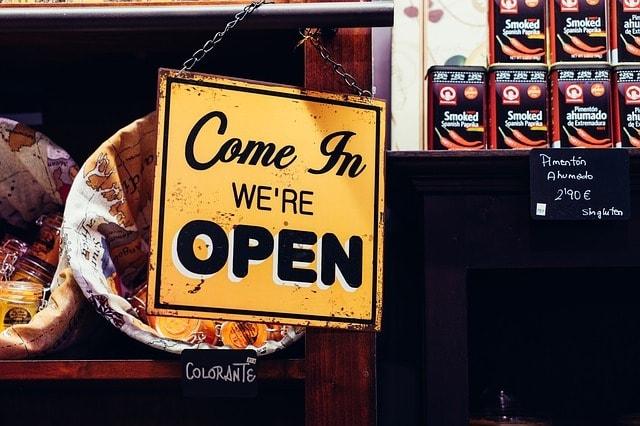 Everyone likes shopping. It's fun, it's exciting, but it's also psychologically rewarding: a study by the Journal of Psychology and Marketing in the U.S. noted, "Retail therapy purchases (have been shown to be) overwhelmingly beneficial, leading to mood boosts and no regrets or guilt."
One of the things that makes a shopping experience great is having great customer support.
As I said before, a great sales clerk can help you purchase by offering you advice, recommendations, and more options. Offering customer support isn't just a moral obligation you have as an online retailer — it can also help you increase your sales.
The reason for this is simple: happy visitors help to create happy customers. Even if the effect is indirect, helping people out find what they are looking for is a simple but effective way of increasing your sales. To this extent, Mike Arsenault recommends a simple hack to see why visitors became abandoned shoppers:
"In order to understand why someone didn't complete their purchase, we use the following hack: Take a customer service approach with our campaign.
Most people offer discounts right away in order to get a sale. After running thousands of campaigns, we've found it to be more profitable to provide amazing customer service and find out why people abandoned in the first place.
Once we understand why they didn't buy, we can make changes to the checkout process and make it easy for them to buy next time.
To uncover these insights, we do the following:
Include a toll-free number prominently within the email so people can pick up the phone and call us with any questions they may, which can lead to a conversion.
Write your copy using a helpful customer service tone. Don't just go for the sale up front (i.e., "Hi , was there a problem with your order?").
Send from a live, monitored inbox and ask your customers for feedback (noreply@companyname.com is not an option).
Send from a real person's name and include a photograph of a real person in the footer of the email to make customers feel more comfortable about providing this feedback.
Abandoned shoppers will be more likely to get in touch with you if you focus on great customer service.
Asking simple questions like, 'Was there a problem?' or 'How can we help?' will generate real, qualitative responses about what friction points are causing customers to abandon in the first place, which you can then use to improve your checkout process.
Look to see what people reply back to you, and use those insights to optimize your checkout flow, which will help you increase revenue over time."
Remember: Treat your customers great; it's your job to make their shopping experience unique and comfortable.
Closing thoughts on abandoned shoppers
The sad fact every ecommerce store owner needs to face is this: people will abandon your online shop. In most cases, it's nothing personal; people leave due to distractions, better offers in other stores, or indecision.
Your job is to engage them and bring them back. I showed you three ways you can make abandoned shoppers feel at ease and return to your store to finish their purchase. Which of the tactics shown today are you going to implement?
Editor's note: Create an easy-to-navigate storefront to keep customers from abandoning their carts. With GoDaddy's Ecommerce Site Builder, you can create a seamless checkout experience from start to finish — in less than an hour.