Imagine the gleeful expression on a child's face when they get a new toy. It's a magical moment, and by sharing it together, you create memories and a bond that lasts a lifetime. If this thought makes you smile inside, why not sell toys online? The toy market is a growing sector. From 2013 to 2016, the growth rate was 15 percent, with revenue of $20.4 billion in 2016. Given the size and strength of this market, there's plenty of room for you, too.
Here are some key strategies to compete effectively.
Differentiate yourself
To sell toys online, you'll need to find ways to stand out. Today's online customers want a personalized shopping experience. Once they buy from you, you can shine by including a handwritten thank-you note or little gifts, such as a piece of candy or a branded pencil in the package. When shipping, wrap the toys in nice paper and include a custom-designed label. Strategies like these establish your brand credibility and help customers build a personal connection with your online store.
Let data drive your business
First, give some thought to what kind of toys light you up and what is trending. One great tool as you get serious about your store is Junglescout.com, a web application that can help you evaluate products and how well they are selling.
No matter how much you love the toy, if it isn't selling for others, it won't sell for you. In addition to new toys, you might also want to look at which used and vintage toys are hot on the market.
Source creatively to maximize profits
One place to get great deals on new toys are brick-and-mortar stores that are going out of business. Anyone who wants to sell toys online can strike gold with great deals here. With the retail experience in disruption, customers are seeking the in-store shopping experience online. For high-quality used toys and puzzles, check out garage sales, thrift stores and estate sales to find some profitable gems.
Keep in mind that national brand toys are often "gated," meaning distribution is limited to particular retailers. If you sell gated merchandise, marketplaces like Amazon or eBay might even shut down your store. Address this issue prior to launch.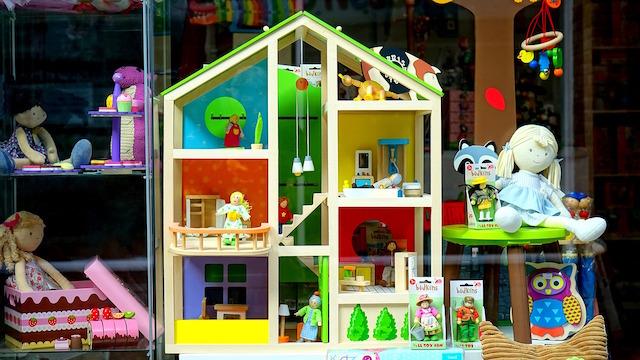 For new toys, research wholesale vendors, distributors and brokers. A good source is www.Salehoo.com. Salehoo also supports you with important information on the different marketplaces for selling and the cost breakdowns. This is important to make sure all your hard work pays off profitably.
Compare ways to sell toys online
The two main ways to sell toys online are building your own ecommerce site and using marketplaces like Amazon, eBay, Jet and Newegg.
When evaluating marketplaces, a few hours on Google will yield important insights — wheretosellonline.com is a good resource to help you determine the best toy selling websites.
Again, due diligence and research are key.
Marketplaces
Marketplaces like Amazon offer low-cost entry and an accessible, established customer base. However, you don't have a lot of control over what the marketplace does, who sells, or for what price. Plus, your business is entirely dependent on their sustainability. For example, you could build a great store, only to have the toy selling websites you've been using close up shop. Things like this can kill your profitability and/or put you out of business.
Your own online store
The next level is launching your own ecommerce website. The advantages are plenty — you're in charge of your web presence, you can engage with your customers directly, show off your wares, personalize the shopping experience, grow your own brand and more. Yes, shoppers will search and compare pricing on marketplaces, but if they love your brand and how you treat them, they will buy from you.
Treat customers well and they'll say great things about you on social media — one of the most influential sources around. You can't buy that type of positive advertising.
There are helpful platforms to make ecommerce website setup quick and easy. But first, you need to pick your business name and register a domain. Don't be stopped if your name isn't available in the .com world — check out new options like .toys and .juegos for those who cater to Spanish-speaking customers.
Find out if your brand name is available now:
ecommerce website to-do's
First, it's critical to have an SSL certificate, which shows customers their credit card data is encrypted to protect them against identity theft and fraud. Picking the correct website host can add another level of security.
Customers want to feel secure doing business with you.
Your choice of merchant accounts and payment options can also help put your customers at ease. Customers love PayPal and Apple Pay because they don't expose personal credit card data on your site during any part of the transaction.
Pro tip: Make sure your website design is mobile-friendly. In 2016, half of online holiday shopping visits took place on mobile devices.
Feeling a bit overwhelmed? Don't let that stop you! Platforms like GoDaddy's Web Shop Builder affordably incorporate all of these features — an SSL, reliable hosting, popular payment options like PayPal and Apple Pay, social media integration and automated email marketing. GoDaddy also provides website templates for toy stores.
Building your store
A few tips for you as you build your digital toy store:
Make sure your photos are top-shelf
Good photography is absolutely essential to sell toys online. Customers have nothing but your photos (and hopefully some great product descriptions) to go by, so have your products professionally photographed or break out the smartphone and take your own.
Video rules
Product videos improve your chances of a sale by 85 percent. Even a video of your children playing with their favorite toys uploaded from your mobile phone will bring laughter, credibility and inspiration. You don't need to be a pro to market your goods — just keep the video short, be creative, and engage with your audience.
Write exquisite copy
Great copy makes all the difference. Check out your competitors to see how they're appealing to kids. If you don't have time to write your own content, consider hiring a professional. Include answers to customer questions, tips on choosing age-appropriate gifts — anything that might be useful to your shoppers.
Have fun with it
Whether you use toy selling websites or your own ecommerce site (or both), you can successfully sell toys online. Just pay attention to your research data and focus on creating a positive customer experience.