When you sell online, not everyone who adds something to their cart will complete their purchase. Would-be customers can abandon their carts for a myriad of different reasons. Some of these causes can be mitigated based on how you set up your site. Others, are an inevitable part of doing business online. Without a strategy covering abandoned cart recovery for WooCommerce, you risk lost revenue.
Fortunately, there are several ways to re-engage lost buyers to bring them back to your site and convert them into sales.
With WooCommerce, you can do this through email, remarketing ads, or browser push notifications. In this post, we'll examine how you can set up automated abandoned cart recovery campaigns for WooCommerce to win back lost customers.
How to mitigate abandoned carts
Before we look at how to recover lost carts, it's helpful to understand some of the common reasons people abandon shopping carts. There are several important steps during the buying process. Different points of friction throughout this process can lead people to leave your site with items still in their carts.
While abandoned carts aren't ideal, they indicate some success in several parts of the sales process. After all, when someone lands on your site, stays there long enough to look at your products, and eventually adds one (or more) to their cart, you'll have done most of the work to complete a sale.
Now, the individual just needs a little push to follow through with the order.
Research from Barilliance has shown that the most common cause of abandoned carts across ecommerce sites is unexpected costs during the checkout process. This includes shipping costs, taxes, and any other fees.
Some of the other reasons people halt their purchases include:
Required account creation
Long and complicated checkout process
Inability to determine total costs upfront
Website errors
Slow shipping
Unfavorable return policy
Fortunately, many of these causes can be avoided with some simple modifications to your website and checkout flow. For example, you can prevent annoying people who don't want to create an account by enabling guest checkout. Here are some other simple ways you can reduce cart abandonments:
Display shipping costs and taxes on product pages
Make checkout simple
Have fast order fulfillment
For more details on implementing these steps, check out our detailed post on how to reduce your cart abandonments.
Keep in mind, not all abandoned carts signify the loss of a purchase. Some shoppers will leave your site with an honest intention to complete their order. They may be waiting to order at a later date or they could need a more appropriate setting for completing the checkout.
For example, someone could be looking at your site on their mobile device during their lunch break. Rather than placing an order on the spot, they choose to save the products to their cart to come back later that night to complete the purchase on their computer.
Setting up abandoned cart recovery for WooCommerce
Now that we know how to lower your number of lost carts, we can look at how to recover those carts that are still abandoned. For most ecommerce stores, the traditional approach to recovering lost carts is to send reminder emails.
These emails can be automated and its easy to include the cart details in the message to make the communication more engaging.
Other methods for re-engaging potential buyers include remarketing ads on platforms like Facebook or Instagram, and sending push notifications to the user's device or browser.
Each of these methods has their strengths and weaknesses. Emails and push notifications require some form of opt-in or contact information but can be done for no cost and in a highly personalized way. Ads, on the other hand, don't require you to gather contact details, but are less engaging than a direct message and you'll need to pay for each person you bring back to your site.
Let's explore some of the methods and tools to aid in abandoned cart recovery for WooCommerce.
1. Abandoned Cart Lite plugin
Abanodned Cart Lite is a simple yet effective tool for bringing shoppers back to your site. It tracks the items in the user's cart so that you can send a targeted follow up via email using your WordPress servers. When the recipient clicks the button in the email, they are directed back to your site, with the items added back to their cart.
Setting up the plugin
After you activate the plugin, head to WooCommerce > Abandoned Carts to set up your recovery campaigns.
To start, check Enable abandoned cart emails and enter a value for the Cart abandoned cut-off time. This is the number of minutes that need to pass after an item has been added to a cart without an order for the plugin to consider the cart abandoned.
The default value is set to 10 minutes. We recommend increasing this to 30 minutes or more. That way, you can be sure that someone has actually abandoned their cart before you hit them with your marketing messages.

Next, you'll see a group of settings for GDPR compliance. Enabling these will ensure that you stay compliant with any data protection requirements. For example, you can enable a notice that tells customers that you are tracking their cart data in order to send abandonment reminders. You can customize the messaging of these notices as well as the prompt for users to opt-out of cart tracking.

Next, you'll want to configure your emails by going to Email Sending Settings. By default, the From Name for your emails will be set to Admin. You'll likely want to change this to your store name or something else more appealing. Similarly, the From Address and Reply Address are by default set to the email address of your WordPress admin. If you use a different email for marketing purposes, you'll need to change these values accordingly.

In the Email Sending Settings, you also have the option to add UTM parameters to the links in your reminder emails. This can be helpful in tracking the performance of your follow-up campaigns.
Once the sending settings are in order, head to Email Templates to create your follow-up messages. Upon installing the plugin, you'll find one template, scheduled to go out one hour after the cart is dropped. Below is an example of the appearance for this initial template.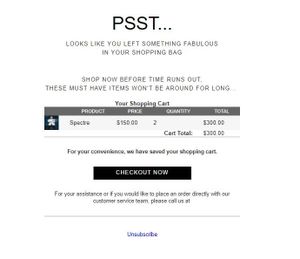 When you go to create your own templates, start by giving it a name and entering the subject for the email message. The plugin supports WooCommerce merge tags, making it easy for you to create personalized subject lines for your messages.

To edit the email body, the plugin comes with the typical Visual and Text WordPress editors. You also have the option to use the default WooCommerce template style instead of the one provided by the plugin.
To enable this option, you simply need to check Use WooCommerce Template Style underneath the editor. Note, that if you go this route, the Send From Name and Email Address will use those defined in WooCommerce > Settings > Email > Email Sender Options, not those you recently set in the plugin.
Further below the editor, you'll find the settings for the email header text along with the timing of the message. You can set the communications to go out in intervals of minutes, hours, or days.

Lastly, you'll have the option to include a coupon in the message. The plugin can generate these automatically or you can manually add your own discount codes.

If you choose to generate coupons, the plugin will open additional fields for you to define the discount type, amount, and validity period. This can be useful for creating a sense of urgency in your customers by presenting them with a discount that is only good for a short period.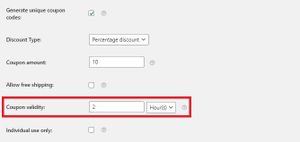 Recovery dashboard
Abandoned Cart Lite includes a dashboard for you to review important metrics regarding abandoned carts and their recovery. This includes the number of abandoned orders, recovered amount, number of emails sent and the number of emails gathered.

If you want more insights into the items visitors are abandoning, go to the Product Report tab. This will show you a list of products that have abandoned, including their number of abandonments and the number of recoveries.

2. Email autoresponders
Using a dedicated email marketing software will give you more control over your followup emails. It will also let you be more refined with your targeting including timing of your messages and the sequence of the messages ads you can set up various filters and conditions.
Below, we will look at how to set up an automated abandoned cart sequence with the popular email solution Mailchimp.
Mailchimp
Before you can create the email campagin, you'll need to connect your Mailchimp account to your WooCommerce store. This can be done with the Mailchimp for WooCommerce extension.
The setup process is simple, as you only need to activate the plugin and login to your Mailchimp account to authorize the integration.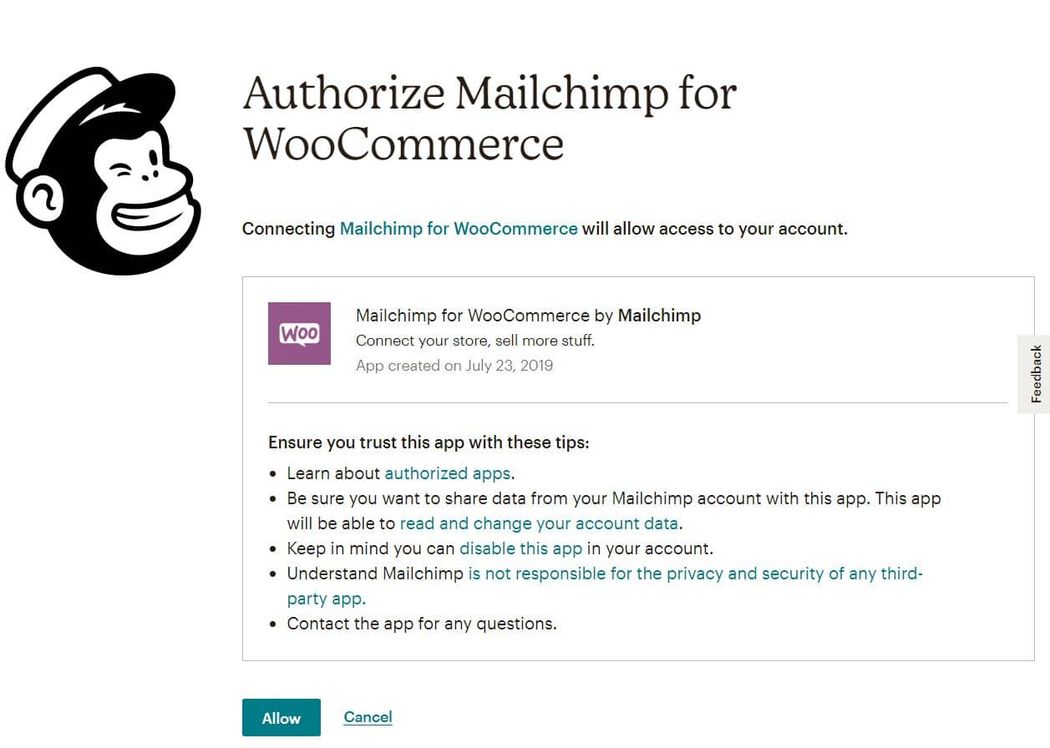 To finalize the connection, you need to configure some settings, including your sender information and subscriber syncing. There are also cart tracking settings. I recommend tracking carts for all customers, to follow up on lost carts for people that haven't subscribed to email marketing but whose contact details you've captured during the checkout process.

Once the integration is complete, return to your Mailchimp dashboard and go to Automations > Customer Journeys. Click the box for Send multiple offers to abandoned cart customers.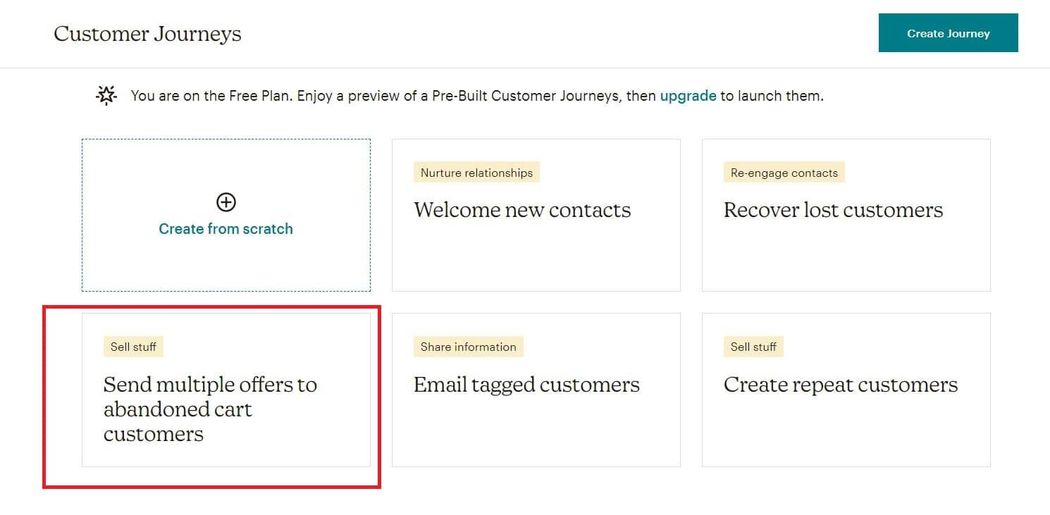 This pre-made sequence will send two reminder emails, with a three-day gap in between. Anyone that completes a purchase before an email will be tagged as a customer so as to not receive the reminder message. Below is a diagram of the workflow: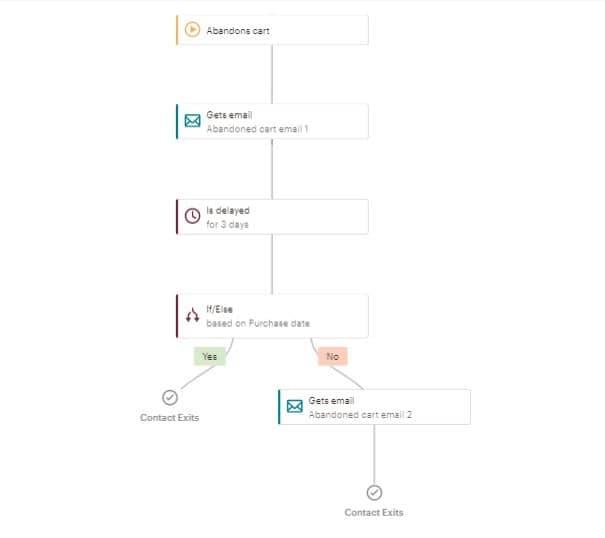 To use this follow-up campaign, click Build a Journey and choose the appropriate audience in your Mailchimp account. Next, you'll choose the Store Name for the campaign.

This will open the campaign editor for you to add or remove steps from the workflow. For example, you might want to add one more reminder message before the contact exists the sequence. You also have the ability to modify the details of the existing steps.
Perhaps you want to reduce the time between messages from three to two days. Or, you could update the email template to customize its messaging.
Below is an example of adding one last reminder after the first two follow-ups.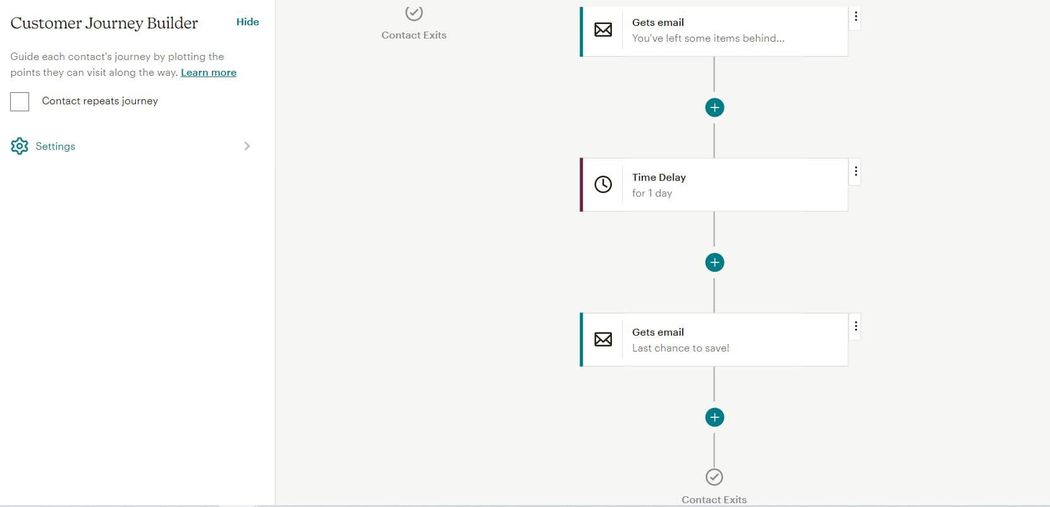 Once you have made any desired changes, save and activate the win-back campaign. Note, that to use the Customer Journey Builder, you'll need the Standard Plan or higher. If you want to create an abandoned cart recovery series from scratch, you can do so in a few simple steps.
To create your new recovery campaign, go to Automations and click the Check out Classic Automations link at the top of the page.

Next, go to E-Commerce and select Turn on abandoned cart email.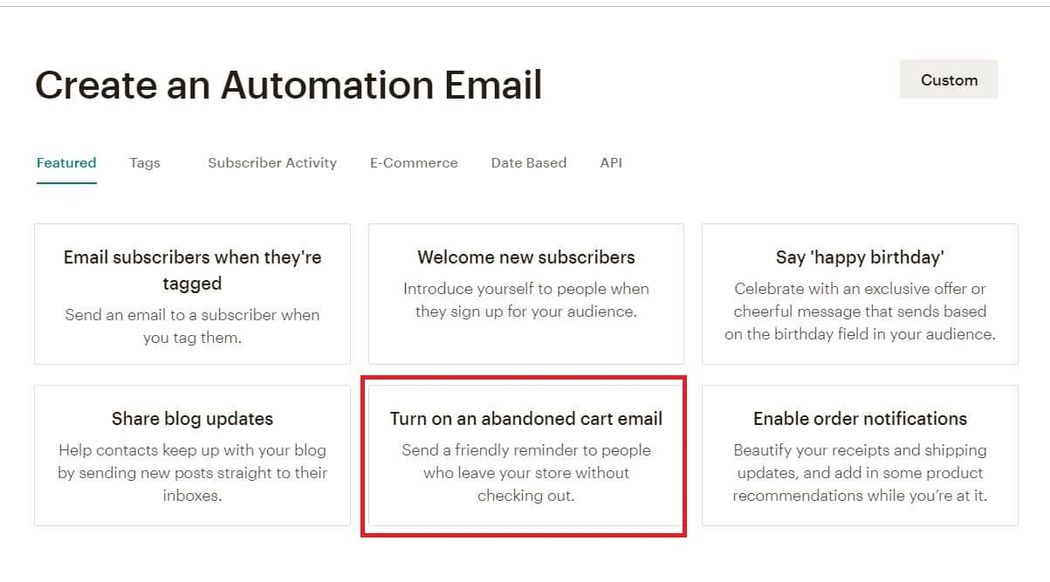 You'll then have the option to create a single email campaign or to create a series of messages. Select the type of campaign you want, name it and click Begin.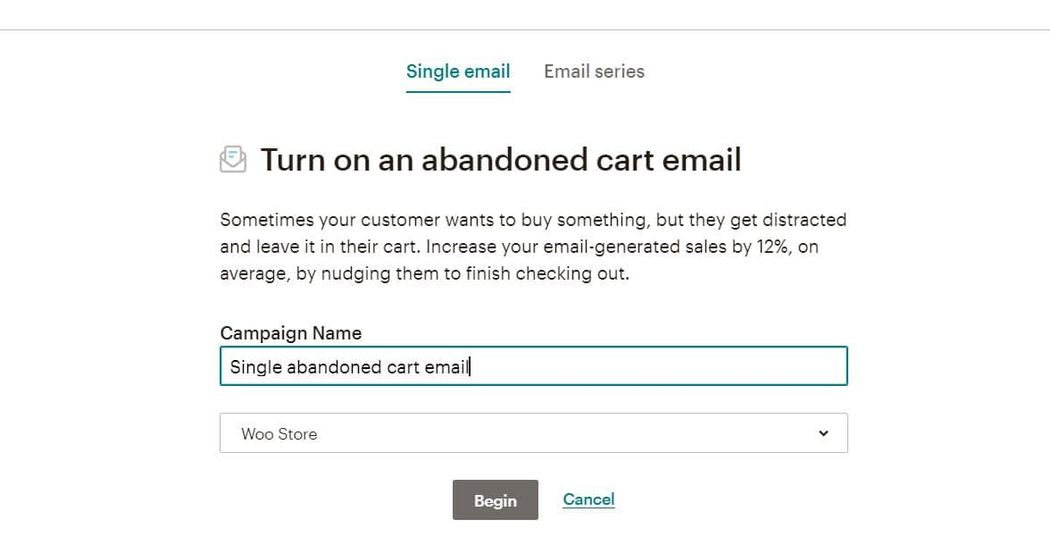 After that, you can start personalizing and designing the email content. Mailchimp has several abandoned cart templates to help you quickly craft attractive messages.
The default template includes your logo in the header and a content block with the abandoned products. You can enhance the design even more by adding additional images, buttons, promo codes and other elements.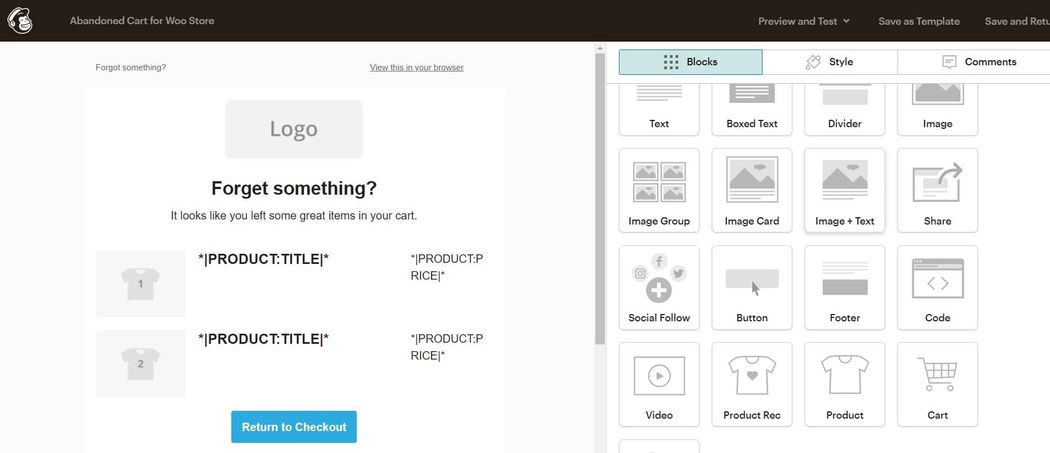 After you make any changes to the design, click Save and Continue. Before you launch the campaign, check the from email address and the subject line to ensure they are to your liking. Once everything is in order, click Start Sending to launch the campaign.
Mailchimp has detailed analytics for you to review the effectiveness of the abandoned cart messages. You can see how many people open and click your emails and how much money to recover from the campaign.
3. Facebook Remarketing
The biggest limitation of attempting to recover lost carts via email is that you need someone's email address and/or permission to contact them. This results in money left on the table as not everyone will subscribe to email messages.
You can counteract this problem by remarketing through advertisements. With today's technology, it is a simple and straightforward process, much of which can be automated after a simple configuration on your site. Facebook and other social platforms can track users' browser sessions including the details of their cart.
For this to work, you'll need to have the Facebook pixel installed on your site and your WooCommerce catalog synced to your Facebook Business page.
We've put together a detailed guide on how to connect WooCommerce and Facebook, so check it out as it will provide other marketing benefits beyond abandoned cart recovery.
Creating your remarketing campaign
To create a dynamic remarketing campaign open your Ads Manager account within the Meta Business Suite and go to Audiences. Click Create Audience. This will open a dropdown menu for audience types. Choose Custom Audience.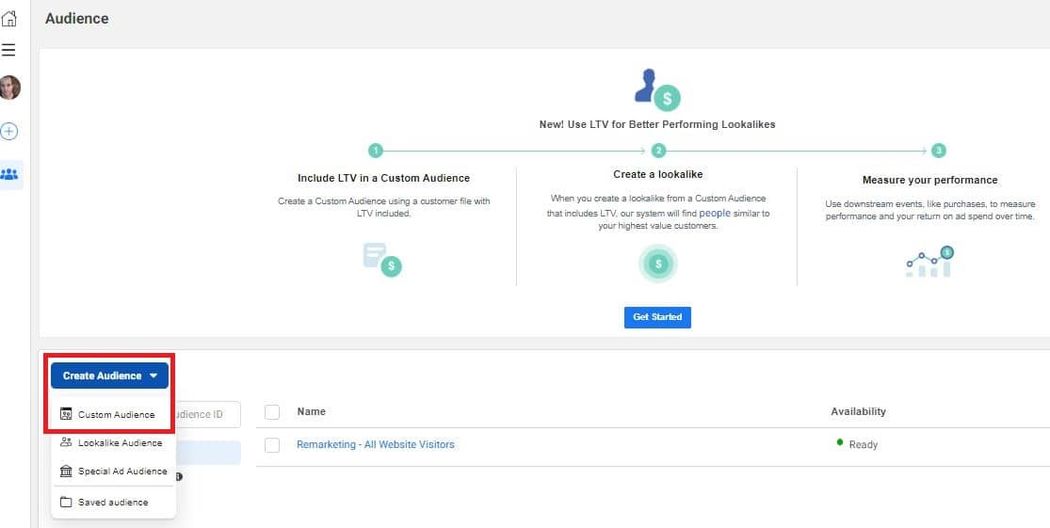 Next, you'll see a window to choose your audience source. Choose Catalog and click Next.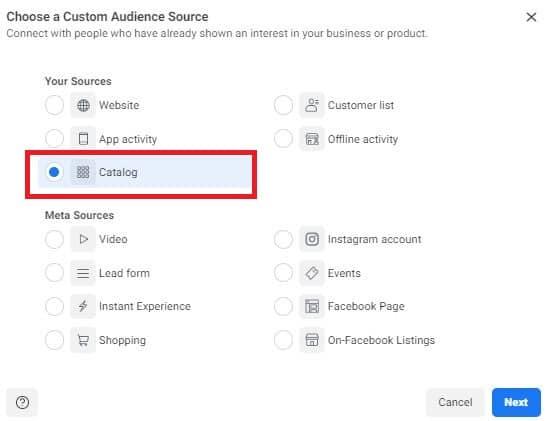 In the next window, use the Source field to select your connected WooCommerce catalog. The Product set option will let you exclude certain items. For our example, we'll leave the Product set at All Products.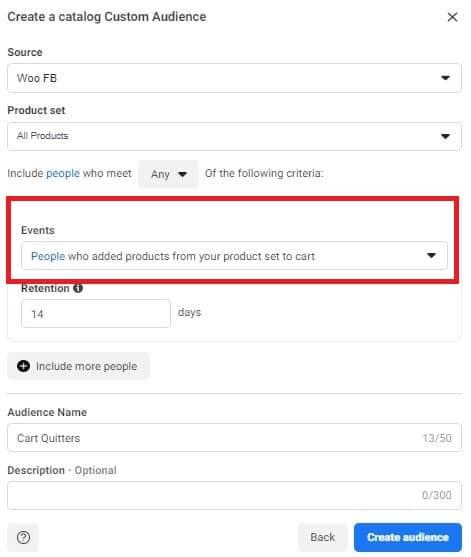 The Events field is where you'll target cart abandoners. Use the dropdown to select People who added products from your product set to cart.
Then, set the retention period. This is the amount of time people will remain on the audience list after abandoning their carts. Lastly, give the audience a name and click Create Audience.
Once you've made the audience, you can quickly use it in a campaign by selecting Create an Ad in the newly opened window.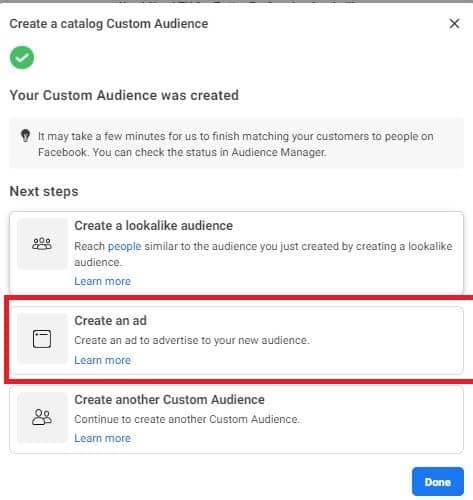 The dynamic remarketing ad will allow you to automatically retarget the audience of abandoners across Facebook and its other web properties. In the ads, you can choose to show people the same products they previously abandoned or you can showcase related or complementary items.
Closing thoughts on abandoned cart recovery for WooCommerce
When you consider that close to three out of four of all ecommerce carts are abandoned, there is a lot to gain from implementing abandoned cart recovery for WooCommerce. Start by taking the necessary steps to limit lost carts in the first place. Then use the methods and tools in this guide to re-engage customers to win back lost revenue.