Adding WooCommerce integration to Client Reports is the first step towards making it possible for you to be able to manage your client's WooCommerce websites all from one dashboard.
Pro Sites is aiming to give you features you need to run your online store and manage hundreds of others.
Client Reports help you get the credit that you deserve. With Client Reports you can provide every client an executive summary of their website. Now, you can do all of that and also include statistics from their e-commerce websites.
How did we add WooCommerce to Pro Sites?
We pull the reports from the WooCommerce plugin directly, our Worker Plugin pulls information and reorganizes it to fit the format of our Client Reports. That way we can be sure that all of the information is correct, and comes from WooCommerce. It means that it completely eliminates the need for you to generate and send separate WooCommerce reports.
How to add WooCommerce to a Client Report?
We have made it easy for you to go about adding WooCommerce to Client Reports. In order to include WooCommerce, you simply need to select it when, either making a new Client Report, or when creating a template.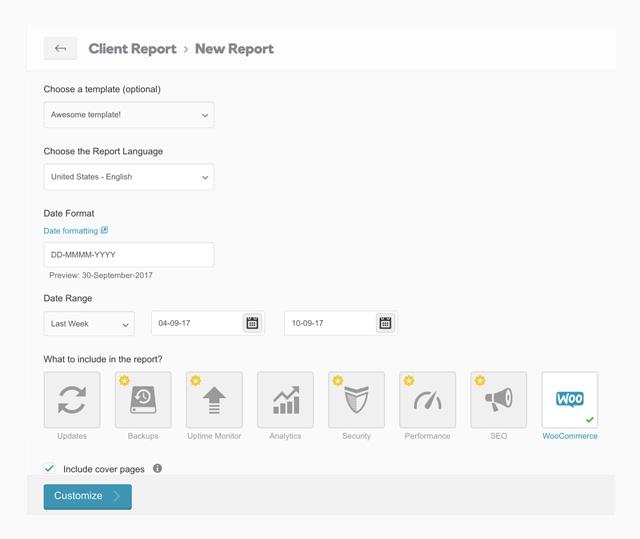 A few things to remember:
You can include WooCommerce in your reports on any website that is on Pro Sites.
We do not check to make sure that the website you selected has a WooCommerce plugin. If you select a website without the WooCommerce plugin, the Client Report will not include any WooCommerce statistics. You will have a blank page in your report.
If you are creating a Client Report for multiple websites, and two out of five websites have WooCommerce, we will show you results only for the two websites that have the WooCommerce plugin.
Here is what it looks like when you generate a Client Report with WooCommerce statistics.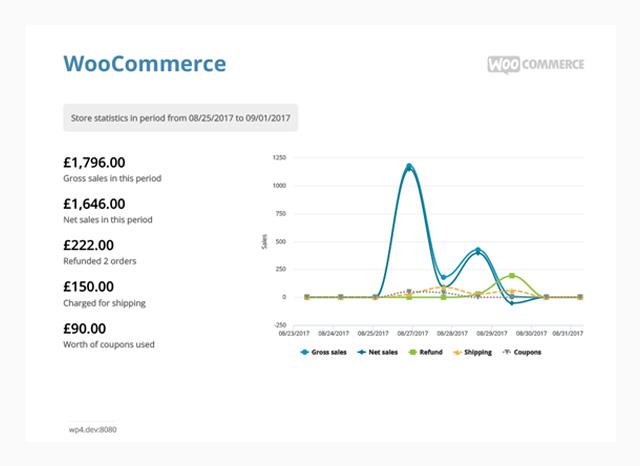 Can I send Client Reports in multiple languages with WooCommerce?
For now you can only send them in English. So, if you are sending a report in another language you will not be able to add WooCommerce to your report. This is something we are working on, and plan on expanding it to all of our available languages as soon as possible.
How will I manage my e-commerce websites from Pro Sites?
Like we said, our aim is to give you the possibility to fully manage your e-commerce sites with WooCommerce from the Pro Sites dashboard. The Client Report integration is just the first step. The next thing we have in mind is introducing a WooCommerce statistics widget in the dashboard. Is this something that you would like to see in the future?
Tell us what you think. Head over to our Community Forum to talk to us about e-commerce website management.