Why add automation tools for vacation readiness to your to-do list? Well, when you're an entrepreneur, planning for (and taking) a vacation can feel next to impossible. There's simply so much planning you have to do that it ends up feeling impossible and perhaps not even worth the trouble in the end.
But taking regular vacations is important. Doing so can help you:
Decompress and destress
Come back to work more pumped
Feel ready to take on the world
Give you time to develop perspective when making big decisions
Most important of all, taking vacations can help preserve your mental health and prevent burnout.
Even so, getting to the actual vacation part is a challenge. So how can you reduce the planning headache? For business owners, automation tools can give you the break you need to take a real vacation.
6 automation tools for vacation prep list
Feel free to jump straight to each tool or read on to learn why automation can seriously save you valuable time.
Email marketing tools.
Email autoresponders.
Social media schedulers.
Task automation tools.
Chatbots.
Project management tools.
Let's dive in.
What are automation tools?
Automation tools for business owners can be best defined as systems, platforms or services that, once configured, can run and perform their functions without your direct input. These tools automate tasks of all types – from simple to complex – to save you time and effort in the long run. It's especially handy for many business owners looking to implement automation tools for vacation purposes.
How can automation tools help you run your business?
For starters, they can help you save time on a wide variety of tasks. Though there is some initial time investment on setup, once up and running, automation can save you a significant amount of time and even money — especially in areas that are wasted on repetitive tasks.
You can apply automation to nearly every aspect of running a business.
This could include tasks like processing payroll to email marketing to social media. And getting these tools up and running (before going on vacation) can save you a lot of headaches while away.
Here are two examples of how they can make your life easier:
Simple automation tools like email autoresponders make it so the day-to-day functions of your business aren't as affected by your absence.
Configuring automation tools like task management software saves you time on the hustle and bustle right before bidding your team adieu and for the length of your vacation.
Convinced of their benefits? Adding automation tools for vacation prep is simple to do using the following suggestions.
Automation tools for vacation relaxation
Taking a vacation shouldn't mean having to check in on how your company is doing the entire time you're away. Nor should it mean leaving your team high and dry with no direction to speak of.
What follows are six automation tools for vacation readiness. Read through the different types to help you plan and pull off a real break from the responsibilities of business ownership.
1. Email marketing automation
If you haven't already done so, a great way to prepare for going on a vacation is to set up an email marketing platform before you go. Essentially, you can use an email marketing platform to create a simple campaign — such as a series of images with calls-to-action — that will keep your business top-of-mind for customers while you're getting some R&R.
A top choice is GoDaddy's Digital Marketing Suite, which includes an array of email marketing tools you can put to work immediately.

With it, you can create and send out email campaigns directly from your GoDaddy dashboard. Here's how to set up automated campaigns using GoDaddy Email Marketing. You can also build out a lead generation strategy by designing and inserting signup forms directly onto your website.
Related: Email automation 101 — 5 steps to automate email marketing
2. Email autoresponders
One of the simplest automation tools for vacation is the email autoresponder. This helps clue people in that you're currently away and notifies them when you'll return. Take this opportunity to be clear about when you'll be back and how quickly thereafter they can expect a response.
The robust Microsoft Outlook email platform makes it a snap to send automatic replies, but most popular email solutions offer automated response options.
Here's how to send automatic out-of-office replies from Outlook.
3. Social media schedulers
If you have a social media presence for your company, you likely have a management tool on deck already. But just in case you don't, a social media auto-scheduler is a great hands-off automation tool for vacation prep.
You can pre-write social posts well ahead of time and schedule for publishing during the timeframe you're gone. Or, you can have your team handle this task in your absence.
Likewise, social management tools often include monitoring features. This ensures your team has a way to monitor important messages posted to (or about) your company on social media so that they can respond to them promptly. Utilize this to help mitigate any potential PR or customer service issues.
Some top social media schedulers to consider include:
Buffer: It's simple, making it easy to learn how to use.
HootSuite: You can automatically schedule your content and review posts in a calendar view.
HubSpot: This is a more in-depth social marketing platform that enables you to monitor and automate your social media accounts.
Editor's note: GoDaddy's Digital Marketing Suite also makes it easy to schedule social media posts in advance. Here's how.
4. Task automation tools
If your company uses a lot of SaaS solutions as a part of its business processes, then task automation tools are a must. These can serve you well at any time, not just while you're on vacation.
When researching task automation tools for vacation, a few top choices include Zapier and IFTTT.
These automation tools work by connecting your accounts for different services together.
With Zapier, for instance, you can create a "recipe" — essentially a set of instructions to carry out automatically. For example, you could configure it to automatically add a customer's order information to an existing Excel spreadsheet when a new order is placed on your website.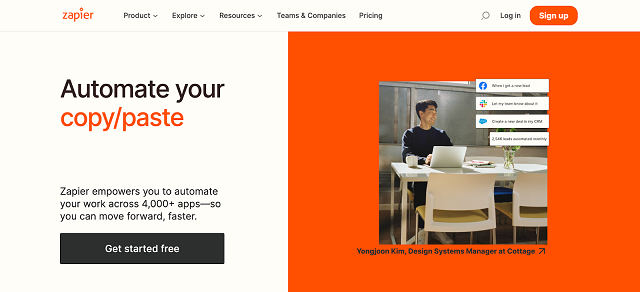 5. Chatbots
Installing a chatbot on your website can take a lot of the guesswork out of customer service while you're away. This automation tool for vacation prep can help take some of the pressure off your staff.
There are myriad free and paid chatbot options available for every budget and business need. Add 30 minutes of research to your vacation prep list to find the right solution for you. Here are a few chatbot options to start:
Tidio: Features easy installation and offers a free plan.
Watson Assistant: Features a drag-and-drop interface to build dialog and is customizable for your brand.
Zendesk Chat: Offers out-of-the-box and customizable messaging, plus a free trial.
You can configure a chatbot to answer frequently asked questions and to make customers feel heard immediately, which makes for a more positive customer service experience. Chatbots also can help your team receive only those messages that need direct and immediate attention. This will free them up to handle other more important business tasks while you're away.
6. Project management tools
Some aspects of automation are more about making sure everyone on your team is connected. It's a good resource to keep your team working with the same information and overall workflow. A great way to accommodate this synergy is via the use of project management tools.
There are several options available that will fill this role well — including Asana, Basecamp and Trello — depending on your preferences. Once set up, these tools make it so everyone on your team has a place to find information about their work along with due dates and other important details.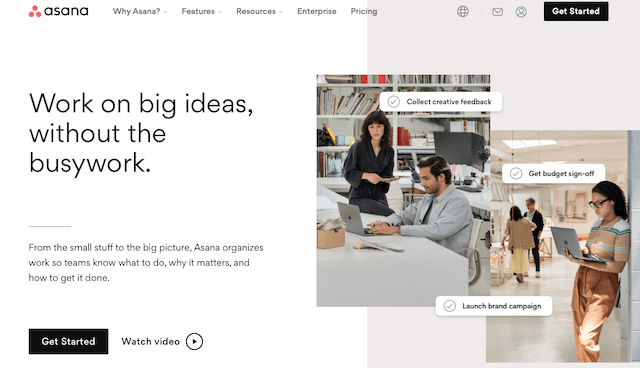 Plus, these tools include mobile apps to give you a bird's-eye-view of your company's workflow even while you're away if you must.
A few more quick things to do right before you leave
Having automation tools for vacation readiness set up, so that it's configured and primed for action, is a fantastic way to depart with confidence. But you might still wish to complete a few tasks manually before you switch on your auto-replies. Mostly, be sure to set up clear action plans for emergencies.
Establish a chain of command
First thing's first, leave the power of decision-making with somebody else for the duration of your trip. From there, establishing a chain of command is a good idea so everyone knows who to report to within your company. This is true, even if your number one is unavailable for some reason.
It's also a good idea to make everyone's job descriptions clear. You don't want any confusion to arise as to who is responsible for what while you're gone.
Create disaster plans just in case
Though unlikely to occur, it's still a good idea to plan for the worst. Putting together a disaster plan makes good business sense. It provides your team with something to reach for — should something out of the ordinary occurs. A few examples might include:
What to do should a sudden supply chain issue arise?
How to handle multiple team members falling ill at once.
What to do when a client is suddenly very dissatisfied.
How to handle a system crash or software outage.
While not all of these scenarios will apply to your business, spend some time evaluating your company's functions and client base to develop a few worst-case scenarios. Then, you can write out solutions to these problems for your team to follow.
It might seem like a lot of work, but it could prove beneficial and worthwhile. These measures should prevent your team from needing to contact you while you're on your vacation and trying to relax.
Determine the conditions under which you can be contacted
Lastly, there are situations where you might need to be contacted while on vacation. Clarify those circumstances with your staff and/or clients to help avoid unnecessary interruptions.
This is why making disaster plans is so important, too. It helps your team problem solve and rely on solutions that don't depend on your direct and immediate input. The conditions that will require your input are going to vary from business to business, of course. A few examples include:
A top client has a major issue.
There's been a major security breach of your data systems.
There's a social media scandal brewing about your company.
A new, major prospect has contacted the company.
Your "must contact" situations will vary, but relaying the severity of the situation required to contact you (and implementing solid "Do Not Disturb" messages in your company communication tools) can ensure you're able to relax while away.
Related: Creating a business budget plan for emergencies
Next steps
Prepping your automation tools for a vacation can save you a lot of headaches while away. Hopefully, the tool categories mentioned here will help you stave off the majority of potential interruptions.
Taking prep steps such as adding a solid email marketing solution to your toolbox can swiftly automate a majority of your company's day-to-day functions. The same goes with social media management and task management tools. Leaning on these helpful resources will allow you to kick your feet up and relax – for real – while enjoying time off.