Can you think of one best way to learn WordPress?
To help you learn WordPress, we asked web developers and small business owners this question for their best insights. From joining an online forum to practicing with a test domain, there are several recommendations that may help you master WordPress.
1. Join an online forum
There are hundreds of online tools and resources that you can use to help you learn how to use WordPress, and they are a much easier option than learning how to code for yourself. For example, Hongkiat is a whole site dedicated to design technology and is a favorite amongst the tech community. They have a section devoted solely to WordPress, with articles and valuable tutorials. The site's primary focus is on design and teaching users about customized shortcodes, but it's also very valuable in showing you how to utilize some special functions WordPress offers.
Hongkiat is continually updated with fresh content, so you never have to worry about coming across an old article that is of no use, and it's considered one of the best places for beginners to start learning and for experts to keep up to date.
Georgi Todorov, ThriveMyWay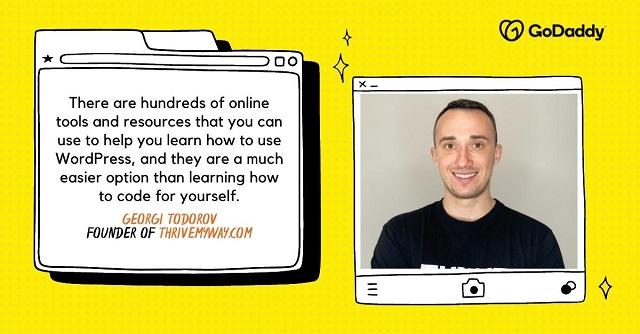 2. Learn with Lynda.com
One of the absolute best ways to learn WordPress is to use Lynda.com. This website has been around for a long time, and their WordPress course is one of the most professional and extensive available anywhere online. As all of their resources come directly from the same source, everything is extremely well-presented and organized, which results in the most comprehensive and focused WordPress course around. You can learn WordPress basics as well as narrow your focus down into specific content specializations, with video lessons, offline learning, and updated, downloadable material.
Lynda.com isn't cheap, but for what you get it is absolutely a high value investment in your WordPress education.
Stephen Light, Nolah Mattress
3. Use WordPress TV
WordPress provides a free service called WordPress TV, which is a collection of video tutorials ranging across many topics. The videos cover user levels from beginner to advanced, and there are portions of the site dedicated to newly developing programmer news, so you can stay apprised of new developments.
The videos are created by WordPress users from all over, so you can be assured that the information you are learning is directly applicable. The site also has caption options for non-English speakers, making it one of the most inclusive resources available.
Guna Kakulapati, CureSkin
4. Try WPBeginner
An easy and free way to begin with WordPress is with WPBeginner. This is offered by WordPress and includes tutorials and free video courses. It is suited for those who have never used WordPress and all are easily digestible.
They cover every subject, so someone starting out could explore some advanced subjects in there such as how to make your website responsive. You can also go onto WPBeginner's YouTube channel if you don't want to sign up. There you can watch videos for free to see how you like it before you sign up for the free WPBeginner site
Baruch Labunski, Rank Secure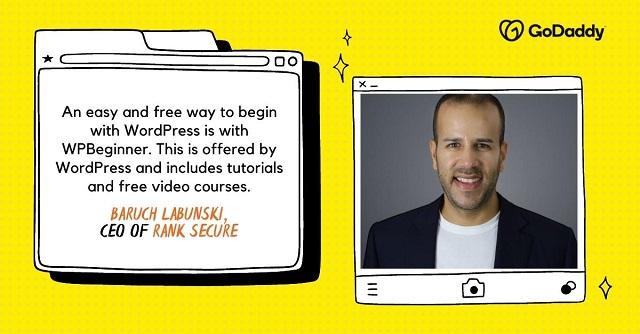 5. Learn HTML basics first
As someone who has built a career around coding, I completely understand the desire to build a website using no-code tools. But, even with these tools available, Wordpress can get a little complicated without some passing coding knowledge. This is why I suggest learning HTML basics first. This will give you a frame of reference when inspecting code, looking for errors that pop up after installing a theme or modifying a template, and ultimately lead to better customization.
Simply being able to troubleshoot by knowing how to read HTML code will empower you to better understand the functionality of your website as you build it. Or, finding a font, element or color on someone else's site can be done in a couple clicks if you know where to look in the code. There are some great free videos available on Youtube that do crash courses in HTML for Wordpress users specifically, so you could learn the essentials, in context, in less than a day.
Volodymyr Shchegel, Clario
6. Join meetup groups to learn from mentors
Although online tutorials and WordPress blogs are helpful for learning Wordpress, nothing substitutes meeting people in person and gaining knowledge from real mentors. Joining local meetup groups in your city not only allows you build incredible relationships with Wordpress experts, but you can also obtain real-world, in-person knowledge and create a network of like-minded individuals. Given Wordpress' prominence as the leading content management platform, there are Wordpress Meetup groups in virtually every city in the United States, and these organizations meet often, enabling you to learn from qualified experts but also to network and expand your list of mentors.
Hector Ruiz, BBQ Grill Academy
7. Turn to Udemy
Udemy is the best place to learn a new skill or hobby with low-cost or free courses. Their WordPress lesson is the perfect choice for beginners to grasp the basics and get their feet wet. This helpful site supplies thousands of well-educated instructors that teach the subject in a manner that is easy to comprehend. After completing the course, Udemy provides a badge and the ability to save completed course work for study with a recognized career certification or diploma. This site is an excellent choice for you to continue your WordPress education and learn more techniques to further your career or understanding.
Benjamin Earley, HOLT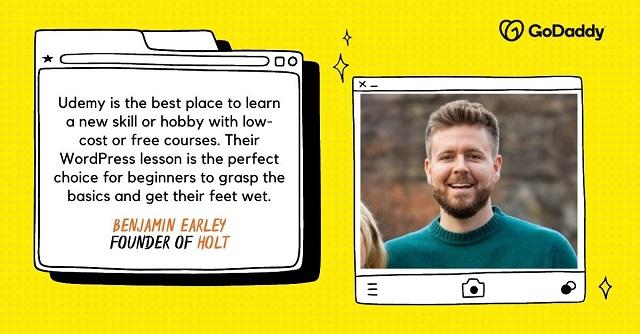 8. Practice with a test domain
Experience is the best teacher! I'd recommend setting a test domain (easy to purchase and setup with your hosting provider) and choose a managed WordPress service. Then go ahead and watch some YouTube tutorials and start experimenting with your new WordPress account by making changes to the theme and also the back end. There are so many different features that it's hard to learn them all through theory alone. Instead, you'll understand them on a deeper level if you learn through practice too.
Sam Robinson, Web Spider