When planning your WordPress website for your business, and building it, you'll definitely want to install a backup plugin and security plugin. And, you don't want to forget to choose and install at least one of the best WordPress social media plugins to make it easier for your visitors to share your articles, services and products on social networking sites.
Not sure where to start? You're in the right place.
Guide to the best WordPress social media plugins
Here's what we're going to cover in this article:
Let's get started!
What's a WordPress social media plugin?
A WordPress social media plugin is a type of plugin designed to make it easy to share your content on social networks. There are quite a few plugins, and while many do somewhat similar things, here are some of the features that can be expected from a social media plugin:
Social share icons for posts and pages
Auto-publish posts to social network sites
Social network handle buttons
Embedding social network content on posts and pages
Displaying social network dynamically content on posts and pages and sidebars
Format shareable content to display nicely for each social network and for search engines
Without a plugin, you would have to know code like HTML, jquery, JavaScript and CSS, to be able to add these features to your website yourself.
Social share icons for posts and pages
Social share icons are simple images placed on a post or page. When clicked on, a site visitor can share that page's content to social networks like Facebook, Twitter, LinkedIn and more.

Auto-publish posts to social network sites
Automation helps save time. You can either schedule posts to publish immediately after you've finished typing them up, or when you feel it's the right time.
The plugin will automatically generate a short excerpt of your post when shared to any of your social media channels.
You can even find WordPress social media plugins that allow you to schedule older, evergreen content that is still relevant today.
Social network handle buttons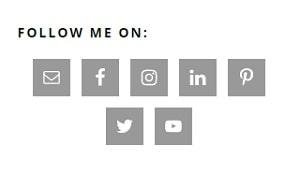 If you were to try to display all of the images for each of your social media handles yourself, you might find it tedious. So isn't it great that social media plugins help do this for you?
All you have to do is add the links to your social handles to the social media plugin, and depending on the type of plugin you've chosen, you can display the buttons in the sidebar of your site, or even in your navigation menu.
Embedding social network content on posts and pages
Some social networks have features that allow you to display images, video, or textual content on your site, by copying and pasting code. With some of the best WordPress social media plugins, you can do this without handling any code — or very little code at all.
Displaying social network content dynamically on posts and pages and sidebars of site
Sometimes you need extra functionality to display content on your site, like offering a thumbnail view of a video from Youtube or Vimeo in your website's sidebar, and then allowing people to click on it so that it opens in a larger window.
This type of dynamic functionality helps make it easier for your visitors to enjoy your content.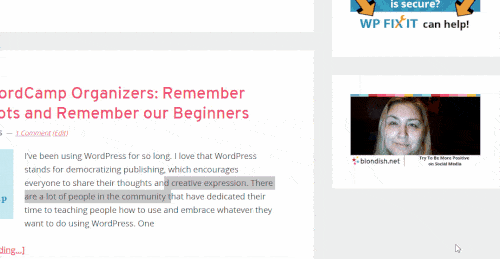 Format shareable content to display nicely for each social network and for search engines
Each social network and search engine features some design differences in how the content you share is displayed on each platform.
Some social media plugins contain a code format called Open Graph that will tell social networks like Facebook, Twitter and LinkedIn how to display the content shared from your site into a social media post.
Usually, each social network has specifications for featured image sizes and other attributes like page title and excerpt.
When a post is shared via a social media plugin, the plugin will share an image from the website page or article, the title of the article, a short description of the content, and sometimes even the author's byline.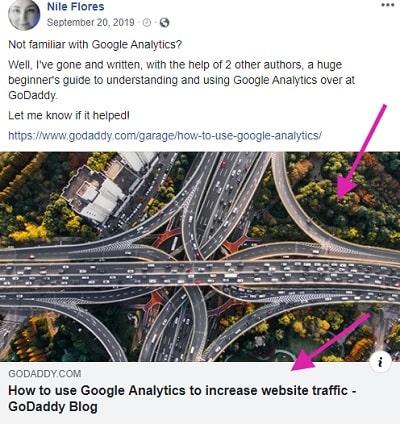 With search engines, some WordPress SEO plugins and social media plugins contain settings for social networks to be displayed in your Google Search results — also known as the Knowledge Card — which is displayed to the right of the search results.
Related: What you need to know about open graph tags and other social media metadata
Why do you need WordPress social media plugins?
The reason you need WordPress social media plugins is very straightforward. You can build a site, but that doesn't mean that people will come. You have to tell people about it, and you have to encourage them to engage with it, which includes sharing it with their friends on social media.
It's all about word of mouth, even if it's not in person.
However, when you ask people to share your articles, services or products, you have to make it easy for them or it's less likely to happen.
Your visitors come from all sorts of user levels. Some have problems using the computer, in general, so navigating a website sometimes becomes frustrating. Some of your visitors are whizzes with the computer and internet.
They both have one thing in common: they don't have time to copy a link and share it.
WordPress social media plugins solve this issue. They make it less of a headache for you to add social media share buttons to your posts, and there's no coding involved!
Tips on choosing the right social media plugins for your WordPress website
In choosing any WordPress social media plugins for your website, you want to ask yourself a few questions:
What social networks do I have a presence on?
Will automating some of my social media marketing help save me time?
Is the social media plugin easy to use, for both myself and my website visitors?
Some social media plugins only offer posting to a specific social network, so make sure you know in which networks your audience is most active and that you find a solution that covers that social platform.
This can also be said of automated posting. In some cases, a social media plugin might offer only a couple of options for auto-publishing, and to get more social network options you may need to pay for an upgrade.
Automating some of your social media can save you time that you could be using to grow your business.
User-friendliness and accessibility are also a big part of assessing social media plugins. If you or your visitors can't get a social share button to work properly, then you're missing out on reaching more people for your business.
11 best WordPress social media plugins
Without further ado, here's our list of the best WordPress social media plugins available today:
Sassy Social Share.
Smash Balloon Social Photo Feed.
Revive Old Posts.
Simple Social Icons.
Add to Any.
Better Click to Tweet.
Pin It On Image Hover and Post.
Social Media Share Buttons & Social Icons.
NextScripts: Social Networks AutoPoster.
WP Social Sharing.
WP Video Lightbox.
BONUS: Yoast SEO.
Let's take a closer look at each one.
1.Sassy Social Share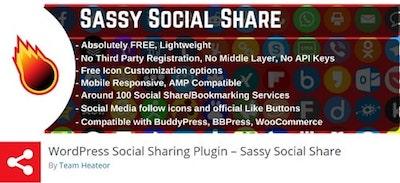 Sassy Social Share is a robust social media plugin that contains a lot of great features in the free version. The paid version, which is extremely affordable, contains even more features that would eliminate the need for other types of social media plugins, like adding social buttons to images within posts.
Other attractive free features include customizing social buttons and re-arranging buttons in the order you want them displayed.
Additionally, if you like your buttons to float on the side of the screen, as you scroll down the page, this plugin also features that option.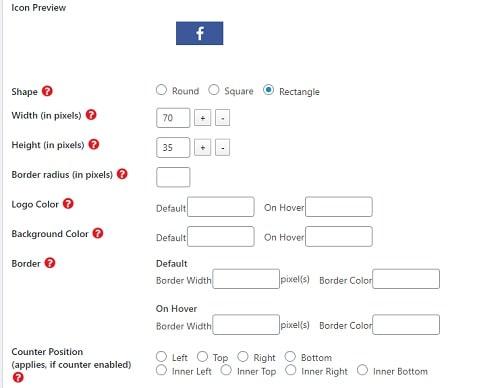 While it might not seem like much of a feature to some, the ability to place your social sharing buttons at the bottom and top of posts or pages is great because it increases the chance that a visitor may actually use it.

Note: This plugin received an Honorable Mention in BlogAid's 2019 roundup and testing of some of the best social sharing plugins in the WordPress Community. This plugin is really decent if you're looking for something that loads fast.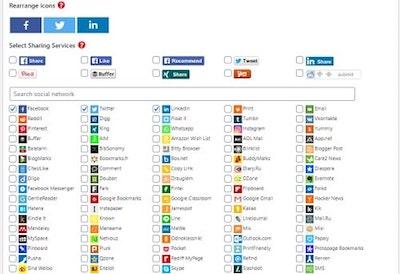 2.Smash Balloon Social Photo Feed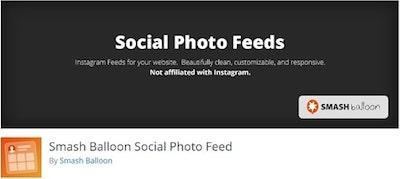 Smash Balloon Social Photo Feed allows you to add your Instagram feed, whether it's a business or personal account, to your website. In fact, it allows you to add multiple feeds. All you need to do is sync your Instagram account with the plugin, and adjust the settings.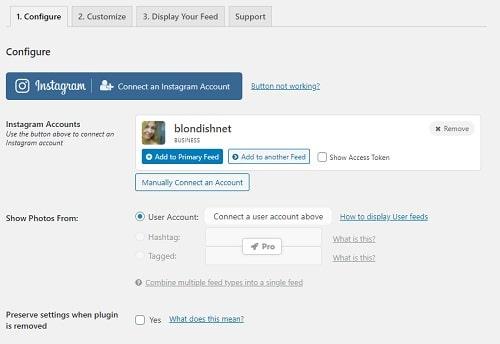 The settings are really simple. You can adjust the size, background, how many images to display, how many columns to display them in, as well as the option to display a follow button and bio.

One of the more popular methods of displaying the Instagram feed is not in the sidebar of the blog or website, but at the footer, along the bottom of the site.
3.Revive Old Posts
Revive Old Posts is an interesting plugin that many people only discover when they come across articles like this one.
This is an extremely handy plugin, especially if you write a lot of evergreen content.
Evergreen content is content that you may have written months or years ago, but the information is still relevant to this very day.
Because WordPress displays posts in chronologically reverse order — displaying the most recent content first — as your site grows older, those older posts get buried and forgotten.
Once configured and synced with your social network channels, this plugin can automatically schedule older posts.
For example, if you've set the plugin to publish one older post to Twitter every four hours, it will do so, even while you're asleep. Very cool, right?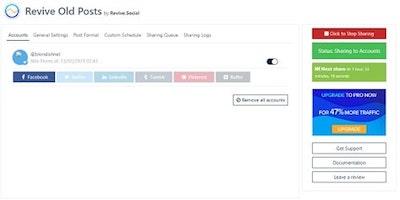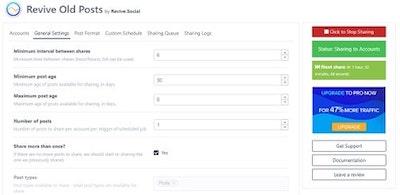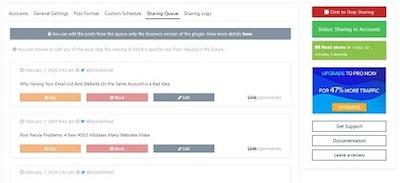 In the free version of the plugin, you can exclude any categories. For example, at Blondish.net, the News category is excluded, because there's a lot of timely content that doesn't need to be re-posted on Twitter months down the line.
4.Simple Social Icons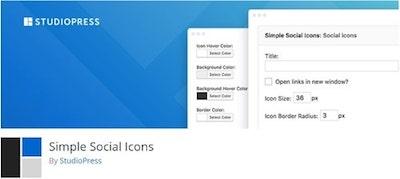 Simple Social Icons is a basic WordPress social media plugin that allows you to display small buttons that link to your social media handles.

This plugin adds a widget option where you fill out the social network handles you wish to display. You can also change the colors of the logos, size, and even the background and shape.
5.AddToAny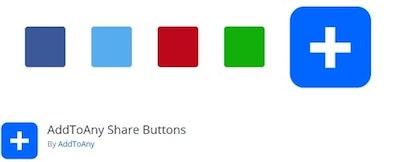 AddToAny is a simple social share button plugin that offers two types of display: standard buttons and floating. It also features a widget to display social media icons in a sidebar widget.
This might be faster for some to configure, especially if you don't need extra features or need to customize your button colors. It saves time so that you can get back to creating engaging content.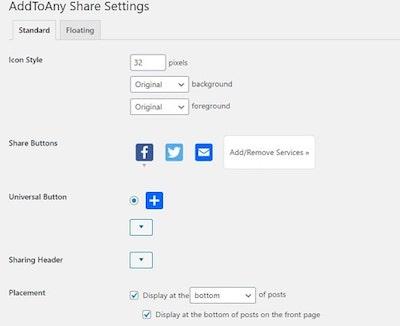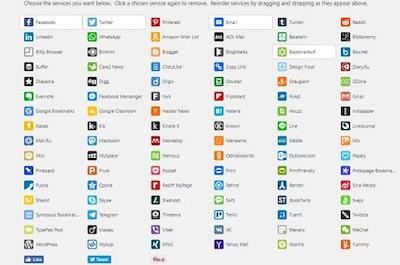 6.Better Click to Tweet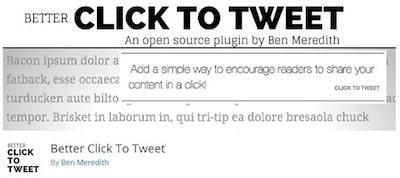 Better Click to Tweet adds a twist to how people can read and share your content.
It allows you to add pull quotes throughout your article, making your content more tweet worthy.
While some people might pass over your social icons, this feature adds a hard-to-miss content block with a clear call-to-action.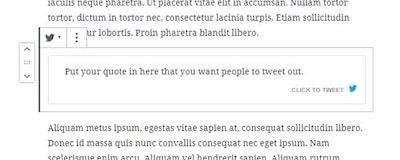 If you're using the Gutenberg editor in WordPress, the block for Click to Tweet appears nearly similar to what will be displayed on the front-end of the site once the post or page has been published. Unfortunately, the free version only lets you use one style, but it's quite an effective engagement feature within an article.
7.Pin It On Image Hover and Post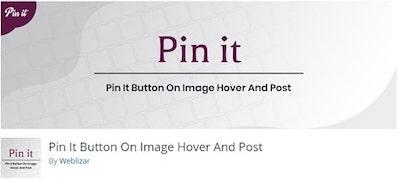 Pin It On Image Hover and Post is great for people who use Pinterest a lot. This plugin adds a Pinterest save button to images that allows your visitors to share the image straight to Pinterest.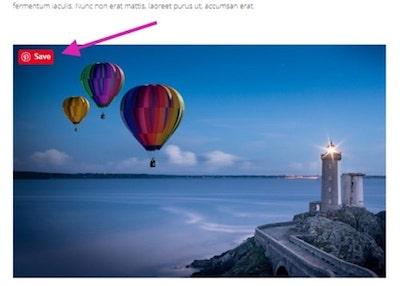 Note: If you're looking for this kind of capability that offers more social networking options, Sassy Social Share offers this in their extremely affordable paid version.
8.Social Media Share Buttons & Social Icons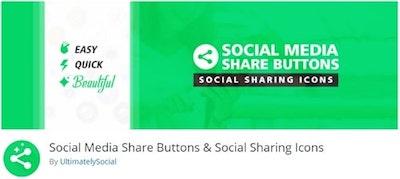 Social Media Share Buttons & Social Icons offers a few features like social share buttons, social handle icons, subscription popup, and newsletter form embed.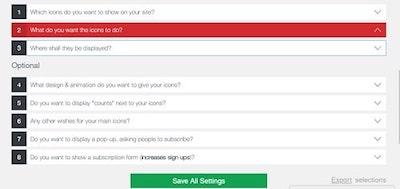 In comparison to other social sharing plugins, this one interacts with a number of social networks like:
RSS
Email
Facebook
Twitter
Youtube
LinkedIn
Pinterest
Instagram
Telegram
VK
Ok
WeChat
Weibo
There are also some button styles offered.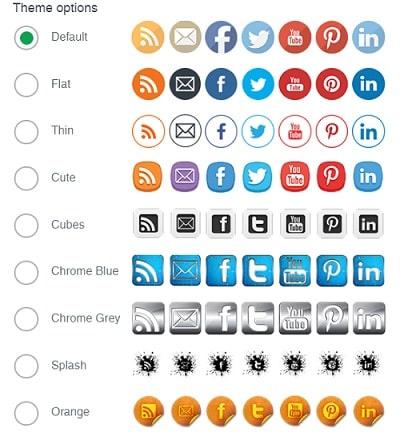 This plugin not only offers the ability to share content to social networks, but it also offers an option to embed a newsletter form into a widget, as well as a pop-up feature to attract people to share your website.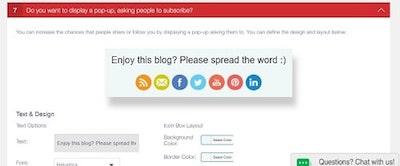 The newsletter feature is great because you can generate the subscribe form from your newsletter provider, and simply add a shortcode to a widget.
Once that's done, the form will display wherever you've designated for the widget to appear, like the sidebar of your blog.

9.NextScripts: Social Networks AutoPoster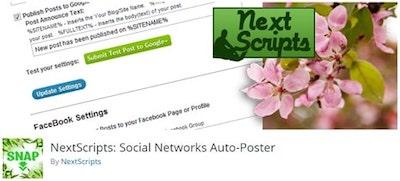 NextScripts: Social Networks AutoPoster provides you with the ability to autopost to social networks that you want to have a presence on.

It saves a lot of time from doing all the sharing yourself and allows you more time to focus on creating content and growing your business.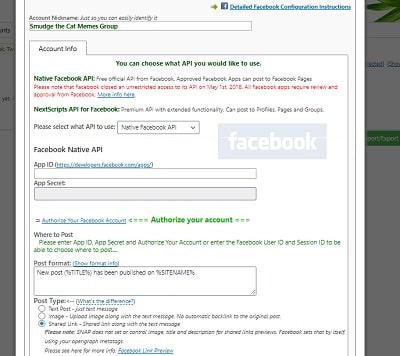 Plus, you can repost articles that you published prior to installing the plugin.
10.WP Social Sharing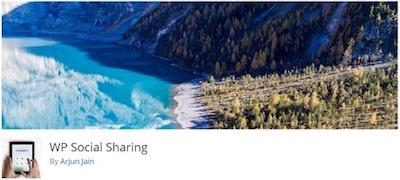 For anyone who just wants an extremely simple social sharing solution, WP Social Sharing is solely for adding social share buttons.
It only features six social networks like Facebook, Twitter, LinkedIn, and Pinterest. If you're a minimalist, this plugin is for you!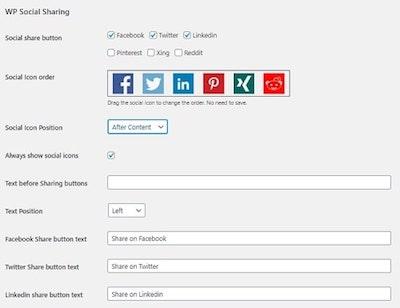 11.WP Video Lightbox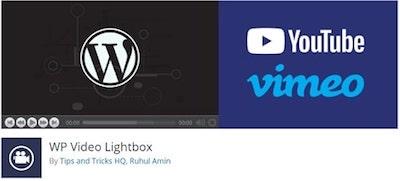 WP Video Lightbox is great for people who post videos to their website.
If you're using Youtube or Vimeo and some other video formats, this plugin allows visitors to click on the video's thumbnail image to view the video in a larger window area.
The video below, made by the plugin developers, shows how this plugin works:
The plugin made this list because most people forget that their video content is suitable for social sharing. More importantly, you should offer user-friendly and accessible options for viewers. Sometimes a smaller video can be frustrating to watch, especially for people with vision issues.
Related: What is web accessibility, why does it matter, and how do you get started?
Bonus: Yoast SEO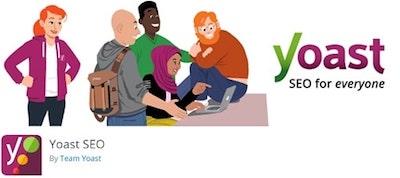 Yoast SEO is definitely an SEO plugin that can help you optimize your content so that Google's engines will find it and index your website in search results for specific keywords.
However, Yoast also offers some social media features that are often lumped in with SEO. Why?
SEO and social media go hand in hand.
Social networks offer search results, just like Google, Bing and other search engines.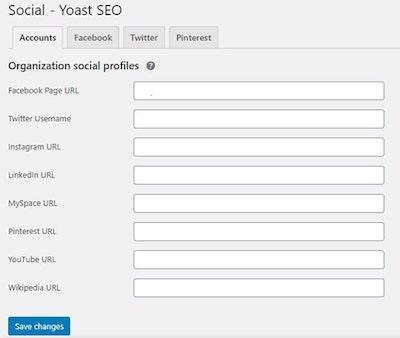 Some of the social aspects featured in Yoast are related to OpenGraph integration. OpenGraph allows your content or social handles to display according to standards on social networks and in search engine results.
Below are a couple of examples of how nicely OpenGraph helps GoDaddy look on Twitter and in Google's search results.
Related: 14 critical steps for setting up the Yoast SEO plugin for WordPress
Conclusion and next steps
So it's finally time to choose which plugins you'll need. Since there are 12 different plugins to choose from and many of them are social sharing plugins, make sure to pick only one of those.
Additionally, once you've installed one of the best WordPress social media plugins that you want to use, you'll need to set it up and then test it out.
Testing ensures that if you're using other plugins or a theme that conflicts with how your social media plugin is supposed to work, you'll know that you need to choose a different one before putting it live on your site.
For the most part, the WordPress social media plugins listed in this article have been highly tested against other major plugins and popular themes, but there are a lot of other themes and plugins out there that may have been missed.
After you've tested your WordPress social media plugins, encourage your visitors to use them.
Good luck, and remember …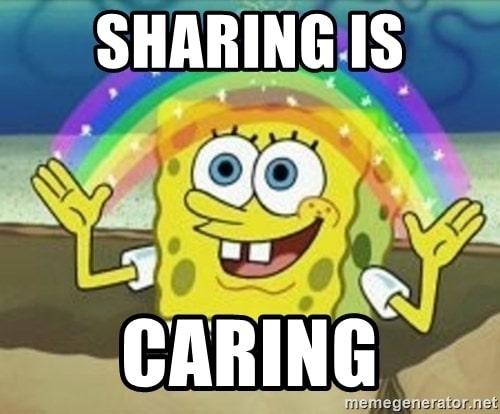 This article includes content originally published on the GoDaddy blog by Bryant Tutterow.