As a small business owner, you have to be constantly on the lookout for great ideas that get the biggest bang for your limited bucks. And, sometimes, the most extraordinary ideas come from the most ordinary situations.
A few years ago, my friend Kathy and I were walking our dogs along the river in our Harrisburg, Pa., neighborhood. As we watched them play, I saw a groundhog dash for its hole. One of us (I can't remember which) said, "We should have a Groundhog Day celebration!" The more we talked about it, the more we liked the idea — at first, simply as an excuse for a party in the dead of winter, but later as an opportunity to promote our community, where home sales were lagging, as a great place to live.
As the old saying goes, you can't buy that kind of publicity (certainly not for two hundred bucks).
We took the scheme to our neighborhood association, which approved a modest $200 budget for the event. With just two weeks to prepare, we then began planning in earnest. The result was a great affair that attracted about 100 people, as well as coverage from three local television stations and the newspaper. As the old saying goes, you can't buy that kind of publicity (certainly not for two hundred bucks) — plus the occasion served as a reminder to residents and others that this is a friendly, fun, safe place to be a homeowner.
So as you can see, you don't need a Hollywood blockbuster promotional budget to generate attention-grabbing PR for your small business or organization. But it does take ingenuity, organization, planning, attention to detail, and a little luck. Here's what I learned from my Groundhog Day (and unlike Bill Murray, I got the lesson after just one experience):
Be inventive.
We realized early on that of course we should have a groundhog for a Groundhog Day celebration. While several furry diggers resided in the area, we lacked local woodchuck whisperers. So we needed a stand-in. I suggested using one of our dogs in a groundhog suit.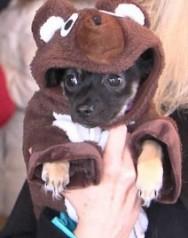 Since my dog Bubble, a Chihuahua, was small and social, we cast her. Believe it or not, I couldn't find an actual canine-specific groundhog outfit, but I did discover a bear costume that was cute, cheap, and close enough to pass for a faux Punxsutawney Phil. We christened her "Shipoke Sheena" (in honor of our neighborhood) and gave her a backstory. Cheesy? Yes. Press-worthy? Oh, you betcha!
Make the most of your contacts.
We wanted some special guests to attract a crowd and the press. One neighbor had campaigned for our then-new mayor, so we had him reach out with a personal invite that was accepted quickly. A friend of mine is a popular local musician and he agreed to come and sing a few songs. My next door neighbor, who teaches a children's art class, was happy to conduct a special program with stories and crafts for kids.
Think about the people you know who can help, as well as what they can get out of the event to make it worth their time and effort. For example, the mayor and the singer both got good media coverage. I also put together a basket of goodies for the mayor and his family, and I gave restaurant gift cards to my neighbor and the musician.
Conduct targeted media outreach.
Identify which media outlets and reporters are most likely to be interested in your event, and focus on them. Clearly, this was a community affair, so we targeted local media and promoted the community angle. We also stressed the mayor's participation. Since he was new to office, we knew the media would be interested in covering his activities and having the opportunity to talk with him.
Know your limitations.
And stick to them — especially when you're trying something new. Set a modest budget. Know what you can afford to lose and don't spend a dollar more. At the same time, plan out your event in advance; determine how much of your time will be involved, what help will be necessary, and what — if any — extras you will need (such as security, licenses, permits, etc.). Don't bite off more than you can chew.
Learn from your successes, as well as the snags.
We had a terrific event in 2014, but we didn't rest on our laurels. Instead we focused on what we could do differently or better this year. For example, we capitalized on the fact that we had a dog and not a groundhog, renaming the event "Grounddog Day." A neighbor's sister (a professional artist) designed a logo showing Bubble in her Shipoke Sheena ensemble that we featured on T-shirts, buttons and refrigerator magnets to sell at the event. Last year, we had access to an empty storefront for the festivities, but the same venue wasn't available again. So we scrambled and found an empty neighborhood garage, which in the early 1900s was a carriage house. It was damp, dreary and cold, but after a spruce up, the addition of space heaters, chairs and tables, it proved party worthy. Not missing an opportunity to spin straw into gold, we stressed the rustic, historic nature of the location in our promotional materials.
Grounddog Day is now an annual event. The second year attracted similar numbers of people and again brought the media out. Next year, we plan to add new features and, hopefully, more special guests to make it even bigger and better. We're proud to have a great tradition that has a huge return on a modest investment. And it all started with a walk in the park.