With over 152 million shoppers worldwide and 19 million sellers on eBay, there are plenty of opportunities to sell your products but also a lot of competition. As of 2022, there are a jaw-dropping 1.5 billion seller listings on eBay, and each day the marketplace becomes more and more saturated.
With more merchants selling the same items, eBay sellers have to strategically create their listings to stand out and attract buyers. Visibility, pricing, and photos are a few of the vital components that influence your shoppers and whether or not they will ultimately make a purchase.
To help boost your sales, we cover 10 tips to craft a top-selling eBay listing that builds buyers' trust in your products and encourages them to make a purchase.
How to create a top-selling eBay listing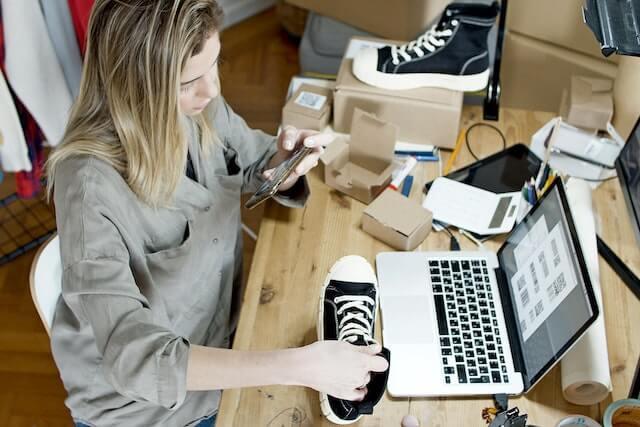 The key to securing your online sales, eBay or otherwise, is building buyers' trust in your business. When trust is high, shoppers focus less on the potential risks of online shopping and feel ready to make a purchase.
How do you build that buyer relationship? Appeal to shoppers' intuitive reasoning.
According to Harvard Business Review, people rely on their associative reasoning system—based on personal experience and intuition — when making risky decisions, such as an online purchase. This finding means that the intuitive factors of your eBay listings — aesthetics, professionalism, visibility — often have the biggest impact on whether shoppers purchase your eBay products.
Considering this research, we've outlined 10 tips that speak to shoppers' associative reasoning. By improving the intuitive factors of your listings with these strategies, you'll build buyers' trust in your eBay business and give a boost to your sales.
1. Use high-quality photos
Because online eBay shoppers can't see your products in person, your item photos matter a great deal. Through color, image quality, and more, product photos help buyers assess whether they want to purchase the item.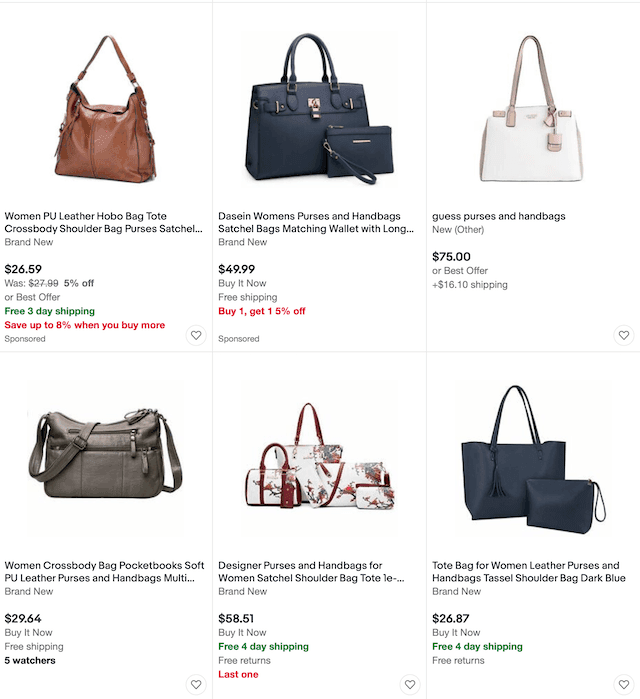 To make the right first impression, here are a few tips for curating your eBay product photos:
Use high-quality photos. Well-lit, colorful, high-res photos build buyers' confidence in your products—they can clearly examine your items' details, so they feel ready to make a purchase.
Make sure they're sized correctly. eBay requires photos to be at least 500 pixels on the longest side. Pictures should be 1600 pixels on the longest side to optimize for mobile.
Offer a selection of photos. Include a variety of photos that show off your products at different angles to provide shoppers with a better sense of your items.
Keep your images minimal. eBay asks that sellers keep product images clean with an uncluttered background and no text or borders. Besides meeting the marketplace's guidelines, following these rules eliminates distracting elements and keeps buyers focused on your products.
With a curated selection of product photos, your listings will give shoppers a clear idea of what to expect from your products. Shoppers then have the knowledge they need to feel confident in making a purchase.
2. Apply SEO to your listings
Online shoppers don't want to browse through pages of products. To save time, they'd rather opt for one of the first results they see. With this reasoning, a listing that ranks high in eBay's search results will likely attract greater sales than one with a lower ranking.
These search rankings are determined by eBay's search engine, Cassini. In deciding which listings will rank highest, it considers which would be most relevant to the shopper.
A key factor in determining this "relevance" is keyword usage. When the keywords in your listing match your buyers' search terms, Cassini considers your product to be more relevant for that shopper.
There are a few key ways to find out which keywords your buyers are frequently searching.
Use a keyword research tool. You can take advantage of the eBay-specific keyword tool Terapeak or use a more general keyword tool, such as Ahrefs or Google Keyword Planner, to generate a list of keywords that buyers are frequently searching.
Conduct your own eBay search. Do a search on eBay for products that are identical and similar to yours, and note which keywords are most frequently used in the top-ranking listings. Since these listings rank high, these keywords are most likely searched frequently by buyers.
Once you've compiled a list of keywords, you can narrow down your list to the most popular words and phrases. Then, incorporate those keywords throughout your listing.
Title
Description
Catalog specifics
Listing specifics
While you want to distribute these keywords throughout your listing, avoid keyword stuffing. If you aimlessly add keywords that are frequently searched, Cassini will detect that your listing isn't relevant to your buyers. Add keywords where meaningfully appropriate to keep your listings' rankings high.
With a relevant distribution of keywords, your listing will be ranked high in target buyers' search results and will, through greater exposure, achieve greater sales.
3. Promote with eBay advertising
Beyond SEO, you can improve your listings' visibility with eBay Promoted Listings. Available to Top-Rated Sellers and eBay Store subscribers, this paid advertising program allows you to place your listings where they'll get more exposure, such as the top of a search rankings page.
Shoppers can easily find Promoted Listings with their advantageous placements, so they're more likely to buy those items.
But because Promoted Listings isn't a free service, you want to ensure that you're getting the highest value possible from the investment. Here are a few strategies for effectively placing promoted listings.
Pick items that would benefit most from greater exposure. Items that are expected to receive a lot of attention, such as bestsellers and new items, will attract even more buyers with greater visibility through promotion.
Pick a time for your campaign when shoppers are especially motivated to buy. Launching Promoted Listings when people are especially ready to make purchases, such as the holidays or special events, will most likely result in greater returns.
Find an ad rate that boosts your ad's chances of winning without hurting your budget. Consider your expenses and evaluate these average ad rates for eBay promotions to find an amount that works for your business.
Test and track your results. Monitor your Promoted Listings dashboard in Seller Hub to determine if you need to improve the quality of your listings or adjust your ad price for greater returns.
Since it offers greater visibility for your products, eBay Promoted Listings allows you to attract more buyers to your items and generate more sales.
4. Maintain a high seller rating
Beyond SEO and promotions, visibility can also be impacted by your eBay seller rating. If you have negative feedback, the Cassini search engine will lower your listing's ranking.
To ensure that your listing is visible (and that you're keeping customers happy), you should always aim to meet eBay's Top Rated seller benchmarks:
Defect rate: Less than or equal to 0.5 percent, with three or fewer defects from unique buyers
Cases closed without seller resolution: Less than or equal to 0.3 percent and two or fewer cases
Late shipment rate: Less than or equal to 3 percent and five or fewer late shipments
Shipping: Tracking uploaded within your stated handling time; carrier validation for 95 percent of transactions with U.S. buyers
Meeting these benchmarks consistently requires planning and diligence. Clearly understand what areas of your performance need improvement with these tips:
Regularly monitor your ratings in Seller Hub. Check the performance metrics mentioned above in Seller Central consistently, and you'll be able to catch if one is starting to slip and hurt your rating.
Set a reminder to check messages from buyers. Shoppers value when sellers respond to their issues promptly. If you often forget to check buyer messages, set a daily reminder to respond.
Convey an accurate dispatch time and shipping fees. Shoppers are quickly disappointed if shipping takes longer or costs more than originally expected. To keep buyers happy, always communicate accurate dispatch times and shipping fees.
Ask buyers for feedback. Unless a major issue occurs, shoppers usually aren't motivated to leave feedback. Give them some encouragement by sending a follow-up message one week after their purchase to request that they leave feedback. As a backup, you can use various tools to set up a feedback reminder to automatically request input from customers.
Implement these strategies, and you'll be able to maintain a positive seller rating that keeps your listings' rankings high.
5. Offer generous shipping and returns
When online shoppers are hesitant to purchase, they can often be convinced to buy when offered free shipping and fair return policies. If they end up not liking the item, they will appreciate that it won't be costly or time-consuming to have it shipped back.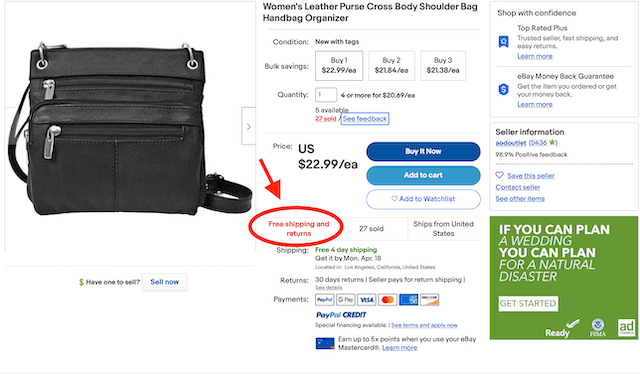 eBay buyers are no exception. The marketplace found that more than 60 percent of shoppers check return policies before completing an order.
If you don't currently offer free shipping and free returns, consider how and why you might be able to switch to these policies and attract more shoppers.
Evaluate your costs and whether any could be lowered. Are there any expenses that could be reduced? Finding room in your budget to accommodate free shipping and returns can be worthwhile if it helps you attract more sales.
eBay now protects sellers who offer free returns if an item is returned damaged or used, enabling them the option to only offer the buyer a partial refund. Top-rated Plus sellers are required to offer free 30-day returns.
Switching to free shipping and return policies may seem risky and costly at first, but the investment is worthwhile. With the protections of these policies, reluctant buyers will have more confidence in your business and make a purchase.
6. Create a custom listing with software
Shoppers are attracted to listings with a professional look. A high-quality design builds buyers' trust in your business as they associate a polished look with credibility.
Achieving this style, however, can be hard if you're not a designer. Rather than hire an expensive freelancer, you can save money and still create a professional listing with software. Online programs, such as CrazyLister, provide templates to easily craft an eBay listing at an affordable price.
To take advantage of this listing software, choose your templates carefully.
Avoid templates with too much clutter. If a template has too many elements — colors, text blocks, CTA buttons — shoppers are going to be distracted from your product and, as a result, might abandon the listing.
Make sure the template is responsive with mobile devices. To keep your conversion rates high, it's essential that your eBay listings are mobile responsive. According to BigCommerce, 6 percent of all U.S. retail sales in 2021 can be attributed to mobile ecommerce sales, and as Statista forecasts, that number is expected to jump to 10 percent by 2025.
Highlight pictures more so than text. Visuals engage people more than text, so make sure your template showcases high-quality product photos to attract buyers.
Use custom listing software templates along with these suggestions, and your listing will have a professional look that builds shoppers' trust and encourages sales.
7. List with eBay's catalog
As an alternative to using custom listing software, you can achieve a professional look by listing items through the eBay catalog. Rather than creating your own unique listing, the eBay Catalog lets you share one with other merchants who are selling the same product.
For each catalog listing, eBay selects the product photos from sellers' submissions, and the product info is presented in a standardized format. With this uniform look, eBay catalog listings look professional in the eyes of shoppers.
To list with the eBay catalog, your item needs to be brand new and match an identical item in the catalog. If your product isn't already included, you can request that eBay add it in.
Offering a professional and refined look, the eBay catalog can help you impress and delight buyers, so they're ready to make a purchase.
8. Select item specifics strategically
To maximize your products' visibility, you'll want to include relevant item specifics when creating listings. Item specifics are unique identifiers — color, brand, size — that help you distinguish your listing from similar products.
Item specifics will make it easier for buyers to find your item in a few ways:
Item specifics help buyers find your items on eBay. Using the Refine column on the left of a product search, buyers can select item specifics to help them find your product.
Item specifics help buyers find your item through a Google Product Search. For your eBay listings to appear through a Google Product Search, you need to include unique product identifiers that the search engine requires.
With more item specifics, buyers are more likely to find your listings through search engines — whether it's eBay's Cassini or Google — and move toward placing an order.
9. Have a competitive price strategy
As shoppers scroll through eBay listings, they're comparing pricing, among other factors. To attract buyers while staying mindful of your finances, you want to find a price point that's both competitive and fits your budget.
Finding that effective price point boils down to a few steps:
Determine the cost of your product. Gaining a full sense of the expenses associated with your item will help you determine a price that's profitable.
Find out what competitors' prices are. Search for your product type and note the prices of the top-ranking listings. You can find out pricing insights on your competitors in the Seller Hub. Keep current with updates on pricing guidance by checking out Seller Updates.
Use psychological pricing to motivate buyers. Different methods, such as the Left Digit effect, can influence how shoppers perceive the value of your product and their willingness to pay. Understanding the psychology of competitive pricing will help you up your game as a seller on eBay and in ecommerce, in general.
After you've found a competitive price, you'll want to consistently reevaluate your competitors and budget to make sure your price still works for your business and buyers. With a competitive price, your listing will attract shoppers and bring them one step closer to purchasing.
10. Make sure your listing is compliant
At the very least, your listing can't attract shoppers if it's not legally compliant. Failure to meet these standards can result in your listing being removed by eBay and disrupting your business.
eBay doesn't pre-approve listings, so it's your responsibility to make sure your listings are legally compliant. Examples of these legal requirements include:
Not plagiarizing text or using images from other eBay listings without the owner's permission
Using brand names appropriately
Making sure the listing is accurate to avoid intellectual property concerns
Review the full list of guidelines here for legally compliant listings. By being aware of these standards, you'll be able to ensure that your listings are all compliant and won't be removed, and your customers can keep shopping.
Follow these steps for long-term success
It may take some trial and error, but with these tried and true tactics, you'll start to get the hang of which strategies work best to yield more clicks and purchases. With a strong foundation of listing best practices and tweaking as needed here and there, you will be set up for long-term success and greater profits in the future.