I get it. There's only so much you can do with Arial, Verdana, and Georgia. All caps? Italic? Bold? If you're feeling really aggressive, you could figure out how to outline your letters and fake a drop-shadow.
That's hardcore.
Used to be: Want a custom font? Use a graphic.
It's just the way the Web worked. Want some fancy or elegant typeface on your website? Make it a picture. I guess you could beg your visitors to download and install the font you want them to see, but that's obnoxious, and who knows how to install fonts on their computer? So, for years, that's just the way it was. If you didn't use a graphic, you couldn't use most of the typefaces in the world. No slab-serifs. No fancy ampersands. No playful scripts.
Enter Google Fonts
But not anymore. Custom Web fonts are here, and thanks to Google® they're a piece-of-cake to add to your site.
What's the selection look like? You have more than 600 fonts to choose from. Don't get me wrong, choice isn't everything. We can't—and shouldn't try to—eat everything at the buffet. More than three different fonts on your website is a recipe for mud. But, if you take the time to create some elegant heading/body pairings, you could create a layout that sings.
How to use Google Fonts on your website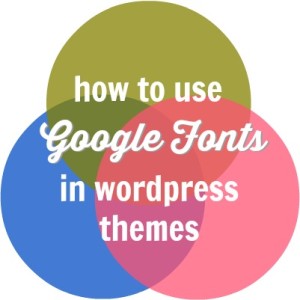 Wanna know how to do it? Yeah. Me, too. I kinda have a crush on Thin Lato these days; it reminds me of my love affair with Helvetica Nueue Ultra Light. Check this out:
Erica Mueller, over at ericamuelleronline.com, created a thorough and useful tutorial for using Google Fonts to customize your WordPress® theme. Follow it. She walks you through step-by-step. She'll show you how to find them, select them, and add the fonts to your HTML or CSS.
And don't worry. If the idea of customizing your CSS and HTML in WordPress makes you a little squeamish, she recommends a WordPress Google Font plugin instead.
Now go! Be free my font-snob brothers and sisters. Slab that serif. Slant that script.