You've created your website, you've got an amazing email newsletter, and you've set up your social media profiles — which have all helped to build a strong rapport with your customers. But even with those options already in place, you want to take your relationship-building skills to the next level. Good news? You can do that with a blog. If you want to know how to add a blog to your website with ease, keep reading!
While you don't have to build a site in WordPress, for the sake of this article, let's assume you did. If you didn't, the process of adding a blog could be as simple as creating a new page and linking it out to an existing platform (such as Blogger.com). You'll need to check the documentation pertaining to your site to be sure.
If you created your website in WordPress, you're in luck. The steps are pretty simple.
Editor's note: Want an easy WordPress solution? Consider using GoDaddy Managed WordPress for your blogging needs.
How to add a blog to your website
Add a new page in WordPress.
Name the page.
Publish the page.
Navigate to the Settings section.
Designate a Posts page.
Determine the amount of posts you want.
Write and publish your first post.
Easy-peasy. If you want some visuals to guide you along, check out the corresponding steps below.
1. Add a new page.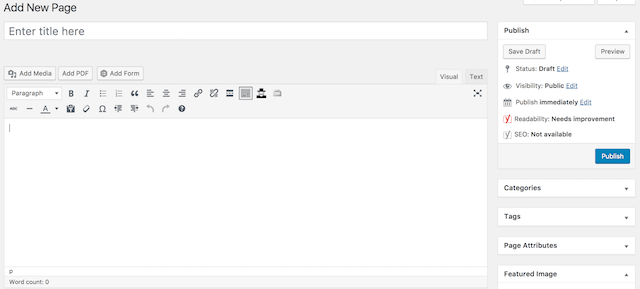 Log in to your WordPress Dashboard, and click on Pages > Add New. This step is pretty self-explanatory. Since you already have an existing business website and you want to add a blog, you'll need a page for your blog to live. You don't want it encroaching on other pertinent page information.2. Name the page.
2. Name the page.
Let's name it "Blog" for easy identification. Leave the text box blank because you want the page to act as a feed for your posts — not a static read page.
3. Publish the page.
In order for your Blog page to go live, you need to publish it. Don't worry about where the posts go just yet — we'll tackle that later.
4. Navigate to the Settings section.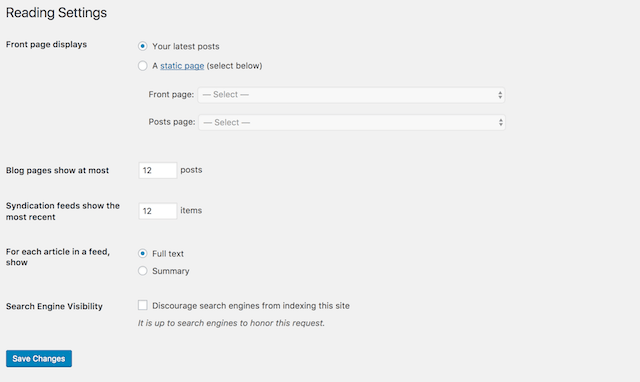 When you're in your Dashboard, you'll see a column along the left with all the different things you can do in WordPress. Go to Settings > Reading to bring up the page seen above.
5. Designate a Posts page.
Click on A static page, and then select Blog under the drop-down menu for Posts page. This is important. This step determines where your blog feed appears. Make sure to select "Blog" under the drop-down menu for "Posts page" and not "Front page" — unless of course you want your blog to be the landing page of your business website (probably not).
6. Determine the amount of posts you want.
This is a personal preference, really. How many posts do you want to appear when your readers click on Blog? Five? 12? Play around with different amounts and see which option you prefer. Then, save your changes.
7. Write and publish your first post.
And now you're ready to blog! If you haven't already done so, you should first set up an editorial calendar for your content so you can produce quality, consistent work for your followers.
Tips for writing your first blog post
Here are a few tips to consider when writing your first post.
Don't get frazzled.
Now that you're staring at the blank post page, you might be feeling somewhat panicked about your first blog post. It's your first post, the one to launch your blog, the one to introduce yourself to your readers. It's a big deal, right? It is, for sure, but don't let yourself get too frazzled. Yes, it's the first post, but it's not going to be your only post. Your blog is something that is meant to grow and change with your business.
As far as the actual post topic, focus on introducing yourself and your business in your own voice.
Your first post is a great way to lay the groundwork for what your blog is going to be about, rather than just getting straight to the regular blog posts. So yes, the post is important, but you'll have future posts to continue to build on your original foundation.
Stay focused and attract customers.
For a business, the purpose of your blog is to build relationships with your readers in order to grow your business. After that first post, how do you continue to come up with solid content that will keep your blog moving forward? The key is to stick to your primary focus, which should be your products and services. When you keep your posts focused around those points, writing your blog content will be easier for you and more effective at capturing desired readers (and customers).
Promote and share your posts.
First, share your new blogging venture on your social media profiles. It's a great way to humanize your business, and it gives customers a good starting point for finding new information. Second, consider adding social plugins to your WordPress site.
Make sharing easy, and watch as new customers visit via referrals from their friends.
And if you want to move beyond social media marketing into the realm of SEO, there are a bunch of WordPress plugins you can take advantage of (Yoast being a big one). These are intended to help you streamline your WordPress blog and your posts to make your site more search-engine friendly, and they are extremely helpful if you've never managed a blog before.
Get ready to blog
Now that you've learned how to add a blog to your website, you're ready to put your words out there. Hopefully, these tips and tricks will have you feeling more confident about your new blogging venture. Happy blogging!