When we talk about marketing automation, email is the first channel that comes to mind. Yet despite its popularity, many marketers never exceed an open rate of 20 percent. It's time to diversify your marketing automation channels beyond email. In this article, I'll show you how to get started with one of our favorite marketing and retention channels: web push notifications. You'll learn why they're valuable, how to get started, and best practices for engaging with your audience.
Why web push notifications?
One of the most appealing factors of web push notifications is how easy they are to set up. Sure, it can be technical. But by using a provider that supports them already (e.g. Chrome), you can be up and running in a matter of minutes.
Web push notifications also remove the need to have an app.
In recent years, many marketers developed an app specifically for this type of information delivery. Now, you can send notifications through desktop and mobile devices without building an entire application.
Spam folders and ad blockers are two other hurdles that become irrelevant with web push notifications. Users either want your content or they don't. Push messages allows you to deliver updates and content without a road block.
Finally, when done right, web notifications can be extremely targeted. Using smart segmentation tools, you can target user profiles with the content that interests them the most.
Now that you understand why you should get on board with web push notifications, let's dive deep into how to get started.
Getting started with web push notifications
In order to send push notifications to a user's browser, you must first get their permission. Once a user lands on your home page, they will see a dialog box like this: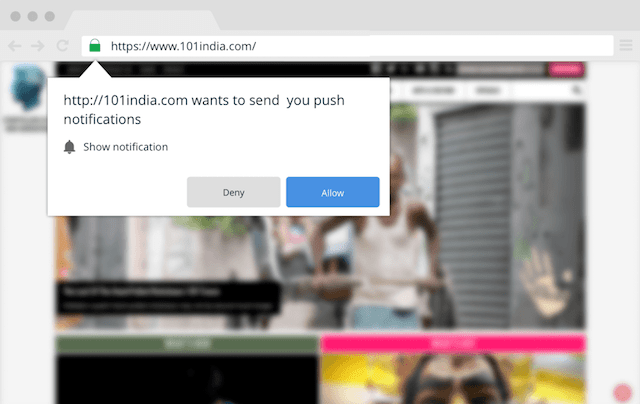 By default, the user will be opted-out. This "default" setting will be applied when the user takes no action, clicks away from the dialog, or presses the escape key.
When the user clicks "Allow," they are essentially opting in to your push notifications. Selecting "Deny" will keep them opted out. These settings are "granted" and "blocked" respectively. If a user denies the push notifications, they won't be asked again. In order for them to manually opt-in, they must go through a lengthy (and not very user-friendly) process:
Having users opt in
Around this time last year, a report was released showing that about 59 percent of iOS users opt-out of app push notifications (Android users are opted in by default when they download an app). So how can we entice people to accept our messages?
One technique used by many iOS developers is to add a step in front of the default prompt. In this case, Flipp illustrates the benefits of opting-in before showing the mandatory dialog: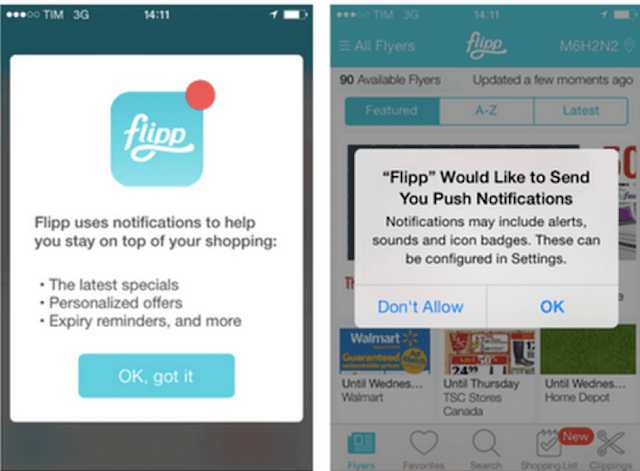 You can take this approach and apply it to your web push notifications. Instead of relying on the default prompt that the browser offers, use a call-to-action that's triggered by the user. This example from PrettySecrets displays a non-intrusive call to action in the bottom corner for their home page: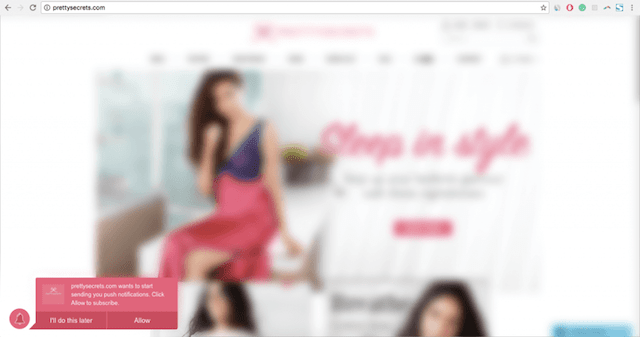 If the user clicks "I'll do this later," the brand can display the same call to action at a later date. This puts the power back into your hands as a marketer, instead of relying on a browser's clunky user interface. If the user does select "Allow," a new window will open that displays the browser dialog as shown previously.
Once a user opts in, send them a welcome message. This will confirm their opt-in, but also illustrate what these notifications look like. As this is a fairly new medium, it's good to familiarize users on what to expect.
Crafting a great message
Getting set up is only half the battle. Now you need to engage your users in a way that compels them to take action. Crafting the copy for your web push notifications is fairly straightforward. You only have a limited amount of space to play with, which forces you to be succinct.
Depending on the device, you have between 40 and 160 characters to work with.
This means that the headline is the most important part of your message.
It should grab their attention and intrigue them to learn more. Here are some tips and best practices for crafting the perfect push notification copy:
Be concise: As mentioned, you only have a limited amount of characters to fill. While you have to be brief, don't attempt to make a summary of it. Your job is to sell the click, not create a shorter version on what's on the landing page.
Appeal to user wants: Compel the user to take action. "50% off all products," for example, is not only clear, but drives action for those in a buying state.
Suggest scarcity and FOMO: You want users to convert immediately. If they're aware of a time constraint behind your message, they are more likely to click as soon as the notification lands.
Prove interest: If you're selling something, state how many customers have already purchased. If it's a live event, show them how many people are attending.
Call-to-action: Sometimes you'll need to tell them what to do. Due to the character limit, simple calls to action like "Click to learn more" or "Purchase now" are acceptable.
A good push notification message comes down to great copywriting.
Generate more clicks by writing compelling headlines and body copy. This example from Office Depot does a great job of quickly getting to the point. Sent after cart abandonment, it reminds their customer of one of their biggest USPs: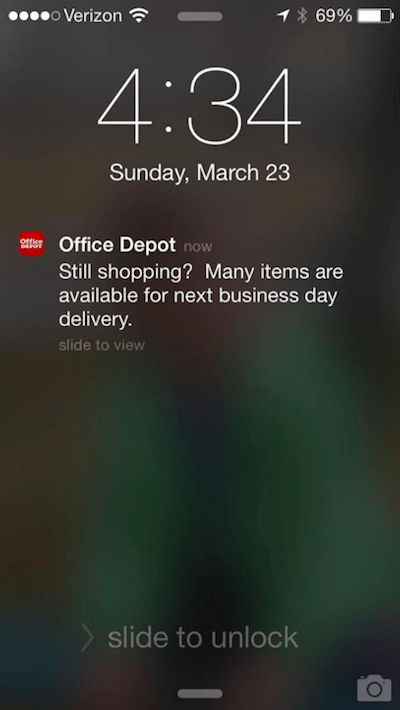 New to copywriting? Neil Patel has a comprehensive guide you can find here.
Segmentation of users
Gaining permission from your users is the first step. The second is segmentation. While this can be a challenge, there are tools that make this possible.
So, what push notifications should you send? It depends on the actions of your users. For example, if you're an eCommerce brand, you can send time-sensitive offers or notifications when items are left in a cart. You could also send notifications based on previous push behaviors. For example, if you're in the media space, you may increase frequency of push notifications based on how often a user clicks on previous ones. By using the right tools, you can set rules that send push notifications determined by timing and behavior: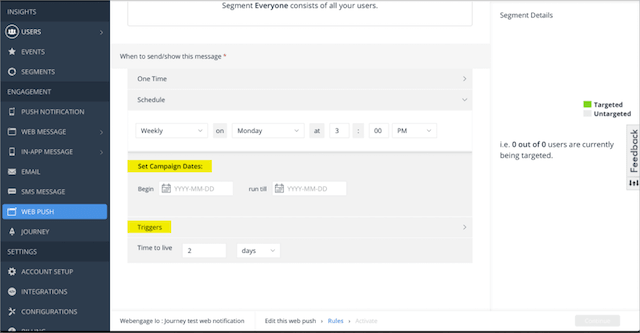 Analysis of notifications
Finally, you must measure the effectiveness of your web push notifications. The majority of tools report on deliverability, clicks and click-through rate (CTR). But to truly measure effectiveness, measure churn and conversions. How many people are opting out of your web push notifications? Which of them causes the majority of unsubscribes?
Understanding where your users are churning will help you to improve your messages.
And since conversions are usually the end goal, there's no point in getting users' attention without having them take action.
At WebEngage, we have easy-to-use tools to track push notifications at all stages of the funnel. But you can also use Google Analytics to do this. Start by heading to Google Analytics > Admin > Goals (under the View column). Click on the "New Goal" button, and after selecting the Goal setup, you'll see the following: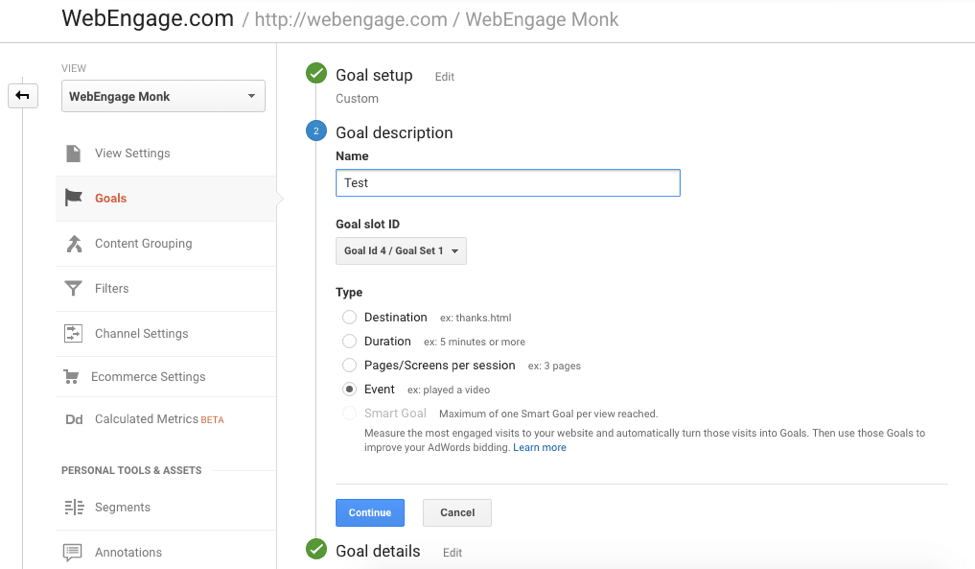 Google has a support article that can provide more context on this process. It's also important to create a UTM code for the URL you want to track. This will allow you to accurately measure all traffic that comes from your web push notifications.
Browser push notifications are still in their infancy. Some browsers, such as Firefox, do not yet offer notifications in the same way Chrome does. The format of web push may also be very limiting. You can't add imagery or other rich media formats, and are therefore limited to plain text (headline and body copy).
The opportunities, however, far outweigh the limitations. If you're looking for a new channel to add to your marketing automation mix, web push notifications are certainly a top contender.