If you've been tossing about the idea of starting your own web hosting company, there are several things to think through to set yourself up for success.
Today, consumers have a ton of hosting companies to choose from, so deciding on your business strategy and finding an under-served market is the key to creating a sustainable and profitable business model.
Define your goals
Step one to creating a profitable business model is to clearly define your goals and what's needed to achieve them.
Are you looking to build a large hosting company with thousands of customers or simply make extra money with your existing clients with a recurring revenue stream? Do you want this business to become your full-time income or part-time supplemental income?
Carve out a niche
Once you've clearly defined your business goals, the next step is critical. How will you differentiate your business from thousands of other hosting businesses? This is where you need to do your homework. If you're starting with an existing business where you already provide services like web design and development, digital marketing, branding or IT services to small business, then you've got a solid place to start. Do some research on how others are positioning their businesses, what can you offer that others don't? You'll want to find a gap in the market that you can fill that creates enough opportunity to reach your business goals
A simple approach would be to resell hosting to your existing clients so that you get a piece the hosting revenue pie. There are multiple ways to resell hosting from affiliate partnerships with hosting companies or transfer your clients' sites to your own hosting account and bill them separately. (But this article is about starting a hosting company which means your goals are probably bigger than this scenario.)
Based on your skill set (or skill you're willing to educate yourself to become an expert), are there markets that make more sense to easily get started in? For example, if web security is in your wheelhouse, specialize in products and services specifically for industries where security is mandatory. Healthcare, financial services, education, all these markets require strict security governance.
If you've been tossing about the idea of starting your own web hosting company, there are several things to think through to set yourself up for success. Today, consumers have a ton of hosting companies to choose from, so deciding on your business strategy and finding an under-served market is the key to creating a sustainable and profitable business model.
Choose a hosting partner
Goals – CHECK! Business model --- CHECK! These next steps will describe what you need to build a hosting company including the backend business processes.
Now that you've defined your business model, next you need to decide how you're going to deliver hosting products to your customers. At first glance, it may seem more profitable to purchase and maintain your own servers for resell, but once you dig into everything that goes into developing a secure and reliable server network, you may quickly learn that you spend more time managing servers than you do your customers. In this case, you'll find that leasing server space from a reputable host provider is the easiest and least time consuming way to go.
When evaluating hosting providers, we recommend you start by partnering with a larger, more established company. There are several advantages to this approach:
Reduce Risk. Lower risk that the hosting provider will disappear overnight leaving you and your clients scrambling.
Uptime guarantees. Larger companies most likely have heavily invested in their infrastructure around security and redundancy for high availability, along with 24/7 network monitoring.
One stop shop. You can more easily round out your products and service offering. Larger companies will also offer domains, email, web security and email marketing solutions---all products and services that you can resell to create more revenue streams.
24/7 expert hosting support. You'll want to choose a partner that offers support around the clock. Make sure they have a dedicated hosting support department so you can quickly resolve any issues, which you will have from time to time. Every host, no matter how good they are, will have issues on occasion. How they handle issues, is what matters.
White Label hosting. If total anonymity is important to your businesses model, then make sure the Host you choose offers 100% white label support. The hostname servers should use a generic domain name, and provide you with an IP address for you to register your own private nameservers.
Establish the backend processes
To run your online business, at a minimum you'll need to create the following operating mechanisms:
Enable purchasing of your products and services which translates into building your branded website with ecommerce capabilities.
Facilitate account provisioning around creating, suspending and modifying client accounts.
Define and develop billing and payment processes that support your unique business model (e.g., one-time payments, subscription-based, automated renewals).
Establish Customer Support model that includes types of support (phone, email, chat, ticketing system), issue in-take process, tracking, escalation.
The development of all the customer communication to support each of the processes (e.g., welcome emails, payment reminder, late payment notice, account suspension notice).
If setting up all of this sounds like a lot of effort and very time-consuming, well, you're not wrong. Fortunately, there are smart people that have figured out what's needed to efficiently start and manage a Hosting company and have developed tools to automate many of these tedious tasks. If you're looking for the easiest way to get started, finding a good Reseller Hosting solution is the way to go.
Compare types of Reseller Hosting
The industry term "Reseller Hosting" typically is defined as mechanism to manage your business website, client accounts and billing operations. As you do your research on Reseller Hosting, you'll find that most large hosting providers offer some sort of solution, it's important to understand the different types.
A common approach to a Reseller Hosting product is bundle software to manage your business with a shared hosting plan for your business website. The business management software lets you connect the servers that you own and use for hosting your clients' websites. The popular business management tools are cPanel/WHM and WHMCS
Basic Reseller Hosting
Consists of a shared hosting account to run your business website.
cPanel/WHM installed to create custom hosting plans for resell.
cPanel/WHM has limited capabilities; you'll still need to setup your own billing, invoicing, customer support, accounting provisioning and customer communications.
Purchase and connect a server or additional hosting plans for your client sites (The shared hosting account has limited resources and is meant to host your business site).
Advanced Reseller Hosting
In additional to cPanel/WHM, includes tools like WHMCS to automate daily tasks and business operations.
Look for Hosting providers that install and manage your WHMCS license for you.
Purchase a VPS or dedicated hosting plan to insure great performance for clients' sites, and carve out custom hosting plans and charge a premium fee.
Look for a reseller hosting product that integrates web hosting automation tools with VPS or dedicated hosting to save you the time and hassle and lets you get straight to building and growing your business. That's exactly what we did at GoDaddy…
GoDaddy Reseller Hosting has everything you need
Our customers have been asking for a reseller hosting solution, so after talking to and surveying hundreds of customers to identify the most important features, there was one very clear message---WHMCS! It only seemed fitting that GoDaddy, the world's largest host and domain name provider should partner with WHMCS, the leader in web hosting automation, to create a complete solution to start and efficiently manage your own hosting company.
Our new GoDaddy Reseller Hosting seamlessly integrates with WHMCS to offer fast reliable hosting to resell, as well as automate the operations and daily tasks of running your hosting business from a single dashboard. What users' love most about WHMCS is the flexibility it enables to run the business your way with full control over pricing, payment options, invoicing, configure hosting plans, provisioning and customer support. Our plans serve up to 250 clients—all white-label ready for your own branding.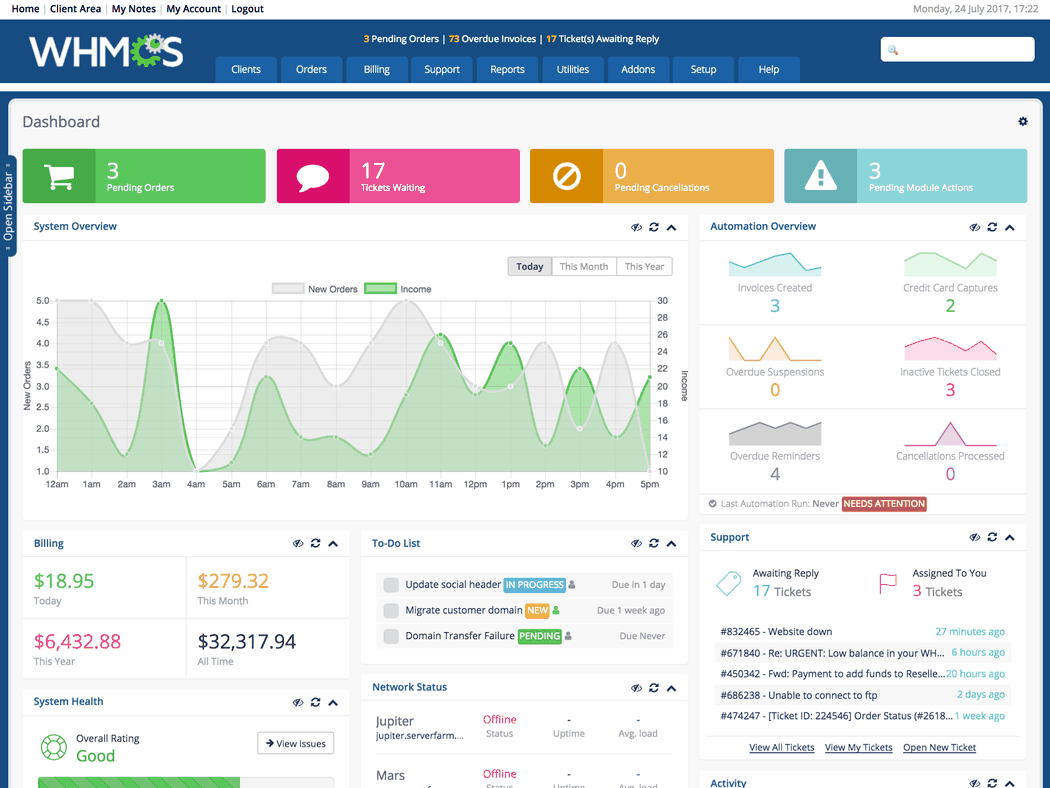 Automate time-consuming tasks
Quick setup and seamless WHMCS license integration
Create custom hosting packages based on fully configurable resources, sold under your brand.
Easily create, suspend and modify client accounts.
Define your pricing---one time purchase, subscriptions, term discounts and even free trials.
Get paid with automated invoicing, payment reminders and service holds for non-payment.
Seamless one-click resource upgrades, including migrating the customers content automatically
Customer Profiles and reporting on monthly revenue, invoices paid and outstanding.
Resell high-performance hosting to your customers
GoDaddy Reseller Hosting is built on a VPS-based platform which is automatically installed and license is issued and maintained for you. In comparison to cheap shared hosting plans, our platform uses single tenant virtual machines (VMs) with dedicated resources for faster, more secure hosting for your clients' sites.
Built on our VPS-based Web Hosting Plus platform that offers dedicated CPU and RAM for fast speed and isolated resources to keep other sites from negatively affecting performance.
Automatically pre-configuring the customer's VM in WHMCS as a server so it's ready to use for customers
Your customers will get a simple cPanel experience to build and manage their websites.
In addition to multiple layers of server-level security, each of our plans include a free SSL Certificate for the life of the hosting plan.
Learn more about NEW GoDaddy Reseller Hosting