Are you building or maintaining a podcast website for you or one of your clients? With more than a million shows and 30 million episodes, podcasts have become a favorite for content consumers. If you haven't built a podcast website yet, you're bound to at some point.
Unlike Apple Podcasts where the show sits among thousands, or on Facebook where content is subject to the whims of an algorithm, a podcast website is the only platform you or your client own 100%. No rules, restrictions, or limitations. It's a central place where you or your client can say anything you want to listeners and potential listeners.
Furthermore, a podcast website is a place where collaborators, potential guests, reviewers, advertisers, and the media learn more about the show and its host. Having a professional and accessible platform makes the whole operation appear legitimate. When a new podcaster asks us how to start a podcast, we always recommend starting a website.
A great podcast website doesn't have to be fancy or expensive, but it needs a few critical elements to be effective. In this article, we're going to cover ten best practices to improve a podcast website.
10 best practices to improve a podcast website
How do you make a top-notch podcast website? A podcast website has three purposes:
Make it easy for new listeners to sample the show.
Eliminate any friction users have from subscribing.
Create deeper connections with engaged listeners.
If you build a website that addresses those objectives, you will be set up for success. The following best practices will help you create a site that is technically proficient, aesthetically pleasing, and loved by your fans.
1. Host your audio files with a dedicated podcast hosting provider
Platforms like Google Play and Apple Podcasts are directories that use an RSS link to display podcast content. They don't store the actual audio. So podcasters need somewhere a place to host their episode files that provides them with an RSS link.
Most traditional website hosts aren't configured to handle podcast audio files. They don't have the right optimizations for audio content and can't handle all the download requests from listeners. You or your client will need to publish their episodes with a dedicated podcast hosting service.
By using separate hosts for the website and the podcast, both the website and the podcast files will run fast and smooth, which is important for SEO and the user experience. It also tends to cut down on costs, even though you're using multiple services.
Podcast hosting services aren't simply folders with files. They also provide analytics, WordPress integrations, support, and other tools. The best ones also help podcasters create transcriptions, show notes, and other marketing assets.
2. Install the right podcasting plugins
Once you obtain hosting for the website, we strongly recommend installing WordPress. It's fast and simple. You'll have no trouble creating new blog posts for each episode.
Most importantly, WordPress gives you tons of freedom to extend its functionality by installing plugins. The right selection of plugins can turn a basic blog into a high performing brand platform.
Which plugins should you install? It depends on your needs, but here are our recommendations for a powerful podcasting stack:
Seriously Simple Podcasting - Manage your podcast right from WordPress, including one-click imports, a beautiful embedded audio player, integrated analytics, multiple show support, and free add-ons.
Yoast SEO - Create SEO-optimized pages.
Gravity Forms - Collect email addresses.
Sucuri - Protect the site from hackers.
WP Rocket - Cache the site so it loads quickly.
Google Analytics - View site analytics.
Email integration - Integrate website with an email service provider.
3. Offer links to the podcast on different apps
Not everyone wants to listen to podcasts off a website. Many people prefer to use their favorite podcasting app, such as Apple Podcast, Google Play, Stitcher, Spotify, etc. So it's smart to give them links to the podcaster's episodes on each of those podcast directories.
Make the experience as frictionless as possible by adding these links throughout your site. Just make sure they're prominent and easy to find, like in your header, footer, or sidebars. You don't want potential listeners searching too long or they may decide to listen to a more accessible show.
Pod Save America includes these links on their home page, right beneath the show's title.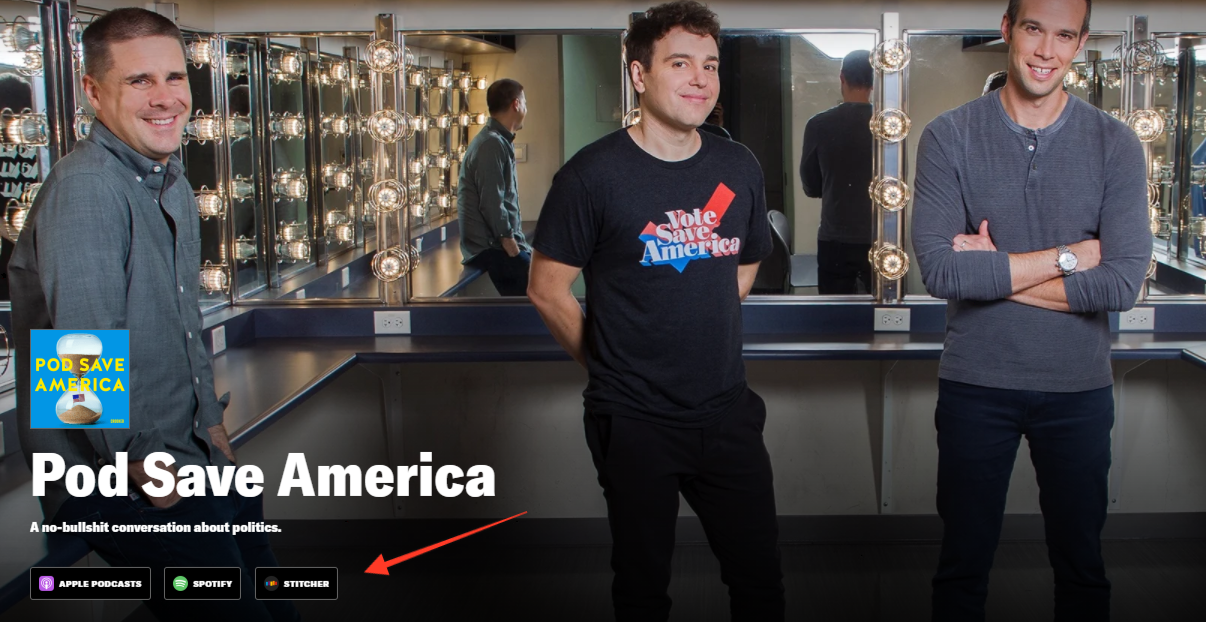 They also include links in the sidebar of every episode's page.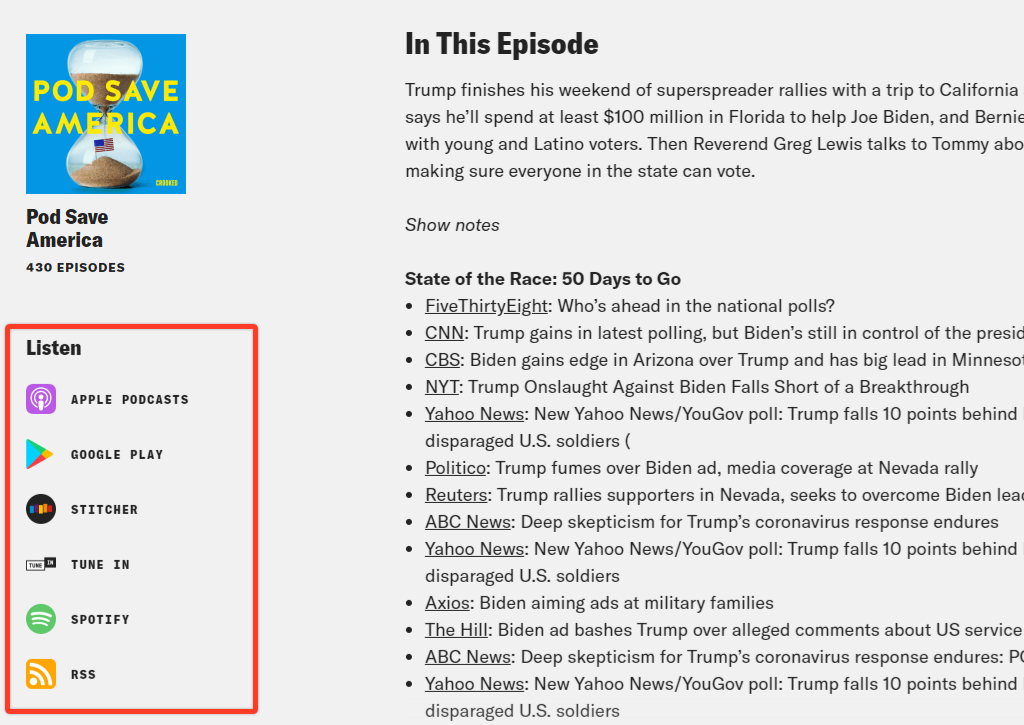 4. Design with SEO in mind for discoverability
When someone searches for the podcast, you want their website to appear first, not their listing on Apple Podcasts or Spotify or Google Play. This means the website should be built with SEO best practices in mind.
SEO discoverability is a big topic, so we won't get into the nuances here, but here are some critical ways you can design a site that's SEO-friendly.
Optimize site speed so it loads as quickly as possible.
Make it mobile friendly and accessible on all devices and browsers.
Create a crawl-friendly sitemap to help search engines catalog pages.
Create lots of interlinking opportunities.
Use heading tags in a proper hierarchy.
Optimize for voice search (it's growing in popularity)
Improve machine readability with structured data and limiting hard-to-read languages like Flash and Ajax.
This is another good reason to use WordPress as a content management platform. WordPress and most premium themes are built with SEO in mind.
If you want to learn more about SEO, we recommend Brian Dean's complete SEO guide.
5. Set up a unique page for each podcast episode
Every single episode should have its own page on the site. The page's title should match the episode's title. If you're building with WordPress, each episode should be a blog post. You can use the standard post type or create a custom post type for podcast episodes and use the standard post type for other content.
Take a look at Audience by Castos. Each episode gets its own page with an audio player and other content.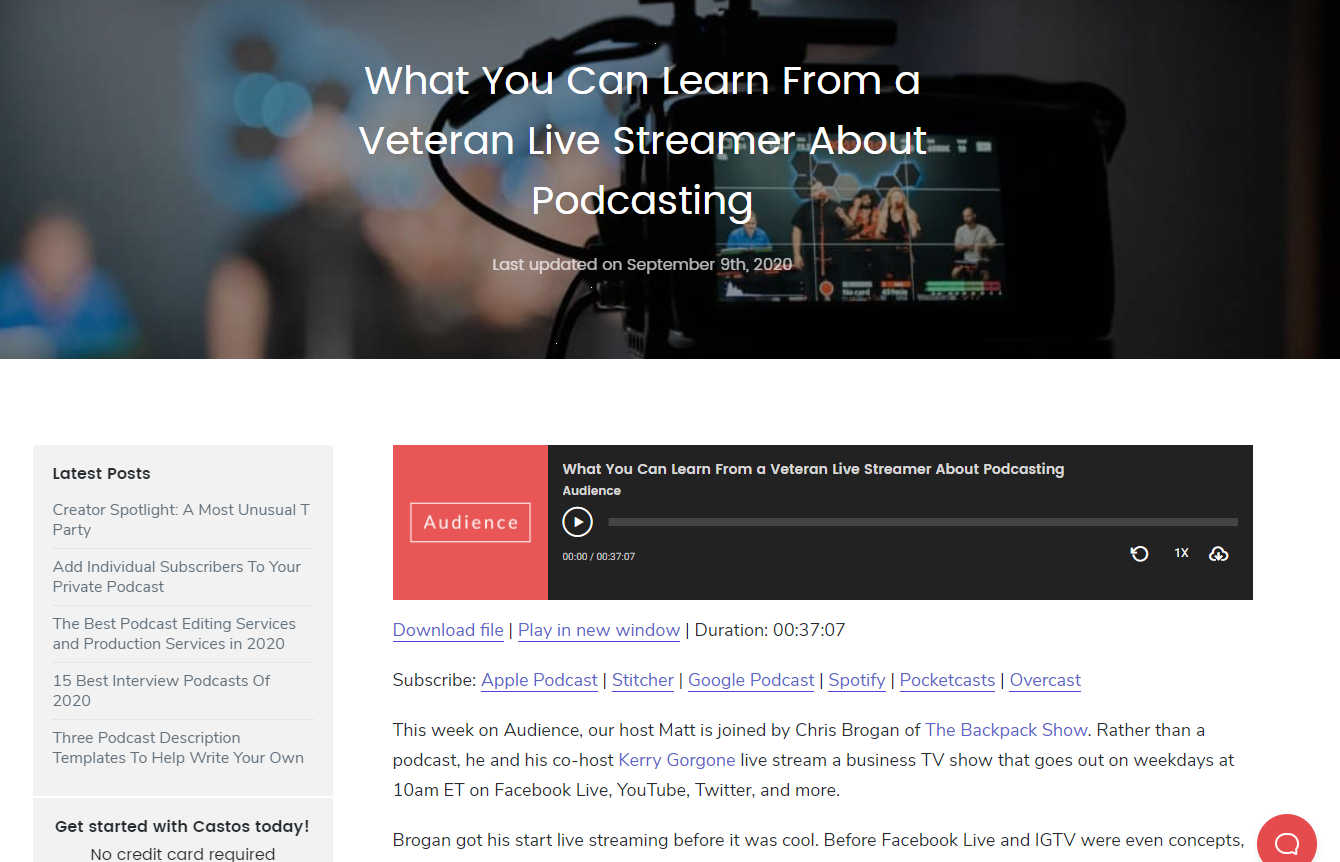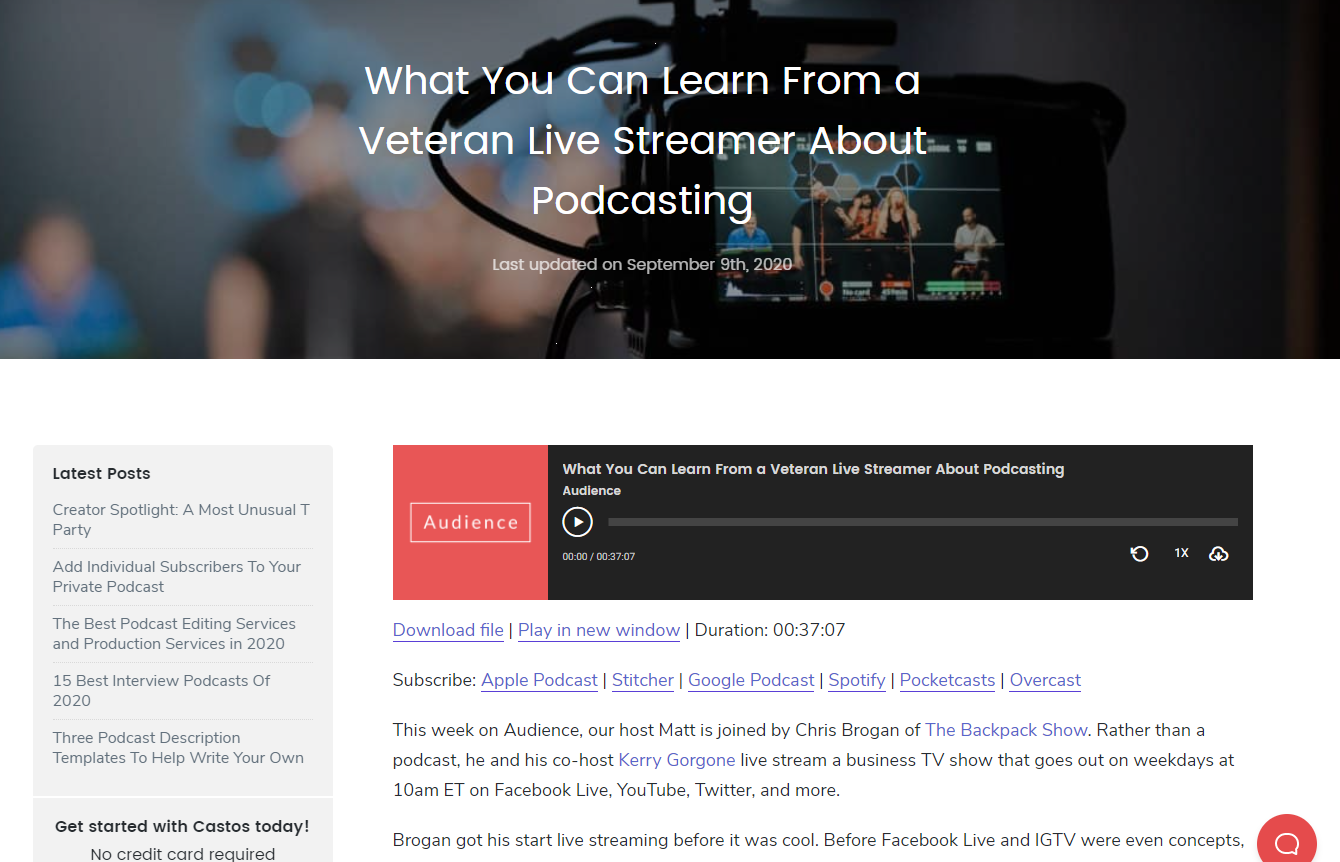 These are the pages you or your client should link to when they post on social media or send emails to their list, rather than a page on the Apple Podcast, Google Play, or other podcast directory site.
Fortunately, an episode's page is pretty simple. What should go on this page?
A podcast player that's touch-friendly and queued up for the page's episode. This should sit at the very top of the page before the visitor has to scroll.
Show notes that highlight the important points of the recording, ideally with timestamps.
A complete audio transcription (great for SEO and accessibility).
Video of the episode (if you have it).
Other marketing assets, like audiograms and shareable images.
If you forgo everything else, it's very important that each page includes that podcast player. New listeners should have the ability to sample an episode without downloading an app for visiting another page.
6. Help new listeners get started with a curated playlist of best episodes
New listeners may be intimidated by the catalog of episodes, especially if the show has been publishing for a while. Listeners may decide to listen to every episode eventually, but in the beginning they want to access the best stuff first. Plus, in the interest of building a strong relationship, it's important to hook the listener quickly with great content.
Create a page on the site specifically for new listeners. This page should briefly explain the podcast, introduce the host, and provide links to the best episodes. Criminal, a podcast about crime, has a section on their homepage that points new listeners to the best four episodes.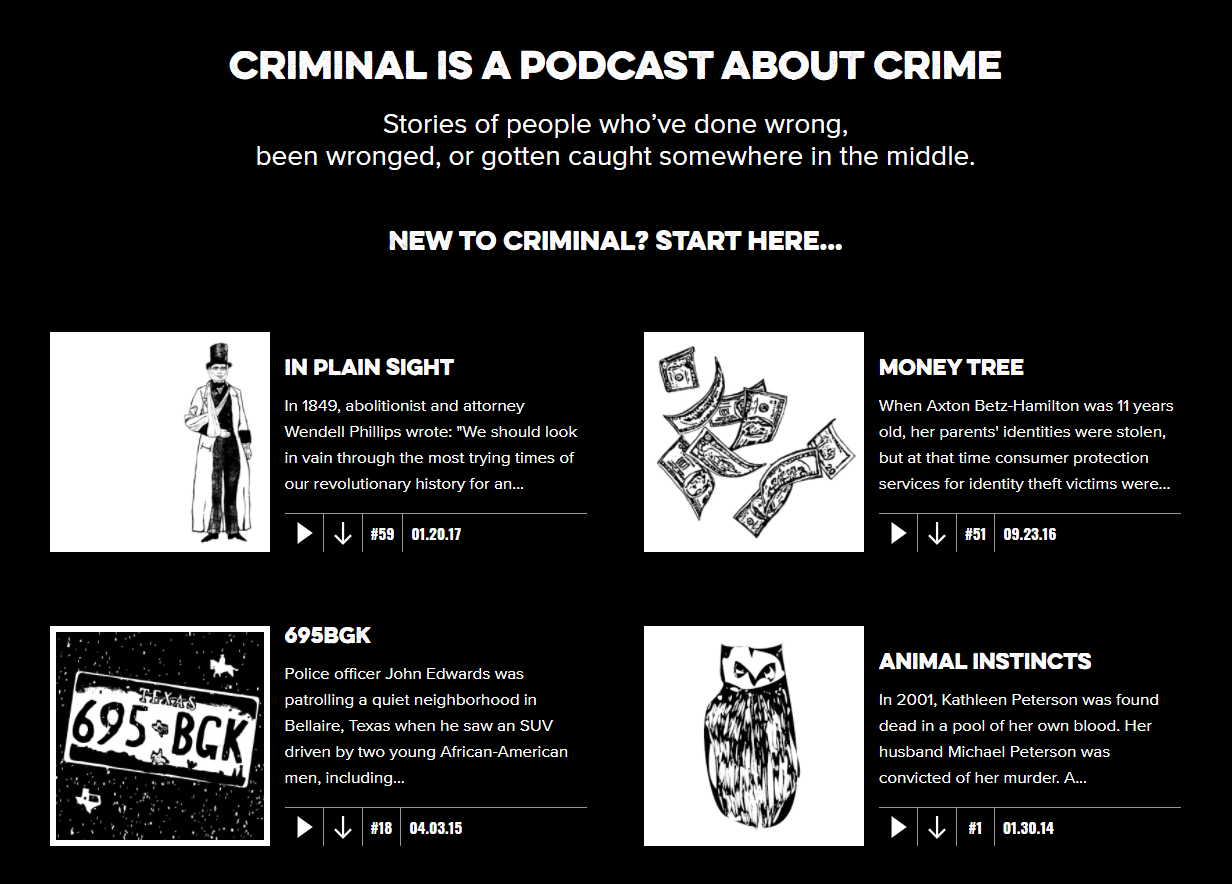 Which episodes should you include? Generally speaking, you want to include episodes that evoke strong emotions or provide especially valuable information. If you ask the host, he or she will probably know right away which episodes are the best.
7. Create an archive page for the podcast's back catalog
Even though each episode has a dedicated page, it's helpful to have archive pages that link to each of those pages. You should have archive pages for each category of episodes as well as an archive of all episodes.
Archive pages help listeners find the type of content they're looking for. For example, a personal finance podcaster might have categories for retirement, mortgages, and debt relief. If a new listener wants to learn about mortgages, they can filter by that topic. Pleasing potential listeners quickly is key to growing an audience.
This functionality is already built into WordPress. Simply add a category to each post so WordPress knows how to filter the pages. Most other content management platforms Have similar features.
8. Include email lead capture opportunities and links to social media
You or your client probably intends to start an email list so new listeners have a way to receive notifications about new episodes, upcoming content, and other promotions. An email list is important because it's a direct line of communication to the audience.
To join that list, however, the website needs lead capture opportunities. Add sign up forms in reasonable places, like sidebars, footers, and on the contact page. If you want to supercharge sign ups, giving something away in exchange, like free content or access to a private community.
The Model Health Show puts a sign up button in the sidebar of each episode's page. The button takes you to a landing page with a form.
Happier with Gretchin Rubin uses a slide-out overlay to capture email addresses.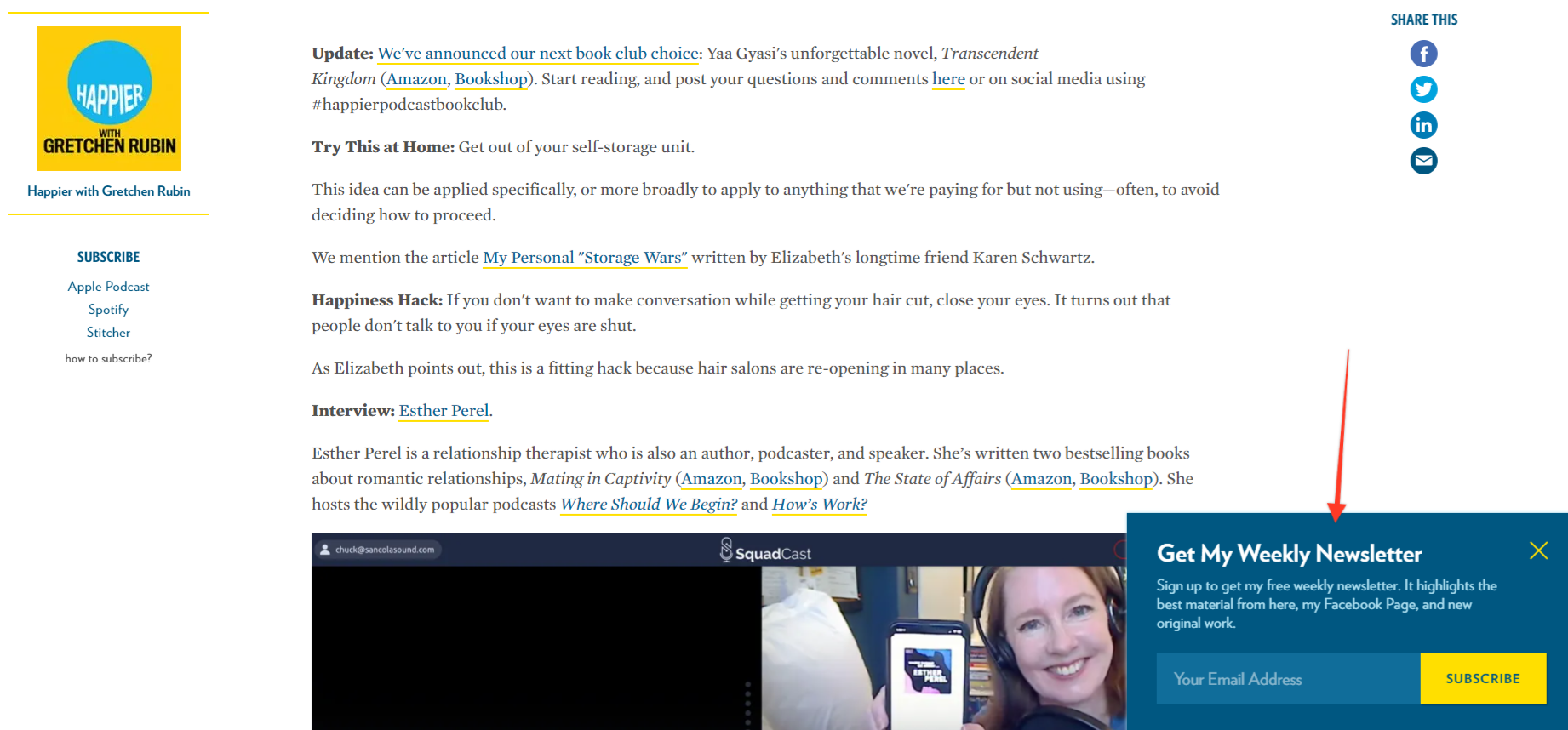 Furthermore, it's important to add links to the podcast's social media pages. These are just more opportunities for the podcaster to connect with its listeners. Just like the podcast app links from tip #3 above, it's best to place these links in places that are available on every page.
9. Implement Google's recommended structured data
Google can expose your podcast to users across its entire ecosystem of products. This includes:
Google Search (all browsers, desktop and mobile devices) Users can actually play episodes in the browser. See example below.
Google Search App
Google Podcasts App
Google Home speaker system
Content Action for the Google Assistant
Android Auto for vehicles
Google News Briefings
Your News Update

You can help the podcast appear on Google by making the RSS feed and the home page point to each other. This is called reciprocal linking.
In the podcast RSS feed, confirm that there is a <link> element that points to the website's homepage. It should look like this:
<link>https://link/to/your/homepage/url</link>
If there's no <link> element in the feed, or if it points to a site other than the website, ask your podcast host how to specify the website's homepage address.
Next, add the following HTML to the <head> tag of your website so it points to the RSS feed:
<link type="application/rss+xml" rel="alternate" title="Title_Value" href="RSS_URL"/>
Title_Value is the title of your podcast. RSS_URL is the URL of your RSS feed.
10. Create a consistent brand that relates to the podcast's subject
For a professional podcast website, a generic WordPress theme just won't do. You need unique branding that's consistent throughout the website. It should relate specifically to the topic.
If the podcast is about the paranormal, it should be dark and spooky. If it's about kids and parenting, it should be bright with primary colors. If the show is about healthy eating and natural living, it should use greens and browns. Choose complimentary fonts and - if possible - custom photography.
These design elements help visitors connect with the podcast quickly. They help potential listeners understand the show without reading a word. It's like a visual elevator pitch.
S-Town's site uses their distinct flowers and clockwork imagery throughout the whole site.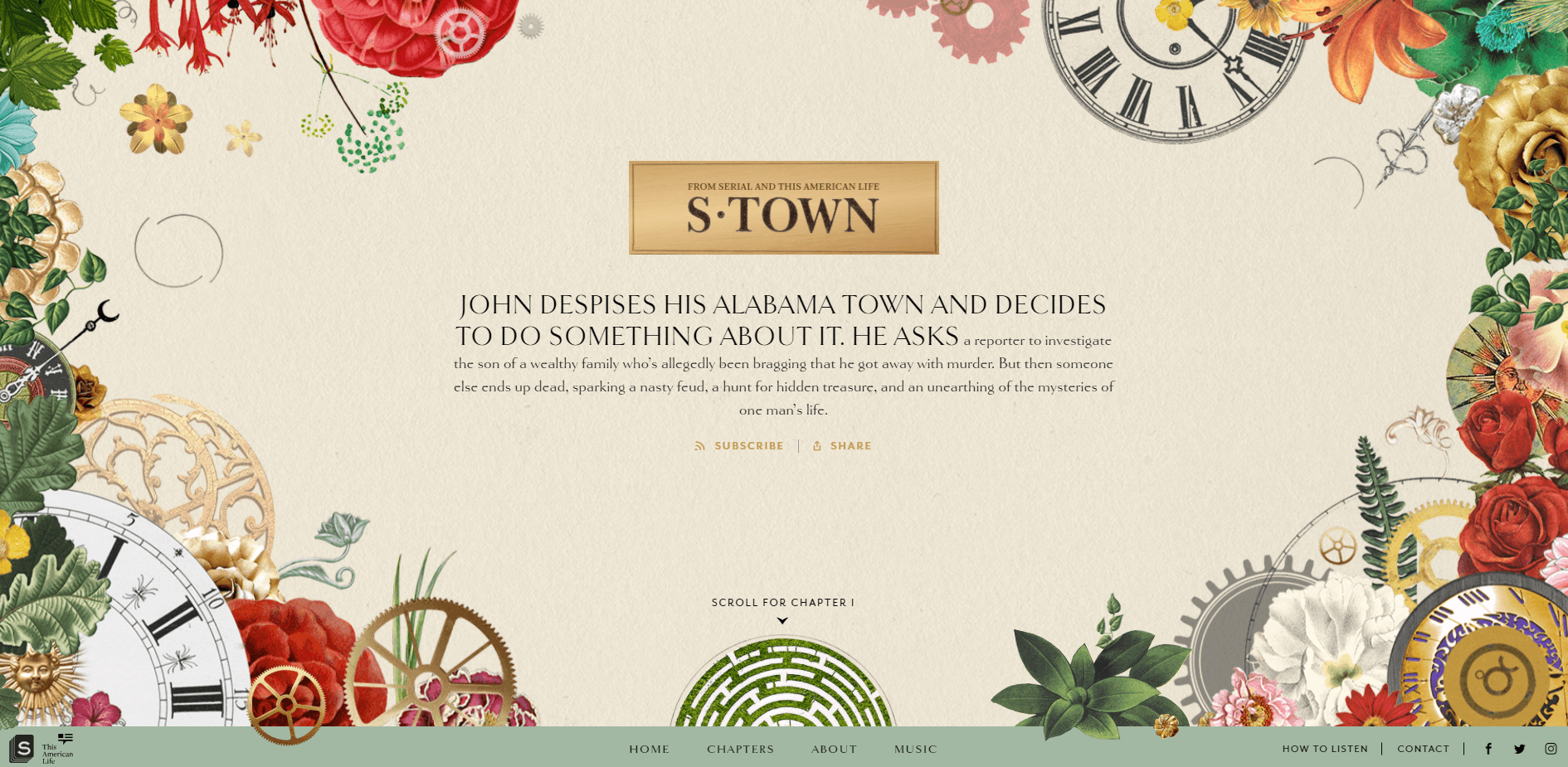 The Leviathan Chroncile's site feels like an adventure game!
Summary
The best practices we covered in this list will help you design a professional podcast website that's accessible, aesthetically pleasing, and easy to use. Keep in mind, however, that all shows and brands are different. Don't be afraid to experiment with new ideas and creative techniques to make your site unique.