At GoDaddy, we approach social media in our own unique way. We have a Social Support team, a Social Marketing and Brand team, and a Social Advocacy team. And although each team has its own objectives, we all work together toward a common goal – helping our customers have the best possible experience with us through social media.
Supporting customers via social media
In addition to the GoDaddy customer support available 24/7 via phone and chat, we've found that customers also reach out for help on social channels including Twitter, Facebook and Google+. When they do, we want to be there to answer questions and provide assistance whenever possible. That's the role of our Social Support team.
Sharing small business and brand stories
Our Social Marketing and Brand team leverages social channels including YouTube to focus on sharing what we're doing as a company. It's not all about advertising our products. They share stories about how we're helping our small business and web pro customers succeed, empowering Women in Technology, and giving back to the community.

Listening and engaging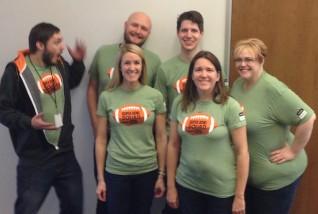 Social Advocacy is the area where you'll find me. My team is focused on listening, engaging, promoting, and encouraging organic chatter in all of the social spaces. I get to interact with people who are influential in many ways — from bloggers, event attendees, and individuals who are tweeting about GoDaddy to people who are hosting or participating in Google Hangouts. And let's just stop for a moment and appreciate the awesomeness that is Google Hangouts – really!
I've already had loads of fun this year attending Hangouts and meeting amazing people like Mia Voss and her fans. I also had the pleasure of hosting a Hangout with local social media expert Heather Dopson, who talked about how providing social customer care can help small businesses gain an edge in the market. Call me a fan-girl; I don't mind. My job is awesome!
From discussing social media to answering questions about our products, the Hangouts we produce contain all kinds of great information to help viewers grow and improve their online presence. And I like to think they're pretty entertaining, too.
In addition to Hangouts, the Advocacy team focuses on listening to what people are saying when they talk about GoDaddy online. We gather mentions of our brand and analyze them to see what we're doing right and what we could do better. I've seen changes arise from something as small as someone tweeting to let us know of a possible grammar error on our website to more meaningful changes such as our followers letting us know they'd like to see us better support women in technology. Seeing the changes we've made in the latter over time has been very positive and rewarding.
Being in a position that allows me to help facilitate positive changes for the company and for our customers is one of the best parts of my job. I'm also lucky enough to be able to reach out to customers just to brighten their day or to thank them for sharing their stories or customer service experiences. What could be better than that?
I love being social and always enjoy a great conversation. So, hey, if you'd like to talk to me directly, you can reach me @CjPhx on Twitter. Let's get social together!