Few issues are as problematic, and as easy to solve as broken links. They reduce your SEO rank, make site visitors frustrated, and lose revenue.
It's a good thing then that you now have Link Monitor.
What is Link Monitor?
Link Monitor is a powerful broken link checker for your websites, available right from the Pro Sites dashboard. Link Monitor will check the links in all the posts and pages on a website, and give you an overview of:
Response codes
Link URLs
Link text
Which content the link belongs to
You can also get an alert of anything wrong with the links, letting you act on it. We'll get on to the benefits of this next.
What can Link Monitor do for you?
Link Monitor lets you proactively deal with broken links on your sites and client sites. It lets you solve SEO issues faster, with minimum effort.
Unresponsive or broken links are bad for SEO. One of the methods search engines use to rank websites is following each of, or, "crawling", the links on a site. Where there are unresponsive or broken links, this can cause the crawl to error and thus stop. Not having your site fully crawled may lead to pages on your site not being indexed by the search engine, and thus ranked.
You want to make sure you don't have broken links, and Link Monitor lets you do this.
Unresponsive or broken links also make for a really poor user experience! When a visitor clicks a link, they're trusting you to take them to the page they've clicked on. If the link or unresponsive or broken it may not be your fault – if, for example, the link is on a third party site – but it undermines the trust the visitor places in your or your client's site.
What's more, unresponsive or broken links can lead to lost revenue. If a product, service, or checkout link is broken, visitors to your or your client's site may not complete a planned purchase.
Link Monitor solves all of these problems for you: you'll get automatic checks and alerts for any unresponsive or broken links on the sites you're monitoring. This lets you deal with these proactively and avoid the issues above. You'll avoid any negative impacts on SEO, the user experience, or revenue, and either you'll have a better site, or your clients will love you for it.
Under the hood
Once Link Monitor is turned on, your website will go into our checking queue. It will go over all of the tag links, and check their response time and code for you. If the link response time is slow, or the response code is not 200(OK) (which indicates the link is working), Link Monitor will automatically flag the link in "Links with issues".
You'll get data on each link on your monitored site, with the response code (200, 404, 500, and so on), link URL, link text, and link source all available in one place.
Link Monitor will run through all the links on your monitored site once every day. In addition, whenever you publish or update a post or page on your site, Link Monitor will automatically schedule all the links on that page for a recheck.
And the best thing is that it's completely run on our architecture, which means that the strain to your hosting will be minimal.
We've built this tool in-house with our development team, and have been working on it for a while. We're delighted with the result so far, and will of course continue to make improvements over time.
The only restriction is that Link Monitor will not check sites with more than 10,000 links. If you activate it anyway, the system will notify you and deactivate the addon.
Link Monitor lets you conveniently deal with broken links
All this information is no use if it doesn't result in action, and we've made it easy for you to take action right from the Pro Sites dashboard.
When a link is flagged as unresponsive or broken, we've given you options in the dropdown menu to:
edit the link,
unlink it from the text,
add a nofollow tag (this tells search engines to ignore this specific link),
or to ignore it.
*Ignoring the link will put it back in the "All Links" tab, and the link will be tagged as "Ignored" so you can easily recognize it.
All of these options will change the links directly on your website. If you want to edit the link 'the old-fashioned way', we provided 2 additional options - Edit Post & Preview. This way you can edit the link though your regular editor and save the post revision in case you want to revert the changes.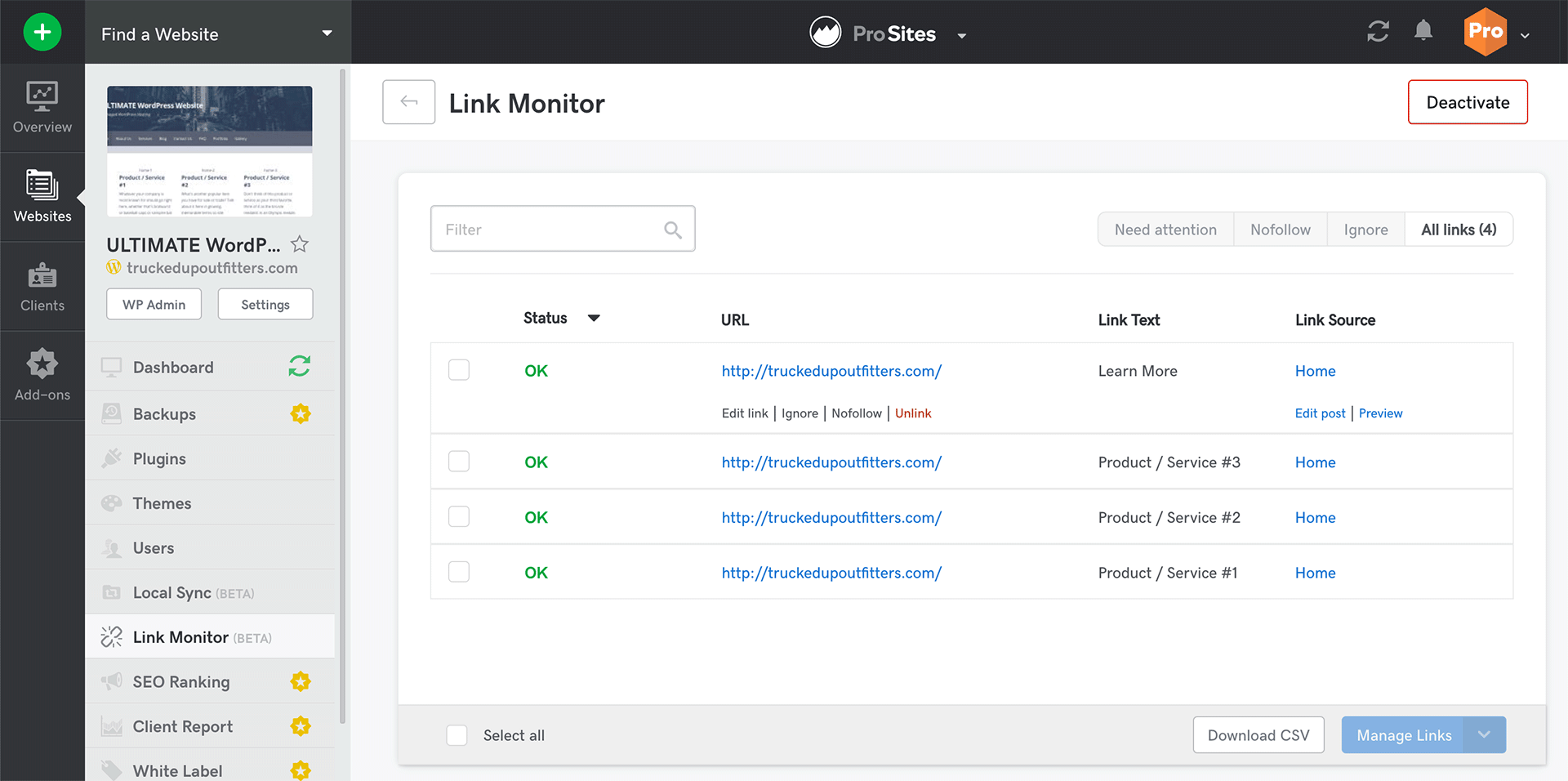 On top of that we've added link bulk management options (bulk ignore, nofollow, unlink) and a way to export the list into a CSV file.
You can use Link Monitor today
Link Monitor is available like most of our existing Pro Sites add-ons: with simple and affordable pricing.
It costs $1/month to activate Link Monitor on one website, with bundle option at $25/mo. for up to 100 sites. This is an excellent price for the convenience, extra professionalism, and avoidance of any SEO, revenue, or user experience issues.
And in case your website runs on our Pro Managed WordPress Hosting - you'll get this tool for free with the rest of our premium add-ons.
Head to your Pro Sites dashboard to activate Link Monitor today.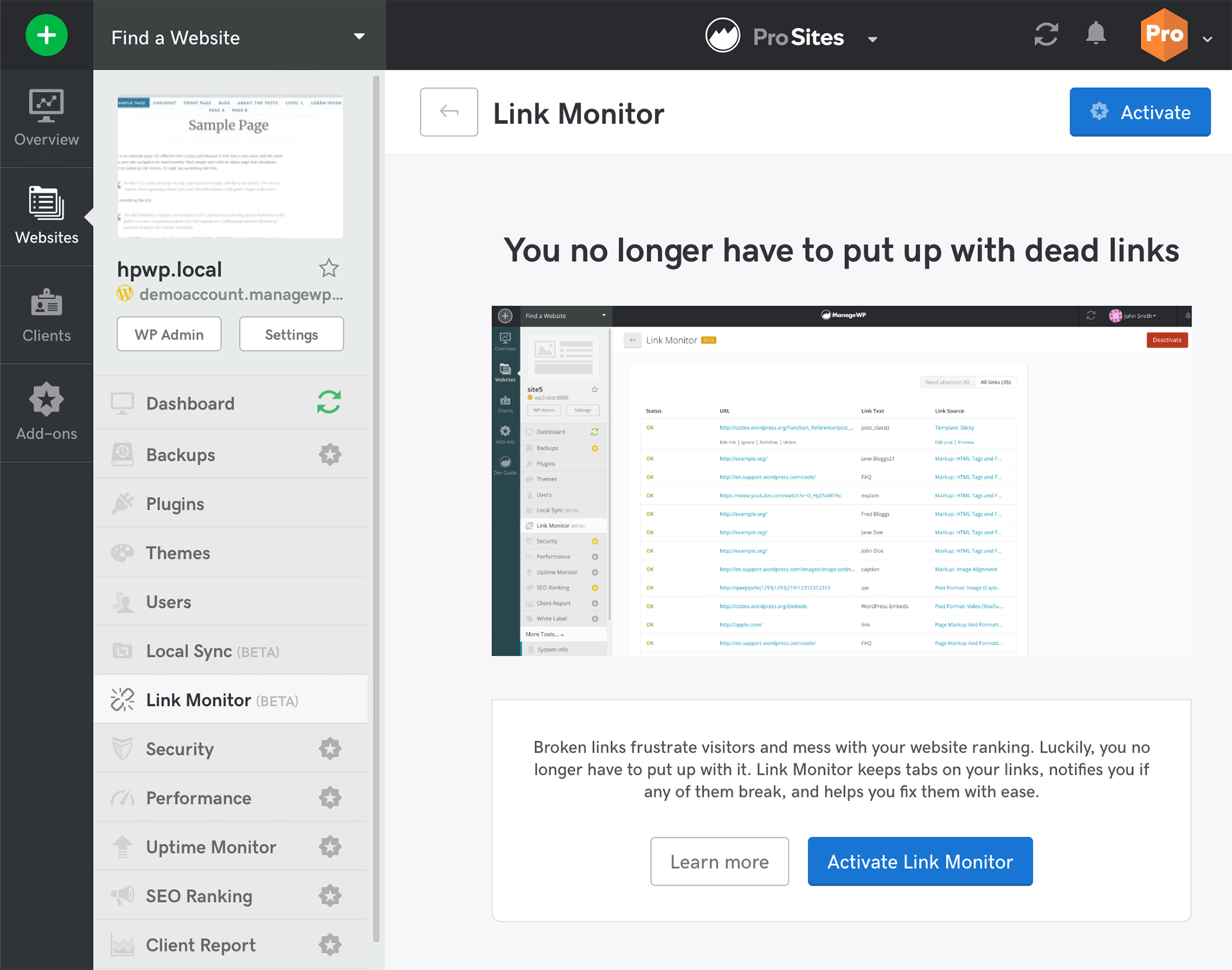 We're always improving the Pro Sites and can't wait to hear your thoughts on Link Monitor. Whether you want to use this right away, or have feedback or improvements to suggest, we can't wait to hear: let us know through the 'send feedback' form on your Pro Sites dashboard.