If you haven't watched a livestream before, the idea of complete strangers being able to watch you for hours can be a bit intimidating. However, in just a few clicks you can share live stories with your viewers, both new and longtime fans, giving them a glimpse into your world.
There's no denying that there are millions of viewers on these platforms at any time and taking advantage of an audience that size is a no-brainer as a small business owner.
According to a survey done by Statista, there was almost 28 billion hours of watch time across Twitch, YouTube Gaming, and Facebook Gaming combined in 2020. Additionally, the audience for live video content is expected to increase to 164.6 million viewers by 2024.
That being said, if you're totally new to Twitch or need a bit more context to get started, this guide to livestreaming on Twitch for your small business will break down everything you need to know.
What is Twitch?
Streaming glossary
How live streaming can help your business
How to stream on Twitch
Content ideas
What is Twitch?
Twitch has been around for nearly a decade now, with an impressive 31 million unique visitors a day. Admittedly, the main focus of Twitch is mostly gaming, but it provides a platform for anyone to meet and engage with creators or other viewers in their favorite niches.
The landscape of live video content is growing and there are countless different categories of streamers becoming increasingly popular on the platform. Everything from "Just Chatting" to "Art" and "Cooking" or "ASMR" is available to watch 24 hours a day, seven days a week, 365 days a year.
Since Amazon acquired the site in 2014 for almost $1 billion, a majority of Twitch's revenue is earned by its regular streamers. That's because once a streamer attracts an audience regularly enough, they unlock certain perks to earn money, advertise, and be tipped by viewers, but we'll dive deeper into that later.
In fact, some of the most watched Twitch streamers are household names and they capture millions of views by playing any number of video games or just talking about their day. Some even use their online personas to donate to good causes.
For example, DrLupo has raised $10 million for St. Jude's Children's Hospital over the last five years. This is said to be the largest amount of money raised by a single content creator. Another major creator is JackSepticEye, who holds an annual Thankmas event and in 2021 they raised over $7.6 million on behalf of New Story, a nonprofit that 3D prints homes for places with inadequate housing. Additionally, Valkyrae, who participated in Thankmas 2021, received a singular anonymous $200,000 donation during that stream.
Twitch Terminology
Now that we've covered the basics, let's get into some of the vocabulary because it can be easy to get lost in all the jargon surrounding online communities.
Streamer
This is a pretty general term for anyone who goes live on any platform, not just on Twitch. This also refers to how Twitch defines someone just starting out and has not met the requirements for the next tier on their website.
Affiliate
Once you've met certain requirements, you can level up to become an Affiliate. This is the next step in their three-tiered structure and includes access to more streaming tools, including a subscription button for fans to support you.
Partner
Again, once you've achieved certain milestones, you'll be sent an invitation to apply to become a Twitch Partner. It's essentially being verified by Twitch and is notoriously hard to be accepted into the program, but there are many additional benefits that come with Partnership including even more revenue opportunities and prioritized support.
Emotes
These are custom Twitch emoticons that viewers frequently send via the chat box while streamers are live to engage with the community. There are generic ones that are available for anyone to use, but there are special ones that can only be used if the viewer is subscribed to a streamer.
Mod
A mod or moderator is someone the streamer appoints to keep the peace, provide resources, etc. in the chat while they are live. Mods are given certain tools to remove unwanted comments or even remove someone from the stream all together.
Bits
Twitch's virtual currency that viewers can use to buy special emotes or donate directly to support their favorite streamers. When donated, some streamers have custom "alerts" to notify them when a viewer has contributed, which incentivizes the viewer to continue to donate.
Raid
When a streamer is finished with their stream, they can send their audience to automatically watch another channel of their choosing once their stream ends. This can be quite chaotic when a streamer with a sizable audience crashes the stream of a smaller one.
Host
Similar to a raid, but when your stream is not live, you can host another person's stream on your channel instead. This allows your viewers to discover content you choose while interacting with you in your chat.
How live streaming on Twitch can help your business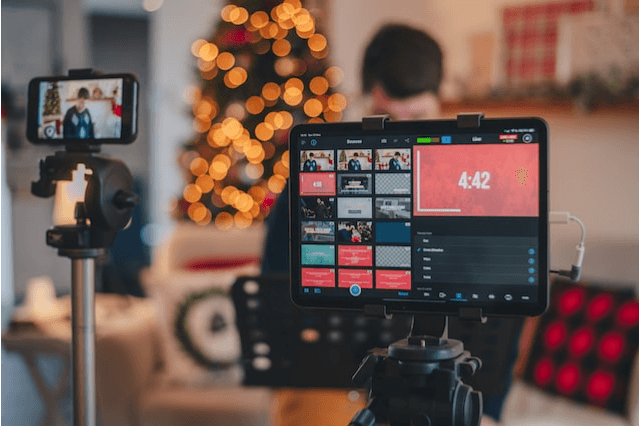 So, this all sounds fun, but how can you, as a small business owner, use this platform to your advantage? The good news is that Twitch marketing is still a pretty new concept.
Brand awareness
Yes, some advertisers and businesses have channels and a presence on the platform. A great example would be the fast food company, Wendy's. They've had a few successful campaigns on Twitch, one of which saw over 1.5 million minutes watched, and shares and mentions of Wendy's increased by 119% across social platforms. Granted they are well-known brand, but that doesn't mean smaller businesses can't do the same thing. It's not too late to get started and start experimenting with how livestreaming works for your audience.
Another example would be when U.S. Rep Alexandria Ocasio-Cortez of New York played a few rounds of "Among Us," ahead of the 2020 presidential election. While playing the game with other streamers and congresswomen, Ocasio-Cortez encouraged viewers to register to vote and answered various political questions. At one point during the stream, there were more than 430,000 viewers.
Influencer marketing
In terms of marketing, the site's demographics skew on the younger side.
An impressive 73% of the platform's users are 34 or under, with 41% between 16 and 24 and predominately male (at least 80 percent of its users). These demographics make it the perfect platform for influencer marketing.
Teaming up with Twitch influencers is a great way to expose your brand to viewers without doing the streaming yourself. Sponsored streams can be a unique way to get your products in front of their viewers. Additionally, livestreamers are usually pretty social-savvy, since they're doing the same to build their own brands, and will therefore find ways to make a sponsored stream feel genuine instead of forced.
Paid advertising
And of course, Twitch has its own built-in advertising platform for brands running video ads. Just like Facebook, Twitter and YouTube, Twitch plays video ads before their streams. These pre-roll ads are another way to increase sales and awareness without having to be on camera yourself.
Pre-rolls and paid media ads are about generating click-throughs, grabbing a user's attention with smart targeting. Treat Twitch like any other paid media campaign, and you could boost your reach to a whole new audience.
Creating a community
However, Twitch isn't just about online video, it's a diverse collection of communities, each with their own sense of belonging. As the streamer, you get to implement the rules you want in your own space, but everyone who visits your channel adds to it. So as a creator, it's important to encourage engagement with both you and other viewers.
This isn't an '"if you build it, they will come" moment. Just like your other social platforms, it takes time and effort to truly build and add value to your online community in a meaningful way.
It is painfully obvious when a brand is joining a space solely for the purpose of promoting themselves and nothing else. Believe it or not, being a livestreamer is a two way street. If you're not also watching and engaging with other streamers, you're not building any meaningful connections. It would be like only talking about yourself in a conversation, and when someone starts to talk about themselves, you ignore them.
Additionally, how much you share with your community is up to you and there is no right way to build your community (for the most part). Especially in the beginning, the ability to carry a conversation, even where there might not be anyone in the chat, is a skill many streamers work hard to develop.
The best way to get over the inherent shyness would be to think of it like you're talking with friends, discussing current events, maybe sharing some tips and tricks while you work.
You can use your channel to connect with your customers or host exclusive events for followers to tune in to. If your target audience are millennials or Gen Z, the platform is the perfect place to get seen. According to Twitch itself, the majority of viewers engage with streamers on a daily basis, and support them monetarily either through donations or product purchases
Related: 14 community management tips for meaningful connections with customers
How to stream on Twitch
The other big question, where do I start? Let's talk about some important pointers for small business owners interested in building a Twitch presence.
Invest in the right tools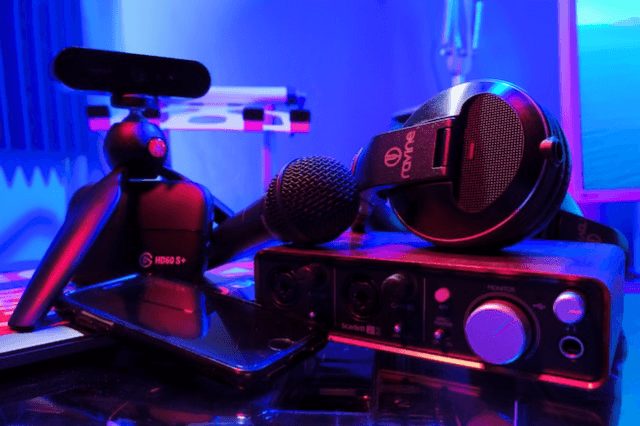 Like with any new venture, if you're just starting out as a Twitch streamer, avoid going all out on the latest streaming gear. Do a few test streams to see if it's something you think you'd enjoy before investing in a full setup.
Laptops are particularly useful for streamers on the go or with minimal funds. The debate between using a PC or Mac laptop mostly comes down to your preference. However, keep in mind you'll need an extra piece of hardware in order to stream.
A video capture card is a piece of hardware that's essential for any streamer. It captures your on-screen action and encodes it for your stream, or a high-quality video file for you to edit and post later.
Great audio can also make a major impact on your stream. Some microphones are designed specifically for streaming or podcasting and have special components built in, but if you want to use standard gear, you'll likely need a USB interface. Keeping your levels balanced, so that your viewers can hear you and not a tv in the background will improve the quality of your stream.
Additionally, when it comes to cameras there are lots of options. Everything from built-in, to using dedicated capture cards connected to high-end cameras and DSLRs. This is helpful if you want to show your facial reactions while you stream, but you don't have to! There are plenty of creators that just show their hands or nothing at all. However, if you do choose to show your face, cameras don't perform well in dimly lit rooms. Good lighting can make a big difference in how you show up on your livestream.
Show off your branding
A big draw to livestreaming on Twitch, is the ability to customize the look and feel of your channel in order to stand out on the discover page. Twitch streamers typically go all-out when it comes to their branding. Everything from custom emotes, channel banners and "starting soon" or "steam ending" screens can all be unique to your business. If you already have a media kit for your other social platforms or website, it's very easy to design a channel that fits your brand.
Related: What is a media kit and how do you create one?
Live Stream Content Ideas
Now that you know where and how to stream, if you're feeling brave enough to go live, here are some ways you can show up for your online community.
Behind the scenes
Viewers are often curious about what goes on behind closed doors, so why not give them a little peek behind the curtain? Is there something exciting happening in your workspace? Is your daily routine something people want to see? Set up your camera and prepare to answer some of their questions!
Q&A Session
You can also go live without a topic in mind; just chatting is a very popular category of live streaming because your viewers can get to know you a little better. If you're afraid of low attendance, you can request questions in advance and have some in your back pocket just in case. Even if you have five questions, it's good enough to start with! Once you establish a regular schedule, it'll be easier to get questions and viewers on a regular basis.
Online Classes
This works really well for livestreams, especially if your business model is online education. Think of it this way: If they like what they learn, you can send them to your landing page where they can find more of your content. It's like a "free sample" of the value you offer. And then you can repurpose your recordings for content on other social platforms or email lists.
Broadcast Your Speech at an Event
If you have an event coming up, make it available to your audience by broadcasting it. Just make sure you're allowed to, first. Some conferences and events might not be OK with you sharing it live.
Final thoughts on Twitch
Twitch can be an intimidating platform for most marketers or business owners to include in their content strategy. But those who are willing to try it out and engage on the platform have gotten some encouraging results. Even though live streaming is prominent on most social platforms, Twitch offers a unique experience for both the streamer and their audience. The community aspect is really what draws people in.
Ultimately, live streaming will work best when you engage fully with your audience, share unique content with them, and connect with them on a personal level.