An old friend called me last week to say that he and his wife had embarked on a new adventure and wanted some quality domain name examples so they could pick a good one for their website. Paul has been a chef for as long as I've known him, working his way up from frying fish to opening new gastro-pubs in the Portland area, so I was excited to find out what amazing restaurant they were going to open (already picturing myself there on opening night).
Having a new wife, Sarah, with a ready-made family changed things for him. Paul explained that their kids had two choices for lunch: a hastily thrown together sandwich from home or the hot lunches at school. He didn't like either option, so he perfected a healthy, homemade bread for the kids to enjoy, and started cooking for the week in advance. This allowed him to make lunches that would not only be healthy, but also taste great. Soon, the kids were asking for extra food because they were sharing their delicious lunches with their friends.
A school lunch catering business was born!
Thus, we come back to domain name examples. Paul and Sarah want to sell catered school lunches as an option to all kids in Portland, and decided a website was the way to go to get the word out and take online orders. But where to start?
While the domain search field fills me with excitement, for others it is a daunting task to find the right name. If you are looking for that perfect domain for your business, answer the questions below as you browse your options.
What customers are you looking to attract — and where?
Decide on the primary market – is Paul and Sarah's business local to Portland? Or are they planning to expand to all of Oregon? The website "portlandcateringcompany.com" came up on the first page of my Google search for "Portland catering." This is called a geo-domain, and is a great choice for businesses looking to engage the interests of the locals. Knowing this, we started our search for appropriate domain name examples for Paul's new business.
The domain "portlandschoollunches.com" was available, seemed relevant and accurately conveyed the location of the target market. But was that enough?
Editor's note: The availability of many new geographic domain name extensions means it's never been easier to snag a domain name that shows where you do business.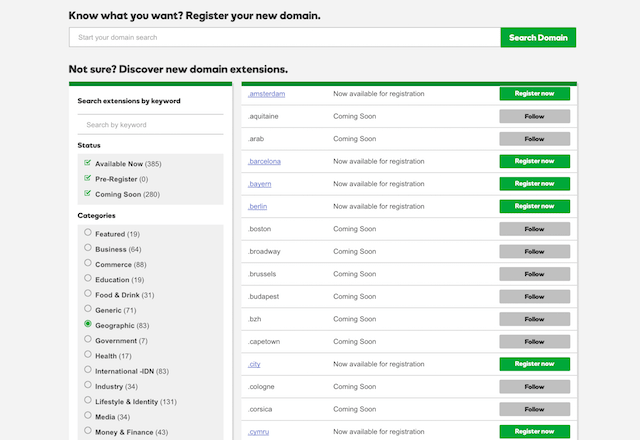 Are you accurately conveying what you do?
As Adam Heitzman of SEO firm HigherVisibility says:
"… including a keyword in a website domain name has a widespread and positive impact on SEO (search engine optimization)."
The domain name example, "portlandschoollunches.com," indicates WHERE my friends operate their venture, but does it say WHAT they do? Are they selling lunches to schools or individuals? As an alternative, "portlandlunches.catering" was available.
The great thing about the internet today is that we're not solely dependent on the ubiquitous .com for a domain name. Using the .catering domain name extension is a great way for businesses like Paul's to let people know they cater those Portland lunches.
What are your competitors doing?
It would be of absolutely no use if your competitor has a perfect domain name and yours is sadly lacking in specifics. There is a Portland in both Oregon and Maine. Is your site going to compete with other businesses from another location? Make sure you secure all the available variations of your domain now to prevent competitors from taking your name. Most domain registrars (like GoDaddy) offer the domain name with alternate extensions at a discount when you're checking out; they can all be pointed to your website, and you avoid any mixups down the road.
Are your domain name examples memorable?
Keeping it short and simple is more important these days than ever before. Choosing "healthyanddeliciouscateredlunches.com" is not only a mouthful, but would be an inconvenient email address. My general rule of thumb to follow is to consider whether or not you'd remember the domain after seeing it on a billboard on the freeway.
Where are you hoping the business takes you?
Think about your future.
If you visualize moving into more than one market, it's always a good idea to snap up the available domain while it is still available.
We looked at cities near Portland, like Gresham, and found "greshamlunches.catering" as an option. I suggested that Paul spend some time thinking about his current needs and how he plans to expand in the future. Investing in the right domain now can alleviate potential headaches in the future.
Next steps
Having some domain name examples to work with gave Paul and Sarah food for thought as they begin their journey to getting their new business online. Choosing a great domain name (or names) is the first step to building an effective web presence. What's next?
Use that domain for a custom email address.
Create a website that's attached to the primary domain name. If you're planning to sell products or services online, you can attach an eCommerce site to your domain.
As Paul and Sarah are learning, building an online presence in bite-sized pieces — starting with registering a domain name makes getting online easy to digest. Delicious!
Also, give our Business Name Generator a whirl- your future domain name might be available.