Buckle up! November is sale season, which means it's time to roll up your sleeves and start planning promotional campaigns for your social content. If you don't want a social feed full of random stuff, now's the time to work on your marketing calendar and add some structure to it.
Focusing on special days relevant to your brand creates opportunities to stand out and sell more.
This is something all businesses could benefit from — especially as we approach the busiest time of the year. Are you ready? Let's look at some of the major selling opportunities for the month ahead and how to use beautiful visual content using GoDaddy Studio to get your brand involved.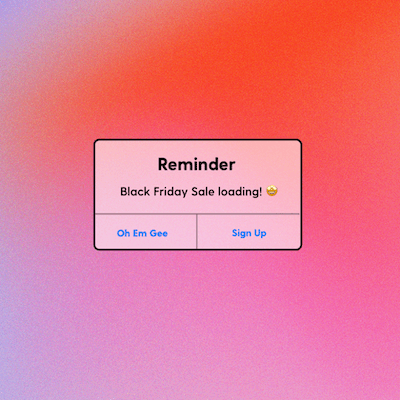 National and religious holidays
November is a time where many U.S. shoppers start prepping for one of the biggest consumer weekends of the year: Thanksgiving weekend. While important, there's plenty of other national and religious dates to celebrate, too. Below, we'll review some of the top dates to consider for this category.
Día de los Muertos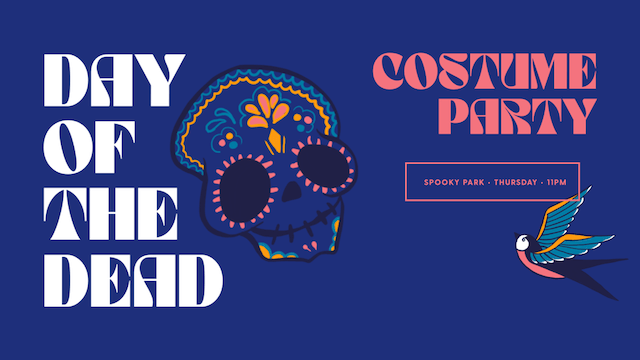 November 2nd is Día de los Muertos (Day of the Dead), a Mexican holiday that recognizes death as a natural part of the life cycle. This is a key moment for any brand that specifically focuses on Mexican apparel or food.
However, it's also an opportunity for any business with an audience that identifies with Mexican culture to come up with new products, campaigns or special offers.
If you're a restaurant, you could create a Mexican-themed menu featuring Pan de Muerto (bread of the dead) and tamales. Need ideas for a bar? Try coming up with a range of mezcal cocktails. You can also take this time to celebrate the lives of loved ones who are no longer with us.
Just remember to go for a mood that is warm and loving, rather than spooky and frightening.
Continue to keep that in mind with any of your Día de los Muertos campaigns.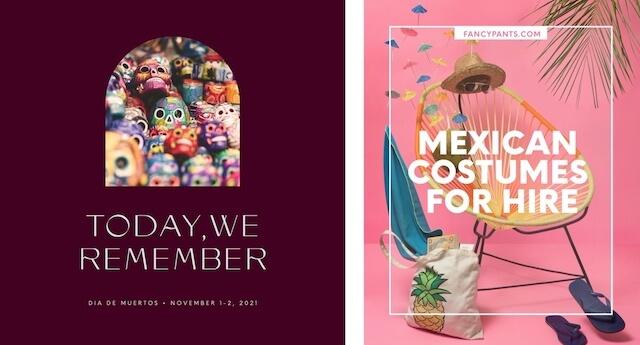 Diwali
One of the most popular festivals of Hinduism, Diwali, lasts five days starting on November 4th. It symbolizes the victory of light over darkness and good over evil.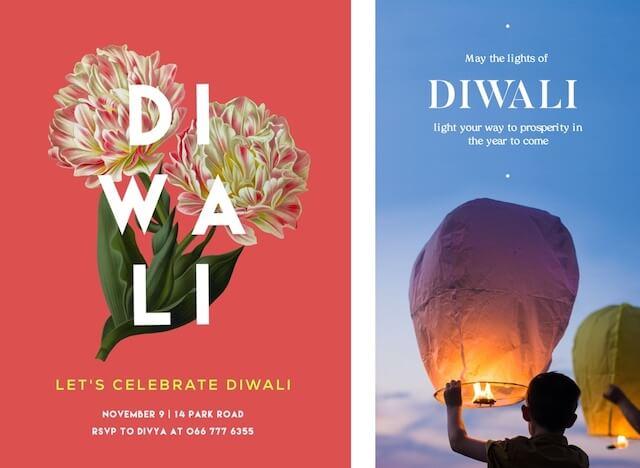 Things to focus on here, include:
The following examples are some of the top industries that can benefit from celebrating this holiday:
Retail
Fashion
Restaurants
Community groups
However, you could always interpret these in a way that fits your unique brand.
Veteran's Day
Also known as Remembrance Day, Veteran's Day is on November 11th. It was established after World War I to thank and commemorate all those who served their country in all wars.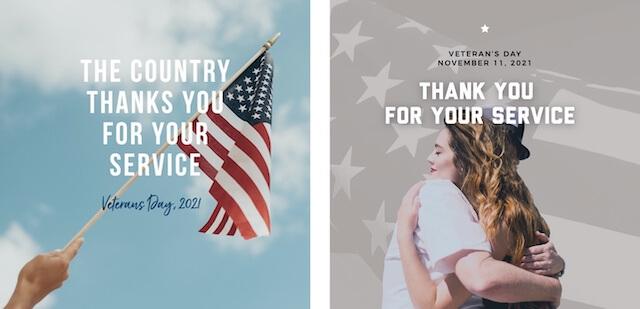 Therefore, it's the perfect opportunity to offer special discounts to veterans. Any of the following industries should consider adding this date to their November social content calendars:
Retail
Political
Education
Restaurants
Additionally, you can consider giving away a free item as a thank you or offer free breakfast or tickets to suitable events.
Thanksgiving
Everyone has a favorite part about Thanksgiving — whether it's feasting, family or football. It's a holiday that's widely celebrated in the U.S and many industries tend to plan for it months in advance.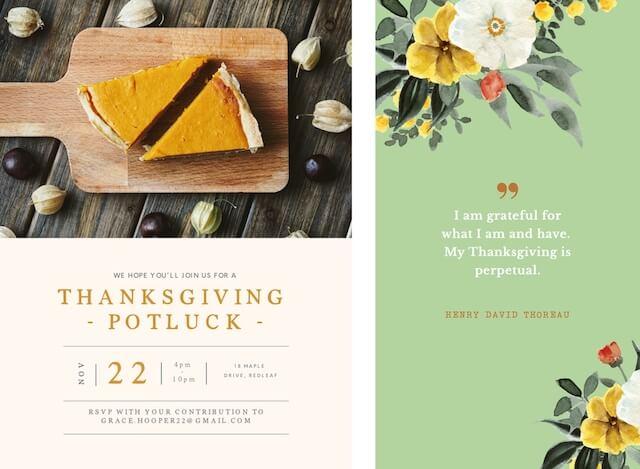 Examples include:
Retail
Home décor (great for people looking to get their homes ready to host guests)
Auto
Real estate
Travel (popular with folks that plan on meeting family elsewhere in the country)
There's obviously a huge focus on cooking and food over this time. But even if you're not in the food or drinks industry, you can still share related content like:
Tips for hosting a Thanksgiving dinner
Football trivia
Décor advice for how to dress a table
Inspirational photos showing what to hang on your front door to get into the spirit of things
In general, all brands can get on board with whatever campaign you choose. Just remember that the focus here is on expressing gratitude for all that we have.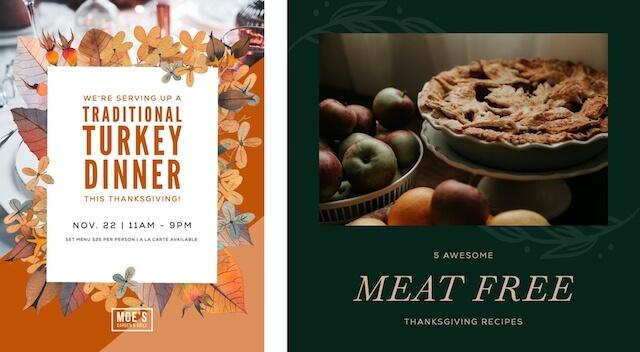 Hanukkah
At the end of the month, from November 28th to December 6th, is Hanukkah. This is when businesses wish their Jewish followers well as they light candles to commemorate the Maccabean Revolt against the Syrian-Greek army.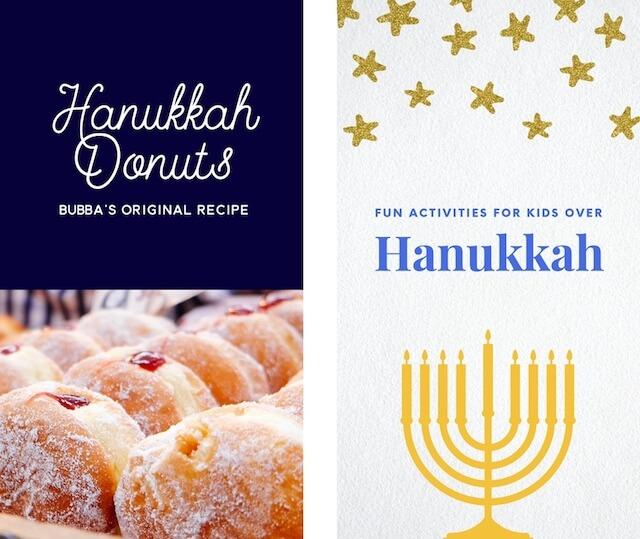 It's an introspective family-orientated time, and is ideal for those in:
Community groups
Food and drink industries
General retail sectors
You can also hop on the opportunity to get creative with visual content by featuring blue and white color themes, dreidels and menorahs in graphics and photos.
Sale season
With the sale season coming our way, now is a key time for your business to use a variety of tactics to up your revenue. This is especially true as people get into the buying mood around key holiday dates. Let's review them below, so you can get a head start in planning your November social content.
Black Friday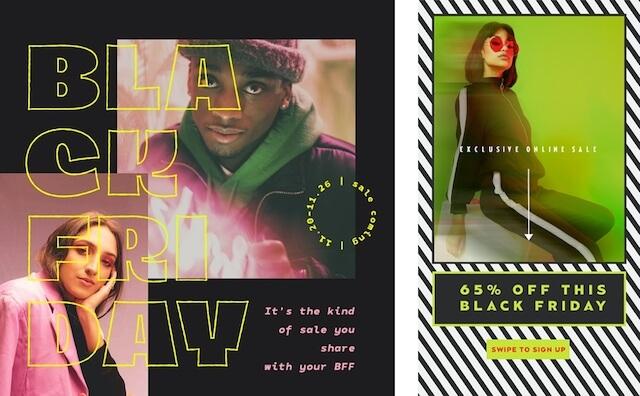 November 26th (aka Black Friday) is the biggest sale day of the year. For this, you're going to need a plan and it needs to be good. You could employ a variety of techniques, ranging from:
2-for-1 deals
Large discounts
BOGO promotions
Flash sales for limited time periods (literally an hour or two)
Whatever technique you choose, make sure your website can handle larger volumes of orders and that your company can deliver what it promises.
You'll also want to remember to hype up your offering weeks in advance.
Offer your audience the option to sign up and receive sales messaging before you run your campaign. This will also present a great opportunity to get your hands on some hot leads.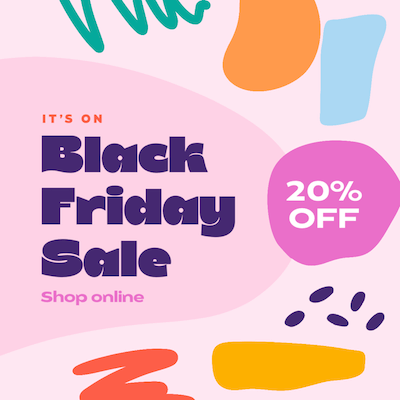 Small Business Saturday®
The day straight after Black Friday is Small Business Saturday®. This is a chance for the little guys to outshine the rest. Campaigns can be paired with Black Friday to extend any promos you'll be running.
Now's the time to harness what sets your small business apart.
Try offering a more personalized shopping experience or locally designed products to stand out. Remember to also show off your unique selling points and be the David in a sea of Goliaths. You've got this!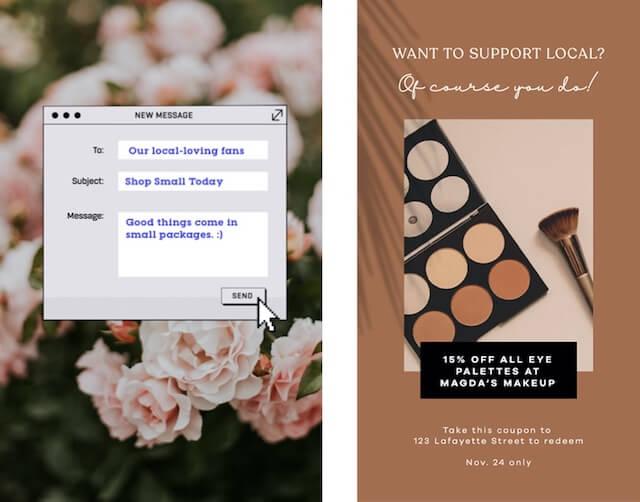 Cyber Monday
Not to be outdone, Cyber Monday is on November 29th. This is your day to shine if you own an online shop. Bear in mind that this can be a difficult day to stand out from the crowd. Everyone will be putting their goods up for sale online and alerting their customers in advance about their promotions.
However, you can still cut through the noise if your offering resonates with your target market. Most people will be actively looking for offers, so now's your chance to boost your sales with some well-thought-out specials.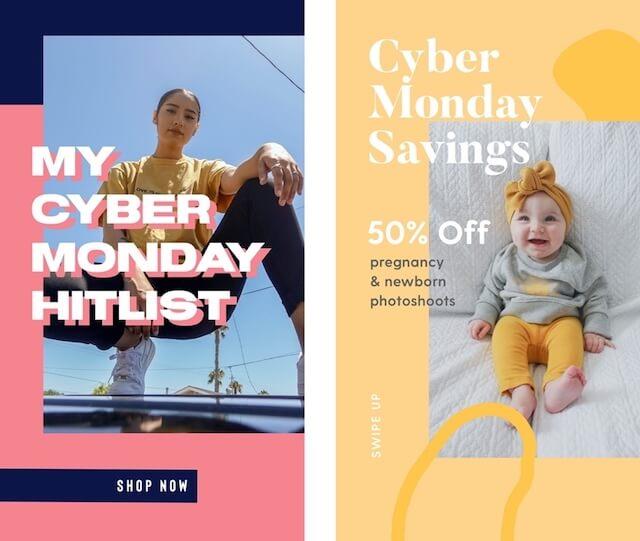 Giving Tuesday
Okay, big breath — sale time is over (for now). You've done all you can for your company. But on November 30th, it's time to turn it around with Giving Tuesday.
As a counterbalance to all of November's consumerism, this day is about engaging with your people and doing good. It's a movement that's gaining traction around the world, with more and more people contributing to worthy causes.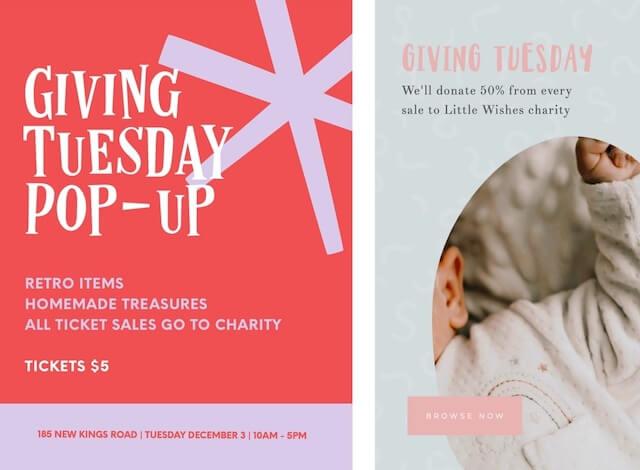 Some ways people have stepped up, include:
Volunteering or giving up their time
Donating money
Using their voice to actively support others
It's a day for anyone and everyone to mobilize and collaborate for a better world. Key industries that often participate, include:
Charities
Political organizations
Education sectors
Food and drink
Retail
Try sharing details of the acts of service your company will be doing on this day or offer to match your followers' donations up to a certain amount.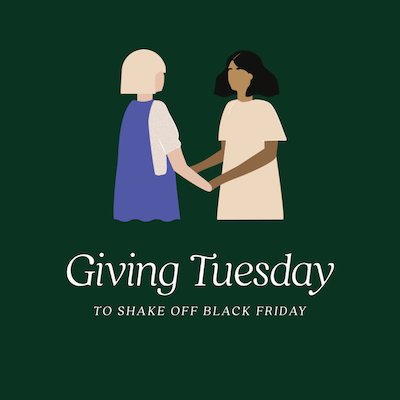 Trending months and days
Along with holidays and sales, there's plenty of special days you can celebrate to increase engagement with your target audience. Take a look at the options below to see which ones align with your brand most.
National Sandwich Day
Joey from the hit show "Friends" is not the only one who's a fan of sandwiches – we all are. From New York delis to French bistros, the humble sandwich is a worldwide favorite. National Sandwich Day falls on November 3rd and is an ideal date for foodies to celebrate.
Most restaurants and cafes launch exciting new sandwich options to entice new or loyal customers. Drinks brands can also jump in here, with products that compliment sandwiches like:
A glass of milk
Soda
Beer and more
For bonus points, try adding unique ingredients that amplify the taste of your sandwich. Anything that makes your sandwich stand out from the crowd is worth exploring.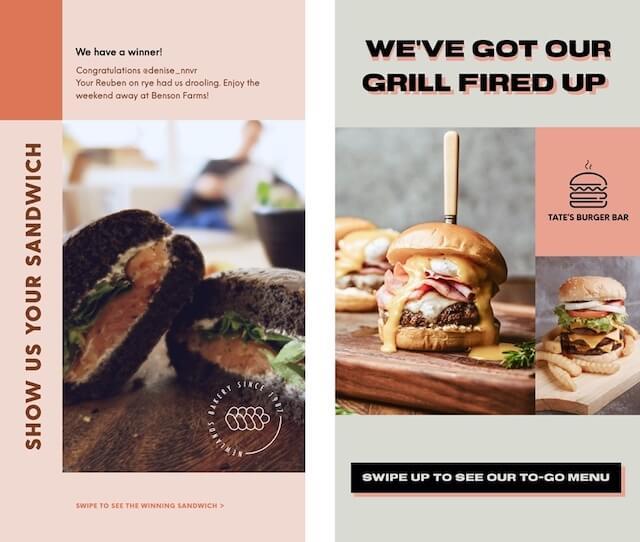 National Cake Day
Wonderful for our taste buds (but not always for our waistlines), National Cake Day is on November 26th. This is the time where bakeries and cafes agree that cake is king.
Examples of ways different brands tend to celebrate, include:
Baking events
Competitions
Adding new items to the menu
Sharing old favorite recipes
Don't be afraid to join in on the fun. Those with a sweet tooth will love you for it.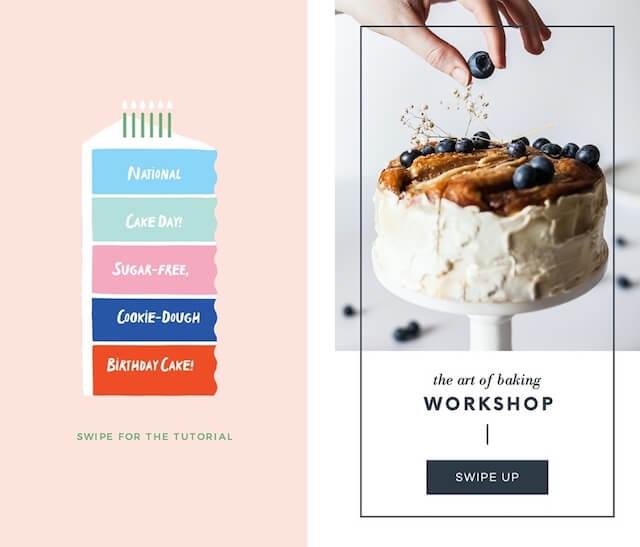 World Kindness Day
November 13th is the perfect opportunity to promote kindness in your community. Personal brands, charities, or any other sort of industry can all get involved. You can start by sharing stories of how kindness can change the world or take the time to thank your customers with unique discount codes to show your appreciation.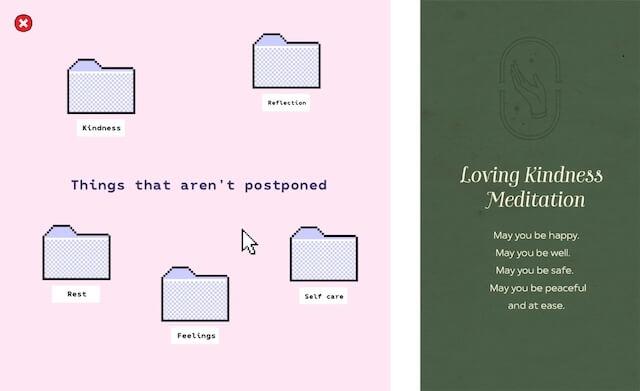 National Take a Hike Day
The healing power of nature and the invigorating effects of doing exercise are combined in hiking. You can celebrate this event during National Take a Hike Day on November 17th. Industries in the following categories have more of a reason to celebrate:
Travel
Outdoor/adventure
Health and wellness
Sporting goods industries
It's an ideal day for brands in these areas to promote their services and products. Whether customers are booking a hiking holiday or buying new camping gear, use this chance to reach out to the outdoor enthusiasts in your community.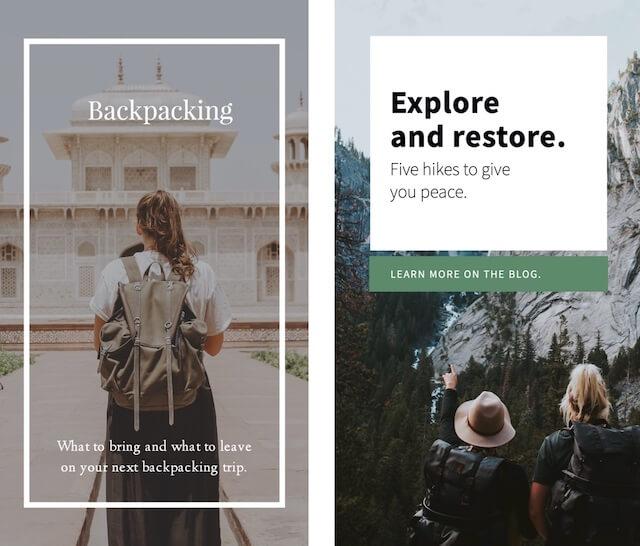 World Vegan Day
November 1st is a day to celebrate your plant-eating audience with World Vegan Day. What used to be a small group of outliers, has now turned into a growing lifestyle movement. If you own any restaurant or food business, chances are you'll need to make room on your menu to cater to this clientele.
If you already offer vegan options on your menu, this is the time to highlight them. Promote your most unique vegan items for the day or throughout the entire month of November.
Even if you're not in the food business, you can still get involved. Health and wellness industries can celebrate veganism as a health decision, while charities or political organizations can promote veganism as an environmental choice.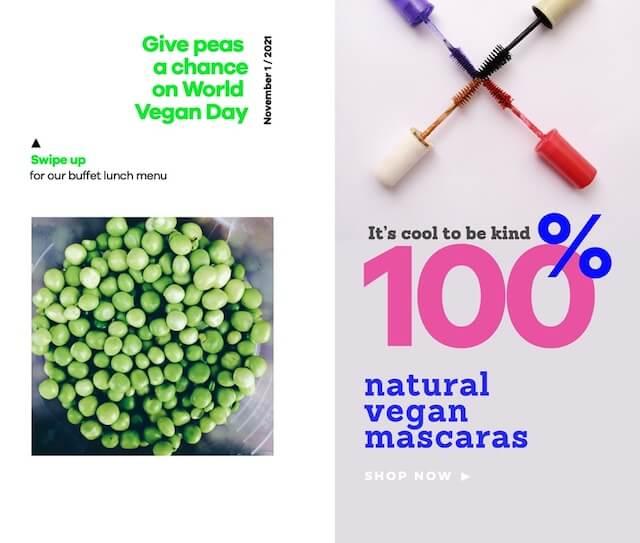 Election Day
Although it's not a presidential election year, this November 2nd is still Election Day for certain local and state legislatures (including special elections). Unless you're a political organization, it's a good idea to steer clear of controversial topics for many brands.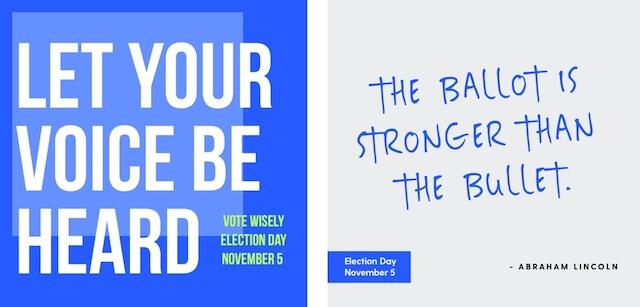 However, you can still convey the message that voting is a civic duty and a privilege we can all appreciate. Depending on the area you're in, you could participate by using graphics with the famous "I voted" stickers or opt for red, white and blue color themes.
Update your designs and promos accordingly
If you're communicating around any of these days or themes, boosting your brand visibility with a quick update is super easy to do with GoDaddy Studio. It has a huge range of templates that are ready and accessible, making the whole design process quick and uncomplicated.
GoDaddy Studio makes it simple to create and plan your November content, so that you can save much more time with less hassle. Use this free time to work on fulfilling sales or collating those glowing customer testimonials!
Try it out right now, for free, and start using beautiful visual content to fast-track your success. All the templates shown here are available in GoDaddy Studio!