We all want customers, right? Inbound marketing and customer acquisition start with great lead generation. But if you're not qualifying leads correctly, converting them to customers is going to be difficult.
Traditionally, qualifying leads is all about crafting forms that hit the perfect balance between asking the right questions and not asking too many questions. The good news is that there are a number of high-quality WordPress plugins that can help you get started with some of the best lead-qualifying practices.
In this post, we'll discuss some tips to help you better qualify your leads through WordPress forms. We'll also run the rule over some of the best — free and premium — plugins that you can use to implement these techniques on your own website.
Let's begin.
3 tips for qualifying leads better with forms
Different businesses look for different cues from prospects to help them judge whether they are qualified leads or not. That said, two of the most common questions about qualifying leads are:
Does the lead have the budget to buy our product?
Does the lead have the authority to purchase our product?
There are a few main ways businesses go about qualifying leads. There's the traditional approach with web forms, which aims to acquire these cues by asking the prospect head-on. And there are newer techniques that involve website tracking and predictive lead scoring, which is usually achieved through marketing tools like SalesWings.
Here, we'll go the traditional route and look at some ways you can use WordPress plugins to create custom-built forms for qualifying leads and sales prospects for your online business and clients.
1. Ask the right questions
Once you have an idea of the cues you're looking for, you'll be in a better position to ask the right questions on your forms. The end goal here is to classify them under two umbrellas:
Qualified leads
Non-qualified leads
First, you want to identify which qualifications a lead would need to be considered qualified. Second, you need to form that qualification criterion into questions that you can ask through your form.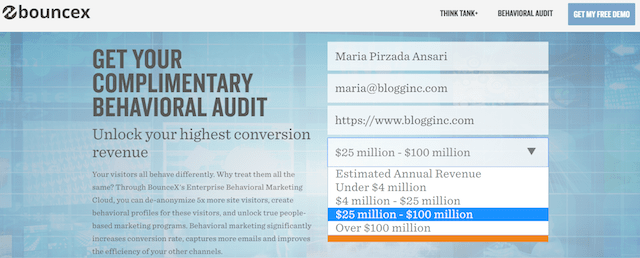 So for instance, if you were running a web development agency and wanted to qualify your leads based on their budget, you could ask them to enter their budget and have a drop-down form input option with different price ranges:
Less than $500
$500 to $1,000
$1,000 to $1,500
Bouncex takes a similar approach with their form, asking for estimated annual revenue to qualify their leads.
2. Don't ask too many questions
When you're identifying your criteria for qualifying leads and crafting questions to ask through your form, make sure you don't end up asking too many questions.
Web forms are supposed to be concise — which is why you should only ask questions that are important and relevant to the prospect's stage in the sales process. Keeping this in mind, you want to make sure you ask enough questions to be able to:
Reach out to the prospect and keep them engaged after they've filled out the form
Gather enough information to be determine qualified leads or non-qualified leads
If they've contacted you for the first time to get a quote for your web development services, it isn't a good idea to ask for their credit card number or street address. The best way to find out if your web form is optimized is to A/B test it. This way you'll be able to see which variation gets the highest conversion rate — and use that.
3. Ask questions based on previous answers
Generally speaking, it's a good idea to collect some information from your prospects and then respond to them before you ask for additional information. However, there are cases where you'd want to ask another question or two based on how they answered a previous question.
For example, Wealthfront uses conditional logic on their forms to ask questions based on specific circumstances. So, if you said your primary reason for investing was retirement, you'd see a different set of questions than someone who answered college savings.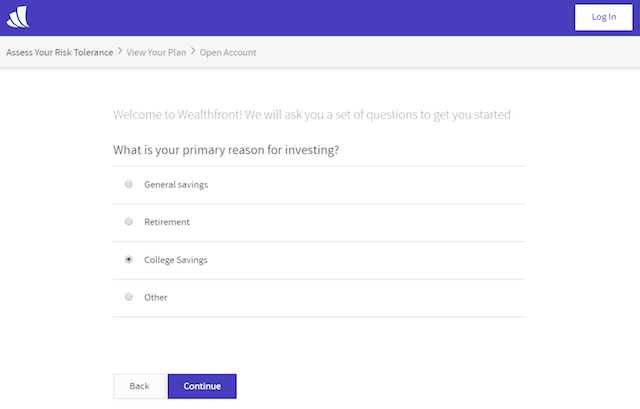 This lets you segment your prospects into different categories right away, and makes it easier to direct each segment through a different, more specific sales funnel. In the case of Wealthfront, they might segment prospects based on their age as adults, retirees, college students, and others.
4 WordPress forms plugins for qualifying leads
Now that you have a good idea of how to qualify leads using web forms, it's time to build one for yourself. Let's take a look at some of the best free and premium plugins to help craft high-quality forms for qualifying leads.
Ninja Forms
Ninja Forms is a free, drag-and-drop form builder that lets you add all kinds of fields including dedicated fields for email addresses, phone numbers and multi-select boxes. The key benefit of going with Ninja Forms is that they have a library of premium add-ons you can use to take things to the next level.
Visual Form Builder
The Visual Form Builder plugin gives you a lot of customization and organization options. Aside from the standard set of field types, you're also able to give prospects additional information and instructions about a particular field — and allow them to upload files.
WPForms
WPForms is a premium, drag-and-drop form builder that comes with a wide range of advanced features, such as smart conditional logic, multi-page forms, entry management, file uploads and tons of third-party integrations available as add-ons.
Gravity Forms
Gravity Forms is one of the most powerful, premium form builders WordPress offers for qualifying leads. It packs a plethora of advanced features including pre-designed form templates, conditional logic, file uploads, save and continue functionality, and third-party integrations available as add-ons.
Conclusion
Qualifying leads has solid benefits for both the sales and marketing teams. And the main purpose behind it is to increase the overall efficiency and effectiveness of your inbound marketing process.
Here's a recap of what you need for qualifying leads using WordPress forms:
Ask the right questions to profile prospects and see if they're qualified leads or not.
Don't ask too many questions; only ask for information that's relevant to the stage of the sales process they're at.
And if you're offering a diverse set of services, ask them a few questions based on how they answered previous questions in order to segment them.
Now that you know what questions you should be asking, how you should be asking, and what plugins to use, you're well on your way to capturing qualified leads with forms!