We asked artists from around the globe to share what the holiday season means to them. Check out these delicious new graphic collections, and find your unique festive style.
Who's up for a festive tour? Even though many of us default to traditional images, colors and graphics at Christmas time, "traditional" means very different things to different people. So if you want to create some unique Christmas content this year, consider unwrapping some of the multi-cultural festive graphics we have waiting for you under the tree.
From biscuit baking to sunburnt pool parties and delectable cheese fondues, the holiday season is celebrated in diverse and wonderful ways around the world.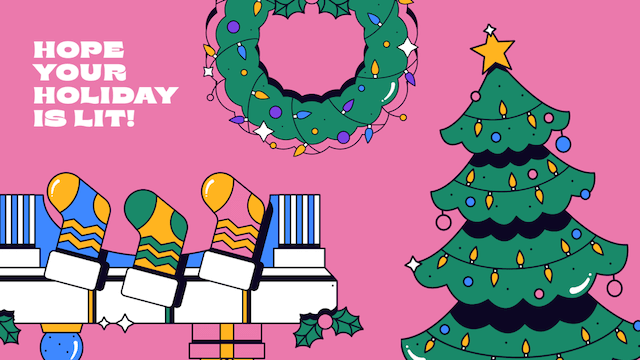 From Brazil, com amor
Being in the Southern Hemisphere, Brazil's Christmas festivities happen over summer, which means hot and sunny days that give them a really tropical feel.
The country has many of the same Christmas traditions you'd find in North America, though with some differences (for a start, Secret Santa is Amigo Oculto, and Santa Claus is Papai Noel).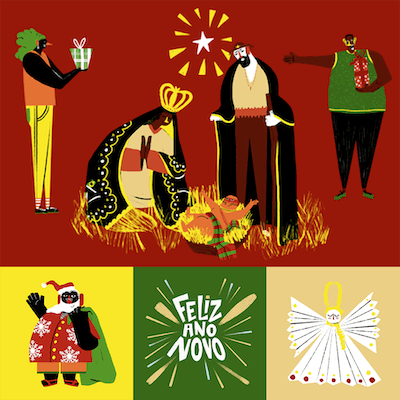 Reflecting Brazilian culture in general, Christmas is a large family affair where everyone gets involved. For Brazilian artist Gleydson De Lima, it's a great excuse for loved ones to come together, exchange gifts, and eat lots and lots of food.
"I was thinking specifically about my family," says Gleydson of the festive graphics he designed. "Here in Brazil, it's very hard to portray one unique identity because we are a continental culture."
With this in mind, Gleydson's creations speak to Brazil as a melting pot of cultures.
"I paid a lot of attention to representing different kinds of bodies and colors. I hope that everybody can recognize themselves in this pack."
Overall, his graphics depict the brightness and boldness of a summery Christmas, with abundant greens and yellows reminiscent of the Brazilian flag.
Gleydson's colorful and cheery graphics are perfect for:
Summer festive invites
Bright and bold cards
Tropical recipes
Food or beachwear brands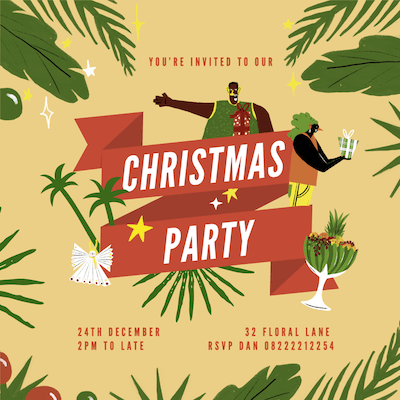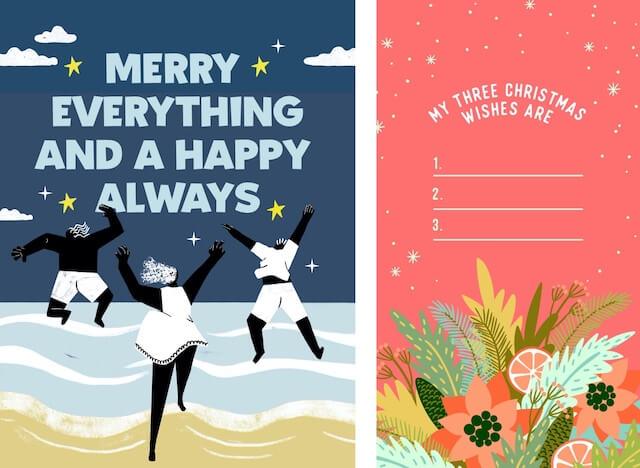 Spread the joy with Anna and a Russian Christmas
In Russia, a white Christmas with plenty of snow is a certainty. One major difference from most other countries, though, is that the actual day is celebrated on January 7 instead of December 25, as the Russian Orthodox Church uses the old Julian calendar for religious celebration days.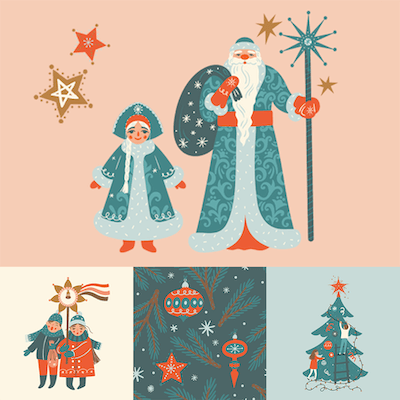 Like in most parts of the world, Russian Christmas is all about family and feasting on traditional Russian food such as pickled apples and sauerkraut, meat pies and dumplings. Other traditions over this time include caroling, fortune telling and a 40-day Nativity Fast that ends on Christmas Eve.
Anna Kosorukova, a Russian artist, is known for her warm and enchanting artwork. Her festive graphic pack will carry you away to a magical white Russian Christmas where specific elements reference her Russian heritage.
For example, she depicts Ded Moroz — Grandfather Frost — the Russian counterpart to Santa Claus. While they're similar in some ways, Ded Moroz wears a blue fur coat and mittens, and holds a staff in his hands to help him walk across snow. Also in the graphic is Snegurochka, a snow maiden said to be his granddaughter.
"All my graphic goods are made with the utmost care and pride to help you design great work," says Anna.
Anna's delightful graphics are great for:
Gift tags
Elegant and charming cards
Good girl/boy certificates (from Santa)
Vouchers for various kids' brands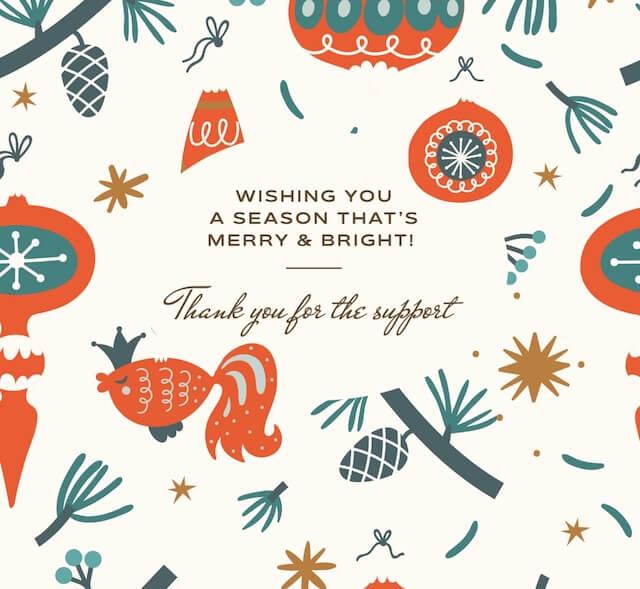 Season's Greetings from the UK
The Christmas spirit is alive and well in the United Kingdom, and it's highly visible in the festive lights that adorn the country's towns and villages each year. Arguably the most famous display is in London's Regent Street, where thousands of people witness the big "switch on" each November.
Nativity Plays and carols by candlelight are popular in the weeks leading up to Christmas Day, which is usually a festive roast turkey lunch. This is followed by a welcome public holiday — Boxing Day — on December 26, usually spent resting and recovering from all the indulgent celebrations the day before.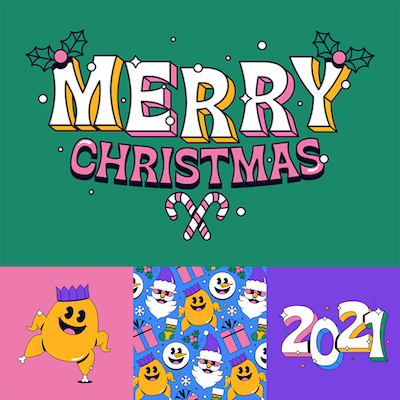 Mat Voyce is a "non-award-winning" graphic and motion designer from England. Known for his character-filled typography, animated stickers and bold illustration style, he tried his hand at some Christmas graphics, bringing in a uniquely British feel.
"I always try and give a bit more character to my graphics, especially to things like typography," says Mat, clearly seen in the playful fonts he uses. "If it's an image of a turkey, then chuck a face on it. Or make it look like it's dancin'," he says.
"It's well and easy being able to draw a candle or a Christmas pudding, but giving it a bit more character and fun always helps."
This is evident in his pink Christmas pudding topped with pink holly berries or the cheeky face on the bright blue Christmas candle.
Overall, he's played around with different colors to challenge the traditional reds and greens of Christmas, but in a way that still feels light and celebratory.
Mat's fun graphic pack is great for:
Zoom backgrounds
Bold and quirky cards
Instagram Story stickers
Streetwear brands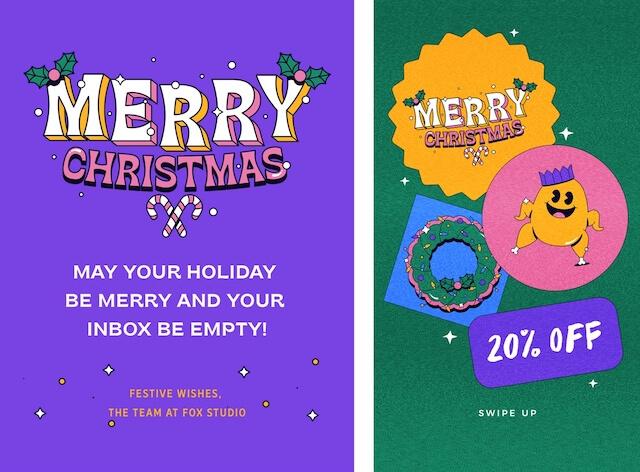 Fröhliche Weihnachten from Germany
Though Christmas time in Germany is full of familiar yuletide traditions like food, family and Christmas trees, there are also certain elements that make the holiday here unique.
Designer Alana Keenan is half Irish and half German, and says that St. Nikolaus Day is one of her favorite German traditions.
One such example is represented in her graphics packs as a powder blue shoe filled with candy canes and gifts. "On the 6th of December, we leave a shoe at the door and St Nikolaus comes and puts presents in it," says Alana. "So, you always make sure that you leave a BIG shoe!"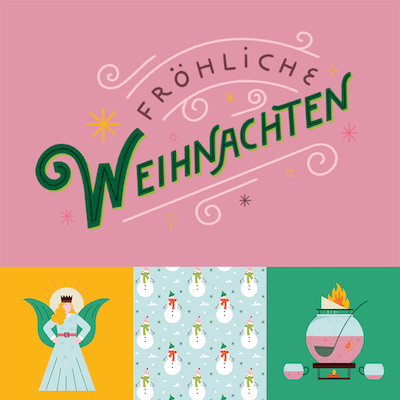 Her graphics are also a nod to all the traditional German Christmas elements, such as the Adventskranz (Advent wreath) with candles on a bed of berries and Christmas ornaments.
Another big part of Christmas in Germany is the Christmas Market. Think twinkling lights in medieval squares, traditional music, gluhwein and the smell of roasted nuts filling the air — which Alana has summed up in her playful gluhwein stand.
There's also a weihnachtsengel — Christmas angels — possibly one of Germany's most loved Christmas ornaments that are put up all around the house including the top of the Christmas tree.
Overall, Alana's festive style is vibrant, playful and whimsical.
"I'd love to see people use these graphics in a way that helps them feel the Christmas spirit."
Fröhliche Weihnachten!
These cheery graphics are great for:
Digital vouchers
Cute and joyful cards
Customer 'Thank You' cards.
Jewelry and accessory brands
Family holiday cards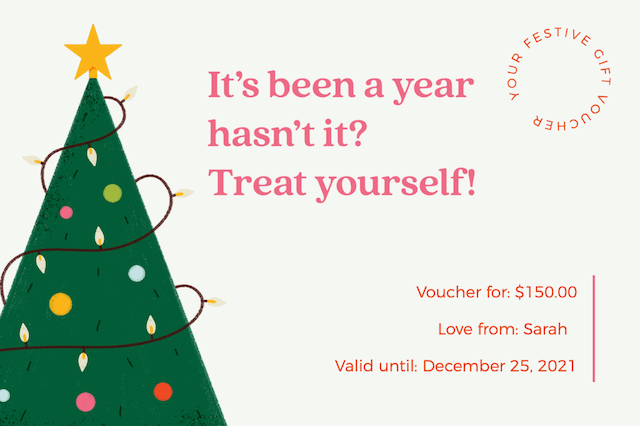 Feliz Navidad from Mexico
With around 80% of Mexicans identifying as Catholic, Christmas in Mexico is widely celebrated, and the country is filled with traditional nacimientos (nativity scenes) in homes and churches over this time.
Las Posadas (meaning "lodgings" or "shelter") is a nine-day event that takes place from December 16-25th, symbolizing the pregnancy of Mary, the mother of Jesus. The last posada takes place on Noche Buena (Christmas Eve) and is followed by a late-night mass. Afterward, a traditional feast serves everything from pozole and roast turkey to tamales and bacalao.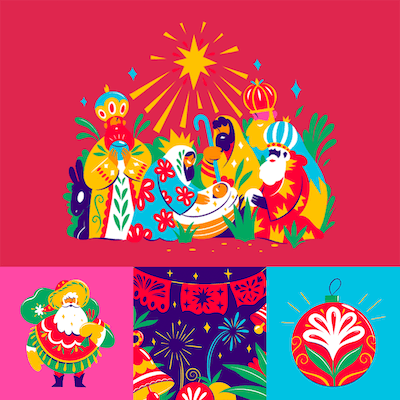 Luis Pinto is a Mexican graphic designer and illustrator whose vibrant and expressive work is influenced by folk stories, graphic novels, art history, and pop culture.
His graphics give a flamboyant Mexican spin to regular Christmas elements: the three wise men wear bold Mexican floral prints, for example, and Santa wears a sombrero.
There are also elements unique to Mexican Christmas in his collection, such as the ponche navideno (Christmas fruit punch) and the piñata.
"'Carpe Diem' is a phrase that is present in everything I do, and it always makes me put effort and passion on my work," says Luis.
His expressive and colorful style is perfect for:
Event content
Bright and colorful cards
Playlist and single cover images
Food and beverage brands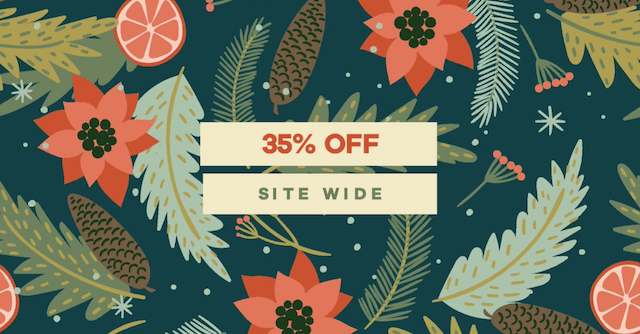 Deck the halls, with Aurelia
French culture revolves largely around food and it's no different at Christmas time.
Le Reveillon, the traditional Christmas Eve meal, is a long and extended feast.
While the exact dishes served depend on the region, expect to enjoy delicacies like smoked salmon, oysters, foie gras, goose, turkey stuffed with chestnuts and herbed sauteed potatoes. La buche de Noel is a sponge cake decorated like a yule log and traditionally made of chocolates and chestnuts.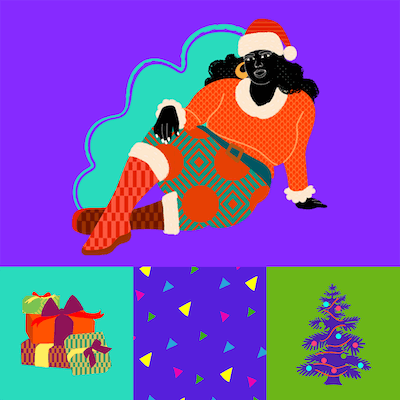 France — Paris in particular — also has a diverse African culture, something which French artist Aurélia Durand celebrates in her work.
"These colorful personalities present the unified voice of a global community whose hopes, dreams, and desires envision an inclusive future for all," she says.
In her bold and vivid graphics pack, she represents Afro-descendants as joyful, proud and empowered — whether it's a bold woman in retro prints, or the all-African nativity scene.
Get inspired by Aurélia's joyful graphics. They're great for:
Digital vouchers
Friendsmas invitations
Bright and colorful cards
Women's fashion, jewelry, and makeup brands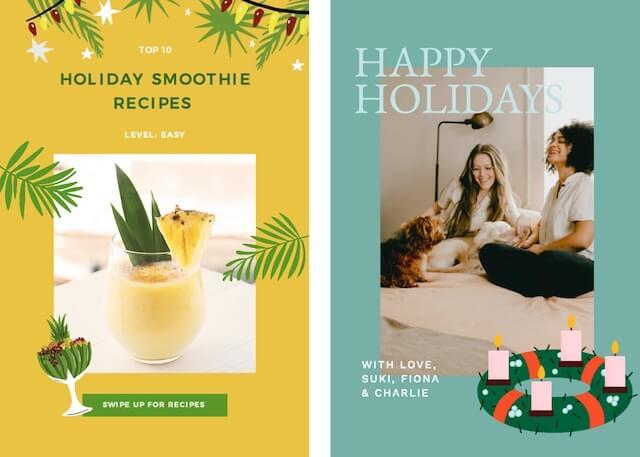 Don't forget about Kwanzaa
The US celebration of Kwanzaa was started in 1966 by Dr. Maulana Karenga, professor and chairman of Africana Studies at California State University, in response to the riots in Los Angeles in 1965, as a way to bring the African American community together.
The holiday is celebrated each year from December 26 to New Year's Day, and its name is derived from the Swahili phrase matunda ya kwanza, meaning first fruits or harvest. Usual celebrations over this period include singing, dancing, storytelling and poetry reading.
Central to the holiday is the daily lighting of each of the seven Kwanzaa candles, each with different meanings: the black candle symbolizes the people, the three red candles are for the struggle in the past, and the three green candles represent the Earth or the abundance of possibilities the future holds.
We feature two graphics packs that capture this spirit of Kwanzaa, from a sense of community and pride in the African American community, to the spirit of togetherness that the holiday is all about.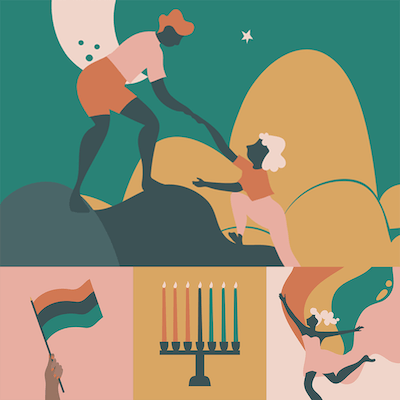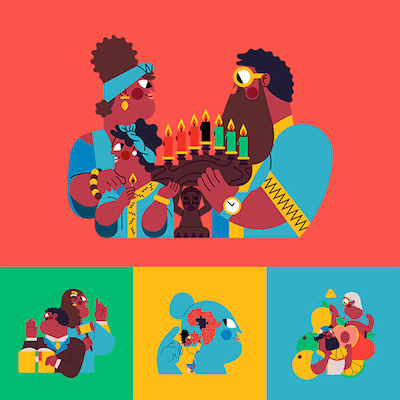 Whether you're wanting to create Festive Season promotions, digital greeting cards, or design a thank you post for your loyal customers, we hope this mix-up of fantastical festive content gets your creative juices flowing.
Find your festive style and start creating!
Whatever the festive season means to you, you can celebrate it your way with GoDaddy Studio. Try it out for free right now.