With Black Friday and the holiday season fully upon us, it's time to pull out all the stops and get selling. Now's your best chance before the year draws to a close, so here's some advice — and visual inspiration — to set your campaign for holiday sales up for success.
The final months of the year bring with them an ongoing series of promotional opportunities. Consumers are looking for bargains, and they're ready for the celebratory rituals of giving and receiving gifts. After a difficult two years, they want to treat themselves and those they care about — and as a business owner, here's your opportunity to give your customers exactly what they're looking for.
In addition to any seasonal promotions for winter that bring your product or service into the spotlight (think all things snowy and cozy like candles, sweaters, soup, hot yoga and ski trips!), the end of November marks Black Friday, which flows seamlessly into the holiday season, and then the new year.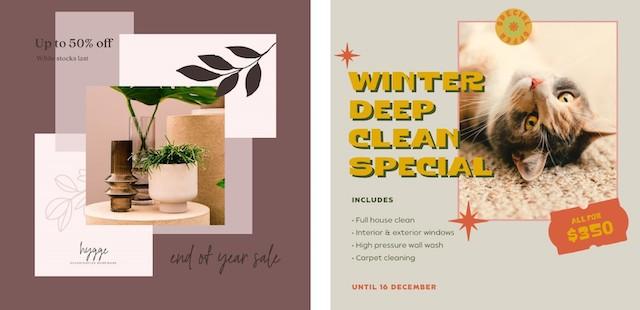 Also bear in mind that Black Friday is no longer just a single day on the calendar. Not only is it extended into the following week via Cyber Monday (and the more benevolent Small Business Saturday and Giving Tuesday), but there's also a growing trend to minimize gridlock on Black Friday by running "early bird sales" up to a month ahead.
Related: The seller's guide to Black Friday/Cyber Monday (BFCM)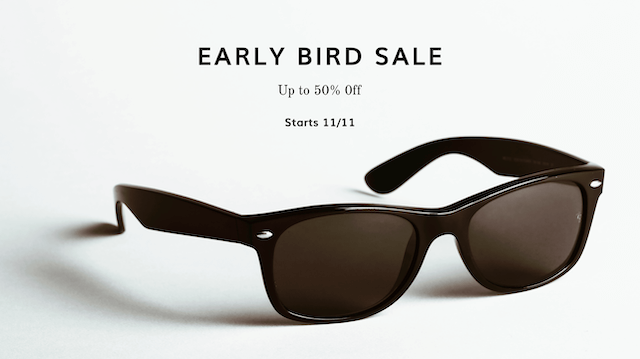 This is your chance to shine, to step into the spotlight and seize your moment. Bear in mind that you need to do it properly though. The competition is fierce, so throwing out a single post the day before your sale starts just isn't going to cut it.
Devote some time to developing a simple strategy for your seasonal sales campaign — trust us, you'll reap the benefits from just some basic planning.
What's the simplest way to do this? Think in phases.
To make the most of your campaign, we'd suggest moving through five interconnected stages, but feel free to pick out any individual ideas that you think would work for you.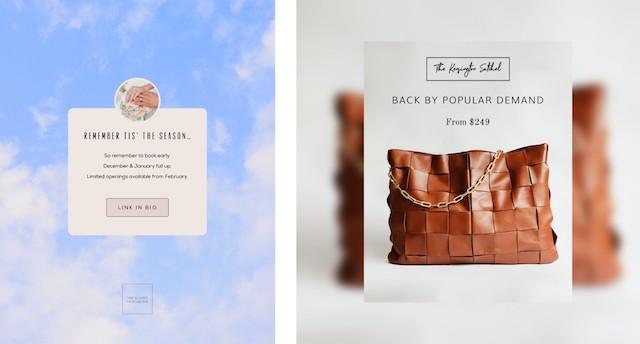 Phase 1: Engage your audience and find new leads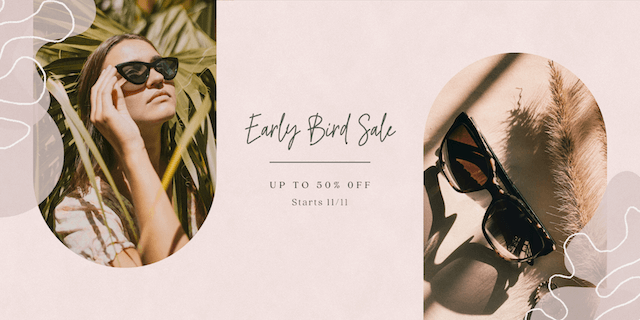 Before you start slashing your prices, take the time to ensure that you have a receptive audience.
Have you been engaging with them lately, or have you let that slide a little bit?
The easiest way to do this is to shift your thinking to your customer's perspective. It's not only about the promotion you're willing to offer — what about the type of promotion that your audience really wants? Before you lock in your strategy, ask your followers what types of promotions they're hoping for. What products would they love to see on sale, or in their Christmas stocking this year.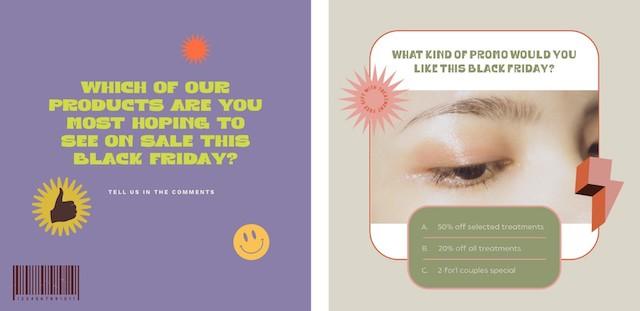 Try polls, "This/That" posts, or asking your audience to share wish lists and gift guides. With the prospect of a bargain in sight, it's a great time to get some good data on what products or services are most in demand.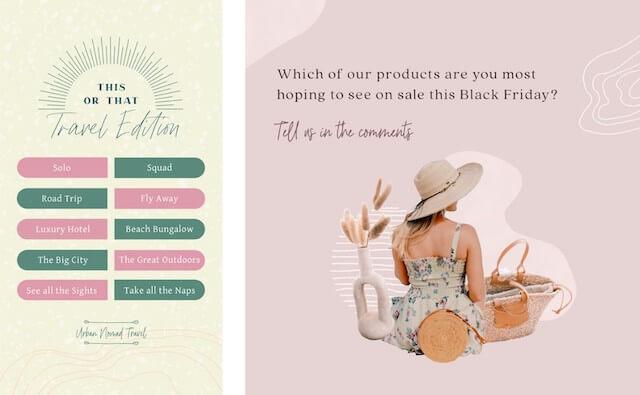 Now is also a great time to generate new leads. The prospect of an exclusive deal, or early access to a great sale, is as good a reason as any for somebody to sign up to your mailing list.
It's also a smart idea to target this mailing list with particular focus since these are amongst the most likely customers to act on a promotion as they've already expressed some interest in your brand.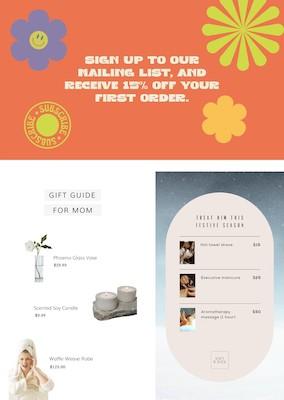 If you're going to put time and energy into your promotion and offer a fantastic deal that will activate engagement, it makes sense to gather the largest possible audience you can in the days leading up to the main event.
Remember, this is a two-way conversation — not a company broadcast.
Actively gauging your audience's interests by chatting with them builds your brand in their eyes, makes your seasonal promotion more desirable, and ultimately makes an impact on your bottom line.
Phase 2: Hype it up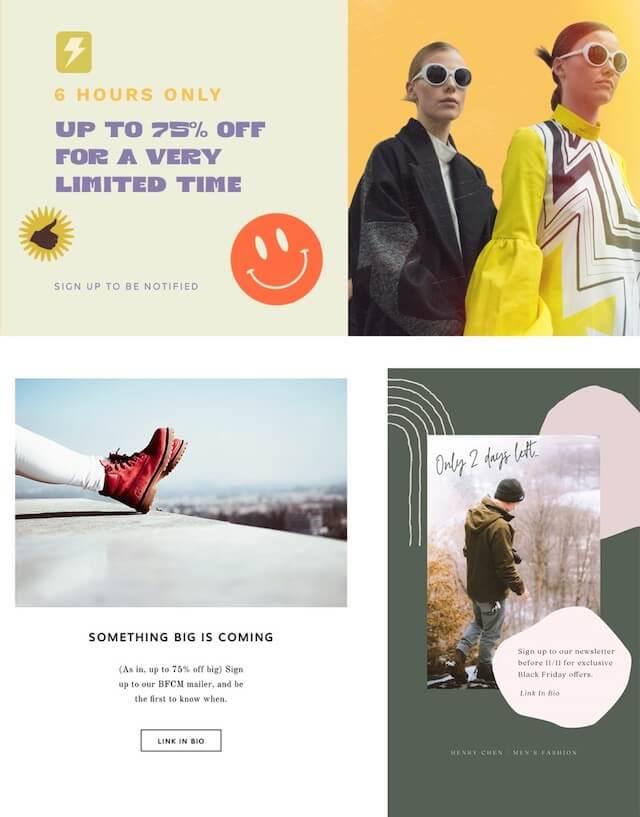 Once you've established the kind of seasonal promotion you're running, it's time to gradually build anticipation. To do this, you should stagger announcements strategically, not bombard your audience constantly, otherwise they'll quickly log off — or worse, unfollow your account.
Instead, start off by announcing the promotion on your social platforms. An email to your mailing list is also a great idea. And why not update your website headers while you're at it? Make it unmissable.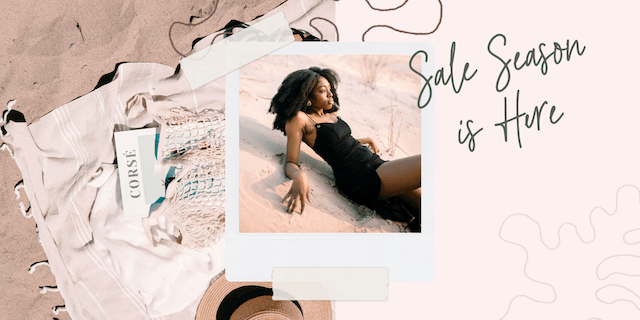 Perhaps offer a sneak peek, or gradually reveal elements of your special offer.
If you're offering multiple deals, you can start announcing these one at a time. Whether you sell products or services, consider building packages that offer a great incentive to make a bigger purchase. Perhaps smaller discounts build up to a much bigger one on Black Friday itself?
If your promotion is a big deal, let it infuse your brand's identity for the campaign period. That's the difference between a campaign and a once-off promotion — a campaign can take on an entire look and feel of its own, as it has its own unique identity.
By taking some time to design your series of posts, you also infer a certain presence to this promotion and in turn to your brand. If it looks professional and well considered, we're more likely to trust it amidst the selling frenzy.
Crazy bargains aside, it's still essential to project yourself as a brand that will follow through with all its promises.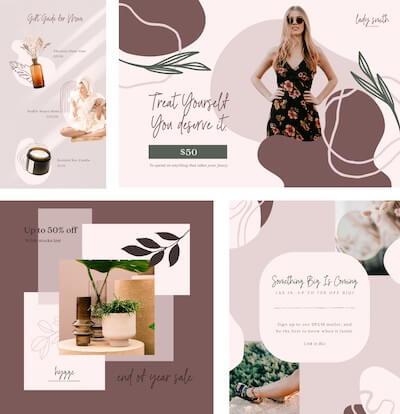 As we mentioned, be wary of over-hyping to the point that your audience becomes immune to new messaging — or even annoyed.
Each announcement should add some new, updated information. Avoid reposting the same content — keep evolving.
Don't only highlight the special deals either. Make customers aware of your general offerings, with price lists and featured products/services.
If you have very popular items or packages, or have recently restocked a bestseller, let everybody know about it while you're doing the work of drawing more attention to your brand.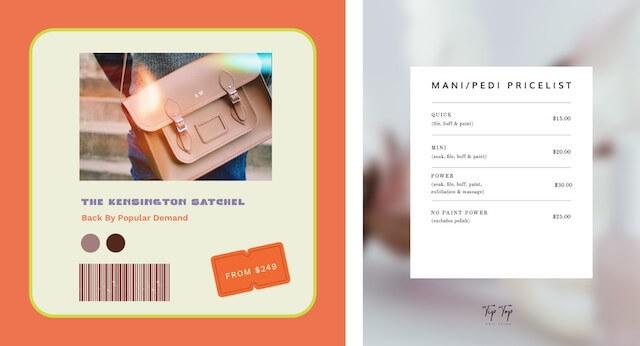 It's still a good time to gather new leads and engage your audience, so continue to do this with posts that elicit responses or sign ups.
Anybody who pauses long enough to like, comment, or visit your site via one of these posts has more than likely taken note of your promotion.
It might be worth diverting some marketing dollars into a paid ad during the lead up to your promotion, since the return on your investment is an audience guaranteed to extend well beyond your reach of existing followers, letting you get quite specific as to who you're targeting.
And our final tip here: Don't underestimate the power of video in this crucial stage, where it's more important than ever to get your content noticed.
Moving images will always give you that little edge.
Phase 3: Sell, sell, sell!
As you approach the big day(s) of your sale, competition, giveaway or special event, draw as much attention as possible to the limited time offer. A deal like this doesn't come every day, remember. Cut to the chase: This is a time for some hard selling.
Flash sales are a great device to limit the window for decision making, and get folks pouncing on a once-in-a-lifetime deal.
People love a bargain and a little urgency is a great way to cut through contemplation. After all, nobody wants to miss out.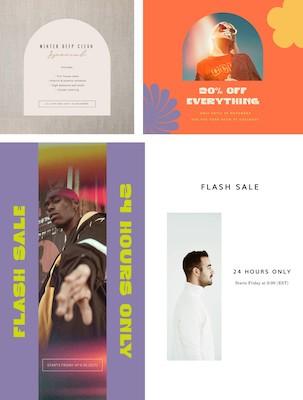 This is a rare opportunity to really activate your customer base. Many might have been sitting on the fence for months, even years, and your promotion is ready to convert them from a fan into a customer.
With the hyping and teasing done, it's time to lay bare what you have to offer.
Put your product or service front and center, publish menus and price lists, and make your sale prices visible.
Design is your best friend here, in the pursuit of eyeballs on your content.
This season we're loving the use of old school discount stickers in digital form. There's no easier way to highlight a discount or call-to-action (CTA) than with one of these incorporated into your design. As complex as the human mind is, it's still hardwired to notice these bright pops of color and associate them with a special offer of some sort.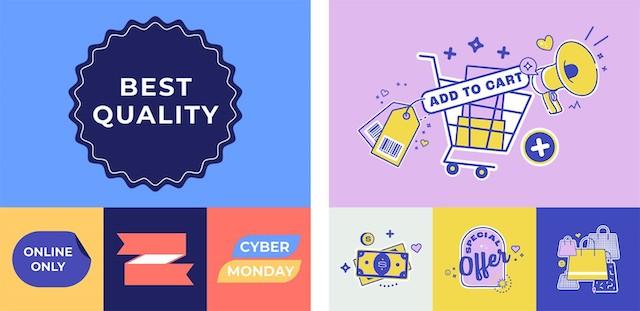 Make it unmistakably clear how to activate or redeem your promotional offer.
The number of steps it takes a customer to finally get their hands on what they're after is directly proportional to the number of potential customers you'll lose along the way. Make it simple and foolproof. Anybody who needs to puzzle through your promotion mechanism will quickly lose interest and spend their money at the online shop next door.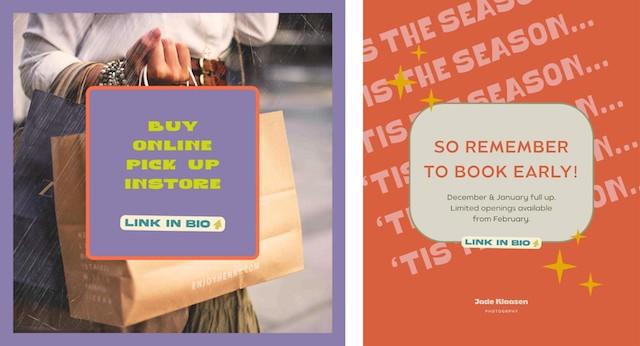 Don't forget the (less sexy) administrative side of running a successful promotion.
Make sure you cover the basics like posting holiday operating hours, delivery windows, terms and conditions and any other relevant notices you need to share.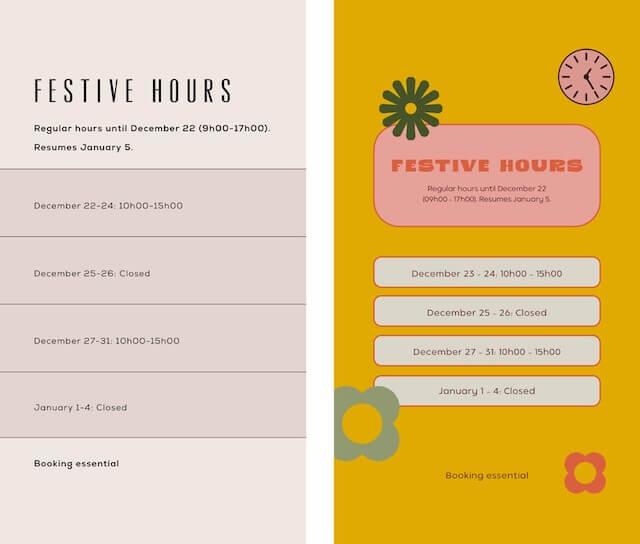 During the active period of your promotion, use your more ephemeral platforms (like IG and Facebook Stories) to post regular reminders to book, purchase, or otherwise take advantage of your seasonal deals.
It's worth giving that extra bit of steam here.
Phase 4: Seal the deal
The promotion is still in play until your customer is smiling, product in hand. Follow through is vital, so keep this in mind before you're stuck with too many orders to fulfill or a delivery service closed for the holidays.
But if delays or complications with fulfillment do arise, make sure you post this info and communicate with customers.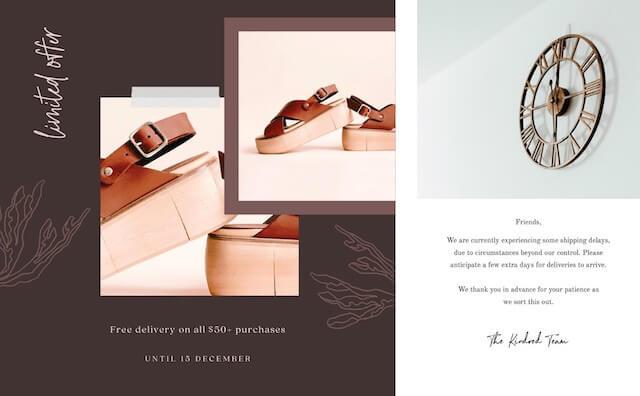 Your packaging is also an opportunity to sprinkle a little more joy on the experience of doing business with you. Consider thank you notes, stickers on the packaging (or inside as free gifts), and personalized messages to your customers. All of these can be created in GoDaddy Studio, using your campaign identity.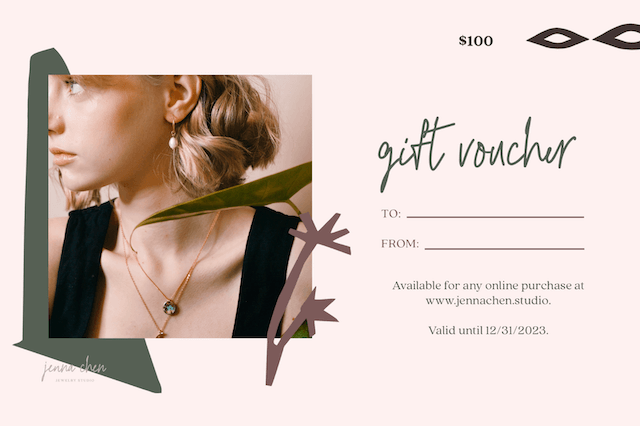 See this as an opportunity to thread the needle of your full campaign, using the same design look and feel all the way from announcing your special to the unboxing moment.
That kind of follow through leaves an afterglow of professionalism, increasing your odds of return business. It also adds that personal touch and spirit of connection — something we're all seeking more of these days.
And don't forget about sowing the seeds for re-engagement, encouraging customers to share their experience as soon as it lands.
In the next phase we'll look at how to do that, but it's much easier to get customers to respond in the midst of their excitement or delight than days or weeks later.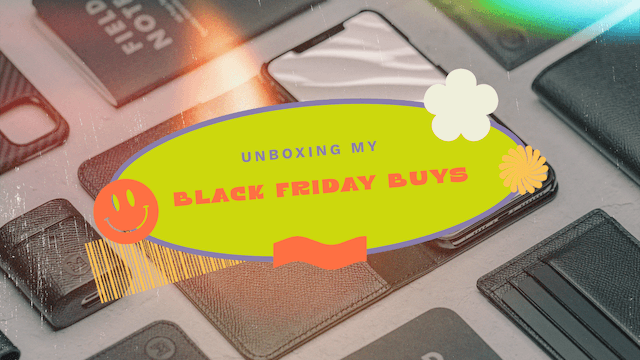 Phase 5: Re-engage your customers
The initial experience of your product or service is the best time to garner positive feedback from your customers.
Unboxing the product, using it for the first time, trying on the outfit/accessory for the first time, experiencing your service real time (spa, tour, meal, haircut), or the immediate post-satisfaction (freshly cleaned house, post-massage bliss, makeover glow-up, new tattoo) all present a window of opportunity to get happy customers giving you the best kind of advertising that money just can't buy: word of mouth.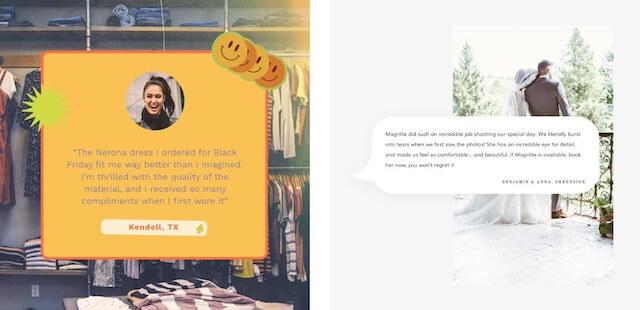 Try out incentives to activate customers during this moment.
Perhaps you can have some kind of competition for showing off your new dress, or haircut, or a creative moment with your product? Maybe trade a review for a discount on their next purchase.
It's a win-win situation: Already-satisfied customers stand a chance of gaining something extra, and you get some extra reach to new potential customers in their channels (make sure you make it obvious how to tag you though).
Testimonials are another form of pure gold you can mine during this period. We all know how valuable these can be when deciding whether or not to trust a new product or service, so always follow up with an email asking for feedback after the sale — you can use this as marketing collateral later.
Crucially, you're engaging your audience on the back of your promotion, using that momentum to keep your business moving from strength to strength, instead of simply sitting back and waiting for next year's big sale. This "after party" stage could last for a couple of days or even weeks — just enough time to bridge the gap between the next phase of your ongoing content strategy.