As we're increasingly encouraged to practice social distancing, and more cities and states around the country mandate that only essential businesses remain open, it's necessary for businesses to find new ways to interact with and serve their clients.
By replacing in-person consultations with a video chat, teachers, personal trainers, and yoga instructors can deliver a training class or one-on-one lessons with built-in screen-sharing features.
With a little creativity, online appointments and video conferencing can help a wide variety of service-based businesses connect with clients.
Set up online appointments
But before you can serve your clients online, you first need to iron out how they'll book your time and services.
GoDaddy Websites + Marketing
If you built your business website using Websites + Marketing (GoDaddy's Website Builder), you can quickly and easily adapt your website to book appointments, meetings, events, classes and training sessions online.
Go to your Websites + Marketing dashboard, and look at the main navigation bar across the top.
From the Appointments drop-down menu, select Services.
Choose how your clients can book services: availability-based appointments, one-time events, and repeating events.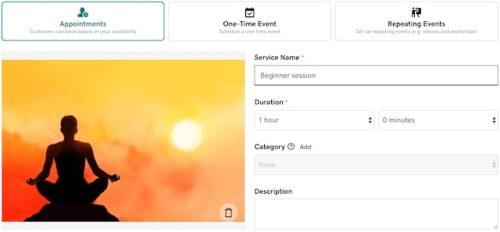 As you continue setting up appointments and events, customize it to meet your needs:
Price
Duration
Method of payment
Max capacity
Description
Location (Most businesses may need to choose "Online/Virtual," for now.)
Name of the employee that will facilitate the session
WordPress
If you built your website with WordPress, there is a strong chance WooCommerce is the plugin powering your online store. If so, WooCommerce can be bolstered with the premium Bookings extension, so clients can book appointments, rentals and reservations directly through your website. Bookings Availability is another premium extension that displays those appointments and rentals on a calendar for you.
If you grab this extension, then WooCommerce has some documentation to help you get started.
If you're not already using WooCommerce, but want to expand your WordPress website to include an online store, then good news, because it can be installed on any of our hosting plans that support WordPress. In fact, this is largely true, regardless of which company hosts your WordPress website.
Connect to clients with video conferencing
Once you've ironed out how clients can book appointments, it's time to connect online. If you need ideas on how to interact with your clients online, no worries, see the tips below.
Meet online with small- to medium-sized groups
How can you continue serving your clients while maintaining a safe distance? One way is to take advantage of the many video conferencing solutions out there. Zoom and Google's Hangouts Meet are a couple of popular tools. Both work well for anything ranging from one-on-one sessions to meetings and training with dozens of people conferencing at once.
Zoom's features make it easy-to-use for both you and your clients:
Schedule meetings in advance or on-demand
Screen-sharing
Use on computers and mobile devices
Send clients a direct link to your sessions
Or give them a Meeting ID instead
Gallery View so you can see everyone in the meeting
Clients don't need their own Zoom account
Free and paid options
Check out Zoom's collection of resources to help users through the COVID-19 situation.
Google's Hangouts Meet has many of the same features as Zoom, but there are a few differences:
Doesn't require an app to use to on a computer
Integrates with other Google G Suite apps
Like Zoom, Google also made some changes to their G Suite products, including Hangouts Meet to help schools and businesses stay connected during this uncertain time.
Related: How to set up a virtual conference website with WordPress
Broadcast live to larger groups
Broadcast services like Facebook Live and YouTube Live let you connect with larger groups of your followers or subscribers.
Facebook Live works best for businesses that have a Facebook group and some followers. You can even broadcast from your mobile device. When you decide to broadcast to your social followers, it's best to give them advance notice and stay live for a longer period of time to give viewers an opportunity to join.
Broadcasting on YouTube Live works a little differently, and you don't necessarily need followers to make the most of the service, because anyone can tune into your live stream.
Though if your business has a YouTube profile, and already has 1000 YouTube subscribers or more, then you can broadcast from a mobile device with this service as well.
Summary
With so many people distancing themselves for an unknown amount of time, they'll search for ways to interact, socialize, and try to maintain their daily routines from within their homes.
By enabling people to book appointments, services, and events online, and use video conferencing to interact with them, you may be able to help them do just that. And hopefully, help your own business in the process.
---
You can do this!
If you need a helping hand, we're here for you.
Above all, have faith in yourself. We have faith in you.
---