Not too long ago, it was nearly inconceivable for a small business to develop their own app. This was a plaything for the big boys, not a viable (or a necessary) tool for small enterprises. However, times are a-changin'. Not only are small business apps becoming more cost-effective, they're also becoming more indispensable.
As recently as 2015, the median price range to develop an app was between $37,913 and $171,450, but could be as high as $500,000 in some cases. The cost was partly due to the necessity of hiring and retaining an app development team. But with the wide range of app development options now available, small business apps are much more affordable — and small businesses are taking advantage. In fact, Small Business Trends predicts that 50 percent of small businesses will have an app by 2017. This is a marked increase from the 20 percent who had small business apps in April 2016.
So, why should your business have an app? They aren't just for branding anymore. Small business apps are becoming critical tools for customer engagement and loyalty.
According to a survey by Clutch, 21 percent of businesses with apps consider loyalty the most important aspect of their app. An app stores customer information and preferences, making the search and checkout process much more fluid. Customers can easily view items that are of interest to them, receive push notifications, and earn loyalty points.
It's mutually beneficial: Customers enjoy a better shopping experience, and with the ability to send notifications, advertise, and reveal deals pertinent to specific shoppers, businesses have a greater chance of converting browsers to buyers.
So, if you're convinced that building an app would be beneficial for your business, there are a few ways you can go about it.
Using development software to build small business apps
With app development software, there's no need to hire a development team or to be familiar with code. App creators such as Bizness Apps, Como, Shoutem, and more, provide tools for small business owners to design their own apps with easy-to-use, drag-and-drop features.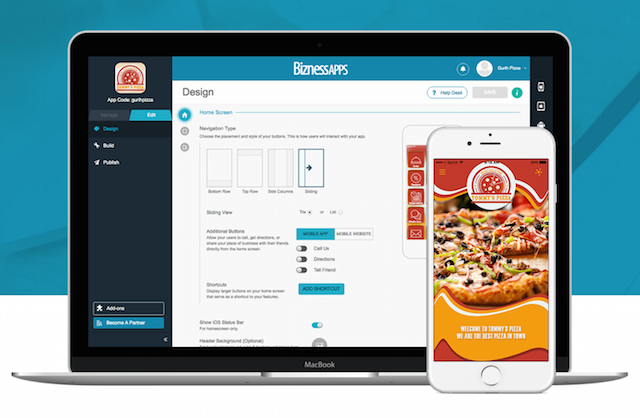 Small business owners can easily connect their POS systems, develop advertising campaigns, create events, enable social capabilities, and send push notifications. Most app creators also come with robust analytics to determine the success of the app, and (if needed) tweak sections that are not performing well.
If you don't find all the bells and whistles you're looking for within the app creator, you can usually integrate with third parties. And, because the developers of app creators know that customer loyalty is one of the most important aspects of small business apps, they come with built-in loyalty features to reward customers and keep them coming back.
One big bonus of using app development software to create small business apps is the cost. Most of these app development software programs cost less than $500 per month (and some are free).
Hiring an app development team
While creating an app is easier and more cost-effective than ever before, between managing employees, meeting with potential investors and handling all your other responsibilities, you might not have the time required to develop an app yourself, no matter how easy it is. Or you may need an app that's more robust than what app development software programs can offer. If this is the case, hiring an app development team might be worth considering.
But who should you hire? Rameet Chawla from Fueled suggests that you carefully assess an agency's credentials and reputation. Agencies get bonus points for awards and mentions on tech sites. Also, it's important to ensure that the agency you hire is familiar with the type of app you need to develop. You don't want to hire a gaming app agency to create a business app.
Understanding the roles you need to fill in a team is also important.
Ryan Matzner from Fueled says you should expect to have a designer, an account manager to act as liaison between clients and producers, and a product manager at the very minimum.
So, how much will all of this cost you? It all depends on what kind of app your business needs and how much development it will take.
Hiring a freelancer
Maybe you don't have the time to create your own app, and you also don't have the capital to hire a development team. That's OK. There's a third option: hiring a freelancer.
With dozens of available freelancer sites, finding a freelance app developer for a reasonable price is a realistic option. For example, Upwork allows you to browse developer profiles, previous work and pricing on the spot. Other sites, like Appfutura provide teams of freelancers for monthly fees.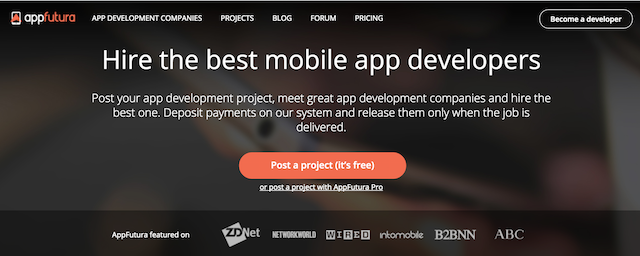 So, if you're thinking about creating an app for your business, consider these small business app building options to build a better experience for your customers.
Have you created a small business app? Please share your experience and recommendations in the comments!