It's 2015. Do you know where your Hispanic customers are? If you can't answer that question, then you'd better take a few minutes now to let me introduce you to my friend, Rosie. In fact, for the sake of your business, you can't afford not to take the time to get to know her.
Rosie is a busy wife, mother, active volunteer in her church community and director of finance for a rapidly growing small business. When purchasing products, services and even personal items for work, home or herself, she searches the Internet for what she needs. And Rosie does it in two languages.
You see, Rosie (whose formal name is Rosa) is one of the 54 million Hispanics living in the U.S. with a combined purchasing power of $1.5 trillion that's projected to grow faster than other minority groups, according to the latest Nielsen report, "The State of The Hispanic Consumer." A recent consumer study by the Experian Marketing Center found that Hispanic households account for 10 percent of all discretionary spending in the United States, with annual expenditures of $164.2 billion on non-essentials in 2012. In the past year that figure grew by an estimated 14 percent, while spending among non-Hispanic households remained relatively flat.
Also like my bilingual friend, Latinos are connecting online at rates twice that of the general market, adding more than a million users a year.
"The older and busier I get, the more I find myself shopping online," Rosie says. "I've bought everything from groceries and household goods to jewelry from the Internet. But I still buy clothes at a store because I like trying them on first. It's just a personal thing."
Latinos online
But don't just take it from Rosie that online is where you'll find your Hispanic consumers today. According to the Pew Research Center's 2013 analysis of Internet usage among this growing minority market, "Closing The Digital Divide: Latinos and Technology Adoption":
Between 2009 and 2012, the share of Latino adults who say they go online increased 14 percent to almost eight in 10. Among them, 41 percent are bilingual, 31 percent are English dominant and 28 percent are Spanish dominant.
Nearly all Hispanics from families with annual incomes of $50,000 or more (95 percent), Hispanics from families with annual incomes between $30,000 and $50,000 (93 percent) and Hispanics ages 18 to 29 (93 percent) say they go online at least occasionally.
When they use the Internet, Hispanics are more likely than non-Latinos to go online with a mobile device — 76 percent versus 60 percent. (So optimize your site for use by smartphones and tablets!)
And for Latinos, a bilingual online landscape makes using the web more worthwhile.
Spanish spoken here?
The Experian report shows that three-quarters of Latino adults prefer to speak at least some Spanish some of the time, with 52 percent of Spanish-dominant Hispanics and 29 percent English-dominant Hispanics noting, "When I hear a company advertise in Spanish, it makes me feel like they respect my heritage and want my business."
Rosie agrees with that statement — with some reservations.
Although she moved from her childhood home in Mexico to the States when she married her American husband, Ehren Johnston, almost 25 years ago, Rosie will still employ her native language with her family, friends, fellow church members and other Spanish speakers in the Maryland community where she lives outside of Washington, D.C.
"When I go online, I'll pay attention to English and Spanish ads or visit websites in both languages," Rosie says, adding with a laugh, "But I don't like the Spanish ones as much because of the bad translations. I see so many that don't make sense or use improper slang, I don't always trust they know what they're talking about or even have the correct information. So I tend not to use them."
Luckily my friend has a good sense of humor about the mangled marketing messages. You could lose potential customers who don't find your lame attempt at their language funny. How then to reach this bevy of bilingual buyers without being insulting or disrespectful?
Yo quiero profesionales
You wouldn't do your own dental work, so why would you rely on an English-to-Spanish phrasebook or use a digital translation program to convert your copy into substandard Spanish? To reach this prospective and profitable expanding market properly, you'll want professionals who know what they're talking about — in both languages and cultures. Today online search destinations like YaSabe are available to help and have found terrific receptivity from local businesses looking to target Hispanic consumers.
YaSabe + Get Found: Putting the buy in bilingual marketing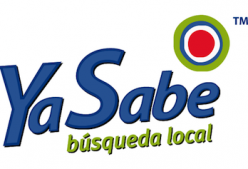 Pronounced Ya Sa Bay — which means "Now you know" — the Virginia-based company is America's largest and fastest growing localized search engine. It provides bilingual information on more than 14 million businesses, goods, services and employment opportunities — and now, GoDaddy's Get Found publishes your business information to YaSabe to help ensure that you're reaching your target customers wherever they're looking for businesses like yours online.
Here's how Elevation Media describes what YaSabe does:
"YaSabe's bilingual search engine helps Spanish-speaking Americans find the information they need. It crawls the Internet for data, translates it into Spanish and tags it for users. Its categories are geared toward the information Spanish speakers might need: bilingual service providers, jobs for people fluent in more than one language, 18 different types of Latin cuisine."
With its listings of businesses, coupons, auto sales and jobs that are culturally relevant to Hispanic consumers, you might think of YaSabe as the online Spanish Yellow Pages.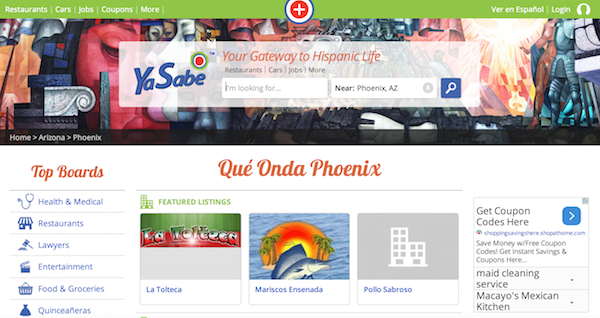 And that understanding of connecting through culture and values, whether communicating in fluent Spanish or plain English to native Latinos, is another advantage that such services can offer. YaSabe's founders spent more than a decade providing technology and products to Latin America and in Puerto Rico, so they're aware that with more than 20 different nationalities that speak Spanish in the world and have different language variations, one size doesn't necessarily fit all.
So forearmed with some cultural awareness and professional help, when you do target that burgeoning bilingual Hispanic market online your message won't get lost in translation. And that should make everything rosy.
To learn more about YaSabe and Get Found, read the press release.