Despite the multitude of lead generation opportunities for brands in today's digital world, email marketing is still one of the best ways to get your message in front of a captive audience. One of the first and most pressing questions people ask is, "How can I grow my email list?"
As part of #EmailMarketingMonth, I wanted to share a video walkthrough of how to use Twitter to grow your email list — without spending a dime.
Twitter is one of my favorite ways to grow my email list because it's easy to set up and use, as well as being relatively intuitive.
It takes the barriers out of subscription for building your subscriber list, especially for mobile users. Why make someone type on a mobile device? With just two taps of their finger, they can subscribe to your list.
How to use Twitter to build your email list
To do this, we'll use Twitter's Lead Generation Cards — part of Twitter's advertising interface — to capture email addresses right from tweets.
The examples below are from SHIFT Communications, where we use Twitter cards to promote our weekly newsletter — enabling allowing anyone on Twitter to automatically sign-up for the newsletter with the click of a button.
Before you get started, you'll need:
Twitter account
Image (800x200 px)
Landing page
Privacy page (housing your privacy policy)
Analytics-tagged URL
To create your Twitter card, start by logging into the Twitter ad portal. In the Creatives menu, select Cards.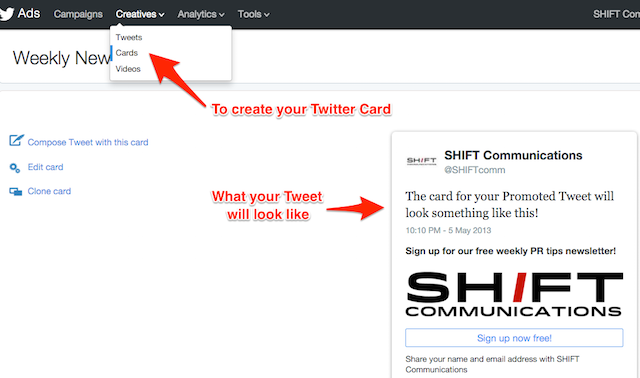 Start by adding a new Lead Generation Card from the Twitter Card home page.
Add a short description.
The first bit information you'll need for your card is a short description, 50 characters or less. Why should your followers give their information to you? Are they signing up for more information about a particular product or service? Are they subscribing for a newsletter? Be sure to highlight the specific benefits within your description.
Add an 800 x 200px image.
If you don't already have an image preset for social media, it's relatively easy to make one using a tool like Adobe Photoshop, Buffer's Pablo or Canva.
Create a call-to-action.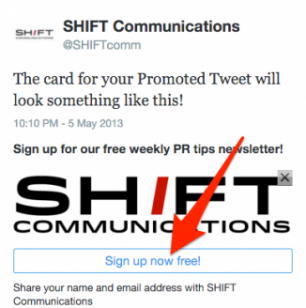 Your call-to-action will vary based on your campaign objective. If we look back at SHIFT's example, you can see the call-to-action within the button, "Sign up now for free."
Keep your call-to-action short and to the point. Twitter helps with that by limiting you to 20 characters.
Link to your privacy policy.
Twitter requires a privacy policy URL within each Lead Generation Card. The URL should link to a page on your site that explains how the user's data is being used.
Include analytics-tagged URLs.
The card details URL should be a page that either provides the user with more information about what you're promoting with the card OR where they can alternatively provide you with their information should the card be viewed on a non-supported platform like a third-party Twitter client.
Twitter also gives you the option to provide a Destination URL, which will redirect the user to your specified landing page after they submit their information.
I highly recommend including a destination URL when setting up your card. It generates more traffic to your website and gives your brand another touchpoint with the user.
For both the card details URL and destination URL, make sure you're using tagging of some sort so you can accurately attribute the traffic within the analytics software of your choice. For example, if you're using Google Analytics, take advantage of the easy-to-use URL builder to help you tag your link. Some new ad systems have a tendency to remove your URL trackers, so another link shortener — like Bitly — helps to maintain at least some of your click data.
Add a post-submit message.
The post-submit message is what the user will see once they submit their information. Twitter gives you 100 characters for this message.
Tweet and publish
Now that you've set up your card, create a tweet and hit publish! Twitter will collect the leads submitted and you can download them via the Twitter Card home page. You can also set up a direct connector between Twitter and your CMS. Once initial setup of the card is complete, you're off to the races! Use your new card within tweets on a regular basis or include it in an advertising campaign.
Twitter Lead Generation Cards are a powerful, free way to build your email list. You take the effort out of signing up; with two clicks or taps on a mobile device, an audience member can subscribe immediately. Why make people work? Give them a great first experience signing up for your email list with Twitter Cards.