Are you looking for the best web design tools to help you with fast and efficient website development? The good news is that there are a ton of options. The bad news is that sorting through them to find the right ones for the job can be time consuming and overwhelming.
To take the pain out of the search, we've collected some of the top web design tools and summarized them below.
The best web design tools improve workflow and increase efficiency. They help you get a fast-loading, good-looking website up in minimal time. Essentially, they make your design life easier!
14 web design tools to improve workflow and increase efficiency
This list includes both free web design tools and products that require payment. Free is great, but sometimes it's worth a few bucks to get exactly what you need.
Adobe XD.
InVision.
Sketch.
Adobe Color.
Canva.
Squoosh.
Beewits.
Bidsketch.
Foundation for Emails.
Litmus.
Bootstrap.
Foundation.
Genesis.
Gantry.
Editor's note: All costs included below were current as of the time of writing, but are subject to change.
Web design and prototyping tools
Creating an initial design and presenting it to your client are cornerstone tasks in web design.
It's crucial to make this stuff look so good that your client can't help but be impressed.
The following tools are ideal for creating great website designs, from starter wireframes through advanced prototyping.
Adobe XD offers design and prototyping in one package.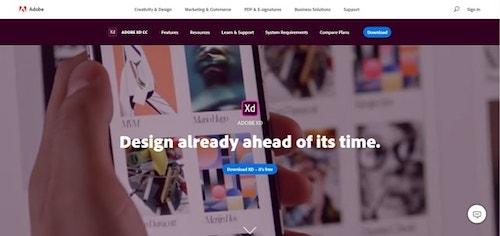 Design, prototype and share your UI/UX designs with this robust tool from Adobe. XD is short for Experience Design, and this tool is primarily used for UI/UX design along with prototyping. Unlike Photoshop, which is intended for graphic design of all sorts, Adobe XD is among the web design tools optimized for page and app design.
It's loaded with convenient features, such as making it simple to quickly repeat common elements across artboards with a few clicks and drags.
Prototyping is built-in, making it easy for you and your clients to see what the design will look like in action.
Adobe XD has the advantage of simpler ease of use compared to Photoshop. Photoshop users will find the transition easy, as a lot of the shortcuts used in both apps are the same. For newbies, there are plenty of learning materials available to get you up to speed fast.
Adobe XD is supported by an active community that provides free UI kits, icon sets, plugins, and more to help you automate common tasks. It also does something that no other prototyping software does: using voice triggers and speech playback in prototyping.
Adobe currently offers a starter version of Adobe XD for free.
This version limits you to one shared prototype and a limited font set compared to the subscription versions but otherwise provides all the tools and features you'll need to design and prototype a killer site. If you're a Creative Cloud subscriber, you'll find this included with your other apps at no extra charge.
Related: What is a website wireframe in web design?
InVision is a prototyping go-to.

One of the favorite web design tools for UXers, InVision is a cloud-based app that's all about prototyping your designs.
Forget sending your client a bunch of screenshots or PDFs — with this app, you can send an interactive mockup instead. Screens uploaded into InVision will be presented and behave like actual web pages. Discuss the mockups inside the app using comments and notes linked to particular points of the mockup.
The app also features mobile prototyping, with gestures like swipe left and double-tapping.
Additional features include the ability to keep multiple versions so you can have a record of iterations of your design and track version history.
Finally, InVision includes a Live Share feature. With Live Share, you can collaborate in real time using a browser-based screen share. InVision offers a free version which allows one prototype. If you need more, subscription plans are available starting at $15/month.
Related: Website mockup tools
Sketch is an industry-leading design tool for Mac only.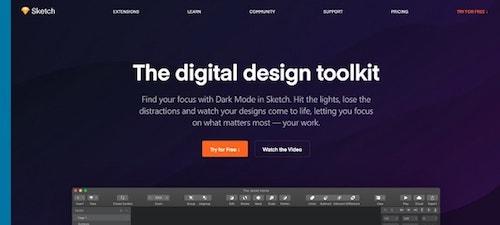 If you work on a Mac, Sketch may quickly become your go-to for web design tools. This vector-based UI design tool has replaced Photoshop in the toolboxes of many designers and is a market leader in this category. Users report it's simpler to use and creates smaller files.
Some of the big pluses include a clean UI built specifically for mobile and web design workflows, a built-in grid system, and "art boards" that let you easily work on multiple views at the same time.
Because it's vector based, you can rescale assets without quality loss.
With "Mirror" you can connect your iPhone to Sketch and live check changes for how they'll appear on mobile.
Sketch is also supported by a community that has created hundreds of plugins to handle common tasks. While it does allow some prototyping via its Sketch Cloud service, that is still very basic and limited compared to some other applications.
The app is sold via annual subscription, but you can test-drive before you buy with the seven-day free trial.
Image and color manipulation
Ooh la la, look at those colors!
That's what you want your client to say when you're handing over designs and artwork — and it should factor into your choice of web design tools.
You can't let those awesome graphics bog down site speed, so there's a delicate balancing act required. If you're not a natural at color selection, you can still make the magic happen, thanks to these awesome tools.
Downsizing your work without losing quality is also just a few clicks away.
Adobe Color makes it easier to find your perfect palette.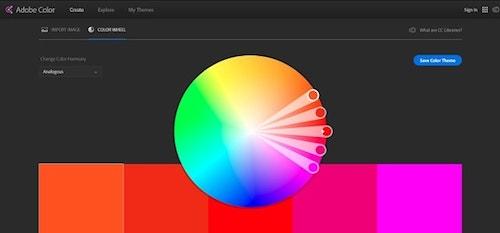 Are you building a site but shaky on choosing coordinating colors? Worry no more — if you have an image or logo to work from, upload it to Adobe Color and the program will generate a color scheme keyed off the image's colors.
You can change the color "mood," to suit your needs. Options include Bright, Colorful, Muted, Deep, Dark, and Custom.
With this most colorful of web design tools, you can also build a color scheme from scratch or select one from the library of examples. You can only save the color schemes as ASE files, which can be opened by Adobe products, but even if you're not on that bandwagon, this tool will help you find colors that work perfectly together.
The RGB and Hex codes for each color swatch are displayed on the screen so you can easily use them in any application.
Canva is a go-to web design tool for drag-and-drop graphic design.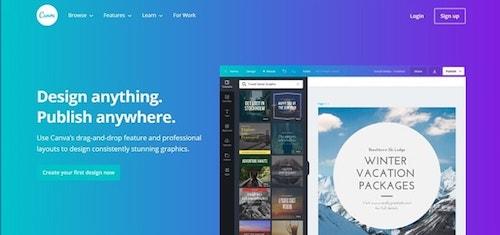 If you need to design an eye-popping infographic or an HTML email header that won't get ignored, Canva stands out from other web design tools.
This online service offers millions of images (or upload your own), photo filters, free icons and shapes, and hundreds of fonts. Templates are available for a huge variety of projects.
You don't have to be a design pro to use it, either. The simple drag-and-drop interface was designed with ease of use in mind.
A basic Canva account is free (forever), and gives you access to over 8,000 templates. Photos are available for $1 each. If you want more, including free photos and illustrations, you'll need to upgrade to Canva for Work, which costs $9.95 per user monthly.
Related: How to use Canva to create branded images in less than an hour
Squoosh is an awesome tool to downsize image files.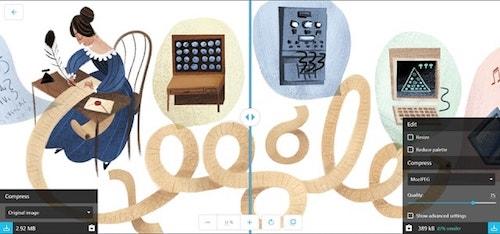 This is one of Google's free web design tools and it lets you compress and resize images or reduce the palette size. The easy drag-and-drop interface allows you to upload and download with ease.
Play with the Quality slider to see what your image will look like with different compression levels and find the ideal balance between picture quality and file size.
You can also select a different image format than the original, including PNG, JPEG, PNG and others. Squoosh is an open-source app, and the code behind it is available on GitHub if you're interested in just how this magic is accomplished.
Client communication
Creating a web design proposal? Beewits can help.

Writing a proposal is necessary but often tedious. Cut out much of the tedious part with this handy free tool from Beewits. Simply fill in the blanks in the proposal questionnaire and hit the generate button and voila — instant, professional proposal ready to send to your client.
Download the proposal as a Microsoft Word file that you can further tweak to your heart's content. You don't even have to sign up, surrender your email address, or create an account to use this nifty service.
Did we mention this is one of the web design tools you get for free?
Related: How to write a web design proposal
Online proposals are here.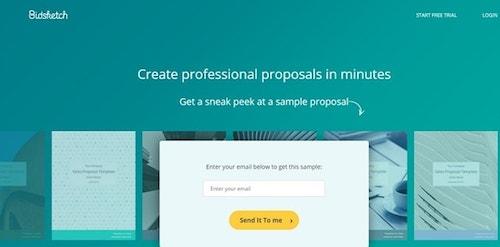 This one isn't one of our free web design tools, but it has a lot of features going for it. Rather than creating a proposal for you to mail via Word document or PDF, Bidsketch hosts the proposal online, where both you and your client can interact with it. You'll automatically receive a notification when your client views the proposal or makes a comment.
This app has many time-saving features.
Add reusable content, such as images and fees, that you can apply to different proposals. Easily upsell by marking certain fees/activities as optional on your proposal.
Clients can accept the add-ons when viewing the proposal. You can also set special messages that get shown after the client approves the proposal, such as providing instructions on what to do next.
Since Bidsketch proposals are hosted online, you can opt to set up your own subdomain to keep visitors on your domain and maintain your branding throughout.
You can try it out for 14 days but after that you'll need to pay. Plans start a $23/month for one user and go up from there.
Getting clients to deliver content
Gathering content from clients for pages on that new website might seem to be an easy task, after all they've laid out the dough for a shiny new website and the iron is hot. However, clients being clients (busy on other pressing needs) this part can easily drag behind.
Check out "6 tools for gathering content from website design clients" for helpful tools and tips to keep the content feed on track.
Designing HTML Emails
HTML emails can be sharp, interactive and powerful selling tools. They can also be a major challenge to get working across the many client email platforms out there.
These web design tools help simplify the process and ensure your email campaigns look right every time.
This might be the foundational emailing tool you're looking for.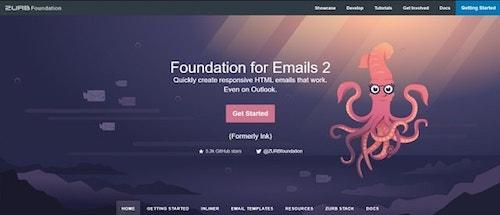 Take the pain out of creating HTML emails that work with all clients, including Outlook.
Zurb, a product design company, created this tool to streamline the process of building HTML emails. It provides powerful, tested components including a fully responsive grid, buttons, menus, callouts and more.
It even handles the tiresome process of inlining (putting CSS into your HTML file instead of a separate one) for you.
This isn't one of the cloud web design tools you use strictly online. Instead you download the components (choose CSS or SASS version) and work with the files locally. The process can feel complex to newbies, but Zurb provides step-by-step how-to's to get you on track and keep you there.
You can also make use of Zurb's templating language Inky to use simple template tags in place of complex HTML.
Related: 10 email automation tools
Avoid email surprises with Litmus.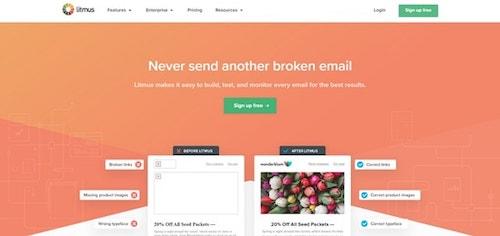 This is one of our web design tools that isn't free, but if it's crucial that your email looks right across a wide variety of email clients, it can be a worthwhile investment. The Email Previews feature provides screenshots of your emails across 90+ apps and devices so you can quickly check compatibility.
This isn't just a simulation, the Litmus system actually sends your email to real email clients set up on physical machines, then takes screenshots of the results. You'll know for certain how your email will look on virtually any client.
Frameworks
Frameworks are exactly what the name suggests: foundations to build upon. Previously time-consuming tasks can be accomplished with a few clicks or simple lines of code. The goal is less programming and more design time for the site builder. Here are a few of the best:

When turning your design into code, getting the right stuff in exactly the right place (down to the pixel) is key.
The responsive grid system behind Bootstrap makes it one of those web design tools that really stands out, making it easy to develop sites and apps that look great on any device.
Thanks to the grid, you can change the width and layout depending on screen size or other characteristics.
The framework includes lots of free elements to make your design life easier, including typography, buttons, icons, navigation components, forms, all built in HTML, CSS and JavaScript and easily customizable.
Originally developed by Twitter, this framework is free, open-source, and quite popular due to its ease of use.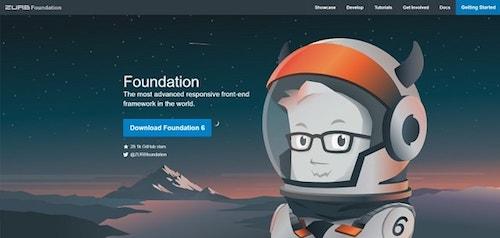 This framework created by Zurb offers similar functionality to Bootstrap but in a different package.
With Foundation, you get a collection of code, templates and styling to help you fast-track website development. If you want to preview what's inside, check out this page that shows all Foundation components.
Like other front-end frameworks, this one provides easy-to-use classes, grid creation, typography, and cross-browser responsiveness.
While Foundation is currently slightly less popular than Bootstrap, it's the the top pick for web design tools for some major brands including Pixar, Adobe and North Face.
Like Bootstrap, Foundation is free.
WordPress frameworks
Although Bootstrap and Foundation can be used to build WordPress sites, some designers prefer to call on WordPress-specific frameworks — no surprise, since WordPress runs more than 33% of the internet.
A WordPress framework provides the functionality of a theme combined with the flexibility to design the site's appearance in any way desired.
The framework contains core code that enables specific functionality and design elements. If you're only putting up a splash page or basic blog, employing a framework is overkill and a WordPress theme will likely serve you better.
If you're designing a complex website, a framework might be just the ticket toward a speedy launch. Popular web design tools for WordPress frameworks include: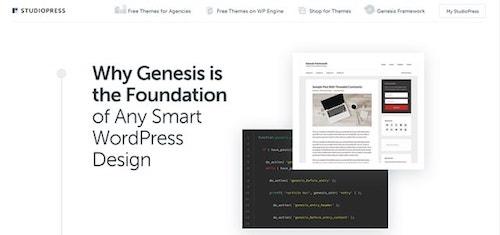 Genesis is put out by Studio Press. It is intended to serve as the foundation of your website.
You use a child theme to add customization and styling.
Genesis is not free — you have to purchase the framework and developers often also obtain a child theme to go with it. But of course you could make your own. There are plenty of official and unofficial child themes to choose from.
The Genesis framework is built with SEO in mind and page-load speed are also a top priority.
Adjusting site layout or color scheme can be accomplished through drop-down options.
You can choose among six different page layouts via clicking on a radio button. The framework costs $59.95. If you design lots of sites, you'll want to consider the Pro Plus Membership at $499.95, which gives you access to all child themes and tutorials as well.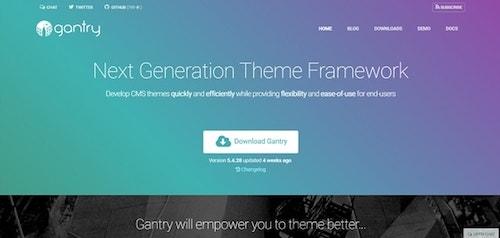 If you're looking for a free and open-source web design tools, check out Gantry. Offered by the popular theme shop RocketTheme, Gantry features drag-and-drop functionality, a layout manager and a menu editor — among other features.
The goal is to let you focus on design rather than programming, although there is still a learning curve.
Gantry uses a responsive design based on Bootstrap, so you can rely on effective resizing and formatting for all sizes and shapes of screens.
The framework is free, but if you need tech support, you'll need to sign up for $99/year.
Remember, when you use a WordPress framework, be sure to employ a child theme. Frameworks roll out regular updates and if you're not using a child theme, you'll either have to skip updates or risk all of your hard work being overwritten.
More web design tools
Team management can be another struggle when developing websites. Be sure to check the list in "7 team management tools for website development" to find the best one for your needs.
If you're a WordPress shop, take a look at "90 essential tools for WordPress web designers and developers." You won't need 90, but there are sure to be some gems you didn't know about.
Having trouble staying organized and on track throughout the design and development cycle? Check out these "8 great productivity tools for web designers and developers" and you may discover a tool that will notch things up a level.
The above tools are among the favorites used every day by professional web designers and developers. To save even more time with free tools and resources for web designers and developers, join GoDaddy Pro for free.