As a small business owner with a growing venture, you've got plenty of tasks to manage. You're likely your own salesperson, administrative assistant, marketing manager and more. With an overflowing plate, it's easy to miss smaller tasks — like renewing your business domain. So when does a domain expire? What happens when a domain name expires? What do you do if you still want it?
Fortunately, not all is lost. There are ways to recover an expired domain name, which means you don't have to say goodbye to a perfect domain name you likely spent hours — if not days — solidifying.
When does a domain expire?
So if you're wondering, "When does a domain expire?" the answer is always different. Domain expiration is totally dependent on when you first registered the domain and the term length you set. For example, if I registered CoolDomain.com on Oct. 24, 2013, and purchased a domain registration length of five years, then the domain would expire on Oct. 24, 2018.
When a domain expires, you have one of two options:
Renew the domain name (for a maximum term length of 10 years).
Allow the domain name to expire (it will likely be automatically removed from your account).
If you're doing business online and are not in the midst of a rebranding, then holding onto your domain name is a high priority. The last thing you want to do is lose your business name to someone else after a missed renewal.
What happens when a domain name expires at GoDaddy?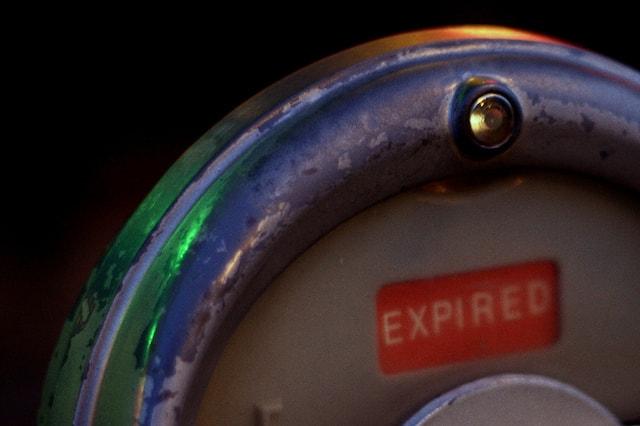 Let's say you let your domain expire, only to realize that you still need or want it for your online business. In order to get it back, you'll need to know what happens when a domain name expires.
Because this process varies from registrar to registrar (and even for different domain extensions), you'll need to check with your provider to be safe. For the sake of this article, we'll look at the GoDaddy process for what happens when a domain name expires.
Note: The below process is outlined for a .com domain. Other extensions, such as certain ccTLDs or gTLDs, might have different timelines. Consult your customer care representative for more information.
1. Auto-renewal attempts occur
For the first 25 days, a series of auto-renewal attempts occur. If auto-renew is on but a valid credit card is not on file, the domain name will not be able to successfully renew. If auto-renew is off, the domain name will simply expire without any attempts to charge the payment method on file.
2. The domain goes to auction
On day 26, if the domain name has been unsuccessful in its renewal attempts, it will go to auction where other interested parties have the opportunity to bid on it. At this point in the process, the registrant only has until day 30 to redeem the expired domain.
On day 30, GoDaddy will make our best effort to find a new owner for the domain name.
If a new owner is found, the domain in question will be sent to a GoDaddy holding account where the original owner is no longer able to redeem their expired domain name. Most expired domain names go to the auction house for a 10-day expired auction period.
At this point, one of two things will happen:
1. The domain is awarded
The auction period will close on day 36, and if a winning bid is deemed, the domain will go into a seven-day wait period for the process to finalize before being awarded to the new owner.
2. No bids are made
If no bids are made and a backorder was placed on the domain in question, it is awarded to the person who purchased the backorder. If no backorder was purchased, the domain moves to a five-day closeout auction period. During this window, the domain decreases in price each day or until their is a sale or the time runs out.
If no one bids on the domain during the closeout period, the domain name is sent back to the registry. Rather than wait for the domain to be re-released to the public for general registration at a later date, the original owner can attempt to reclaim the domain within 30 days by calling customer support.
Note: At any point during the expiration process up to day 30, the original owner can still re-secure their domain name by calling our 24/7 customer care line and going through the redemption process. The easiest way to determine if your domain is redeemable is simply to call.
What if I still want the domain?
As you might have guessed from the process outlined above, there are a few options for reclaiming an expired domain name.
First and foremost, you should call customer service to double-check where your domain is at in the expiration process.
At that point, you can either renew the domain name (if you caught it early enough), redeem the domain name (which we highly recommend if your business is already branded around the domain), take your chances with the auction house, or purchase a backorder. Without a doubt, the safest route is to either renew your domain name immediately or pay to have it redeemed.
Preventing future snafus
We get it. Being a small business owner or entrepreneur means juggling 30 different tasks at once. Sometimes, the little things slip through the cracks. Wouldn't it be nice if there was a safety net in place to save you from unnecessary hassle and heartache? There is.
At GoDaddy, you can sign up for Business Protection to ensure your domain names don't fall out of your account due to accidental failed renewals.
With this added layer of protection, you can stop asking yourself, "When does a domain expire?" because we've got you covered. You can rest easy knowing that your domain won't be lost due to something as minor as an expired credit card on file.
So know that you know what happens when a domain name expires, you can plan for the future. Keep up-to-date records, make a note in your calendar, secure Business Protection for your domains — whatever you need to do to ensure your online identity is safe.
Note: Business Protection is only available for certain domains. To be sure your domain qualifies, get in contact with customer support or visit the Business Protection product page.