If you've ever spent time on LinkedIn, the name Andrew Gazdecki might be familiar to you. His almost daily stream of viral posts in the startup community has put a spotlight on him and his brand, Acquire.com.
Launched as MicroAcquire in 2020, the company provides a platform for startup owners to sell their businesses or projects. After rebranding as Acquire.com, the platform bills itself as the world's number one startup acquisition marketplace, with a pool of over 200,000 buyers and 764 deals closed between January and October 2023.
In early 2023, MicroAcquire dropped the "Micro" to become Acquire.com, branding around the ultra-premium domain name it secured in 2022 with the help of GoDaddy's Domain Brokerage Service.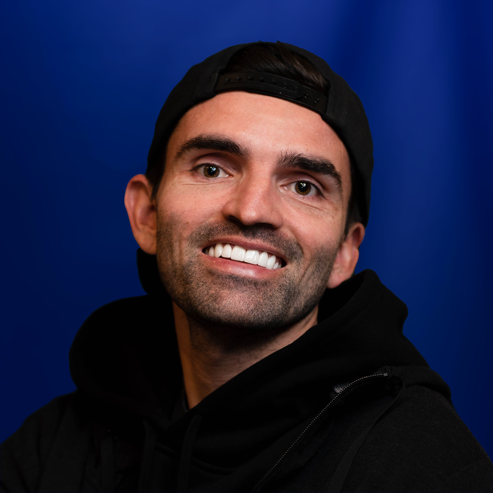 A year after Gazdecki and his team secured the Acquire.com domain, we chatted with him to see how his rebrand has benefited the business.
Launching as MicroAcquire
Founded in 2020, MicroAcquire initially focused on facilitating the sale of small startups. It wasn't long before the platform was being asked to help close bigger deals, which is where Gazdecki found a limitation with the original brand name, MicroAcquire.
"Because of the name, most people assumed we wouldn't take those bigger deals," said Gazdecki. The brand name was limiting the company's growth, as they looked to expand beyond those smaller deals.
Dropping the "Micro" was the path that Gazdecki and his team took, with the plan to simply be known as Acquire.com.
"It saved me half a million dollars"
Securing the Acquire.com domain name was no easy feat. It was a domain name that was privately owned, undeveloped, and something that Gazdecki had been trying to purchase for some time with no success.
In 2022, Gazdecki asked GoDaddy's Domain Brokerage Service to work with him to secure Acquire.com. A dedicated broker was assigned to work on facilitating the acquisition of Acquire.com for Gazdecki and his team.
Relying on an experienced broker not only saved Gazdecki from negotiating directly with the domain's owner but also ensured he had a knowledgeable guide in his corner for navigating the path to success.
Was using a GoDaddy broker worth it?
"Absolutely. It saved me close to half a million dollars compared to the original asking price," said Gazdecki.
Single-word .com domain names like Acquire.com are valuable assets in the aftermarket. Their exclusiveness and generic nature make them highly desirable, and they can often trade for six to seven-figure fees.
The benefit of building on a premium domain like Acquire.com versus a longer, descriptive domain? A good premium domain name can be the foundational component of your digital identity, with the capacity to handle a scaling business.
While Acquire.com raised $11.3 million in funding throughout 2021 and 2022, a saving of almost $500,000 on the asking price of a domain name is significant for a young, growing company. The deal for Acquire.com closed in November 2022, and Gazdecki already had a plan to rebrand.
Building on Acquire.com
On January 5, 2023, Gazdecki published a blog post announcing MicroAcquire was to become Acquire.com. In the post, Gazdecki said "The 'Micro' just doesn't apply anymore, and as a result, we're rebranding to Acquire.com."
In short, the company had outgrown its original name, and instead turned to a generic, single-word .com capable of handling the pace of the company's growth. Why did Gazdecki rebrand to Acquire.com, including the .com suffix in the new brand name? "Good question, we talked about this a lot internally and felt leaning into the .com created some differentiation amongst other companies named 'Acquire,'" said Gazdecki. After all, there's only one Acquire.com.
Positive reaction, positive stats
Something that many companies hope for from a premium domain name acquisition is to harness initial buzz, positive reactions, and possible additional traffic to create more leads and business.
For Acquire.com, hope quickly became a reality thanks to customer reaction, social media attention, and the impact that the rebrand has had on continuing to grow the business. While there's a core focus on helping small startup founders sell their businesses, rebranding has allowed Acquire.com to list and close some high-value deals.
"We've seen a lift pretty much all across the company but more importantly [the domain] has helped position our brand more in line with the larger startups we work with."
While Gazdecki couldn't reveal exact data, he confirmed that the rebrand had a direct positive impact on the business, "we've seen conversion rates increase across the board. Buyers registering, sellers registering, and startups being acquired have all increased. All metrics, including conversion rates, overall traffic, and revenue have also grown."
SimilarWeb data supports Gazdecki's statement, with traffic consistently increasing on a monthly basis.
Have there been any bonuses to rebranding that Gazdecki wasn't expecting?
"I'd say the market recognition. A strong brand name that inspires trust from the onset is powerful. Customers want to engage with brands they trust and our rebrand has helped us achieve that."
GoDaddy's Domain Brokerage Service helps customers like Andrew to secure their perfect domain name every single day. If you're looking to acquire a domain name, talk to a GoDaddy broker to become the next success story.
You can follow Acquire.com's journey by visiting Acquire.com, or following the company on X, @Acquiredotcom.