10 ways to sell old inventory in your clothing store
Early in the year everyone seems so gung-ho to talk about their "new year, new me" plans to become a better overall human being. But before we dig into resolutions, the fact of the matter is, we still have to deal with the leftovers from last year. In the world of retail, that gets translated to "new year, new products." If you own a retail business, you know you have to sell old inventory if you want to make room for new offerings in the new year.
10 ways to help sell old inventory
Here are a 10 creative ways to clear out your retail business's clothing products and sell old inventory to make room for that all the brand-new goodness you have in store.
Bring on the sales.

Create bundles.

Offer product incentives.

Host a giveaway.

Team up for a partner or group giveaway.

Attend markets and pop-up shops.

Reach out to influencers.

Collaborate with photographers.

Donate to a hospital or donation center.

Learn to let go.
Ready to get selling? Let's get started!
1. Bring on the sales
The most obvious way to clear out old inventory in your retail business is to have a few sales campaigns lined up before the end of the year.
Here are a few of our favorite ideas.
Flash sale
If you need help selling old retail inventory, flash sales are a quick way to move product. Flash sales are typically very short, ranging from a few hours to 24 to 36 hours. If you have a large online following or if you get ample foot traffic, flash sales can light an imaginary fire under your customers' hineys because of the feeling of FOMO — aka the "fear of missing out" — is all too real. Buyers who have been eyeballing a product will jump on the chance to buy that cable-knit mustard sweater at a discounted price, and others who have perused your items in the past but failed to buy, now have more incentive to do so.
Obscure holiday sale
So, did obscure holidays always exist or did the majority of the general public just not know about them until we had social media? Either way, strange holidays are here to stay, and are proudly celebrated on social media.
Obscure holidays like National Donut Day and Hug Your Dog Day definitely make their rounds during the year, and there's no reason why you can't use bizarre holidays to clear out your retail business's clothing products as well.
If you can correlate a holiday with specific items in your inventory, that is ideal.
Chances are, though, you won't always have clothing products that perfectly align with a random holiday. In that case, use that creative noggin of yours. See how you can incorporate a fun discount code or flash sale for certain items. You could try 13 percent off on Friday the 13th or include a mystery T-shirt with every order over $50 on international T-shirt day (June 21).
Clearance sale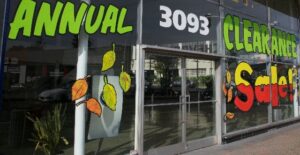 A clearance sale typically cues people that your prices are going to be seriously discounted. If you have a small online shop with only a few items, it'll serve you well to discount all of your products. If you have a bigger retail business and don't want to discount every piece of clothing you sell, you can mark down prices for certain collections or types of clothing.
Words like "clearance," "blowout" and "last chance" are all indicators for consumers to buy it now or forever hold their peace.
So reserve and market a clearance sale near the very end of the year to sell old inventory after you've tried multiple sales techniques.
Related: What every small business should know about creating discounts
2. Create bundles
Maybe it's the cold weather, the cozy sweaters or the idea of being snuggled up by the fire sipping hot chocolate, but the phrase "cuffing season" (known as the period during the transition from autumn to winter where proud single people have the tingle of desire to have a significant someone for the season) can apply to people, and this case, products. Instead of selling single items, to help you clear out old retail inventory, consider creating bundle packages. Group items that would complement each other — for example, a sweater and a beanie or a pajama set with slippers — or offer one item in different colors as a "buy one, get one 50 percent off" offer.
3. Offer product incentives
Sales and discounts are great, but sometimes, getting another product (sometimes in lieu of a percentage off) can be equally as tempting to your consumer. If you have a low-cost item — pins, hair accessories, nail polish or keychains — offer your customers a product incentive. If you are trying to clear out your retail business's inventory of hoodies, make an announcement saying each purchase of a hoodie comes with a free pin or keychain. If you can't afford to do that promo, you can add a purchase order minimum. For example, all orders over $75 will get a free hair accessory with their purchase.
4. Host a giveaway
Giveaways are a great way to draw attention to a product and hopefully get more customers in exchange for giving away a few (or even just one!) products. Giveaways range in duration. You can post a 24-hour giveaway where you announce the giveaway in the morning and choose a winner at midnight, or you can do a giveaway where followers can enter to win for a few days or even a few weeks.
Plan out a few giveaways throughout the month if you can afford to, but make sure to change the incentive or the rules every time.
Typical giveaways include following your brand on social media, tagging friends in the comments, signing up for emails or filling out an entry form on a website. If you can't afford to simply give something away, consider a drawing for the first 10 people who buy a new product you post on Instagram.
Related: How to use Instagram sponsored posts to sell clothes
Editor's note: If you're looking to use social media platforms like Instagram to sell your products, considering trying out GoDaddy Social. Our experts can help craft the perfect post and manage your ads.
5. Team up for a partner or group giveaway
Instead of just doing a giveaway on your own platform, team up with another company or influencer to do a partner or group giveaway to help sell old inventory.
Giveaway chains are common and ask followers to follow every business or influencer involved in the chain before they can officially enter. However, some of these giveaway chains can require you to follow a slew of profiles, which mights deter engagement.
Alternatively, you can do a package giveaway with a business or influencer that complements your brand. For example, as a retail business, you can provide an outfit and then find a shoe company to give away a pair of shoes to accessorize with the outfit. Announce the giveaway on both channels and pick one winner for each business, increasing the chances that someone can win.
6. Attend markets and pop-up shops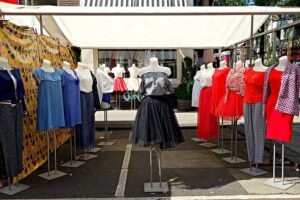 If you're in serious need of clearing out your retail business's clothing products, do your research and see if there are any local markets you can attend as a vendor. If you are new to markets or festivals, use these first-time vendor tips to prepare yourself for the hard work ahead.
If there aren't any local markets near you or if none of them fit your brand, bop around town to find a business or location to collaborate with. Pair up with an Instagram-worthy tea shop and do a weekend pop-up in the store. Bring a few clothing racks to display inventory you need to sell and design it in a way that is easy to access and enticing to customers who originally came for tea.
You never know if you don't ask, so if you see a company, building, café or library where you would like to try and have a quick pop-up shop, just ask.
Be prepared to talk about money in case the building asks for a pop-up shop fee or a percentage of your profits.
7. Reach out to influencers
If you're able to give away a few free items, consider selling old retail inventory by sending products to influencers. With the steady rise of influencer marketing, there are certain Instagram public figures who will require a fee in order for them to wear and post about your product.
If you have the means, then by all means, get some meaningful social media juju by paying for product promotion.
But if you can't afford or simply don't want to pay a fee, ask if they are simply open to receiving product. You can approach a blogger by saying you'd like to send them product and if it suits them, you would love to see them post about the item on their platform. There is no guarantee they will, but at least you floated the idea to them without demanding a post.
Keep in mind that you don't always need to reach out to high-profile Instagram celebs or bloggers. Even if you know someone you knew back in high school who has a decent following and gets great engagement on their posts, it could be worth it to send them a direct message and see if they'd be willing to sport and post about your product.
Related: How to work with brand influencers when you don't have a budget
8. Collaborate with photographers
Tired of the influencer marketing route? Try using the power of photographers. If you need to clear out your retail business's clothing products, another way to move product is to collaborate with a photographer. Highly established photographers might ask for a fee, but budding photographers might be more willing to trade a photoshoot for a small assortment of clothing.
Related: How to take photos that will help you sell your goods
If you have slow-moving product, offer these items along with a few best-sellers in exchange for photos. If you have your photographer pick a few pieces ahead of time, take the time to wrap your items in branded and pristine product packaging.
A simple graphic tee can become 10 times better if the unboxing experience is immaculate.
When it comes to the photoshoot, prepare ahead of time what clothing items you will be photographing and what extra items you need to style your key items with. The photographer should be able to handle the majority of the shoot the day of, however, being prepared with a checklist for a retail photoshoot on your end will keep things moving smoothly and efficiently.
9. Donate to a hospital or donation center
If you really find that you cannot sell your old inventory, find a place to donate it. As a business, you might be eligible for tax deductions depending on how much you donate and what you donate. Research donation centers and talk with them about opportunities.
You can donate to other places besides your typical donation center as well. Get in touch with your local hospitals to see if they can accept new clothing items. Patients and families in the hospital are often more concerned with their health issues than buying new clothes.
By donating clothing or accessories, you could brighten the day of a patient.
When it comes to donating items to a hospital, always call ahead. It might seem like a good idea to drop by on a whim and act as "fashion Santa" and hand out free clothing. But hospitals have strict rules on what they are able to receive. To keep their patients as healthy as possible, all products need to be approved before you can donate them.
Related: 8 ways to give back to your local community as a small business
10. Learn to let go
We'll be honest, selling your items at a heavily discounted rate can feel a little discouraging because you're not making as much money as you could have or your products weren't as popular as you originally thought they would be.
Regardless of the reason behind your stagnant product, bear this in mind: Selling your old inventory at a discounted rate is better than letting the products sit on a shelf or in your storage room at home.
Related: 5 best practices for retail inventory management
Wrapping up
Use these tactics to clear out your retail business's clothing products and use the money earned to create or buy new products during the year. Remember, each season brings a clean slate and a chance to start again, even in the world of fashion.