How to add plugins to WordPress
In this post, we're going to cover the fundamentals of WordPress plugins. We'll review what they are, where you can get them, how to tell the good from the bad, and then we'll wrap up with a how-to guide that will teach you how to add plugins to WordPress websites and blogs.
WordPress is a wonderful choice for a content management system (CMS). After a quick installation of WordPress, you can get straight to publishing content, adding users, and customizing your site's look and feel.
But the true power of WordPress doesn't come from the core software — it comes from all of the additional functionality that you can add via plugins.
What are WordPress plugins?
Plugins extend the capabilities of WordPress. You can think of WordPress plugins as upgrades or add-ons for your website. For example:
A form plugin, like Contact Form 7 or Formidable Pro, will let you create forms in WordPress. You can then use these forms to gather information from site visitors.
An e-commerce plugin, like WooCommerce, will let you add an online store on your WordPress website. You can then add products, inventory information, manage orders, and communicate with customers.
An analytics plugin, like Google Analytics by Yoast or Google Analyticator, will connect your website to Google Analytics. Once activated, you'll be able to see Google Analytics reports without having to leave your WordPress dashboard.
… and that's just a few!
Free vs. premium WordPress plugins
Generally speaking, there are two kinds of WordPress plugins: free and premium.
Let's start with free plugins
The great thing about free plugins is that they're low risk for the cost. (It's hard to argue with $0!) They're an easy way to get started with plugin experimentation — just keep trying plugins until you find one you like.
The trade-off is that, in most cases, there's no guarantee for support with free plugins. If a free plugin breaks your site, or doesn't do what you expect, you'll need to rely on the goodwill of the plugin's author (developer), or the community of other WordPress users, to help you out.
What about premium?
Firstly, don't let the name fool you. The word "premium" can be misleading. In WordPress lingo "premium" is just another name for "paid." And just because you pay for a plugin doesn't mean it will necessarily be of better quality than a free plugin.
Whenever you're considering paying for a plugin, it's a good idea to do some research about the plugin first. We'll cover due diligence shortly, but first…
Where do plugins come from?
Well, let me tell you … There are three major sources of WordPress plugins:
Commercial marketplaces, e.g. CodeCanyon.
Developer websites, e.g. Gravity Forms.
What sets these three sources apart from each other?
The WordPress Plugin Directory is the most popular source. All of the plugins in the directory are free to use. For each plugin, you'll find an overview of its features, reviews from users, and a compatibility rating for different versions of WordPress.
Support for directory plugins is typically handled in the WordPress.org forums. Help comes from a mix of other users and the plugin developer (author).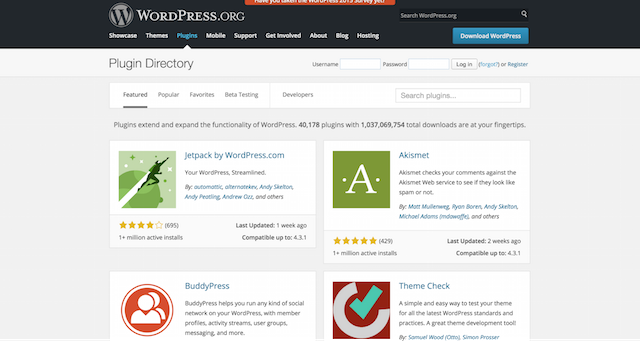 Commercial marketplaces such as CodeCanyon are another popular source for plugins. The marketplaces act as a "middleman" between plugin developers and users.
The quality of marketplace plugins, and the level of support they have will depend on the individual plugin author.
Refunds can be difficult to obtain, so do your due diligence before you make a purchase and add plugins to WordPress.
Developer websites are the third major source of plugins. In this case, you're buying a plugin directly from the developer. Documentation, support, and complementary plugins (e.g. extensions or add-ons) will often be found on the same developer site.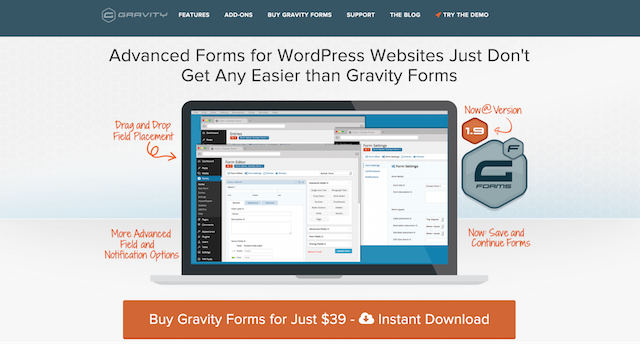 Use due diligence in selecting plugins
How can you evaluate WordPress plugins? Due diligence. Whether you're going through a marketplace or buying directly from a developer's website, it's a good idea to only purchase plugins from developers that you trust.
If you're unsure about a developer, or a specific plugin, look them up. Check for the following:
Good first impressions
What is the developer telling us about their plugin?
Are they mentioning key problems that we're trying to solve?
Have they posted clear screenshots of the plugin in action?
Have they published other well-reviewed plugins?
A usable demo
Can you see the plugin in use on a real website?
If it's a premium (paid) plugin, can you download a restricted free version to see how it works?
Positive feedback
Look at what people are saying about the plugin or developer.
Do they have good reviews?
What about support threads?
Are people running into issues?
Do you know anyone who uses the plugin or other plugins from this developer?
Clear documentation & support policies
Is documentation available?
What's the quality?
Is it written clearly?
On the support side: Has the developer outlined support terms?
Do you know what's covered, and what's not?
If it's a premium (paid) plugin, do they provide a refund policy?
If you can answer "yes" to all of those questions, congrats! You've got a plugin worth testing out. And that takes us to the fun part…
Installing WordPress plugins
There are three ways to install plugins:
Installing a plugin from the WordPress Plugin Directory. This is the easiest method but only works for plugins that are available in the Directory.
Uploading a plugin .zip file. This is the easiest method for installing plugins purchased from a marketplace or developer website.
Manually installing via FTP. This is the most complicated method, requiring some knowledge of FTP. It's typically done when, for whatever reason, you're unable to use the other two methods.
Let's take a look at each method in more detail.
Install plugins straight from the WordPress Plugin Directory
Good news: Your WordPress installation is directly connected to the WordPress Plugin Directory, so you can install plugins without needing to leave WordPress.
Here's how you do it:
In the sidebar, go to Plugins.
At the top of the screen, click Add New.
Enter the name of the plugin you're looking for.
Click on the plugin you'd like to install.
In the pop-up window, review the details. (Ask yourself, "Is this the right plugin?")
Click Install Now.
When the installation completes, click Activate.
That's it! You've installed and activated your plugin.
Add plugins via a .zip file
If you purchased a plugin from a marketplace or a developer website, you've likely been given a .zip file. To install this plugin, you'll need to upload the .zip file into WordPress.
Here's how you do it:
In the sidebar, go to Plugins.
At the top of the screen, click Add New.
At the top of the screen, click Upload Plugin.
On the Upload Plugin screen, you have two options:
— Click Browse. Find and select the plugin .zip file.
— Drag and drop the .zip file onto the Upload Plugin screen. (Note: Only works if your browser supports it!)
Click Install Now.
When the installation completes, click Activate.
Boom! You've uploaded your plugin .zip file to WordPress.
Add plugins via a manual installation via FTP
This is the most technical process used to add plugins to WordPress. And this is because it requires knowledge of using FTP. (If you've never used FTP before, this GoDaddy Help article covers uploading files via FTP in more detail.) You'll be uploading the entire plugin folder directly to your WordPress installation.
Here's how you do it:
Open the plugin .zip file.
Extract the included plugin folder to a location on your computer.
Using FTP, connect to your webserver.
Navigate to the /wp-content/plugins/ directory of your WordPress installation.
Upload the plugin folder from your computer to the /wp-content/plugins/ directory.
In WordPress, go to Plugins in the sidebar.
The just-uploaded plugin should appear in the list. Click Activate beneath its name.
Great! You've just manually installed a WordPress plugin via FTP.
What about plugin updates?
Like WordPress itself, your plugins will receive periodic updates. These updates typically fix bugs in the plugin code, patch security holes, or improve the plugin in some other way.
While WordPress plugin developers try their best to ensure their updates won't break anything, stuff happens. Sometimes an unexpected hiccup during a plugin update can cause bigger problems.
To play it safe, you can create a staging version of your site. Here's the rundown on how to create a staging website with GoDaddy's Managed WordPress service.
You can test your plugin updates on the staging site before running them on your live (production) website. It's a bit of extra work, but the precaution can be well worth it — especially if you're working on a business website and can't afford any downtime!
Learn more about managing and adding plugins
If you want to learn more about installing and managing WordPress plugins, you can also check out Managing Plugins in the WordPress Codex.
Image by: Mark Sebastiann via IM Creator cc