Beddy's: Female entrepreneurs teach the world how to buy and make a bed
Who doesn't like a fun, fashionable and functional bunk bed? Wait. Have you ever tried making a bunk bed? It's darn impossible. Betsy Mikesell went crazy trying to get her twins to make their bunk beds. So she came up with a solution, brought in her good friend as a business partner, and now sells Beddy's products worldwide.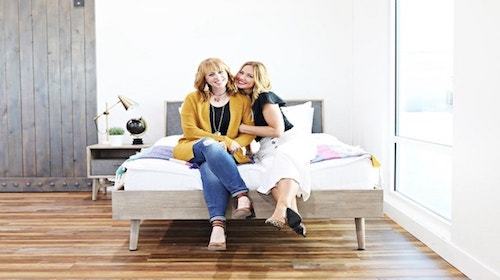 Kids won't touch the task — and that was a problem Betsy Mikesell, CEO of Beddy's, wanted to solve after she had twins. She Googled bunk bed bedding and easy ways to make a bunk bed and found nothing. Fully determined, she bought some material and the biggest zippers she could find, went over to her mom's house, and together they started making a prototype.
Enter Angie White, Betsy's running partner.
Joining forces to found Beddy's
Betsy and Angie had been jogging together for years when one brisk morning Betsy asked Angie if she would be open to starting a business with her because she had a great idea for bedding for bunk beds. Angie agreed and the rest is history.
Beddy's 2018 Inc. 5000 rank is No. 270, with three-year growth at 1,817 percent, and 2017 revenue at $4.8 million.
Q&A with the female entrepreneurs behind Beddy's
I reached out to Angie and Betsy by email to learn more about how they got started, what's been the most significant positive impact on their business, and how they have managed to sell successfully across borders. Here's what transpired.
Can you tell me more about Beddy's and how you got started?
Betsy Mikesell: I had twins with bunk beds and I was going insane trying to get them to make the bed, until I tried doing it and realized it's almost impossible so that's when I decided it needed to be zipper bedding so you didn't have to tuck around the rails!
I made the first prototype with my mom.
After hearing from several people that they would want the bedding, I talked Angie into being my business partner and we refined the design a million times until we made our final design now known as Beddy's!
Angie White: Betsy came up with the idea of Beddy's when she realized it was impossible to make her twins' bunk bed.
She is always thinking of new ideas for things, and this idea caught on when she showed her prototype to friends and family.
I thought it was genius (along with all of her other ideas) but I had given my son's loft bed away because it was so hard to make!
After enough people told Betsy that they would buy something like what she made, she decided to start a business as a hobby and asked me to join her. I had never done anything like Beddy's before and it sounded fun, so I said yes.
What's been the most significant positive impact for Beddy's over the last two years and why?
BM: I think social media has been our biggest impact for Beddy's. It's what helps tell the story of how our bedding works (e.g., YouTube). People don't know zipper bedding even exists so they aren't searching for it. Influencers help with doing video to show the function of Beddy's and help build brand awareness.
AW: I agree with Betsy that social media was definitely the best thing for us. We had no budget in the beginning for advertising and social is a way to tell your story and get the word out.
Related: How to find international customers using social media
How did you start crossing borders with your products (for example, was it intentional or accidental) and how is it working for you? What's been the biggest challenge for Beddy's and how have you overcome it?
BM: Again, social media is worldwide, and our followers come from all over the world and want our products. The hardest part is trying to get sizing that works for all countries and shipping costs down.
Our product is so big that shipping it worldwide is extremely expensive. UPS has come to the Beddy's warehouse to see if they can help with shipping costs and finding an easier way to get our products to more people.
AW: We collaborated with influencers with a global reach, which helped advertise in other countries. One of our best collaborations was an author from Canada who reached out to us and asked to collaborate.
Because shipping is so expensive we were really taking a chance but it paid off, because we saw direct sales from her post for years after the collaboration. The most complicated thing to me about international shipping is the cost of shipping, because our product is bulky, and duties and taxes.
Related: 12 ways to cut costs on international sales
In hindsight, what do you wish you would have done sooner with Beddy's and what do you wish you had never done?
BM: I think both Angie and I can agree that networking is so important. We are both terrible at it, but recently we've met so many people through networking that I think we both wish we would have been brave and started networking sooner.
People are good and want to help.
AW: I agree with Betsy about networking! It's intimidating but we've recently met so many great people who have offered good advice so it's worth it. Another thing I wish I had known was to not be afraid to negotiate. I didn't realize that everything has wiggle room on price.
We've worked with a lot of people and companies and over the years we've learned to never go with the first offer.
It actually drives us crazy that you have to negotiate because it feels like a game, but now that we know how to do it we've been able to get better pricing on almost every aspect of our business.
Related: 6 top-ranking business networking groups on the web and Networking tips for antisocial people
Any advice, insights or tips for aspiring global entrepreneurs?
BM: Social media is a great way to see if you have audiences in other areas. It's a great way to test the market.
AW: My advice is also the answer to No. 4. Negotiate!
For more inspiration, listen to the full story behind Beddy's international expansion effort free of charge.