Looking at taking the plunge into international shipping? We've got your back! At Shippo we've helped shipped millions of packages around the world just this year, and we've compiled a list of the most commonly asked questions to help you get started.
What do I need to prepare for international shipping?
For most international shipments, you'll need two sets of documents: a customs form and a commercial invoice. When shipping, the customs form (which is part of the label) should be attached as normal — to the outside of the box — and three copies of the signed commercial invoice should be placed in a clear pouch on another side of the package.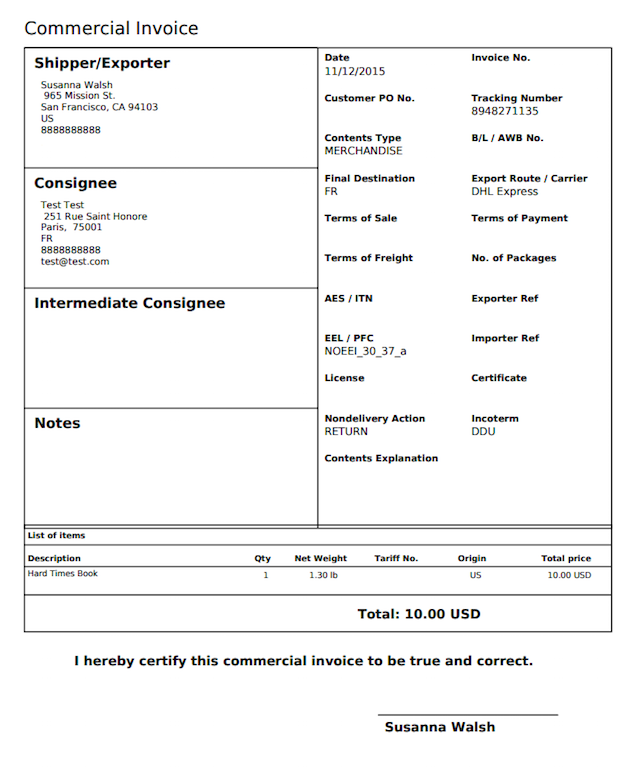 No matter where you are shipping, you'll need to provide the following information:
Contents Type — select amongst: "merchandise," "sample," or "gift". It is illegal to mark an item as "gift" when it's not. Some customers may ask you to do that to avoid import taxes, but you'll be the one liable if it's discovered.
Signing Person — the person responsible for the shipment. This is you, the shipper.
Incoterm — who to bill for customs duties and fees.
DDU (delivery duties unpaid by sender), meaning recipient is responsible for any duty incurred.
DDP (delivery duties paid by sender), meaning you will be covering the costs.
Customs Items — brief description of the item being shipped, along with weight, quantity, value and country of origin. Be specific, but concise. Customs issues might arise if the description is too vague, but there's not a lot of space!
Can I send anything, anywhere?
Customs regulations vary somewhat by country. It's important to educate yourself about the restrictions of the particular countries you're shipping to, to avoid surprises down the road.
The USPS website has a great Shipping Restrictions page with some general no-goes, as well as a more detailed Index of Countries and Localities. Just remember that while USPS is a great resource for information on shipping regulations and restrictions, other carriers may differ slightly in terms of limitations on package weight, size, etc.
How long will it take a shipment to arrive? Can I track it?
While international transit times are longer than domestic, you can still get an amazingly quick delivery if you know where to look (or are willing to pay for it).
USPS First Class International
USPS First Class International is the cheapest option. Tracking for First Class is spotty at best, and delivery is slow. Keep in mind that USPS is a domestic carrier, and tracking stops once the shipment leave the United States. Often, estimated transit times can be several weeks, so it can sometimes be hard to tell if a shipment is lost or just late. However they are a great option to get started with if you're looking to minimize cost.
USPS Priority Mail International
USPS Priority Mail International is a faster alternative, but it's still not great for tracking. Priority Mail transit times are much faster than First Class, usually five to 10 days. However tracking is still inconsistent as USPS relies on the carrier that takes over for them outside the United States (usually the local carrier for that country) for tracking scans.
DHL Express, FedEx, UPS
These three brands are reliable and fast, but much pricier. They're dedicated international carriers with an established presence all over the world. They offer more detailed and reliable tracking, and transit times are generally shorter.
Note: If you're a GoDaddy merchant you can connect your store with Shippo to get great discounts on DHL Express rates. It can often bring costs down to lower than USPS Priority Mail rates, so they're usually our recommended carrier for international shipments.
I'm ready to ship! How much is it going to cost? How do I factor in all the extra fees?
It's tough to give an "average" price for international shipping since there are so many options and factors to consider.
If you're shipping less than four pounds and are willing to sacrifice tracking and delivery speed, you can usually stay under $10 with USPS First Class International. For other smaller, lighter packages, you can expect to start at around $20 for DHL and USPS Priority Mail. But shipping can get up to $100 or more for heavier packages going to remote countries.
The most unpredictable part of international shipping costs are the customs duties and fees. These can change month to month, vary by time of year, or differ based on the customs officer handling your package. However, you can use an online calculator like Duty Calculator for an estimate. It's also important to think about whether you want your customers to pay these fees — which is standard — or if you want to absorb them yourself.
Hopefully you feel a bit more prepared now to dip your toes in international waters. If you have any questions, shoot us a message on Twitter — we're happy to help!