8 best business plan templates (and what to include in your own)
This post was originally published on Feb. 6, 2018, and was updated on July 22, 2019. 
Writing a business plan isn't the most glamorous part of starting a new business, but it's extremely important. To help you save time and eliminate stress, you can access some of the best business plan templates online. Some are available to use at no cost, while others require a nominal subscription fee.
Whether you are pitching investors for a funding round, applying for a traditional small business loan, or self-funding, you need a rock-solid business plan to lay out your vision and map out the steps required to create a successful business.
A business plan also acts as a guide, which you constantly turn to during the early growth stages as well as day-to-day operations.
Related: Big collection of resources for starting a business 
8 best business plan templates
Many entrepreneurs don't know where to start when it comes to creating a business plan, which is why a template is a great option. They offer structure and guidance, while remaining 100-percent customizable. With the help of some small business owners, I have put together a list of the best business plan templates available to download.
U.S. Small Business Administration business plan (free).
Slideshop Business Pitch template (subscription).
Slideshop Visionary Pitch template (subscription).
Rocket Lawyer state-specific templates (free).
SCORE startup business plan template (free).
Microsoft business plan templates (free).
Slideshop Business Strategy presentation template (subscription).
LawDepot free business plan depot (free).
So if you're ready to get serious about your business and learn about what to include in a business plan, then keep reading.
Related: Using a Lean Canvas to create a business plan
1. U.S. Small Business Administration business plan builder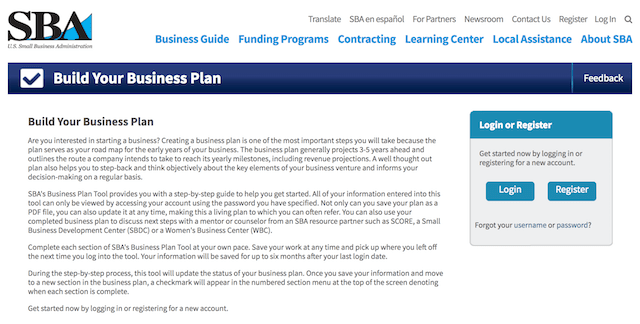 The U.S. Small Business Administration (SBA) has one of the best business plan templates available, and it is very thorough — which you would expect from one of the most trusted and respected small business resources.
"The thing I like best about this free business plan template is the fact that it lets you go back in and edit as needed, so you don't have to have all of the information in front of you the first time you set out to tackle the task. Creating a well thought-out business plan requires research and planning, so the edit option comes in very handy. The end result is a very professional looking business plan." ~ John Fitch, Founder, The Fitch Law Firm
You don't want to rush your business plan — take time to perform proper research, and then go back to edit and complete each section when you are ready. You can access the SBA business plan template here.
2. Slideshop Business Pitch template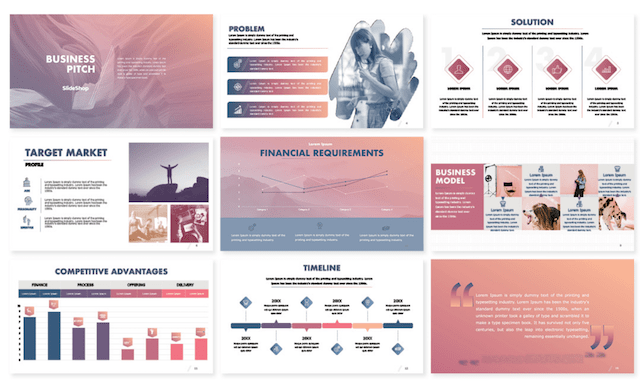 "Send me your pitch." Ahhh … four magic words entrepreneurs everywhere long to hear.
This beautifully designed Business Pitch template, vetted by savvy investors who've said YES and NO to thousands of pitch offers, will increase your chances of investors asking to see your pitch.
Telling the story of your opportunity from problem / solution to testimonials and financial requirements, the business pitch presentation has 19 easy-to-edit slides, along with pro designer tips for working with the financial tables and other graphics.
Get prospective investors, board members, business partners and clients excited, engaged and invested by honing in on the problem right away and then following up with your unique solution, and the story of your unique differentiation and position in the market.
The Business Pitch deck includes slides that allow you to quickly and visually:
Outline the problem and your proposed solution
Share facts and figures about your target market
Describe your product
Outline your business model
Illustrate the competitive landscape and your place in it
Propose a timeline and product roadmap
Introduce your team
Detail financial requirements
Use the deck as a standalone pitch by sending as a pdf, or as a support tool as you share your opportunity live, in the office or on the road.
3. Slideshop Visionary Pitch template
The dynamic Visionary Pitch deck is designed to communicate big business ideas — the whys and hows of a new business model.
You'll find slides for:
Mission statement/vision
Market overview
Hero quotes
Trends focus and important stat callouts
Growth chart
Target audience versus current audience
Competitive analysis
Version comparison
General notes and takeaways
Upcoming priorities
Team overview
Thank you/contact info
This 21-slide template helps you define and present your market, your competition, and the future roadmap. The deck visually supports the pitch story you've worked so hard to craft.
Related: How to write a mission statement you'll be proud to share
4. Rocket Lawyer state-specific templates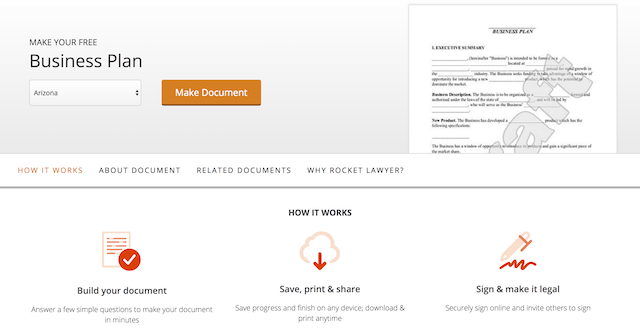 Do you know what to include in a business plan, especially when it comes to your specific state? If not, don't worry. Rocket Lawyer has created a standout the best business plan templates, which walks you through the entire process of building a business plan that meets the financing requirements in the state where you are seeking funding.
"Many new business owners aren't aware of the lending requirements as they pertain to the state in which they will be based out of. The online tool from Rocket Lawyer is very helpful, especially for those that need a business plan specifically for securing funding." ~ Xavier Morales, Founder, Secure Your Trademark
If you plan on approaching lenders to fund your business, there is nothing worse than going in unprepared.
By presenting a potential lender with a business plan that meets your state requirements, you show that you have done your research — and this shows the financial institution that you are serious. You can select your state and start building your business plan using Rocket Lawyer's template here.
Related: Collection of resources for funding a business
5. SCORE startup business plan template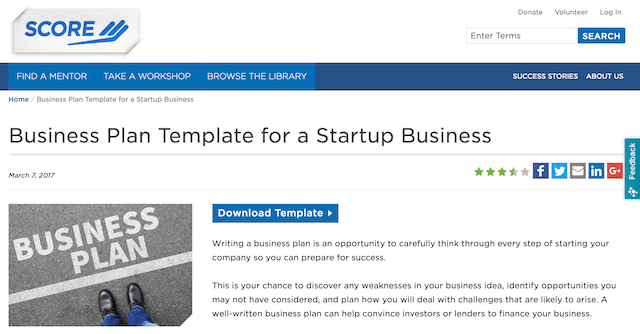 As one of the leading nonprofit organization devoted to helping business owners succeed, SCORE has created one of the best business plan templates because it is in-depth and customizable. It's available in PDF or Microsoft Word format here.
"There are a lot of free business plan templates available online, but very few are as well structured as the offering from SCORE. There are 150 questions to answer, all designed to help you create the best business plan for your specific situation. I highly recommend this template, especially if it's your first time writing a business plan." ~ Stefan Gleason, President, Money Metals Exchange
SCORE also provides a resource they refer to as Refining the Plan, which is designed to assist first-timers writing an effective business plan.
6. Microsoft business plan templates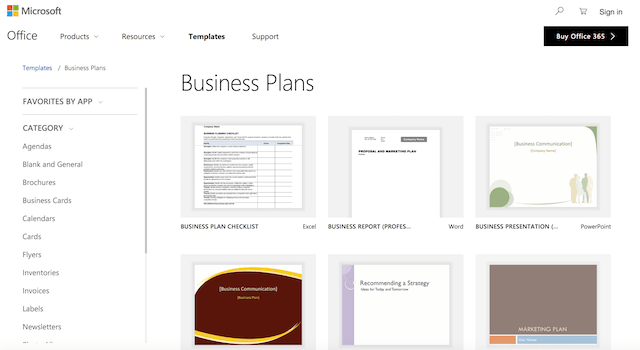 Most of the best business plan templates available online create a very plain business plan in Word or PDF format. While they have all the important information, they tend to be lacking visually. Microsoft has a library of pre-created business plans in PowerPoint format that you can access here.
"You don't have to go overboard with an over-the-top design, but it's very important to at the very least incorporate your company's branding into your business plan. This little extra effort can go a long way, giving you a much more professional presentatioN." ~ Michael Washburn, President, High Purity Northwest Inc
Starting with a blank PowerPoint slide can be very difficult, especially for those who don't have a design background. (Here's a great roundup of tips for creating presentations with PowerPoint.) The business plan templates offered by Microsoft allow you to begin with eye-appealing layouts that can be customized to match your brand.
Editor's note: Get PowerPoint and other proven Microsoft Office products with Microsoft Office 365 from GoDaddy. Plans are simple to set up and include GoDaddy's award-winning 24/7 support.
7. Slideshop Business Strategy presentation deck
This Business Strategy presentation template could be a cornerstone for all business leaders. This deck will help you clearly present on the following:
Project timelines
Data visualization
Project checklists
Business models
Strategies
Payments
Security
Revenue
This presentation template also includes Designer Pro Tips that will help you add a new photo to the background and customize chart data for better visualization. You'll also get two slides with supplemental charts.
Related: Dream It — 33 tips to move you from idea to action
8. LawDepot free business plan builder
As Andrew Hedreen of Strasser Woodenworks explains:
"A lot of business plan templates aren't thorough enough to satisfy the questions investors and lenders will have. LawDepot offers a template that dives into marketing, SWOT (the internal strengths and weaknesses of your organizational structure), product/service research and competitive analysis. These are all necessary components that not all free templates cover."
The user experience sets the LawDepot business plan template apart from the best business plan templates, with simple input fields and a nice preview option that lets you watch the progress.
There are also several industries to select from as a base, giving you a template that is specifically tailored to your needs.
In order to download the business plan created, you will have to sign up for a trial subscription, but that can be cancelled if you don't plan on using the service.
The best business plan templates show you what to include
Creating a plan from scratch can be overwhelming, especially if you aren't 100-percent sure what to include in a business plan. Fortunately, the best templates make it easy by giving you structure and guidance, indicating what information should go where.
But just for quick reference, your business plan should include:
Your business concept. Tell everyone what you're about, why you're in business and how you're going to succeed.
Your products or service. This is your chance to outline what makes your company special. How will you differ from the competition? What pain points do your products/services solve for?
Your overarching strategy. It's great to identify what you want to do, but it's vital to note how you're going to accomplish it. What key personnel will be involved? What's your go-to market strategy? Who are you going to target? What actionable goals do you have in mind?
Financial information. Every business needs funding. Don't forget to incorporate the all-important dollar amounts.
Avoid unnecessary stress, and check out the best business plan templates provided above. One of them is sure to satisfy your needs and help you create an effective business plan.
The GoDaddy product information in this article is outdated and currently under review for accuracy. For the latest up-to-date product information please visit godaddy.com