Black Friday & Cyber Monday ecommerce strategy for the new year
This content is outdated and currently under review for accuracy. For the latest up-to-date product information please visit godaddy.com
See what else GoDaddy Pro is doing to help web professionals prepare clients for the holidays.
Black Friday and Cyber Monday represent one of the biggest shopping events of the year. In 2020, shoppers spent $14.13 billion on Black Friday deals and that number is expected to grow by as much as 17% this year. Planning a Black Friday and Cyber Monday ecommerce strategy is the best way to set your business up for success.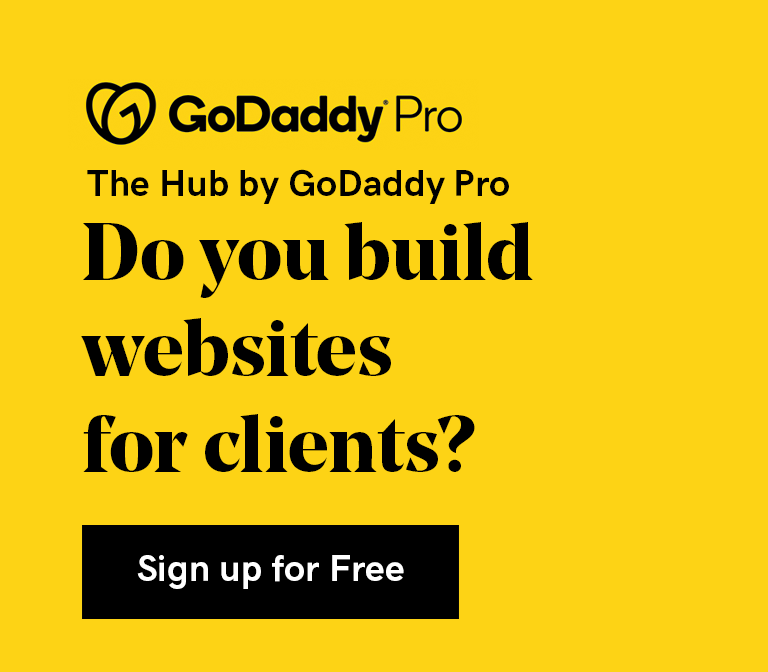 10 Black Friday & Cyber Monday ecommerce strategy tips for the new year
Although dedicated shoppers know to expect great deals on Black Friday, you'll still want to advertise those deals to get the most traction possible and help your clients secure larger sales volumes for the holiday. Creating a marketing strategy can be difficult, especially if you are managing a large website or multiple websites. Here are a few tips to help:
Start planning early
Choose what deals you want to promote
Make it personal
Generate interest early with social media and email campaigns
Use pop-ups
Leverage remarketing to reduce cart abandonment
Encourage shoppers to take action now
Create a gift guide
Upsell and cross-sell when possible
Prepare your site for desktop and mobile
1. Start planning early
Many businesses end up waiting to start their Black Friday and Cyber Monday preparations until it's too late. Online stores should start preparing as early as September and no later than early October. This gives them a chance to identify which products will go on sale, what prices to list those products at and figure out what types of marketing campaigns they want to launch — long before audiences will start looking for those deals.
During the preparation phase, start building email marketing lists and testing the technology you'll use to run each campaign to make sure there aren't any issues. Get a jumpstart on things and create content for social media posts and any ads you'll run for clients. Be sure to add relevant content to each website under management. This way, clients will be ready right out of the gate and won't have to waste time taking care of preparations while also managing holiday inventory.
2. Choose what deals you want to promote
Choosing the right products and deal ideas can set the tone for the entire promotion. Before fall is in full swing, choose which products you want to feature and determine by how much you're willing to lower the price.
The key lies in choosing products that have a wide enough profit margin that discounts won't derail your ability to profit from the sales. Discounting higher priced items by even a small amount can encourage purchases that otherwise wouldn't happen.
Once you have a list of core items that you'll put on sale, focus the marketing strategy on those items. This will draw more attention and encourage people to buy items they've put off for too long.
Black Friday deal ideas
Discounts aren't the only Black Friday deal ideas you can take advantage of. And they're far from the best option out there. Remember, your goal is to get customers to spend as much money with your business as possible. Some great promotional ideas include:
Member-only deals: Member-only deals allow repeat customers (think email newsletter subscribers) to take advantage of discounts that aren't available to the general public.
Time-sensitive deals: Time-sensitive deals allow you to offer steeper discounts for a short period of time before raising the prices back up to your preferred threshold. Knowing that a deal ends at a specific time often encourages customers to buy more quickly.
Discount codes: Discount codes are an easy way to encourage newsletter subscribers and visitors to your website to make larger purchases. Many businesses see great traction with mystery codes where visitors click a button or pop-up to unveil a code for a certain percentage off of their purchase. You're able to set minimum and maximum values, so you won't end up giving merchandise away. However, customers still benefit by getting a valued item at a lower cost.
Free shipping: Larger retailers like Amazon and Walmart offer free shipping over certain dollar amounts. By offering free shipping on all orders during Black Friday and Cyber Monday, you'll make your site more competitive and discourage customers from shopping around for lower prices. Even better, you're not cutting your profits by lowering the cost of your merchandise.
Free gift with purchase: This is a great way to unload slow-moving inventory. When customers spend a set dollar amount, you offer them a free gift of your choosing. Typically, the gift is a low-cost item, but it can also take the form of rewards dollars or gift cards they can use in the future.
Site-wide sales: These promotions allow you to set up a site-wide discount of a set dollar amount or percentage for customers on your target dates. Though the name implies that the discount applies to every item, it doesn't have to. You're able to include only the items that you want to discount. For instance, you can exclude newly-released items from a site-wide sale or a specific product category can be exempt from the sale. However, by calling it a site-wide sale, you'll capture customers' interest and get them to browse through more of your products to see just how great your deals are.
3. Make your online shopping experience personal
Customers love to feel that businesses value their support and take their preferences into consideration anytime they shop. In fact, approximately 63% of shoppers expect websites to give them a personalized shopping experience every time they visit. You can do this by creating a personalized experience for your customers.
Offer deals based on their view or purchase history. Send emails to customers about items left in their shopping carts. Or email certain customer groups discount codes for products they're already interested in.
This helps customers feel like they have a relationship with your company and are getting the personalized attention they'd receive shopping in-person.
4. Generate interest early with social media and email campaigns
Social media and email marketing are key components of every successful Black Friday marketing strategy. Use them to your advantage.
Create social media posts to drum up excitement and interest in your upcoming Black Friday promotions. Use brightly colored images to attract attention with both current and new customers. Encourage others to share those posts with anyone they think might be interested in the deals and use hashtags, stories and feed posts to reach your current supporters with ease. If you choose to run social media ads, set a firm budget and stick to it.
Use your current email list and newsletter to get people thinking about Black Friday before the sales start. Make these emails more personal by offering pre-Black Friday/Cyber Monday sales based on the items your list is already interested in. Or offer an extra discount or bonus items to subscribers by giving them a code they can use at checkout.
If you get comments or questions about the sale, spend a few minutes each day answering them. This will show customers that you value their support and can add a more personalized spin to your efforts.
When to start advertising for Black Friday & Cyber Monday
Knowing when to advertise for Black Friday and Cyber Monday is just as important as knowing when to plan your strategy. You need to do it early enough to build excitement, but not so early that customers get annoyed with your efforts. Most businesses see success by starting ad campaigns in early November.
It's important to note that although the ad campaigns may begin in November, the prep work begins in September and October to be sure you've ironed out any kinks in your Black Friday marketing plan!
Advertise that you'll run specials, but don't give everything away. Keep the exact promotions and deals a secret until closer to the big day. A little mystery can actually keep shoppers engaged. As you get closer to the big day, you can start teasing some of the promotions and deals.
5. Use pop-ups
Contrary to popular belief, pop-ups aren't always annoying – as long as you use them the right way. They're a great way to grab attention and let customers know what sales are happening. You can even use them as a way to collect shoppers' email addresses by requiring them to enter their information in exchange for a Black Friday discount code.
With these promotional pop-ups, try to use them sparingly and only as a way to encourage participation in your Black Friday specials. Having pop-ups on every page, every time shoppers visit your site, can end up making your site a bear to use. And when customers don't like your site, they'll head to your competitors.
6. Leverage remarketing to reduce cart abandonment
Cart abandonment is one of the biggest challenges to overcome when dealing with online shoppers. And with an average cart abandonment rate of 69.8%, finding ways to close those sales is key, especially around Black Friday when more shoppers are looking for great deals than at any other time.
Send out reminder emails to shoppers that abandon their carts to encourage them to come back and buy those items. You can even add a small discount to further encourage buyers to check out. This shows customers that you value their support and can sway them to buy from you again in the future.
7. Encourage shoppers to take action now
Ultimately, Black Friday and Cyber Monday deals are time-sensitive, and that means you need to convey a sense of urgency for each of the Black Friday marketing ideas you implement. You don't have to go wild — just find ways for your customers to identify that the deals won't last long.
Add a countdown timer to any pop-ups you're using or put one on the top banner of your website. Try to use this countdown timer in any advertising emails you send out as well.
When customers can see that time is running out, they'll be more likely to take advantage of your sale rather than shopping around for potentially lower prices.
8. Create a gift guide
What are Black Friday and Cyber Monday but a time to get ready for the winter holidays and stock up on gifts for loved ones? Unfortunately, one of the biggest holdups customers face when viewing Black Friday deals is not knowing what to buy in the first place.
Prepare a holiday gift guide and share it across different channels to further broaden your reach.
Creating holiday gift guides that curate items that speak to a specific audience segment, people, or their hobbies can make it easy for customers to shop. Gift guides can be tailored to assemble products that might be popular with such broad groups as brides-to-be, music lovers and musicians, foodies, sports fans, and more.
Take things a step further by breaking down gifts into specific price points, making it easy for customers to select gifts for everyone on their list to fit within their own budget.
Send the guide as an attachment to your upcoming newsletter, make it an easy-to-navigate-to page on your site and advertise it on social media to drive brand awareness and engagement. Even better, the guide gives you a chance to upsell and cross-sell items that shoppers might not think to pair together.
9. Upsell and cross-sell when possible
The more items you sell, the more profit you make, and the best way to do this is to upsell and cross-sell whenever possible. What does this mean?
Upselling happens when customers decide to upgrade from their original product to one that's a more expensive and potentially higher-quality alternative. This increases the amount of money you make with each sale. You can encourage customers to make that choice by showing them other items related to the one they're viewing.
Cross-selling refers to getting customers to buy items that complement the ones they're already interested in. You're effectively getting them to order more products that will—hopefully—make their lives easier or more enjoyable. Showing them items that other customers bought with the products they're already purchasing is a great way to get customers to view and buy those items.
You can even get creative and bundle items at a slight discount to encourage customers to increase their total spend without making it seem like you're driving sales.
10. Prepare your site for desktop and mobile
Your website doesn't just inform customers about your products — it acts as a major point of sale for Black Friday shoppers. An estimated 61% of holiday revenue is generated from laptops and 39% comes from smartphone users. That's why you need to make sure your site is fully optimized for both desktop and mobile setups.
Test your current site on both desktop and mobile devices and run through the buying process.
If everything displays properly and the process is simple, you're ready for Black Friday and Cyber Monday. But if you notice that layouts aren't working properly or need to make changes to buttons, pop-ups, or other features, do so ahead of time.
This way, you'll be ready for the influx of customers and won't have to deal with high cart abandonment rates just because customers couldn't complete their purchase on their chosen device.
Start planning your online Black Friday & Cyber Monday marketing strategy today
Starting your marketing strategy for Black Friday and Cyber Monday well ahead of the holiday is the best way to make sure you're ready for high-volume sales and web traffic. Use this guide to put together your strategy and get your website ready.
---
Get the GoDaddy Pro workshops checklist for WooSesh 2021
If you're attending the GoDaddy Pro workshops at WooSesh 2021, make sure to download our checklist for the event. It provides a step-by-step walkthrough for dialing in your WooCommerce store and will help you get more from your WooSesh experience.