Choosing an ecommerce platform to sell your handmade goods
You've taken the plunge and you're ready to start selling your handmade goods to the masses. Time to give yourself a high five! But now comes one of the most important aspects of preparing to sell your DIY craft items on the web: choosing an ecommerce platform.
Choosing an ecommerce platform: Key considerations
First things first: You don't need to pick just one online sales platform. In fact, it's probably in your best interests to showcase your work on your own dedicated online store AND at least one of the marketplace sites listed below. Why?
You call the shots on your own ecommerce site.
The major benefits of a dedicated online store include:
You have control over your branding and content. With your own ecommerce site you can truly build a brand — from the visual brand elements you can incorporate into your website's design to the potential for customer engagement via an integrated blog, signup forms and social media profiles.
You keep what you make from each sale — as opposed to paying a fee per transaction (more on that below).
You have access to customer information. When someone makes a purchase on your online store, you've got all the information you need to start developing a longer-term relationship with that customer.
You can develop targeted promotions and discounts. With your dedicated site as a lead-generating machine, you can then retarget your list with special discounts and promotions — and track their effectiveness.
You can sell your products from one place on the web's popular marketplaces such as Instagram, Amazon, Google, eBay, Etsy, and Walmart with our integrated multi channel listing tool.
The major benefits of online marketplaces include:
Marketplaces such as Amazon and Etsy get oodles of traffic. They give you access to millions of potential customers.
For the most part, buyers trust these sites. They're generally comfortable making purchases on well-known ecommerce marketplaces.
It's easy to sell on them. The infrastructure is all set up for the seller, and the marketplace handles the checkout process.
There are some downsides to selling on marketplace sites:
They charge fees. In most cases, you give up a percentage of each sale as the cost of doing business on the marketplace.
It's highly competitive. There might be hundreds, even thousands, of other craft sellers competing for eyes (and wallets) on the same marketplace site.
It's not about your brand. Sure, you can promote your products — within the marketplace site's branded framework.
You don't have control over customer information. The marketplace sites do.
So, what's a good general rule-of-thumb for choosing an ecommerce platform?
Sell your products on a dedicated online store and on one or more of the marketplace sites where your target customers spend their time. Tease key products on marketplace sites, with links back to your dedicated site for in-depth product information and other items that will entice buyers.
Now, let's dig into your options when choosing an ecommerce platform … or three.
Global marketplaces ideal for selling DIY craft items
Global marketplaces like the ones below are often a great choice if you are just getting your handmade business off the ground. Start here and and then use it in conjunction with a dedicated site when you're ready.
The big benefit of the following ecommerce platforms is their simplicity of use.
You don't need to know any coding, the designs are simple, and creating your listings can be done in as little as a few minutes. And once your listings are up, others can start searching for them.
As mentioned, one downside to these ecommerce platforms is that your listings are competing with potentially millions of others. Apart from uploading a custom banner, you cannot customize your shop to make it stand out among the thousands of others on the marketplace site. And it's easy for potential customers to be distracted by listings in other shops.
ArtFire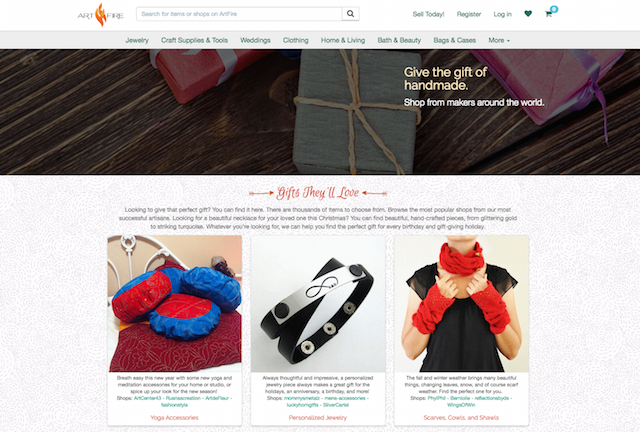 With more than 10,000 active shops and 7 million shoppers per year, ArtFire is a great option for people who want a simple platform for selling their handmade goods. ArtFire currently offers three plans: one that charges per listing with a higher commission rate and third-party ads on shop and product pages; and two with a fixed monthly rate, lower commission rate and no ads. ArtFire also offers an application that allows you to integrate your shop with your Facebook fan page so customers can shop directly on Facebook without having to leave it.
Click here for information about Artfire seller fees.
Amazon Handmade
Amazon offers a massive marketplace with name recognition, although your listings will be in the Handmade section. You have to apply and be approved to sell on Amazon Handmade. After you get approved and set up your account, you create an Artisan Profile page to tell your store. Then you can set up pages for each product.
Click here for information about Amazon Handmade seller fees.
Etsy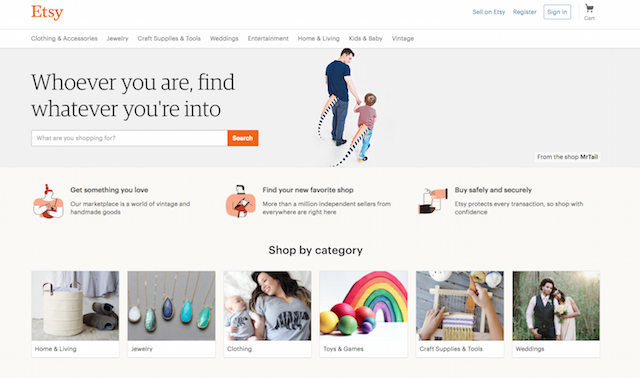 With a global community of more than 1.7 million creative entrepreneurs, Etsy has built a name for itself since it launched in 2005. Sellers can opt to accept multiple forms of payment, including credit cards and/or PayPal. Etsy offers a mobile application specifically for sellers and the ability to accept payments on the go with its credit card reader. In addition to the global marketplace, they offer a service called Pattern, which allows you to create your own custom website that you can use with your own custom domain. Etsy also offers the opportunity to sell wholesale; however, you must apply and be approved.
Click here for information about Etsy seller fees.
ecommerce platforms you can make your own
If HTML and CSS sound like acronyms to a perplexing disease but you want more flexibility than the global marketplaces — and to keep potential customers on your site — these options provide a great alternative. Because they allow you the ability to essentially create your own website, many of them offer other benefits that you won't find on the previous platforms, such as a blog.
GoDaddy's Online Store
GoDaddy's free ecommerce website solution makes it easy to launch a mobile-friendly ecommerce store with an integrated shopping cart and built-in marketing tools. GoCentral Online Store automatically reviews your store and optimizes it for search engines like Google, Yahoo! and Bing. To capitalize on the power of Facebook, GoCentral automatically creates a Facebook page with a "Shop Now" button that links to your store. Email marketing also is built-in, integrating the design and featured products from your online store to create eye-catching, sales-driving emails.
Click here for pricing information.
Big Cartel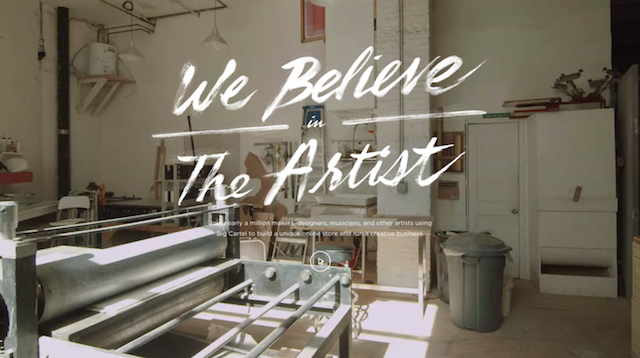 Big Cartel was "built for makers" and designed for smaller shops with 300 or fewer products. You can choose and easily customize one of their pre-made themes or purchase a third-party theme. If you're comfortable with coding, you can make it your own by changing the HTML, CSS and JavaScript. Big Cartel integrates with other apps such as Square, Zapier, MailChimp, Facebook Store and Google Analytics. They also have an iPhone app and allow you the ability to use your own domain for a custom URL.
Click here for pricing information.
IndieMade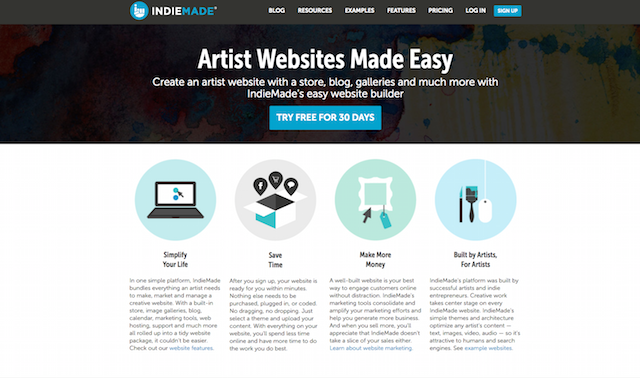 IndieMade prides itself on being made by artists for artists — though technically you don't have to be an artist or sell handmade goods to sell on it. They offer four plans, all which allow you to customize free templates. More expensive plans include the ability to use your own custom URL, add coupon codes, and connect with an existing Etsy shop.
Click here for pricing information.
Shopify
Shopify features more than 70 payment gateways, abandoned checkout recovery (which sends an email to potential customers who leave their shopping cart with items), and buyable pins on Pinterest so customers can purchase products right from Pinterest. It is fully customizable with the ability to build your own site with HTML and CSS, or you can choose from more than 100 professional store templates. They offer a multitude of apps that allow you to integrate it with other programs such as Facebook and QuickBooks.
Click here for pricing information.
Zibbet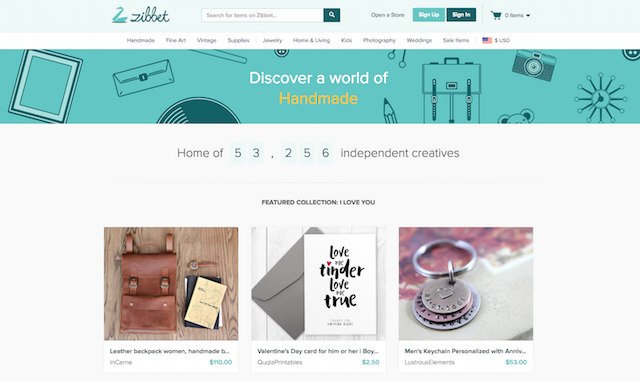 Zibbet is home to more than 50,000 artisans, crafters and vintage collectors. You can use it to build your own website using one of their themes, plus have your products available on their global marketplace without any extra setup. All of their plans offer the ability to use your own custom URL, and the most expensive plan offers the ability to customize the theme. There are no listing or transactions fees, and you have the ability to pay your fee monthly or annually at a slightly discounted rate.
Click here for pricing information.
WordPress Websites
If you're looking for even more customization potential, consider powering up a WordPress website with the WooCommerce plugin. GoDaddy's WordPress Websites product enables you to get a WordPress site up and running fast — and they handle all the pesky technical stuff (like daily backups and core WordPress security updates) on their managed hosting platform, so you can focus on selling your handmade goods.
WooCommerce offers dynamic product pages, a shopping cart, checkout page, account pages and payment integration. Hundreds of available extensions extend its capabilities to inventory management, payment gateways, point-of-sale systems, shipping, subscriptions, reporting and more.
Click here for pricing information.
Ready to get started?
Whether you want access to a global marketplace or to easily create your own customizable website, there are numerous options to help get your craft business off the ground. Get to work choosing an ecommerce platform (or platforms) that will work the best for your business — and start selling today!